A trip to Europe is on everyone's bucket list! We never travelled to Europe when we were living in USA, thinking that we could always visit Europe once we moved back to India (yes, we always sub-consciously knew that we would never settle down in USA). So, the summer after we were back from Boston, we started scouting several European destinations. Having set aside two weeks for our first European trip, we wanted to see as much as we could possibly cover and not just stick to one country. As you probably know by now, we love roadtrips and were looking at driving in at least some of the cities.
After picking and discarding several options, we finally decided to visit Austria (5 nights), Prague (3 nights), Paris (4 nights) and South of France (4 nights). We drove through Austria, Prague and South of France and relied on public transport / our feet in Paris.
Typically regarded as a winter destination, Austria is also an incredible summer destination, which promises beautiful fairytale-like old towns, historical architecture, alpine lakes and spectacular views. Being my first trip to this continent, Austria was a great introduction to Europe! Needless to say, by the end of my trip, I had fallen in love with Austria.
We flew in to Munich and after sorting out our car rental, began our Austrian roadtrip. The views that you see as you are driving by are nothing short of spectacular! While public transport is convenient and easily available, highly recommend driving through this beautiful country. 
Before I jump into the specifics, if you are planning to drive, do the Grossglockner Alpine Road – it is one of the highest alpine roads in Europe, which is 48 kilometres long and boasts of around 36 curves. We had decided to drive on this road as soon as we landed in Munich, before reaching our first destination, Innsbruck, but due to intermittent rains and cloudy weather, we gave this a miss.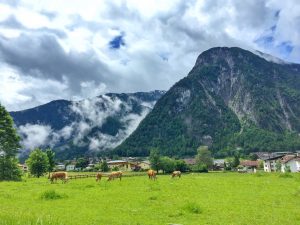 The below article covers the cities/ places you can and should possibly cover during your trip to Austria.
Innsbruck
Dramatically framed by imposing mountains at every angle, Innsbruck is a colorful, picturesque city nestled in the Austrian Alps. With its close proximity to Italy and Germany, Innsbruck makes a great stop on a road trip or a railway trip through Europe.
After we settled into our hotel (Hotel Penz), we made our way to Aldstadt von Innsbruck (the Old Town). The Old Town is compact, scenic, and easy to explore by foot. Stroll the colorful streets, go shopping, and in the summer, you may also be able to catch a street performance. Stop by the Goldenes Dachl (Golden Roof) and pastel coloured houses that line the Inn River. Spectacular mountains frame these colorful houses! You will get a memorable shot of Innsbruck City with the Alps as its backdrop, a definite postcard worthy photo opportunity! The colorful buildings and cobblestone streets are bound to take you back in time. Walking through the Old Town certainly felt like stepping inside a real fairytale!
End your day back at the hotel with some delicious food and cocktails at the rooftop bar at The Penz. They offer great views of the city and a convenient central location.
If you have additional time, you can also take the Nordkettenbahn directly from the city center to the top of the Nordkette mountain, for stunning 360° views over the town and beyond.
For those who fancy crystals, you can stop by the famous Swarovski Crystal World. It's located about 20-minutes out of the city and you can get there on a shuttle bus from the Central Station. The Swarovski Crystal World entrance takes you underground into a magical series of rooms, which all creatively feature Swarovski Crystals (note that we didn't visit this place).
Most of the main sites in Innsbruck are within walking distance from the Old Town or connected by the tram. So try to pick an accommodation in this area. 
Lake Achensee
Austria probably has the most number of lakes but the one that we wanted to see was the emerald green lake, Lake Achensee.
Lake Achensee, also called "Fjord of the Alps", is located in Jenbach and is the largest lake in Tyrol and is just a short drive (about 50 minutes) from Innsbruck. Achensee boasts a sparkling, clear water lake set against the beautiful backdrop of the Alps of the Tyrol. With lakeside beaches, watersports, hiking, golf and luxurious world-class spas to relax in, Achensee is truly one of the most beautiful lakes in Europe.
Whether you want to sunbathe beside it, paddle in it, take a boat-ride across it, or try some more adventurous watersports on it, Lake Achensee will keep everyone entertained. As luck would have had it, we were there on a cloudy/ rainy day but every time the clouds opened up, the emerald green shone through the lake.
We strolled around the lake stopping at a few pit stops and soaked in the views. The area is even home to the world's oldest cog railway.
We also stopped by the fancy Hotel Entners am See – grabbed a cup of hot chocolate and enjoyed the views of the emerald lake.
Lake Achensee was certainly the highlight of my Austrian trip – one of the gems which isn't so insta famous (yet), so you can truly enjoy the views without the crowds.
If you are a little adventurous and up for a bit of drive, then head to yet another turquoise lake – Lago di Braies located in the Italian Dolomites region. I wish I was a bit more insta savvy before my Austrian trip – would have certainly hit this spot. 
Konigsee
Shortly before we were about to reach Salzburg, we veered south to visit Berchtesgaden, a town that some consider as the prettiest in Bavaria. Berchtesgaden is nestled in the mountains right along the Austrian-German border. The village's historic district was utterly charming, with narrow streets lined with brightly-painted buildings, packed cafes with bustling tables and a welcoming atmosphere. It was the perfect place to stop for a late lunch. We wanted to hop on a boat ride as well, but that would have kept us from reaching Salzburg in daylight so we skipped that.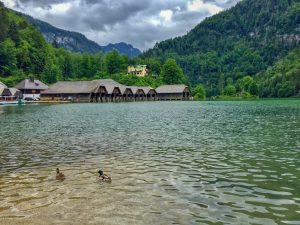 Salzburg
As the birthplace of Amadeus Mozart, Salzburg is a city inspired by music. In fact, whether it is advertisements promoting classical concerts or Mozart's face painted on artisanal chocolates, musical touches are everywhere throughout the city.
Filled with an old world charm, this city is also home to one of the world's most beloved movies, "The Sound of Music." In fact, there are several tour companies that offer a tour where you can stop by various filming locations. While I did enjoy watching the movie, I was not too keen on doing the tour and gave it a pass.
This being our first trip to Europe, we kind of underestimated how "slow" most of these small European towns are. Since we had stopped by Konigsee, we reached Salzburg a bit late and by the time we left to explore the city, it was almost 4 pm. Now, little did we know that most things shut down by 6 pm (not sure if it is an everyday thing or only on Sundays since we were visiting on a Sunday); so, we rushed to make the most of limited time. 
Our first stop was Mirabell Palace and Gardens which was a 5 minute walk from our hotel, Sheraton Salzburg Hotel. Many statues and gardens here were used in scenes for the "Do-Re-Mi" sequence in The Sound of Music, perhaps the most noticeable is the Pegasus fountain.
We then walked over the Makartsteg Bridge (Salzburg's very own love-lock bridge). There was some sort of Sunday fair with small stalls of clothes and food. We then walked over to Getreidegasse (the most prominent shopping street in the city. Also, Mozart's Birthplace, a small apartment that blends in along the street, is located in the heart of the old town. The museum, though tiny, provides a plethora of exhibits that will bring this famous composer to life. As you are wandering around the old town, you will notice many gift shops overflowing with Mozart souvenirs 🙂
We were planning to take the funicular up to the Fortress Hohensalzburg, the most iconic historical attraction of Salzburg. However, since we were approaching closing time, we had to skip this. 
As you can tell, we barely scratched the surface of Salzburg – I would love to return to Salzburg someday to be able to truly experience this city!
If you have additional time, you can visit the ice caves, located about an hour south of Salzburg. Werfen's "World of Ice Giants" is actually the world's biggest ice cave and can only be visited as part of guided tours offered from May to October.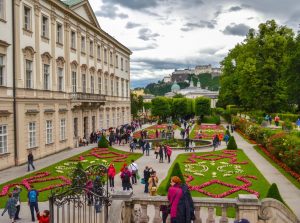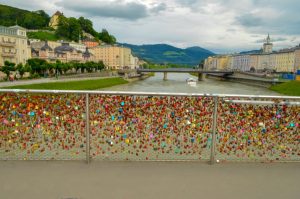 Hallstatt
If you have spent at least some time on Instagram/ Pinterest looking for travel inspiration for a European trip, chances are you've come across Hallstatt – a stunningly photogenic town in the the Salzkammergut region of Austria.
Hallstatt is one of Austria's oldest and most gorgeous villages. When visiting Hallstatt, you are in for a visual treat! Imagine a calm blue lake mirroring the sky, mountain ranges setting a picture-perfect background, and pastel lakeside houses decked with flowerboxes lending the historic town a storybook vibes, walking trails to reach tranquil spots and cafes to let you soak it all in.
Hallstatt – which means "place of salt" – is home to the world's first salt mine. In recent decades, though, Hallstatt's fame derives mostly from its natural beauty. Sandwiched between a lake and mountains, this perfect little town easily became a favorite tourist destination as well as a UNESCO World Heritage site. In fact, the Chinese have even modeled an entire town replicating this Austrian town! Don't believe me? Google it!
Hallstatt is a pedestrian-only village, so leave your car at one of the nearby parking garages – a shuttle or short walk will take you to the center. By driving, it takes 1 hour from Salzburg and 3 hours from Vienna.
There isn't any set itinerary to follow once you step foot into Hallstatt – just walk along the boardwalk, look up at the pastel houses with their charming flowerboxes, and peek into the souvenir shops and you are bound to have a great time.
Make your way to the market square and weave in and out of the streets. I absolutely loved the main square of the town – take a peek at the pictures doesn't get more quintessentially European than that, right! 
Hallstatt is really small (just under 1 KM from end to end) so there's no need to rush through. Take your time and enjoy! Almost every flower-decked house along the lake is photogenic.
Those looking enjoy the breath-taking Alpine panorama of the UNESCO World Heritage region of Hallstatt Dachstein Salzkammergut, then there is a viewing platform available as well. This Skywalk hovers 350 meters above the roofs of Hallstatt and offers a unique panoramic view over Lake Hallstatt and the impressive mountain scenery.
From the south view point, walk down a road to the left to get to the funicular. You can take a ride up and down the funicular to get to the top of the 1,030-meter tall Salzberg (Salt Mountain). Even if you don't plan to visit the salt mine, the views from the funicular are well worth the trip.
While you can see much of Hallstatt in just a day, if you are not pressed for time, then highly recommend staying longer. Spending the night in Hallstatt will also allow you to have it to yourself for a few hours in the morning before the arrival of day trippers.
Vienna
After stopping by Hallstatt, we made our way to Vienna. We stayed at the newly renovated rooms in Hotel Bristol – a splurge that was so worth it! The hotel is located at Stephensplatz, one of the main squares of Vienna. Our window opened up to the Opera and was right in the middle of where all the action is! From this hotel, most of the main sites are within walking distance. If you need to take the metro, the station is literally just around the corner from the hotel. It does not get any more convenient or scenic than this!
One of the best ways to explore Vienna is on foot. Most of the attractions inside the magnificent Ringstrasse Boulevard are within walking distance of St. Stephen's Cathedral, in the heart of the city. Spend the day touring the area around Stephensplatz. Make your way to the famous St. Stephen's Cathedral located right in the heart of Vienna. Its ornate spires can be seen from all over the city, and are a major sight and symbol of Vienna. Go inside Stephensdom and climb the tower for some of the best views over Vienna. Walk down Graben, the famous shopping street where you will find Mango, Zara, H&M as well as local shops. Stop by Café Sacher and enjoy a slice of the world famous Sacher Torte, its one of the most decadent chocolate cakes.
As you reach the end of the street, you will see the Vienna Opera, one of the premiere spots in the world to watch the opera! Did you know that you can watch a performance here almost for free? Standing room tickets are sold for just a few euros – the perfect opportunity to tour this beautiful building and watch a world class opera performance in Europe.
One place that we really wanted to visit but couldn't was Schönbrunn Palace. Well, we saw the Palace from the outside but didn't have time to visit from the inside since it would have taken up a lot of time – one of my biggest regrets 🙁
Schönbrunn Palace is a UNESCO Worl Heritage Site and Austria's most visited tourist attraction. For centuries, the palace served as the summer home of the Habsburgs. It is modeled after Versailles, and even has its own Hall of Mirrors. Marie Antoinette grew up here, before moving to Versailles. Those who have visited the Palace of Versailles say that it is very much similar to Schönbrunn Palace. There are many different tours and ticket options available depending on how much of the palace you want to see (if you decide to visit, do not miss the gardens, they are supposed to be spectacular).
One other place, which has become famous in recent times thanks to instagram, is HundertwasserhausHouse. It is an apartment house in Vienna, Austria, designed by Austrian artist Friedensreich Hundertwasser. It has a funky exterior featuring multicolored walls, uneven roofs, and mosaic pillars. You can't go inside (real people actually live there), but the outside has plenty to see and admire, and makes for a perfect photo opportunity.
Similarly, the Palace of Justice, home to the Supreme Court of Austria, is yet another insta-popular place, which isn't well-known tourist attraction in Vienna but totally worth visiting because the Palace of Justice offers one of the most impressive interiors in Vienna.
If you have a car, drive for about 30 minutes outside town, to Seegrotte Hinterbrühl, which was once an old gypsum mine. Guided tours are available which last for about 30-40 mintues and end with a boat ride. The green shimmering water and the rough stonewalls add to beauty of this place. The lake is Europe's biggest underground lake Irrespective of the weather outside, carry warm clothes since it is definitely chillier inside by 8-10 degrees Celsius.
This place is definitely something that you wouldn't expect to see in Vienna! Add it to your list, if you are not pressed for time. (I wish I had taken some pictures of this place :((
Due to rains, we couldn't explore much of the city – I would love to go back and explore more of Vienna someday!