To be honest, Dubai was never really on my bucket list for many reasons. First, it is hot for most part of the year except if you visit in winter. Second, we lived in USA for a great part of our adult life and whatever little we saw of Dubai, in pictures, it totally felt like just another big American city (specially since everyone kept saying it is nothing but a big mall). Third, since Dubai is so geographically close to India, we figured we could always visit some day and it was never a priority.
But, I was looking for a quick getaway and having recently visited Bali, wasn't keen on any other South East Asian country! Started looking at options and Dubai was the one that popped out! Deserts, skyscrapers, world-class hotels and resorts, and delectable food – you can't really go wrong, right! My husband was busy and couldn't join, so I took my mom along on this trip. This was her second trip to Dubai in five years, but despite that, there was so much new to see in Dubai, that she had a great time as well.
With a variety of things to do and see, planning a visit to this city can get pretty overwhelming! Further, Dubai is expensive and a non-backpacking-friendly city. Most of the attractions charge an entry fee, so your budget can really go up! But don't you worry – you can even find a lot of things to do and see for free!
There is so much to do and see that I would suggest a week-long trip to start with. Whether you are traveling for the first time or making a return visit, I have put together a list of places to visit to help you get the most out of your trip.
Best Time to Visit
Dubai can get pretty hot in the summer, so the best time to visit would be November – early March. Further, some of the places are closed in the summer (e.g. Miracle Garden, Global Village) so if you want to fully experience all that the city has to offer, it would be advisable to visit during the aforesaid months. Also, avoid visiting during Ramadan since some attractions / restaurants are either shut or operate on reduced work hours.
Visa
Indian residents typically need to apply for visa in advance before flying to UAE. However, Indian nationals holding a valid visa (including a tourist visa) issued by the USA (which is valid for a minimum of six months) can obtain a visa on arrival for a maximum stay of 14 days for a charge of AED 120 per person.
Where To Stay
Try to choose your accommodation near Bur Dubai, Dubai Mall, Mall of the Emirates or Marina area. Bur Dubai and Marina area are at two ends of the city, and going from one place to the other can take 40 minutes by train and almost an hour by taxi (depending on how bad the traffic is!). So pick a hotel depending on the places you wish to visit in Dubai such that your commute in Dubai is kept at a minimum.
If you do end up going for a longer duration, then you could split your stay between two hotels – that's what I ended up doing – stayed at Bur Dubai (Four Points Sheraton Bur Dubai) for 4 nights and then Marina (Wyndham Marina) for 3 nights.

Al Bastakiya/ Al Fahidi Historical district
Dubai is known for glitz and glamour, but before the discovery of oil, it was a different place altogether. Escape the skyscrapers and travel back in time with a visit to Al Fahidi Historical Neighbourhood, also known as Al Bastakiya. This area in Bur Dubai is one of the oldest heritage sites in the city, with a neighbourhood that dates back to the early 1900s. The Bastakia Quarter, which is located between the Dubai Creek and Bur Dubai, is a mini maze of wind-towered buildings. A few of them have now been transformed into art galleries and cafés.
There are several companies, which offer a guided tour as well, but you can easily walk around the winding alleys and bustling courtyards and discover this place on your own. Most of the wooden doors that you will stumble on will lead to hotels, cafes and galleries, so go ahead, explore the old town.
XVA is one of the more prominent galleries in the Middle East and specializes in contemporary artworks created by Arab artists. Besides being a showroom, it is also a hotel. Stop by Make Café and grab a few drinks.
Stop at the charming Arabian Tea House for breakfast or refreshments. It is hands down, the prettiest café in Dubai. Sit in the courtyard with some fresh juices or tea/ coffee and a healthy Arabian meal. 
Experience old Dubai and get a feel of life away from hustle bustle of Sheikh Zayed Road. Basically, see Dubai as it is away from the glitz of the malls and high-rises. Or better said – as it used to be.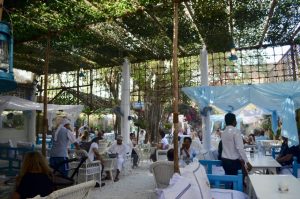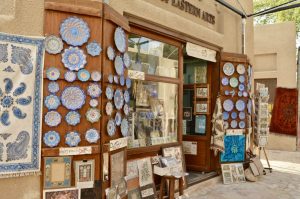 Spice Souk and Gold Souk
Once you are done exploring Al Fahidi, walk towards Dubai creek, which served as a fishing area and a gateway for traders before oil was discovered. Despite the modern transportation system in the city, traditional wooden boats (aka abra) still dominate the waterway. For measly AED 1, ride an Abra, a short boat ride that will take you to the other side of the creek – Deira. It is the cheapest and fastest way to cross from the new city to the old city.
Once you get off the abra at Deira, a 2-minute walk will lead you to Deira Grand Souk. You'll know you're in the right place when you start breathing in air with a distinct aroma. Deira Grand Souk is also known as the Spice Souk; a vibrant bazaar where you can purchase spices, herbs and fragrances. There are also shops that sell textile, kitchenware and souvenirs. Needless to say, haggle for prices at the Spice Market – you could shave off at least 30%-40% of the asking price!
Right adjacent to the Spice Souk is the Gold Souk. It is basically a traditional Arabian market place with over 300 jewelry shops. This is where you can buy jewelries at the cheapest prices in the world.
Hidden in the midst of Gold Souk and Spice Souk – you will find Creekside Cafe. We skipped visiting this place since we had just stopped for food and drinks at Arabian Tea House, but it was highly recommended by friends, so if you are around, be sure to stop by.
Old Dubai cannot be missed on your Dubai trip!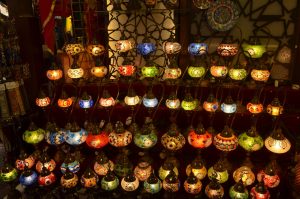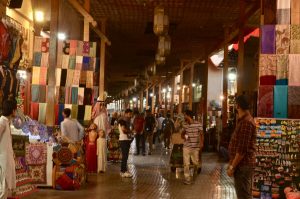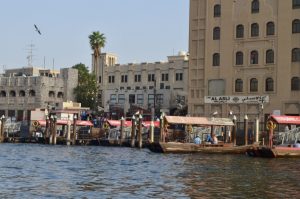 Burj Khalifa, Souk Al Bahr and Dubai Mall
No trip to Dubai is complete without a visit to Burj Khalifa. Whether you are traveling by train or taxi, you will see the iconic Burj Khalifa popping out all the time! Not surprising, since it is the tallest building in the world!! The easiest way to get there is by cab, but if you are looking for a cheaper option, then take the metro to Dubai Mall. Keep in mind that the walk from the metro to Dubai Mall itself is approximately 20 minutes long – not bad if you will be hitting this spot first thing in the morning, but it can get very tiresome to walk at the end of the day.
Burj Khalifa has a total of 154 floors and a height of 829.8m or 2,722 feet. The Burj Khalifa also holds the Guinness World Record for the World's Highest Observation Deck. There are two observation decks, one on the 124th level, and one on the 148th. Of course, the higher the level you choose, the more expensive the tickets get. In addition, the ticket prices vary depending on the time of the day you choose to visit. The evening slot from 4pm – 6 pm is around AED 75 higher (but totally worth it). Tip – Buy tickets in advance since they are a tad bit cheaper online, plus you get to skip the line once you get there.
Recommend going to the top of Burj Khalifa at around 5 pm, so you get to see the city in broad daylight as well as at night time. Also, they start the fountain show at 6 pm (and is held every hour after that), so you can catch the fountain show as well from up above. The fountain show is beautiful and we caught it almost three times on our visit! The Bellagio fountains in Las Vegas pale in comparison.
Overall, the views were great, but for some reason it was hazy the day I went up. Burj Al Arab, the newly constructed eye and the Palm area were barely visible! Its one of those things that you gotta do in Dubai, but yeah, wasn't super impressed.
Once you are done with your visit to the top, wander around Souk Al Bahr – actually, head there first thing in the morning, for gorgeous views of Burj Khalifa! This place gets crowded later in the day, so get your Khalifa shots early on. Grab a seat at one of their several restaurants for the front row seats to the fountain show!
Oh and you can even see the fountains up close from an abra, a water taxi (for an extra fee), as it courses through the lake and makes several pit stops. The fountains create quite a splash so be ready to get your faces and glasses covered in water spray!
We also witnessed the laser show, which beams onto one side of the Burj Khalifa and surrounding buildings, is choreographed to music, and features symbols of the UAE such as Arabic calligraphy, the UAE flag, and even a giant falcon in flight. This show was supposed to be on until March 31, but I believe they have extended it! The laser show plays at specific times on different days so check with the mall staff and/ or your hotel to ensure you don't miss it.
Since the entrance to Burj Khalifa is through the Dubai Mall, no visit to this place would be complete without spending some time in Dubai Mall – the largest mall in the UAE! It has about 1200 shops, countless cafes and restaurants (they even have the European, American and Canadian chains like Pauls, Angelinas, Laduree, Cheesecake Factory, Tim Hortons), an aquarium and underwater zoo (yes, you read that right), a huge waterfall, an ice rink … phew, the list is endless! Of course, all these added attractions like the ice rink and aquarium are chargeable!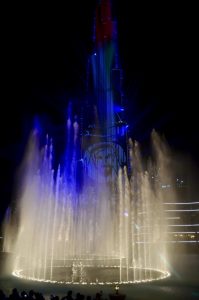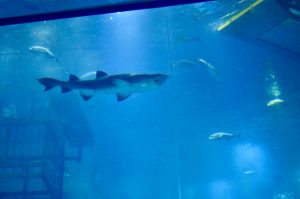 La Mer, Citywalk
La Mer is the newest place in Dubai, where you will find colorful murals, boardwalks, several eateries, colorful beach huts, trendy shops and the beach, of course. Whether you want to soak in some sun, or just explore the area, you will not be disappointed. La Mer is the place to hang out in the evenings as well as the day time. 
Each of the walls is painted beautifully and is truly a photographer's paradise! This place just opened up in October 2017 and some of the restaurants are still under construction. There is even a waterpark and a cinema (yes, Dubai generally goes all out 🙂
Another place not too far from La Mer, is the beautiful City Walk. It basically houses various high-end shops, restaurants and a few family-friendly attractions (like the Green Planet, Mattel Play town, etc.). It has some fun street art too! La Mer and Citywalk serve a peaceful oasis within Dubai's modern maze of soaring skyscrapers.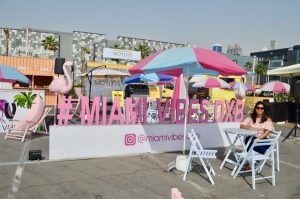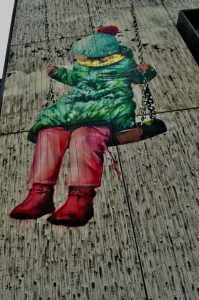 Miracle Garden

A visit to the largest natural flower garden in the world, Miracle Garden is certainly a MUST on your Dubai trip unless you are visiting in summer (May – November), when these gardens are closed. The entry fee is AED 45 per person.
Creating the world's largest natural flower garden in the middle of the desert might seem like an impossible task! But UAE not only likes to take up on a challenge, they also deliver. Wandering around this garden will leave you speechless when you think of what they have created in a desert; not to mention the amount of maintenance this place requires on a daily basis!
Wander around this garden and you will get the perfect insta-worthy shots! The gardens are perfectly manicured and the colors of these flowers are certainly a visual delight. Flower arrangements are made in the shape of hearts (they have countless heart arches), peacocks, ostriches, houses covered in flowers, a flower mickey, a life-size Emirates A380, which is officially the world's largest floral installation … phew, they are really creative! Even the food court is covered with colorful umbrellas!
Located right next to the Miracle Garden is the Butterfly Garden, which houses thousands of beautiful butterflies from all around the world. It is also the biggest butterfly garden in the world (you getting the theme of Dubai housing everything BIGGEST hehe). We didn't visit this one.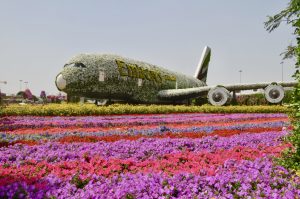 Madinat Jumeirah
Another place that I highly recommend is Madinat Jumeirah. It essentially houses four luxury hotels and is home to several bars and restaurants. Begin with Souk Madinat, which is a local shopping center that sells local products. It is the glitzy version of the souks that you find in Old Dubai. Needless to say, the shops here are slightly more expensive.
Once you are done wandering around the Souk, grab a seat at one of the restaurants overlooking the water. If you want to explore more of these winding waterways and stunning architecture and gardens, hop onto a 20-minute abra ride (for AED 85 per person). You will be treated with good viewing points of Burj Al Arab, the seven star hotel of Dubai. This is the third tallest hotel in the world and located on a man-made island. Even though man-made, it was one of the most beautiful beaches I have ever seen – that strip of soft white sand and turquoise waters – pure bliss! Grab a seat at Shimmers and enjoy the views! Even if you are not a guest a their hotel, you can get front row seats at this beautiful beach bar – make reservations in advance OR head there earlier in the day since it tends to get crowded during evenings.
JBR Beach and Marina
Dubai Marina/Jumeriah Beach Residence (JBR) area are so different from the rest of the Dubai that hanging around here, you will feel as if you are in Miami or any other European/ American beach town!
The water at JBR beach is fairly calm and popular with sunbathers. You can even indulge in watersports such as parasailing, wakeboarding and banana boating as well as camel rides (I guess only in Dubai can you find camels at the beach hehe).
The Walk at JBR is an outdoor complex of shops, cafes, restaurants and public facilities, situated right on the beach. Cafes and restaurants have al fresco terraces overlooking the white sand and blue sea. Don't forget to try the yummy Kanafeh at the food stalls – one of the best! They are even coming with Ain Dubai Observation wheel (similar to London eye), which will be the highest of its kind in the world and will provide 360 degree views of the city and its coastline. It is expected to be open to public sometime later this year.
Dubai Marina is a skyline image that is often used for Dubai – a dramatic skyline of skyscrapers that is impressive when all lit up at night. Even the Marina has some of the best spots for food and drinks. 
Couple of beach clubs that you can check out – Drift Beach Bar at One & Only Royal Mirage, Barasti Beach Bar, Nikki Beach. Due to lack of time, we could only visit Drift Beach Bar (highly recommend).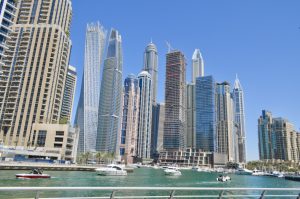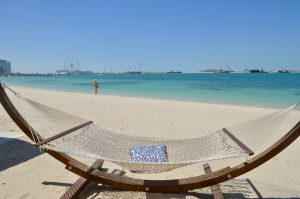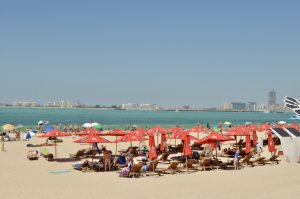 Kite Beach
Yet another beach not to miss in Dubai is the Kite Beach. It's not a fancy beach lined with beach bars or beach clubs – but rather, its a beautiful white sand beach, with amazing views of the Burj Al Arab and a handful of food stalls. We went there around later afternoon and there were free beach yoga sessions being held! Yoga by the beach – not a bad way to spend the evening!
On our way to Kite Beach, we stopped by Hamptons Cafe for a quick iced coffee to beat the heat – they had a wide range of food items too but we weren't that hungry so couldn't try much but highly recommend!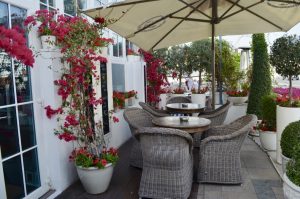 Abu Dhabi
If you have additional days on hand, a day trip (or even longer) to Abu Dhabi should be on your list. You can either get there by bus (there are buses every thirty minutes from Al Ghubaiba Bus Station in Dubai and is the cheapest mode of transportation – AED 25 – 35 one way), private taxi (prices start at AED 300 one way) or via guided tours (we paid AED 250 per person).
Your first stop in Abu Dhabi should be the Sheik Zayed Mosque or the Grand Mosque – it is the largest mosque in the world and it is one of the most impressive pieces of architecture that I've seen in my life (after Taj Mahal). There is no entry fee to get inside the mosque but you need to be completely covered (women can grab an abaya at the entrance). It is open daily to visitors except on Friday morning – also, if you are visiting during Ramadan, please check the hours before visiting.
Expect to spend 60-90 minutes there marveling at the pretty chandeliers, the marble work with semi-precious stones, marble columns, etc. One of the world's biggest ever chandelier dominates the main prayer hall; it is 10 meters in diameter and 15 meters in height and weighs twelve tons. If that weren't enough, the Sheikh Zayed Mosque has the world's largest hand-knitted carpet made by Iranian carpet weavers which took over two years to complete.
The mosque is surrounded by reflective pools that amplify its beauty. It is said that the best time to see the mosque is during sunset but since we were on a guided tour, we didn't have any flexibility with respect to the timing of our visit.
After that, head over to Corniche Beach. There are cycle and pedestrian pathways, kids' play areas, cafés and restaurants, and a beach park to enjoy, for free. In the evening, when the cool breezes blow, there's no better place in all of Abu Dhabi than the Corniche for a refreshing constitutional and views to beat anything you've ever seen.
The Louvre Museum has newly opened in Abu Dhabi and is a must for all art lovers. Another pit stop could be the Emirates Palace, a five-star hotel located behind the official residence of the UAE president. In front of the Emirates Palace are the famous Etihad Towers made popular by the movie Fast and the Furious.
Apart from the mosque, the main reason why I wanted to visit Abu Dhabi was Zaya Nurai Resort – a private island resort which spells LUXURY! While I clearly cannot afford to stay there, they have day passes available for approximately AED 450 per person, a part of which can be utilized towards food, beverage, spa, watersports. I so wanted to visit this resort but logistically it didn't work out. Zaya Nurai, I am certainly coming back for you!!
Before heading back to Dubai, make a stop at the Ferrari World. Ferrari World is a theme park that caters not only to kids but for the whole family. If you love cars, then this is the place for you.
On your way to the city of Dubai make a quick stop at Last Exit. Dubai Last Exit is a street food truck park and perfect for taking a quick break from your long rides. It is home to a number of truck foods/snack that will satisfy your hunger. It is a worthy stop-over.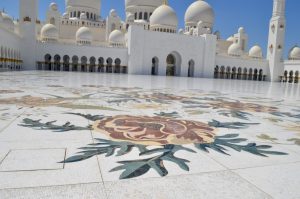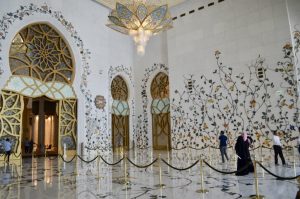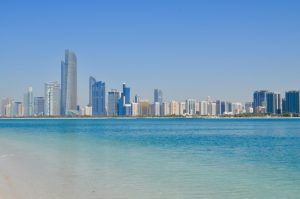 Desert Safari

A certainly must do activity for first-time visitors. We signed up for desert safari with Arabian Adventures and they took us to the Margham desert, which is located in the Dubai Desert Conservation Reserve (generally not accessible by all tour companies). On our way we even saw wildlife such as the Arabian Oryx.
The tour cost us approximately AED 290 per person, which included hotel pick transfer, dune bashing, camel ride, sand boarding and a three course buffet meal. You can even do quad-biking for an additional fee. Note that the entire activity takes up almost half the day (3 pm – 9 pm).
Sitting in the 4×4 vehicle for dune bashing is the most fun activity of the entire tour – you will be squealing almost every other second as the vehicle races over those dunes. This activity lasts for 20-25 minutes; after that, you will be taken to couple spots where you can enjoy the sunset. Watching the sun set in the golden dunes is a magical experience!
From there, you will be taken to a Bedouin-style camp. But before you go inside, enjoy a 5 minute camel ride and a mini sand boarding activity. Head over inside and relax on large carpets and cushions and enjoy your meal along side a belly dancing show. The highlight of the trip was when they switch off the lights for about 5-10 minutes so you can enjoy the sky glittering with all the stars!
Note: Dunes are certainly harder to walk on than they look since your feet will keep sinking in! Highly recommend booking in advance (you can book once you reach Dubai). Also, try to eat something light for lunch otherwise you may end up throwing up during dune bashing.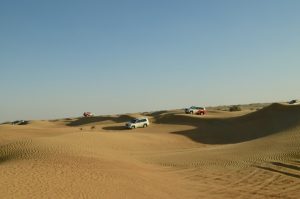 Places we missed visiting
We admired Burj Al Arab, the only seven-star hotel in the world from the outside but if you have additional time (and of course, money to spare), sign up for one of their meal options and you can get to admire this beauty from the inside too. If you are not staying at this hotel, you are not allowed to enter it unless you have a meal reservation. The Atlantis hotel at the Palm is another good place to visit if you have extra time.
Alserkal Avenue is yet another cool place to hang out in Dubai. It is located within Dubai's Al Quoz Industrial area and it brings together art spaces, art galleries, studios and several cafes.
Boxpark is similar to CityWalk and is an outdoor destination with a unique twist. The shops are made out of old metal shipping containers stacked on top of each other and converted into retail units. There are plenty of dining and retail options at boxpark. As the sun sets, Boxpark really comes alive as the shipping containers are lit up with neon lights. Boxpark is a great place to sit and admire the Dubai cityscape and soak up the vibrant atmosphere of what this city has to offer.
Global Village is a famous tourist attraction that will bring you to so many places at one time. The village is a cultural, entertainment and shopping centre like no other and is typically open November – early April. Entrance fee: AED 15. There are buses every 30-60 minutes from Mall of the Emirates that take you to Global Village.
If you wish to see the Palm Jumeriah from above, Skydiving is the best way to see it (until the Ain opens to public).
Dubai Frame, the newest attraction opened in January 2018, is literally in the shape of a frame, is 150 meters high and provides great views of the city. It is said to provide views of old as well as new Dubai. Given that the city already has the tallest building in the world, wonder why they keep commercializing the city so much. I was certainly not impressed with them creating new but similar structures (since the tickets don't come cheap by any means).
Dubai Parks & Resorts is an integrated resorts destination with four theme parks: Motiongate, Legoland, Bollywood Park and Riverland. Water rides, carousels, roller coasters on lego bricks, a Smurfs village – you name it, this gripping labyrinth of mega theme parks has it.
And if all this wasn't enough, Six Six Flags Dubai is slated to open here in 2019, making it the region's first Six Flags park!!!!!!!!!
FAQs
Dubai has an efficient Metro System that can bring you almost anywhere you want to go. If you plan on traveling by train, ensure that you book your accommodation neat the train station. Taxis are a little bit expensive, but the most convenient way of transportation.

Contrary to popular belief that you have to watch what you are wearing, aside from some sacred mosques or places of worship, you can pretty much wear whatever you are comfortable with.

This is an Arab community, so public intoxication is a no-no. You can drink inside your hotel/apartment rooms. Don't be surprised if you don't find alcohol at most restaurants. If you don't want to pay extra AED, buy alcohol at the airport. Tourists are allowed to drink at licensed hotels, bars and restaurants in Dubai. However, you are not allowed to drink in public, including on the beach.

Book Burj Khalifa tickets in advance since they tend to get sold out. It will save you some money and will guarantee slots. (You can always buy it on the spot, but it's more pricey).

Before you decide on doing any sightseeings, tours, eats, spas etc. you might want to check Groupon – they hold plenty of discounts and 2-for-1 specials and deals. There's a high chance you might find your activity on there and get a discount!
*All prices are as of March 2018