After visiting India's pink city (Jaipur), golden city (Jaisalmer), white city (Udaipur) red city (Bikaner), it was time for me to cross off India's blue city, Jodhpur, from my list.
Jodhpur is the second largest city in the Indian state of Rajasthan and has been a popular destination among both domestic and international tourists.
We spent three days in Jodhpur, visiting its iconic sights, sampling local food, navigating narrow streets and spending time haggling in the markets. Sharing with you a mini guide of things to do/ places to visit in Jodhpur to make the most of your time.
COVID Specific Travel Requirements
As of November 2021, if you are fully vaccinated and 14 days have elapsed since your second shot, then all you need is proof of vaccination status. You will need to show your vaccine certificate at the airport of departure as well as arrival.
Best time to visit
Weather during November to early March is cooler thus, making it an ideal time to visit. This is the peak tourist season, so hotels tend to be more expensive. You can expect a few deals and discounted rates during summer and monsoon season (July – early September).
How to get there
Jodhpur is well connected via flight from most of the Indian metro cities. If you are visiting from Jaipur or other cities in Rajasthan, then you can reach Jodhpur via bus, train or private taxi.
After spending a few days in Bikaner, we hired a car + driver who drove us to Jodhpur for INR 4,000. Of course, trains and buses are much cheaper compared to a private car.
Getting around the city
To maximize your time in Jodhpur and have the most stress free vacation, you can hire a driver for the entire duration of your trip. Most drivers charge around INR 2,500 per day.
If you are staying in the middle of the city, most of the sights are just 10-15 minutes away. You will find plenty of autorickshaws / tuk tuks as you step out of your hotel. But these drivers typically quote high prices – they don't use a meter and try to fool tourists. I would suggest asking your hotel staff how much a trip to a particular place should cost and accordingly negotiate with the driver.
We noticed that these auto drivers often quoted insanely high rates – sometimes thet started with almost double the rate of Uber. After negotiating, they reduced their rates, but it was still relatively high. We were a bit annoyed having to negotiate before each ride and that kind of marred our whole experience in Jodhpur.
While Ubers are available in this city, the number of cars operating as Uber are few. Expect to wait at least 15-20 minutes before each ride. We have taken Ubers and local transport in Jaipur and Udaipur and it was seamless, so we were a bit surprised with our experience in Jodhpur.
We ended up taking autorickshaws most days and spent INR 2,300 on transport for our three day stay.
Where to Stay
From luxury hotels to budget backpacker hostels, the city has something for everyone.
If you are looking to splurge, then check out Taj Harimahal, Raas, Welcomhotel by ITC. Both Taj and ITC are slightly far from the city whereas Raas is located right in the heart of the city.
Of course, if you want to spoil yourself and stay in the most opulent hotel in Jodhpur or even India, then head over to Umaid Bhawan Palace.
After researching a couple of options, we decided to stay at the lovely Ratan Vilas, located right in the heart of the city. Built in red sandstone, it used to be a personal family home which was later converted into a hotel. From beautiful sun filled courtyards to a lovely lounging area to spacious garden to relaxing swimming pool, this hotel was the perfect pick for our three night stay in Jodhpur. Even though located in a busy area, it was secluded and offered a much-needed oasis from the bustling city. The best part was its location – just 10 minutes away from most tourist spots and restaurants.
If you would like to book your stay at Ratan Vilas, please use the code "RATANVILASBT" to avail a 5% discount on the room rate.
Things to do / see 
Mehrangarh Fort
Located atop a hill, Mehrangarh Fort is one of the largest forts in India. No matter where you are in Jodhpur, just look up, and you will see this majestic fort. It is rightly the icon of this city.
The fort is open daily from 9 am to 5 pm. The main entrance is through Jai Pol, where most taxis/ autorickshaws will drop you. You can also walk up to this entrance from the old city, but the incline is quite steep.
Once you get to the entrance, buy a ticket from the main counter – INR 200 per person for Indians and INR 600 per person for foreigners. If you want a guide, you have to pay at the entrance itself (INR 500). An audio guide is also available for an additional fee of INR 180 per person. Also, there is an elevator available to go up (at an extra fee of INR 50 per person), which we ended up using for my mother. The view that you see below is what you get once you step out of the elevator.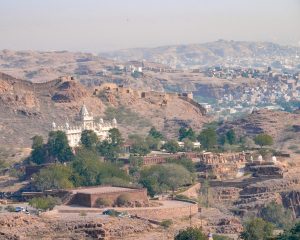 Maharaja Rao Jodha started building this fort in 1459. The fort and the structures you see today are built over a period of five centuries right until the 20th century. So, the architecture here reflects influences and elements from different eras, thereby giving it a unique charm.
The fort also encloses a museum which exhibits various belongings of the royals. You get to see royal palanquins, cradles, paintings, musical instruments, clothes, etc. Some of the most beautiful rooms in this fort are Phool Mahal (flower palace), Moti Mahal (pearl palace), Sheesh Mahal (mirror palace). As you are walking from one room to another, stop and admire the intricate details and carvings on windows and the grand courtyards. Each corner here will give you a glimpse of the royal lifestyle. You also get a lovely bird's eye view of the blue city from the top of this fort. Expect to spend at least 1.5 – 2 hours exploring this fort.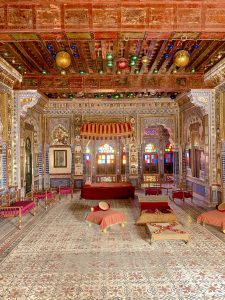 Did you know you could go zip-lining here as well? Flying Fox consists six separate zip lines which fly around the fort and give you a bird's eye view of the city, gardens and the desert lakes. I didn't do it, but I hear it is one of the most popular activities in Jodhpur.
There is also a restaurant inside this fort, Chokelao Mahal Restaurant. You can enjoy a memorable candlelight dinner at the restaurant while enjoying a view of the city. While this fort typically lights up in the evenings, sadly, they have stopped illuminating it since COVID pandemic set in.
Jaswant Thada
Jaswant Thada is located just a few minutes away from the fort. Constructed in 1899, the cenotaph was built to commemorate Maharaja Jaswant Singh II.
It is open daily from 9 am to 5 pm. Entry fee is INR 30 per person for domestic tourists and INR 50 per person for foreign tourists. While you can hire a guide here, we chose to walk around this place by ourselves admiring the intricate white marble architecture. Stop and appreciate the beautiful jalis / carved marble lattice work. If you want to see the cenotaphs up close, bear in mind that you will be required to take your shoes off since this place is considered sacred.
Explore the blue city up close
As you would have noticed from up the fort, most of the houses in Jodhpur are painted blue, thereby giving it its moniker, the Blue City.
There are conflicting theories as to why these houses were painted blue in the olden days. Some say, Brahmins (priestly caste) painted their houses blue to differentiate their houses from others. Other reason could be that the color blue keeps houses cool in the summer months. Rajasthan, being a desert state, can get extreme high temperature in the summer. One other reason could be the proximity of indigo plantations to the city, thereby making the color blue easily available.
However, over the years, most of the owners have repainted their homes in other colors. Don't expect to walk in the old city and be surrounded by these iconic blue houses. But you will certainly find cluster of blue houses as you delve deep into the by lanes.
We decided to do a walking tour of the blue city. The tour guide assigned to us at the fort mentioned that he conducted guided walks in the city so we signed up for a walking tour of the city with him (INR 500 per person). We spent 3 hours walking, learning and exploring the nooks and corners of Rajasthan's blue city. We started our tour first thing in the morning (7.30 am), which was ideal since the streets were devoid of any vehicles and people. Our first stop was the stepwell (more on that later), we then made our way to the rooftop of one of the local guesthouses in the old city. We sipped on masala chai and devoured cookies admiring the view of the fort, ghanta ghar and blue houses.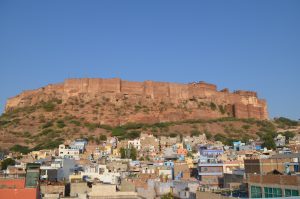 After we were done with light snacks, we started navigating the zigzag streets in search of the lovely blue houses. Whatever be the reason they painted blue, it sure does make for  visual treat. Don't you agree? Also, there was a section wherein all the houses were blue and it literally felt 2-3 degrees cooler there than the rest of the city.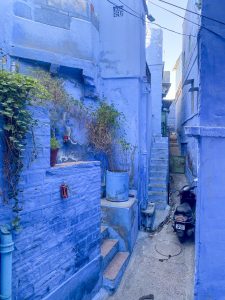 Want a bird's eye view of the blue city? Then make your way to Pachetia Hill. The climb itself isn't too difficult but the steps at the start of the hill are a bit uneven. As you reach the top, Jwala Mukhi Mataji Temple, you will be greeted with unparalleled view of the blue city.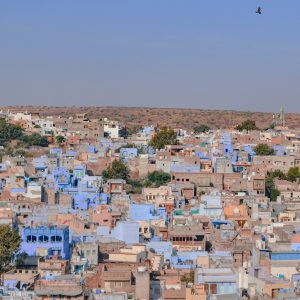 Even if you don't sign up for a guided tour, you can do this on your own. Just ensure you wear comfortable shoes. It took us about 20-25 minutes to get to the top. If you think you can't climb all the way to the top, at least go to the start of the walk since the walls at the bottom of the hill are beautifully painted with traditional Rajasthani elements.
While you can explore the blue houses on your own, I recommend signing up for a guided tour. They truly know all the best spots hidden in the nooks and crannies. Also, the streets are very narrow and you will find a lot of dogs loitering around.
If you still want to explore the blue houses on your own, then head to Ghanta Ghar/ Clock Tower and start exploring the alleys. Areas such a 'Navchokiya' and Chandpole have the most alleys with blue houses. If you are lost, just ask locals for directions.
Toorji ka Jhalra
Rajasthan is famous for its stepwells and the most prominent one in Jodhpur is Toorji ka Jhalra. It was built in 1740 by Queen Maharaja Abhay Singh to provide water for the people of this city. Entry here is completely free. You can make your way down the labyrinth of stairs or just admire it from the top. It is quite deep and don't let pictures fool you otherwise. Also, the steps are a bit uneven so be careful as you make your way down.
If you know me personally, you will know that I am clumsy and fall at the drop of a hat. I avoided going all the way to the bottom and just admired it from the top.
There are quite a few restaurants, cafés and shops near this area. You can easily spend a couple hours here grabbing a bite overlooking this stepwell or shop in the local markets.
Ghanta Ghar and the local markets
After the fort, Ghanta Ghar, which translates to Clock Tower, is yet another iconic spot in the city. Ghanta Ghar, located in the middle of the bustling Sardar market is basically a market area full of shops selling clothes, jewellery, footwear, bedsheets, bags, etc. You will also find small local eateries and beautiful cafes and restaurants in this area. It is at a walking distance from the stepwell.
Ghanta Ghar is the busiest, nosiest and most crowded spot in this city but the perfect spot to spend your afternoon / evening when in Jodhpur. If you do end up buying anything from the stores, be sure to haggle.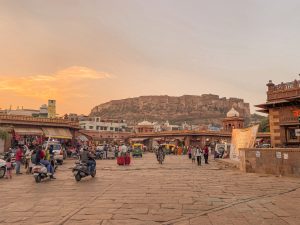 During our guided city walk, our tour guide took us to some of the best local shops located near Ghanta Ghar and made us try out the local delicacies. We tried a bunch of stuff like moong dal kachori, ghevar topped with rabdi, gulab jamun, mawa mithai, jalebis and ended with lassi.
Listing down some of the local places that we tried and liked:
Moolji Sweets for ghewar
Chaturbhuj Parsram for gulab jamun and mawa mithai
Ghasiram for rasgullas
Chotu Motu for jalebi
Mishrilal for lassi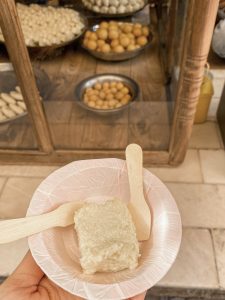 Want to buy sweets / snacks for family back home? Head over to Janta Sweet Home located on Nai Sarak road. You can also buy from Jodhpur Sweets which is located about 10 minute drive from Ghanta Ghar.
Watch a Sunset overlooking the fort
Jodhpur, with its iconic fort and blue houses provides the perfect landscape for a spectacular sunset. There are quite a few spots in this city from where you can enjoy a beautiful sunset view.
Rao Jodha Park
Pachetia Hill
Atop a temple located near the fort
Atop one of the countless rooftop restaurants in the city
After speaking to a bunch of locals, we decided to climb atop the temple near the fort to witness the sunset – and let me tell you, it was even more spectacular than I had imagined ! I will let the pictures do the talking.
Ask your autorickshaw/ taxi driver to drop you at the start of the stairs, from where you have to climb about 400 steps to get to the temple. It took me less than 20 minutes to get to the top, from where you not only get a beautiful view of the fort, but also the city.
It is a straight uphill climb so be sure to wear comfortable shoes. Unlike some of the other spots in the city, this spot is known just to a handful few. There were barely 5 people at the top admiring the sunset from here. Being on a hill, with a front row view of the iconic fort, countless blue houses and watching the sky turn into different shades of pink and orange, was one of my favorite evenings in this city.
Umaid Bhawan
Umaid Bhawan is one of the most royal and luxurious palaces in India. The foundation of this palace was laid in 1929 and the construction was completed in 1943.
Umaid Bhawan Palace is spread over 26 acres of lush grounds and is one of the largest private residences in the world with 347 rooms. Today, 70% of this palace has been converted into a 5* luxury hotel. The balance is used by the royal family as their private residence. They have converted a part of it into a museum and opened it up to the general public. In this museum, you will find a collection of art deco furniture, antique clocks, weapons, dining sets, etc. There is even a vintage car collection on display which is quite impressive. The entry fee for the museum is INR 30 per person for Indian residents and INR 100 for foreigners.
One night stay at this palace will cost you not less than INR 50,000 / USD 700. Even if you want to stop by for high tea/ meal, there is a minimum cover charge, which is quite exorbitant.
Personally, I felt the museum wasn't extra ordinary, so if you are short on time, you can skip this one.
Mandore Garden
On our last morning in Jodhpur, we decided to explore something different. Located about 10 kilometres from the city centre, Mandore Gardens is a lesser known place in Jodhpur. These gardens contain cenotaphs which are built like traditional Hindu temples, unlike other cenotaphs. If you have been to Jaisalmer/ Bikaner/ Udaipur, you will notice how different the architecture is here.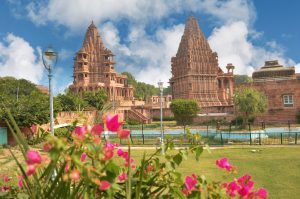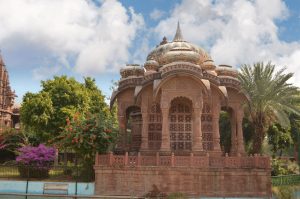 I had heard that there are a lot of monkeys roaming around this garden. Monkeys can get very aggressive and can create a nuisance. Luckily, we didn't encounter any monkeys during our visit here. May be because we visited first thing in the morning?
There is even a fort at the end of this garden. Since we had a flight to catch in the afternoon, we didn't explore this place fully. But definitely recommend adding this place to your list if you are looking for something different.
This garden is open from 8 am to 8 pm everyday and is completely free to visit.
Where to Eat
Almost all the restaurants/ cafes in the old city quarter have open terraces which will provide you an uninterrupted view of Mehrangarh fort. During summer months, most of these rooftops are closed during lunch time. At night, however, you will be rewarded with a magnificent view of the fort which is typically lit up. Since COVID pandemic set in, they have stopped illuminating this fort – lets hope they fix this soon.
During our stay in Jodhpur, we ate at a couple of lovely restaurants. In addition to north Indian and traditional Rajasthani food, these restaurants offer top notch continental food.
Raas
Our first evening in Jodhpur we decided to stop by Hotel Raas, located near Ghanta Ghar.  They have two lovely restaurants and a panoramic rooftop bar which overlooks the fort. We reached just in time for sunset and grabbed a seat at their rooftop bar. There were just a handful of other guests and we absolutely enjoyed sipping on cocktails overlooking the mighty fort. As the evening progressed, the tables were lit up with candles setting just the perfect ambience.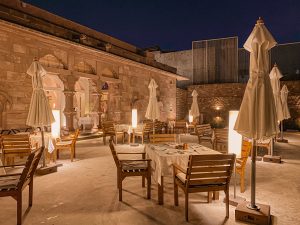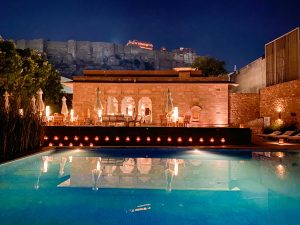 Isn't this place spectacular ? If you do plan to come for drinks/ meal, be sure to make a reservation in advance.
Since the fort wasn't lit up in evenings, we didn't visit other restaurants overlooking the fort. If you are looking for other restaurants offering a view of the view, then check out Indique and Rani Mahal. Have heard great reviews about both.
Gypsy
We were keen on eating traditional Rajasthani delicacies for at least one meal. We decided to eat a Rajasthani thali at Gypsy Restaurant located about 10 minutes from Ghanta Ghar. No matter what time of the day you get here, expect to wait since this place is fairly popular, both among locals as well as tourists.
It has two sections – downstairs is a fast food restaurant while upstairs is the thali place. Sadly, their main thali dining area was closed for renovation – while they did not offer a full fledged thali at their other restaurant, we still got to eat dal baati churma, gatta sabzi and other local food. For those of you who've never had a thali before, it is basically a full meal comprising small dishes. A thali will typically have plain rice or some kind of bread (e.g. roti, chapati or poori), and a selection of vegetable curries, pickle, curd, snacks and sweets.
Even if you aren't in the mood for a thali, this restaurant offers a range of other dishes – right from chaat, to chole bhature to Chinese to sizzler. I am assuming it is good since most of the locals were eating this fancy food.
Khaas Bagh
Every time we went to the city center, we passed by Khaas Bagh – it looked like a hotel but we were intrigued by it and decided to check it out on our second evening in Jodhpur. As we passed by the gate, we felt like we had stepped into a fairytale. The whole place looked beautiful under the blue sky.
Khaas Bagh is a boutique hotel and they open up their restaurants to general public. They serve Indian and continental food and are open for lunch and dinner. The outdoor courtyard is open only for sundowners/ dinners. The host recommended we try their Indian food and we were not disappointed. They serve some unique items like ghewar chaat, kali mirch malpua, caramelised apple rabdi. Highly recommend a meal here during your stay in Jodhpur.
All you car afficionados, they have a large collection of vintage cars owned by the hotel owner on display. Once you are done with your meal, you can take a stroll and admire the cars up close. You will spot vintage Rolls Royce, Jaguars, Pontiac.
We loved this place so much that we went back on our last day in Jodhpur for lunch.
If you want to have non-Indian food, check out Filos and On the Rocks. We ate Italian and Chinese there and loved it.
Listing down couple other places that were recommended by friends. We didn't have time to eat here but you can check them out
Bungalow 12
Jhankar Haveli
* All prices are as of November 2021