Mention Rajasthan and the first city that comes to mind is probably Jaipur or Udaipur. While most tourists flock to Rajasthan's famous cities of Jaipur, Udaipur, Jodhpur and Jaisalmer, Bikaner is probably the least visited city in the state of Rajasthan.
In India, Bikaner is synonymous with namkeen / snacks but it has so much more to offer in terms of history, natural beauty and religious sites. Since it isn't as famous as its neighboring cities, you will get most of the tourist spots all to yourself right in the middle of the day! No need to wake up at the crack of dawn for those insta worthy shots 😊 Want to stay in an erstwhile royal palace for just INR 7,500 ($100) a night? Possible only in Bikaner 😊
The moment you step foot in Bikaner, you will notice that it is a paradise for photographers! Home to majestic forts, beautiful palaces, streets that literally seem frozen in time, to a desert just a stone's throw away, Bikaner has all the elements of a typical Rajasthan city.  Just as Jaipur is the pink city, Jaisalmer the golden city, Udaipur the white city and Jodhpur the blue city, Bikaner is also known as the red city. Most of the architecture you see here is built in trademark Dulmera red sandstone, thereby giving it the name of red city!
Having spent three glorious days in Bikaner, let me tell you and show you why it is such an underrated gem. Read on to know the most beautiful places to visit, places to eat at and make the most of your time in this beautiful city.
COVID Specific Travel Requirements
As of November 2021, if you are fully vaccinated and 14 days have elapsed since your second shot, then all you need is proof of vaccination status. You will need to show your vaccine certificate at the airport of departure as well as arrival.
Best time to visit
Weather during November to early March is cooler thus, making it an ideal time to visit. This is the peak tourist season, so hotels tend to be more expensive. You can expect a few deals and discounted rates during summer and monsoon season (July – early September).
How Many Days to Spend
You can see most of what the city has to offer in two days. But if you want to visit Gajner and Deshnoke, which are slightly farther away, a three day trip is ideal. We had a connecting flight via Delhi and it took us almost 6 hours to get there (including layover). We decided to stay for three days so could have a slow and relaxing holiday.
How to get there
One of the biggest drawbacks of Bikaner is lack of flight connectivity with rest of India. As of now, only Air India operates direct flights to Bikaner via Delhi.
If you are traveling by road, then you could fly into one of the below cities and then drive to Bikaner
Jaisalmer (4.5 hour drive)
Jodhpur (4.5 hour drive)
Jaipur (5 hour drive)
You could club your trip to Bikaner with one of the above-mentioned cities. That's what we did – after spending a few days in Bikaner we hired a car+driver (for INR 4,000) who drove us to Jodhpur. We spent a few days exploring the blue city of Jodhpur and then flew back to Mumbai. Of course, trains and buses are much cheaper compared to private car.
Getting around the city
Bikaner is slightly undeveloped compared to its neighboring tourist cities. Autorickshaws / tuk tuks are the most convenient mode of transportation within the city, but they are notorious for quoting ridiculously high prices! They don't use a meter and often try to fool tourists. I would suggest asking your hotel staff how much a trip to a particular place should cost and accordingly negotiate with the driver. Note that Ubers are not available in this city.
For the most stress-free vacation, you can hire a driver for the entire duration of your trip. Most drivers charge around INR 2,500 per day. Personally, I wouldn't recommend hiring a driver for the entire duration of your trip since Bikaner is a relatively small city. Most of the sights to visit are literally 10-15 minutes away from each other. But if you are planning to visit Deshnoke/ Gajner then you could hire a car + driver for that day.
We ended up commuting via autorickshaws most days and hired a private taxi to visit Gajner. We spent a total of INR 2,300 on transport for our three day stay.
Where to Stay
One of the main reasons I planned a visit to Bikaner was to stay at the luxurious Narendra Bhawan. And let me tell you, it far exceeded my expectations!
Narendra Bhawan was the erstwhile haveli of the last reigning Maharaja of Bikaner, Narendra Singh Ji. He died in 2003, after which this haveli was converted into a luxury hotel. From the moment you step in, you will notice the beautiful amalgamation of traditional and modern architecture. Maharaja Narendra Singh traveled extensively throughout Europe which is reflected in the interiors of the hotel.
One of my favorite spots in this hotel was undoubtedly the courtyard, Diwali Chowk. Adorned with low Indian styled seating, canopies, fruit trees, bougainvillea and overlooking the sky, it was one beautiful oasis. I spent my days with a cuppa chai lounging here, read a book under the lovely winter sun and even had a drink surrounded by candles. I literally must have clicked a gazillion pictures here. But can you really blame me? Just look at this beauty.
This hotel truly looks even more magical at night. Even if you aren't staying here, highly recommend stopping by for a meal. During our stay, we dined at the hotel most nights. They have a delicious Indian and continental spread. Their outdoor seating area is lovely. They also serve delicious pastries at Mad Hatter – do try their signature apricot brandy cake.
There is even a pool at the rooftop which provides a bird's eye view of the city. Be sure to stop by during sunset.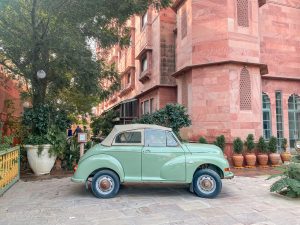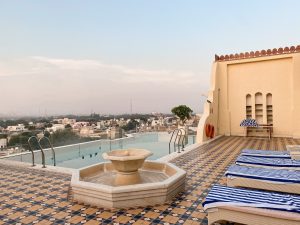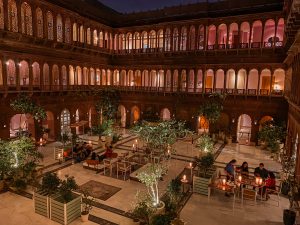 Every corner of this property is Pinterest worthy! Don't you agree?
While the property is a bit small, we absolutely loved our stay here and cannot wait to return someday. Right from the moment we checked in, we felt like this was our home away from home.
This hotel also offers a bunch of curated experiences, one of which is an evening under the stars with musicians, a bar, BBQ grill, right in the middle of the desert! We didn't have time for any of these curated experiences but would love to try this out next time I am back.
Places to See/ Things to do
Junagarh Fort
You must be thinking, yet another fort in Rajasthan – how different can it be! Let me tell you, I have visited forts in Jaisalmer, Jaipur and Jodhpur, and this one is, hands down, my favorite.
Built in the 16th century, it is one of the most famous landmarks of Bikaner. The fort was originally called Chintamani and was renamed Junagarh or "Old Fort" in the early 20th century when the ruling family moved outside the fort limits. It is one of the few major forts in Rajasthan which is not built on a hilltop. The modern city of Bikaner has been developed around the fort.
The structures built within the Junagarh fort are made of red sandstone (Dulmera) and marble. Each of the courtyard here is intricate and so unique. The best part is that each king made additions as they lived here so you truly get to see architecture from different eras and styles.
My personal favorite was the Anup Mahal which also houses Badal Mahal, the blue room. Even Chandra Mahal, with its lavish gold interiors and painting on the walls is spectacular. This fort has numerous rooms, courtyards, temples and you can easily spend 90 minutes admiring the details. Even if you are short on time, I would highly recommend a visit here.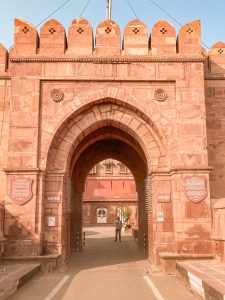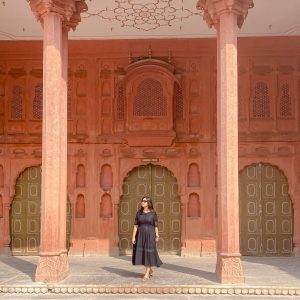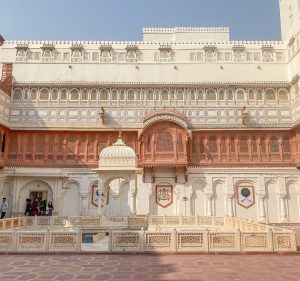 Entry fee is INR 50 per person (for Indian residents) and INR 300 for foreigners. Always recommend hiring a guide when you visit such historical places. The fort opens at 10 am (hallelujah for late risers like me 😊) and is open until 4.30 pm.  When we first got here, it seemed a bit too crowded but as we made our way to the different rooms and courtyards, the crowd started to disperse. In fact, we had some of the rooms all to ourselves. The first picture that you see is taken at the entrance of the fort around noon.
Rampuria Haveli
All you architecture lovers, this one must top your list of places to visit in Bikaner.
In the olden days, the kings invited traders to Bikaner to make this city their base for trade. Since Bikaner was an important stop on the ancient Silk Route, the wealthy merchant class set up base here. As the merchant community started settling down in the city, it resulted in the construction of grand mansions all over the city.
Built in the 15th century using signature Dulmera red sandstone, the main haveli/ royal mansion belonged to the most powerful merchant family, Rampurias. While each of the neighboring havelis have their own distinct names, they are collectively known as Rampuria Haveli. Popularly known as the "Pride of Bikaner" these havelis give you a glimpse of the opulent lifestyle of the merchants of Bikaner.
While today, these houses are all locked up (since their owners have moved to other cities) you can take a leisurely stroll here and admire the intricate designs, jharokas and carvings from outside. There is no entry fee here – you can spend as much time as you want admiring the beautiful architecture. Sadly, since no one lives here, you can see how some of the structures have gotten dilapidated over time.
While researching for this trip, I had heard that one must visit this spot first thing in the morning to avoid traffic of cars. I got here around 1 pm and had the street almost to myself. Of course, the lighting wasn't the best at that time, but that didn't stop me from roaming around and capturing these beautiful havelis from all different angles. And let me tell you, these havelis are as beautiful as they look on Instagram. In fact, since I had this street to myself, it kinda felt like time had stopped here. Just look at the details here!
And these colors – from red to blue to golden ! Gosh, just so beautiful !
If you want to get a feel of how these havelis look from inside, then head over to Bhanwar Niwas Palace, located just steps away from Rampuria Haveli. Belonging to the same merchant family as the above havelis, it is now a heritage hotel. One of the guards was kind enough to show us around; we even took a peek in some of the luxurious rooms. While there is no entry fee to view this haveli from inside, be sure to tip the guard.
Laxmi Niwas Palace
Built between 1898 and 1902, Laxmi Niwas Palace was commissioned by Maharaja Sir Ganga Singh to serve as his royal residence. It has now been converted into a hotel – most of the rooms have been left largely unchanged with a few minor changes.
Laxmi Niwas Palace is built using the traditional Dulmera sandstone of Bikaner with detailed carvings. The exterior of this palace-turned-hotel is massive and you will find a lot of picturesque corners here. Right from the entrance to the courtyard to the pool, you will find it hard to keep your camera down. The big garden at the front of the hotel, is ideal to shoot the entire palace – however, there were wedding preparations going on when we visited and hence, I couldn't get a decent shot of the entrance.  Even if you are not planning to stay at Laxmi Niwas Palace in Bikaner, I would still recommend visiting to have a look at the property or stop by for a meal. Apparently, their Rajasthani thali (approximately INR 2,000 per person) is delicious – we were too full from our heavy breakfast and hence, couldn't try it.
Try going in evening so you can experience the beauty of this place in daylight as well as at sunset. The sunset from their roof was spectacular! You even get a view of Lalgarh Palace, another palace turned hotel, from their roof.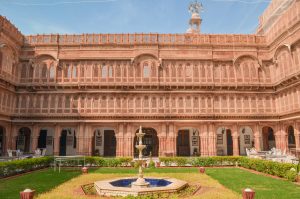 Gajner Palace
If you had to ask me the highlight of my trip to Bikaner, then this would be it !
This place was mainly a hunting resort during the time of the rule of the British and before that, the summer palace of one of the Maharajas of Bikaner. It was converted into a hotel in 1976.
From lovely courtyards to terraces overlooking the lake to listening to the sounds of birds chirping to rendezvous with peacocks, Gajner Palace is the perfect place if you are looking for an escape close to nature. You can even go on a jeep safari in the wildlife sanctuary or go on a boat ride on the lake. If you are lucky, you could spot chinkara, black buck, blue bull as well as other rare animals and birds.
Even if you are not staying here, you can always stop by for snacks/ a meal and check out the property. The best time to visit would be during sunset. But if you plan to visit the wildlife sanctuary then go a bit early since it closes at 5 pm. We got here around 4.30 pm, spent a few minutes walking around, soaking in the lake views. We were literally taken aback by the different species of birds here. It was lovely to be amidst the nature away from the hustle and bustle of city life. The sanctuary and lake attract more than a hundred species of migratory birds during the winter. Even for the brief time we spent here, we just couldn't stop looking up and seeing different birds.
We caught a seat at Mirage, their lakeside restaurant for some snacks. Once we were done, we took a little stroll to observe the sunset up close. Sadly, the sun sets in the marshlands so you don't get the postcard perfect sunset, but it was still lovely to roam around the property. It was the perfect way to spend our last day in Bikaner.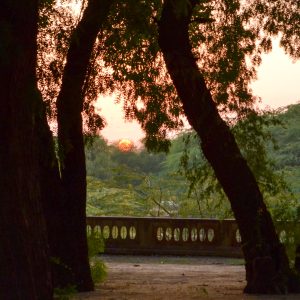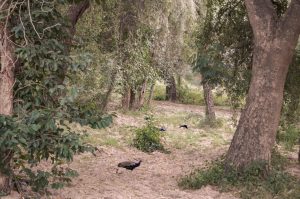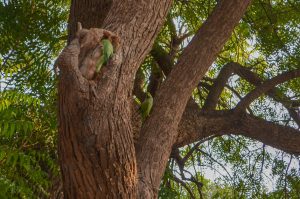 Gajner Palace is located at an approximate distance of 33 km from the city of Bikaner. The best way to reach there is via taxi, which will take you around 30-45 minutes depending on where you are staying.
Explore the old city
As I mentioned earlier, Bikaner is famous for its namkeen/ snacks. So, did you really go to Bikaner if you didn't sample their famous namkeens?
Start your walk from the grand Kote Gate. It is one of the famous landmarks of Bikaner and is almost 500 years old. There are a bunch of local shops around this area so why not check them out.
Take a leisurely stroll around the market, try out the roadside food and buy what you like. You will find a lot of stores selling namkeens but ask a local where to get the best food from. Our hotel manager recommended Bishanlal Babulal Shop located near Kote Gate. We tried a few sample bhujiyas – palak, garlic, paneer, methi (fenugreek), elaichi (cardamom), tomato. They were all delicious, but we stuck to packets of regular bhujiya sev for family back home. Also, don't forget to buy the famous Bikaner papad. Bhikharam Chandmal, Bikaji, Bikanervala are few other famous namkeen shops which you can check out.
For sweets, head to Chotu Motu Joshi Shop – we mainly wanted to try out ghewar, a disc shaped sweet but were told that they start making it from December onwards once the weather starts cooling down. But how can I enter a sweet shop and not buy anything, right? We picked rasgullas and gulab jamun – both so yummy !
When in Bikaner, want to try out paan (betel leaf)? Head to Moosha Phoolsa pan shop, located just a few steps away from Kote Gate.
A unique place to try out in Bikaner is Chunnilal Sherbetwala, an iconic shop on the Jail Road. This shop has been around since 1939, when Chunnilal Tanwar used to serve sherbet made with a variety of flowers and spices. His son is now running this shop. They basically add crushed ice into a small glass, add some syrup and then fill up the glass with water. I have to say, he gave us generous pouring and literally made us try almost all flavors – bela (jasmine), clove, rose, saffron and almond, fennel, khus, kevda. They were all so refreshing.
For the brief time we were there, we spotted several school going kids stopping by for glass of their favourite sherbet. Bela was the most popular, but we found it a little too sweet for our taste. We loved the rose flavor and ended up buying a bottle for my brother. Also, try out saffron and almond one made in milk.
Devi Kund Sagar
Rajasthan is famous for its royal cenotaphs. Jaipur has Gatore ki Chhatriyan, Udaipur has Ahar cenotaphs and Jaisalmer has Bada Bagh.
A cenotaph is basically a crematorium ground of the Bikaner royal family, with hundreds of beautiful cenotaphs or chattris / umbrellas built in their honour. At Devi Kund Sagar, the chattris that were constructed earlier are made in the red and pink sandstone that is seen throughout the city. The newer ones, on the other hand, are built in white marble and are equally as picturesque.
When visiting the Royal Cenotaphs, remember to be respectful and to not climb on any of the cenotaphs as they are considered sacred. Entry fee is INR 5 for Indians and INR 10 for foreigners. Note that you are required to take your shoes off when entering this place. Since we visited in evening, we didn't mind walking around barefoot. But if you are visiting earlier in the day, then advisable to carry socks.
Devi Kund Sagar is located around 9 km away from the city centre of Bikaner. Since this place is in the outskirts of the city, it felt a little deserted. Advisable to keep your autorickshaw / taxi waiting while you visit this spot.
Also, recommend visiting during sunset. It is open till 5 pm but we were there till around 5.30 and thankfully, the guard didn't kick us out. Since it is slightly far from the city, this spot doesn't get many tourists. There were just 5-7 people when we visited.
Seth Bandasar Jain Temple
Located just a few steps away from Rampuria haveli is this beautiful Jain temple. This temple was constructed in the 12th century. According to legends, 40,000 Kgs of ghee was used in the construction of this temple instead of water to combat the scarcity of latter in this region. The priest even said that the ghee starts to melt in summer months due to excessive heat.
As you are walking here, be sure to observe the intricate details – from the ornate ceiling to the patterned mirror work to intricate carvings, every corner here is photo worthy!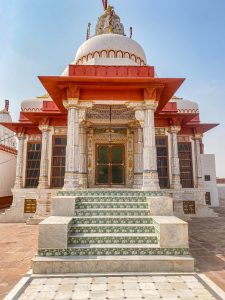 Additional Places to Visit
If you have more time on hand, why not look into these places and see if they interest you.
Similar to the golden city of Jaisalmer, Bikaner is also located in the Thar Desert. It isn't as impressive as the one close to Jaisalmer, but if you are not travelling to Jaisalmer then you can check this one out.
You can opt for a camel safari or simply dine under the stars. Or if you want to be a little more adventurous, why not stay overnight?
Ever heard of the Temple of Rats? Karni Mata Temple is the only temple in the whole world that worships rats. It is said that there are at least 25,000 rats in the temple. This place is located at least a 45 minute drive away from Bikaner (in Deshnoke) and certainly not for the faint hearted.
Legend has it that Laxman, son of Karni Mata , drowned in a pond while he was attempting to drink from it. Karni Mata implored Yama, the god of death, to revive him. First refusing, Yama eventually relented, permitting Laxman and all of Karni Mata's male children to be reincarnated as rats.
They say that if the rats get on our feet that are good luck! Out of all of the thousands of rats in the temple, there are a few white rats, which are considered to be especially holy. They are believed to be the manifestations of Karni Mata herself and her four sons. Sighting them is a special blessing.
Rats creep me out – particularly if I see so many rats together, I would probably get a panic attack ! Hence, we skipped this one.
Lalgarh Palace is another luxurious palace in Bikaner. It is situated in the same complex as Laxmi Niwas Palace and used to be the residence of Maharaja Ganga Singh Ji. The royal family Bikaner live here even today. The other sections, however, have been converted into a heritage hotel.
The Lalgarh Palace was also built in the red sandstone of Thar Desert with stone carvings. I personally did not get the time to visit this place but got a lovely aerial view from the nearby Laxmi Palace.
Camel National Research Center
National Research Center on Camel was established by the Central Government in 1984 to promote research on camels. One of its kind in India, it focuses on breeding and health of camels and also promoting camel milk and its products.
Camel riding and safari are also available here for an additional fee. You can also check out camel milk parlour which offers unique camel milk products like ice-cream, hot and cold beverages. Note that this camel farm is located around 8 km from the city. If you are traveling with kids, it sure would be a fun place to visit.
* All the above prices are as of November 2021