Slovenia, despite being a small country, has a LOT to offer! Slovenia offers scenery similar to Swiss and Austrian Alps, it has seaside towns like Croatia and even has a wine region similar to Tuscany!
Slovenia is a relatively small country and most of the key places to visit are just a short drive away! If you don't enjoy lugging around your suitcases every couple days while on a holiday, then Slovenia is the perfect country for you! You can set up base at Ljubljana and make day trips. While its possible to get around in Slovenia using public transport, to really explore the nooks and crannies of the country, it is advisable to rent a car.
Bear in mind that Slovenia, being a part of EU, requires Schengen visa. Also, the currency is Euro.
While we were in Slovenia for just 2.5 days, we managed to fit in a lot of places. In hindsight, we should have spent at least a week – 10 days to do full justice to all that this country has to offer! With whatever little we managed to see, we absolutely fell in love with this country! We are certainly coming back for you one day!
If you want a general overview of our itinerary, then please click here.
Getting there
We flew in to Zagreb and drove to Ljubljana (around 150 kms). You need to buy a vignette (window sticker) before you enter Slovenia – this vignette works as a toll – you don't have to pay a toll otherwise while driving on highways in Slovenia.
You will get a vignette at any gas station along the highway. We bought the 7-day pass, which cost us Euros 15. If you don't affix this on your car and are stopped by the cops, they can levy a hefty fine!
Places to visit
Logar Valley
Logar Valley is a U-shape valley embraced by the Kamnik-Savinja Alps, and is close to the Austrian border.
As soon as we left Zagreb airport, we headed straight to Logar Valley. It was a very scenic drive as we had the Kamnik-Savinja Alps constantly in our view. Keep in mind that there are numerous curves and hairpins so if you have motion sickness, then advisable to avoid.
You will reach Logar valley through the village, Solcava, where you pay € 7 as an entrance fee (there is a ticket booth right at the start of the road). Note that this entrance fee is per vehicle and is not based on the number of individuals. The moment you leave this booth, you will get the best view! The huge green meadow in a wide valley flanked on both sides by green hills and Alps makes for postcard perfect views.
While this place is lush green in the summer and provides amazing scenic vistas, it was equally gorgeous when we visited in early fall. We parked our car and wandered around for a bit – it truly felt as if time had stopped! Unfortunately we were pressed for time and were jetlagged, so our stops were short and quick.
In hindsight, if we had additional time on hand, would have definitely stayed overnight here. If you plan to stay for longer, there are several hiking trails you can choose from.
Ljubljana
First thing first – How to pronounce? "Lub-liana". But it is called "loob-lana" by the locals.
Ljubljana in one word – CHARMING. Ljubljana's old town is everything you expect from a European city – full of cobblestone streets, pastel colored buildings, charming cafes and pretty little alleys. It is very small compared to other European cities and can easily be covered on foot in a day.
After spending just a few minutes in the city, you will notice that this city is full of bridges! Among the most popular bridges are Triple Bridge, Dragon Bridge, and Butchers' Bridge, better known as Ljubljana's love bridge. You can see the city via kayak, SUP or bike! But, just like any other European city, it is best explored on foot.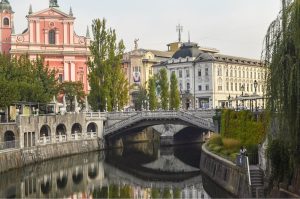 There are several restaurants along the river where you can grab a meal and indulge in some drinks. If you want to see the city from a vantage point, then visit the Castle – you can either hike up Castle Hill (about 40 minutes of steep climbing) or take the funicular for a fee.
Visiting local markets is one of our favorite things to do and I recommend stopping by the Central Market, a farmers market located between Vodnikov trg and Pogačarnev trg squares. You can get fresh fruits, vegetables and beautiful flowers. We picked up berries and they were delicious. Hours and dates for this market fluctuate, so be sure to look it up online.
If you are looking for something different, head over to Metelkova. It is the artsy neighborhood of Ljubljana and has some cool graffiti and art murals. We didn't visit this one but apparently at night this place comes alive and it is packed with people since the bars and clubs are open.
I had the best gelato in Ljubljana from Cacao. Stop by and try their unique and delicious flavors – I tried the tiramisu and chocolate muffin and loved them both. Another gelato shop, Vigo is equally nice and a tad bit cheaper too!
If you are looking for acai bowls and vegan food options, head over to Barbarella Bistro. If you want some yummy pizzas by slice, then head over to Pizza Rustica.
If you are looking for a green space, head over to Tivoli Park.
Soca Valley
With numerous waterfalls and emerald green water, Soca Valley is the perfect spot for adventure lovers. You can indulge in ziplining through the valley, rafting, hiking, bungee jumping, or paragliding. Soca Valley is probably the best stop for any outdoor lovers out there.
Just one look at that sparking green water is bound to make you fall in love with it. We had made reservations for kayaking Soca River so left Ljubljana early to make it in time for our trip. We drove via Vrsic Pass – the views along Vrsic Pass are nothing short of spectacular. You will be compelled to stop often and take in the beautiful views. We also stopped by Lake Jasna before making our final stop at Soca.
Our kayaking trip started on a bad note. Firstly, we reached there almost an hour late. Secondly, we forgot some essentials and had to rush all the way back to main site to collect them. We were delayed in starting our kayaking trip by almost 2 hours and had to finish it before the sun set by 6 pm. Once we started kayaking, we noticed that the river was very shallow. To add to our troubles, our kayaks kept toppling for some reason. As you may know, once the kayak gets filled with water, it is impossible to go ahead! And lifting the kayak single-handedly is no joke! Because of the strong currents, some of us rushed way ahead while the others were stuck at one place! We toppled quite a few times and ended up with a few bruises by the end of the day.
We had planned to go to Brda and couple other towns, but due to the delay and of course, our injuries, we decided to skip these towns.
Lake Bled
Lake Bled is barely a 40 minute drive from Ljubljana. If you have additional time, recommend stopping by Jamnik on the way if you are into picturesque hilltop churches and the beautiful Slovenian countryside. The Church of St Primus is one of the most photographed places in Slovenia. We were already a bit late starting our drive to Bled and since we had an action-packed day, had to drop this off our list.
Lake Bled is one of Slovenia's most iconic destinations with its fairytale castle, island and church set on an cobalt-blue lake surrounded by mountains. Bled Island is a tiny tear shaped island in the middle of the lake, reachable only by row boat or gondola. Don't waste money going to the island just to ring a bell – it is overcrowded and kinda prettier from a distance. You can take a leisurely walk along the lake – it is approximately 6 kms and should take about 1.5-2 hours including numerous pit stops. You can also rent a traditional wooden boat and go rowing on Lake Bled. Or even rent a bike and ride around the lake! If you want the most magnificent views of the lake, go for a hike to Ojstrica and Osojnica.
Do not leave Bled without trying the famous Bled Cream Cake. It is served at most restaurants in the area but if you want the original and best one, then have the one at Park Hotel. Needless to say, I had to try it – most people find it too sweet, but given that I have a sweet tooth, I loved it!
If you have additional time on hand, you can drive further north and make a pit stop at Lake Bohinj. It is supposed to be equally scenic and I hear, it has half the tourists.
On the way back from Bled, we stopped by this small cute town Radovclija – we wandered around the main street and grabbed a cup of coffee, before reaching Postjana Caves.
Postjana Caves
Even though it's a pricey entrance fee (Euros 25 per person), these caves truly deserve to be visited. It is one of the largest caves, rich with various stalagmite and stalactite creations. First, you hop on a 10-minute train ride (wish it slowed down so one could truly appreciate the creations) and then there is 30-40 minute guided tour. The stalagmites and stalactites come in all colors here – not only orange and red, but also black and white, that look like ice. Keep in mind that the cave has a constant temperature of 8°C to 10°C so a warm jacket and comfortable shoes are advised in any season of the year (I was literally freezing in shorts).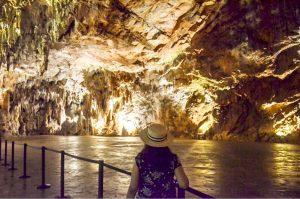 Walking around these caves and being mesmerized by the enormity of stalagmite and stalactite formations was overwhelming and left me speechless. Probably no words can describe how small man seems in this masterpiece of Mother Nature.
* All prices are as of September 2018