Vietnam is probably one of the most underrated countries in Southeast Asia. Most people flock to Thailand, Singapore or Bali when they first plan a trip to SE Asia. In fact, Vietnam wasn't much on people's radar until a few years ago. With the introduction of direct flights from major Indian metro cities to Vietnam in the last year, it has become the hottest destination in SE Asia for Indians.
But why visit Vietnam? How different can it really be from its other SE Asian counterparts? Oh well, plenty of great reasons but let me tell you the top ones – Vietnam has a diverse landscape from north to south. Not only do you get to see natural beauty including mountains, natural caves, rivers and beaches; you also get a mix of modern cities and old towns. Thus, providing you with different experiences and a glance into its history. Oh and if you are a coffee lover, then you are going to be in coffee heaven every day!
I spent 10 days in this country last month on a family trip and absolutely loved my time here. What made the trip so special? Undoubtedly the locals ! Some of the nicest and helpful people and so welcoming.
I visited Hanoi, Ninh Binh, Halong Bay, Da Nang, Hoi An and Ho Chi Minh City ('HCMC'). If you have additional time on hand, then check out Sapa, Hue and the beaches of Phu Quoc.
If you are planning a trip to Vietnam and don't know where to start, hoping this article comes in handy 😊
Things to Know for first time visitors
Visa
Citizens of some EU and Asian countries enjoy visa-free entry into Vietnam. Indians need to apply for an e-visa at this website. Recommend applying for e-visa at least 10 days before your trip. Cost of visa is USD 25.
Citizens of some other countries such as USA and Canada may also require a visa to enter Vietnam. Make sure to check the visa requirements before you go.
How to Get around the cities
Once you reach any Vietnamese city, you can use Grab (similar to Uber) to get around. The app is fairly easy to use and navigate. You can can choose the type of car, five seater or seven seater if you are travelling in group or scooter, if you are a solo traveler.
For transfers between Hanoi to Ninh Binh and / or Halong Bay, you can either take a private taxi or bus. I booked my Hanoi to Ninh Binh transfer through the hotel and for transfer from Halong Bay to Hanoi on this website. You can even book buses through this website if you are looking for an economical option.
For transfer to other cities, you will need to take the bus/ train / flight. Since the distances are long, be prepared for overnight bus/ train rides.
Internal flights are of course shorter, lasting any where between 1.5-2 hours. If you plan to take the flight, book directly on Vietjet and/ or Vietnam airlines websites. Check the luggage requirements or book a higher category seat if you plan to travel with big suitcases.
Currency and Cash requirement
Vietnam currency is Vietnamese Dong and 1 USD is about 24,300 Vietnamese Dong.
While most hotels, shops and restaurants accept credit card, they may levy 2-3% additional fee. Also, advisable to carry cash since some small shops and cafes may not accept payment via credit card.
Coffee Culture
Vietnam is famous for its coffee, and it would be a shame if you visit Vietnam and not try out the different coffee concoctions they offer. Here are some of the famous Vietnamese coffees you need try:
Egg Coffee – During the war, there was a shortage of milk and they substituted milk with egg. It has now become a staple and available in several cafes.
Coconut Coffee – A slushy refreshing iced coffee which is slightly sweet and full of coconut flavor.
Salt Coffee – This coffee marries rich robusta coffee beans with a touch of salt, creating a fine balance of bitter and sweet, reminiscent of salted caramel.
Bac Xiu and Caphe Sua – Traditional Vietnamese coffee with condensed milk.
If you are a coffee lover, trust me you are going to be spoilt for choice! It is the one thing I dearly miss after coming back home.
Best time to Visit
The weather can vary widely in different parts of the country. December to March are great months to visit Hanoi and HCMC. For the beaches, July and August are great months.
Visit from April to June and September to November to avoid the crowds. You will get sunshine but also be prepared for rains.
Tet (Lunar New Year) is another great time to visit the country but hotel prices shoot up during this season. Tet typically falls in the months of January and February.
Language
Language isn't a problem in the capital city of Hanoi. Right from shop owners to Grab drivers, everyone can speak and understand English. But once you leave Hanoi, you will realize that most locals cannot speak English. Download itranslate/ google translate on your phone to be able to communicate with them.
Overall Cost
Surprisingly, Vietnam is one of the cheapest countries to visit in SE Asia, even more than Bali. Short taxi rides in main cities barely cost $1-2 per ride and even food, in general, felt cheap. You really can get a lot of value for every $1 you spend.
How Many days to Spend
There is a LOT to see in Vietnam. Every corner of this country has something new and different to offer. Plus, the distances between some of the cities are long, prompting one to take the train/ flight. Hence, ideally, you need at least 8-9 days to see most of what this country has to offer.
Vegetarian Food
Surprisingly, vegetarian and vegan food is easy to find even in the smallest towns. "Chay" means vegetarian in Vietnamese so look for this word when you are checking out the menu. Also, if you are a vegan, download Happy Cow app for list of vegan restaurants.
Where we Stayed
This trip was a mix of budget and luxury accommodations. Since we were hardly going to spend any time in the hotel in big cities, location, functionality and cleanliness was key. Here is a list of all the hotels we stayed at for your reference:
Hanoi – L'Heritage Hotel
Ninh Binh – Nam Hoa Hotel
Halong Bay – Mgloria Cruise
Da Nang – Paris Deli Hotel
Hoi An – Allegro Hoi An
HCMC – Jovia Hotel
Of this, Paris Deli and Allegro were our favorites ! If you are planning to visit Da Nang and Hoi An, then you can go ahead and book these without any hesitation.
We wanted a relaxing vacation and hence, stayed in Da Nang for two Nights and Hoi An for another two. But if you are short on time, you can stay in either and make a day trip to the other. If you prefer small towns, then certainly make Hoi An your base.
In Hanoi, ensure you pick accommodation in old quarter. And in HCMC, District 1 is where all the action is. In Ninh Binh, recommend picking a hotel in Tam Coc area.
Cities to Visit and Things to Do
Hanoi
Hanoi is chaotic and busy but the old quarter is just so beautiful! I was a little intimidated at first since it looked even busier than my hometown of Mumbai; but this city slowly grew on me.
Pick a hotel in old quarter and most sights will be at a walking distance. While Grabs are cheap and readily available, personally I prefer walking and exploring a new city.
Taking a stroll in the old quarter was a fascinating experience – from seeing locals buzzing around on their scooters as early as 6 am to watching them squatting down on the tiniest plastic stool to eat a meal or simply catch up to seeing cafes open as early as 7 am 😊
As you wander around the old quarter, you will find several temples and pagodas, cafés, bars, restaurants, bakeries, market stalls, boutique shops and art galleries. Walking around the old town, you will be tempted to stop every few seconds taking in the beauty. It is rugged, but oh so charming! I truly loved my time wandering around aimlessly in this town.
Here are some of the places you must visit in Hanoi.
Train Street
Located between the streets of Phùng Hưng and Lý Nam Đế is the famous Train Street. What used to be a normal feature of everyday life for the locals has now become the city's most iconic tourist attraction.
What makes this train street so unique and popular? Here, the train passes literally a meter away from the houses. Right before the train comes, locals rush into their houses, making sure that no belongings are kept outside. The safety line (marked with yellow color) is only a few centimeters away from the homes. The train passes a couple times during the day so be sure to check the schedule before you visit.
Due to accidents and unruly behavior of tourists, this train street was closed until a few months ago. It is now open to visit but it is heavily guarded. The only way to enter this street is to be invited by a cafe owner. Reach at least 30 minutes before the train's arrival time and plonk yourself on the stool outside the café. And while you sip on delicious coffee, patiently wait for the train to pass.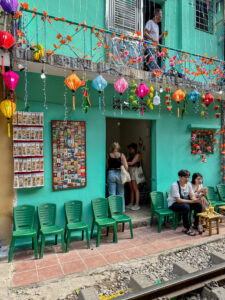 It truly makes for a unique experience. But ensure you exercise caution and do not get very close to the train.
Temple of Literature
While the name may suggest that the Temple of Literature is a temple, it is actually a university. In fact, it was the first-ever university in Vietnam. It is peaceful and a beautiful site to wander around, featuring lush gardens, walkways, temples and memorials. Entrance fee is VND 30,000 per person.
Hiem Lake and Ngoc Son Temple
If you are looking for an escape from the busy city of Hanoi, Hoan Kiem Lake is the ideal destination. Right in the centre of the serene lake is Ngoc Son Temple, a prominent temple sitting on a small island. The sacred temple, along with other architectures, makes for a beautiful stroll specially at sunset. Entry fee is VND 30,000 per person.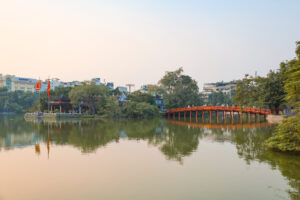 Another beautiful spot to witness sunset in the city is Tran Quoc Pagoda. After a visit to the pagoda, you can take a leisurely stroll along the lake.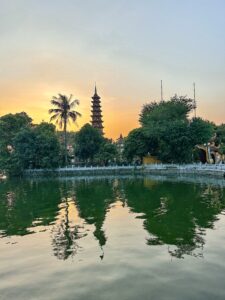 Drink Beer On Ta Hien Street
Ta Hien Street is famous for its beer. This street comes alive post sunset. While there are bars here, grab a seat on small stools by the side of the road and enjoy the beer. It's a great place to people-watch.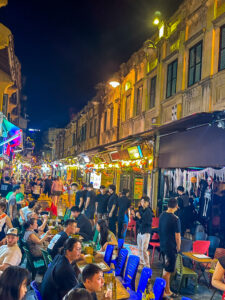 It was funny, we were rushed in when a few cops came to patrol the street, but within 5 minutes of them leaving, we were back on the streets.
St Josef's Cathedral
St. Joseph's Cathedral is a magnificent architectural masterpiece located in the French Quarter of Hanoi. It is a religious site that attracts both locals and tourists from all over the world. If you want to enjoy this view from afar, grab a seat at Cong Caphe located right opposite this cathedral while you sip on delicious coconut coffee.
French Quarter
To see a completely different side of Hanoi, make your way down to the city's French Quarter. Lined with French colonial buildings and architecture, you will find grand government buildings, boutique stores and high-end restaurants. It's a nice place to wander around. Stop by and check out the Opera House and Presidential Palace.
Thăng Long Imperial Citadel
Looking to learn more about Hanoi's history? Then make your way to this place. This 11th-century imperial citadel complex is well preserved, featuring buildings, museums, and artefacts, as well as a couple of old underground bunkers. A great place to learn about Hanoi's history.
Ho Chi Minh Mausoleum
This place serves as a resting place of Vietnam's most revolutionary leader and President, Ho Chi Minh. He is widely regarded as a visionary leader who played a pivotal role in shaping the course of Vietnam's history. He spearheaded the revolutionary movement against foreign colonial powers, particularly the French and later the Americans, and ultimately paved the way for Vietnam's independence.
The entire complex is dedicated to him, and his body is housed in a huge mausoleum. The surrounding grounds are beautifully maintained with gardens.
Incense Stick Village
Any photography enthusiasts here? Then, make your way to the most eye-catching and vibrant village in Vietnam. Located around 35 km from Hanoi, is the incense stick village of Quang Phu Cau.
Here, you can see locals painting and drying bamboo to create incense sticks. If you reach early (before 10 am), you get to witness the entire incense production process. Once done, they make beautiful arrangements and lay these incense sticks to dry out. It certainly makes for a visual treat.
However, it is a pretty small village (unlike what you see on Instagram). I would say combine a visit to this village with Ninh Binh rather than making a day trip specifically for this village. That way, you won't be disappointed. But anyone who loves photography, a visit to this unique Vietnam's incense village is an absolute must! There are a couple of different villages in this area which manufacture incense sticks, but Quang Phu Cau is the largest and most beautiful.
Cafes and Restaurants to Visit
Looking to try out local cuisine in Hanoi? Then make your way to Sadhu Vegetarian restaurant. It is a vegetarian restaurant but even if you are a meat eater, highly recommend checking it out. There is a fixed menu and you get to order unlimited items from an array of 70+ food items. Cost is around VND 300k (USD 12) and worth every penny. Thankfully, the portions are small so you get to try multiple items.
This place was packed even on a weekday so ensure you get there early or make reservations.
Café Giang – a must in Hanoi! Giang Café is hidden in a small lane on Nguyen Huu Huan Street in the old quarter. This cafe was founded by Mr. Nguyen Giang in 1946, when he was working as a bartender for the famous five-star Sofitel Legend Metropole Hanoi hotel. Although the cafe has been relocated twice, its egg coffee recipe is almost the same as in its early days, with its chief ingredients being egg yolk, Vietnamese coffee powder, sweetened condensed milk, butter and cheese.  While it may sound weird, trust me you have to taste it! It tastes like liquid tiramisu – have I convinced you to try it?
Though you will find egg coffee almost everywhere in Vietnam now, you must try the original one at Café Giang. And if you like your first cup of egg coffee, then go ahead and try another one at Cafe Dinh – it is owned by Mr. Giang's daughter 😊
While walking around the city, if you are hungry for a snack, check out King Roti – a local bread filled with coffee/ vanilla/ chocolate/ matcha and costs just VND 10k. While I had heard rave reviews about this one, I was utterly underwhelmed. May be because the one I got had quite less filling; wasn't really impressed.
Banh Mi 25 – Banh Mi is a Vietnamese sandwich. It is a French-styled baguette, filled with protein of your choice, vegetables, sliced cucumber, pickled carrot and herbs and spices like fresh cilantro, chilis, jalapeño. It is flavorful, filling and doesn't cause a dent in your pocket. Most famous Banh Mi vendors have long queues but they are fast moving. Be sure to try one at Banh Mi 25 located in the old quarter.
Note Coffee – chances are, you have noticed this café pop up on your Instagram feed. What makes this café unique are the thousands of notes left by visitors from all over the world. The entire coffee shop, over 4 floors, is plastered with small cute sticky notes. I promise reading these notes from around the world will bring a huge smile on your face 😊 Oh and don't forget to write your own little note and stick it on the walls.
Pizza Ps – looking for delicious wood fired pizza? Then make your way to Pizza 4Ps – it is a chain and you will find it in almost every big city.
Polite & Co – a vintage speakeasy, Polite & Co is a great spot to grab some unique cocktails in the city.
Some other cafes that were on my list but didn't get the time to visit:
Loading T
Maison Marou for their desserts
Floral and Book Cafe
Bangcong Cafe
Maison de Tet
Ninh Binh / Tam Coc
We spent two days in Ninh Binh, a small town located 2 hours south of Hanoi and absolutely loved our escape to the countryside. Click here for a detailed guide on things to do in Ninh Binh.
Halong Bay
Halong Bay is one of the most popular sites in Vietnam and has been awarded UNESCO world heritage status. It is one of those bucket list places to see that truly lives up to the hype!
And what better way to see the beauty of this place than hopping on a cruise ship? Sail among thousands of majestic limestone karsts, and nearly 2000 islands, that rise out of the emerald green waters.
Ha Long translates to 'descending dragon'. The legend tells of a dragon who was defending the Vietnamese from invasion using fire, emeralds, and jade. These jewels landed in the ocean to form the limestone karsts and islands, which then prevented invaders' ships from coming any further.
You can visit Halong Bay on a day trip from Hanoi as well but I wouldn't recommend doing that. Halong Bay is located around 2 hours from Hanoi. So if you sign up for a day trip, you will end up spending at least 4 hours of the day on the road. Also, most day trip companies take you to the pearl factory located a few minutes before Halong Bay, so another 1 hour is wasted there.
The best way to see this region is on an overnight cruise. There are couple of cruise options ranging from 1 N to 2 N to even 5 N. We did a one-night cruise and felt it was a great introduction to this region.
Now coming to the hard part – choosing with cruise company to go with. Even though all cruise ships cruise along Halong Bay, their itineraries are slightly different. For instance, some of the places these cruise ships can take you to are floating villages, Sung Sot cave, Bright and Dark cave, Lan Ha Bay, Titop island, etc. So be sure of check the cruise ship's website and their itinerary before you book.
But no matter which cruise ship you end up going with, you will still get to see the iconic limestone karsts up close. And apart from all the delicious food you get onboard, they have enough activities to keep you entertained. For instance, Tai chi and/ or yoga class, cooking class, squid fishing post sunset, kayaking, jacuzzi or simply laze on the sundeck and admire the views.
We booked 2 days 1 night Mgloria overnight cruise. All the rooms came with private balconies offering uninterrupted views of the limestone towers.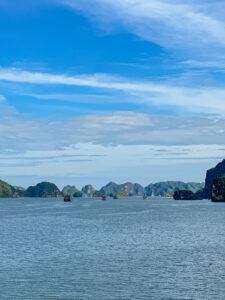 If you are coming from Hanoi/ Ninh Binh, you can arrange for your own transport (bus/ taxi). Most cruise ships will also arrange transportation for an additional fee. We ended up booking a private car from Ninh Binh and the entire journey took us 2.5 hours.
We reached Tuan Chau marina at around 12.30 pm, from where we were taken in a small boat to our main cruise ship, docked in the middle of the bay. After a scrumptious meal, which almost looked straight out of a MasterChef episode, we were given some time to rest (much needed since was had begun our day early from Ninh Binh).
We then went on a little kayaking expedition in Ha Long Bay. Nothing better than having the freedom to paddle where you please, going for a swim in the cool turquoise waters, and spotting colorful fish. This is a great way of getting up close and personal with the limestone cliffs towering above you. It also allows you to get a perspective on how huge they are. One of Mother Nature's marvelous creations!
We then had a high tea with snacks and fruits at the deck. Followed by a cooking class, where we learnt to make traditional Vietnamese spring rolls. A short while later we arrived at the restaurant for buffet dinner and ended the night with karaoke, drinks and star gazing. While all meals are included in the package you sign up for, you will need to pay extra for drinks. Also, if you have any dietary restrictions, inform while booking so appropriate arrangements can be made.
Next morning, we began the day with a glorious sunrise and learning the techniques of tai chi. After breakfast, we hopped on a little boat and then a wooden boat to explore Dark and Bright caves. They looked spectacular up close!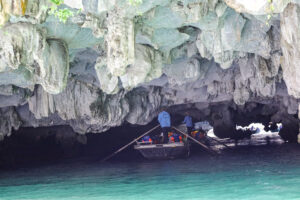 For those who are looking for a relaxing cruise experience, you can choose to stay put in the cruise ship. And while you are relaxing, why not get a massage? Most cruise ships offer spa services as well. Perfect way to pamper yourself right?
If you go on a longer cruise, then some of the additional excursions may include island hopping, cycling on Cat Ba islands, some more caves and viewpoints.
Personally we felt an overnight cruise gave us a wonderful introduction to Halong Bay and would highly recommend signing up for one.
Hoi An
Hoi An is one of the most colorful and beautiful small towns in Vietnam. And as the sun sets, this town is decked up with beautiful lanterns making for a magical sight! A detailed guide on Hoi An will be up on the blog shortly.
HCMC
HCMC was the last stop on our trip. It is the largest city in Vietnam by population and the economic and financial capital of the country.
As you are wandering around this town, you will notice that HCMC is interchangeably referred to as Saigon. After the end of the war, the name of the city formally changed from Saigon to HCMC as a tribute to the 1st President of Vietnam. However, most locals still call this city Saigon.
If you want to see all that this city has to offer, ideally, you should spend 3 days here. There is a lot of see in this city from a historical point of view, but since we just had a day, we chose to just visit some of the sights close to our hotel relax and take it easy.
In terms of its vibe, the hectic buzz of scooters and multi-storey houses are comparable to Hanoi. You can see a lot of French architecture in some parts of the city but the rest of the city is much more modern. While there are more things to do and see in HCMC (especially if you are looking for an exciting nightlife), I preferred the charming feel of Hanoi's Old Quarter.
District 1 is the best area to stay in Ho Chi Minh, as most places to see are within walking distance. Also, with plenty of restaurants and cafes, this neighborhood is ideal for first-time visitors. However, this district doesn't have any big hotel chains; rather more of boutique hotels. If you are looking for a party scene and more upscale hotels, then check out Bui Vien area.
Here are some of the places to see and things to do in HCMC
Tan Dinh Pink Church
This is one of the first photos I stumbled upon on Instagram of HCMC and c'mon you have to agree, its super instagrammable 😉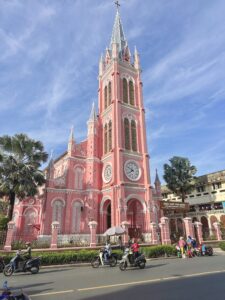 This church is the second largest church in Ho Chi Minh City, after Notre Dame Cathedral. The bright pink color is what makes this church so unique. Apparently, it is pink inside too, though sadly it was closed when I visited on a Monday.
Jade Emperor Pagoda
Located just a few minutes away from pink church, is this 100-year-old temple. Hundreds of locals visit every day to pray and make offerings to the gods.
Saigon Central Post Office
Visiting a post office may not be on your itinerary but this one can be an exception😊
Central Post Office is one of the most famous historical buildings in Ho Chi Minh city. It is a great combination between European and Asian designs.
The post office features a bright yellow exterior framed with white trim. There is a giant clock hanged above the main gate. Below the clock is the construction year number "1886 – 1891". Above the international phone booths, you can see two large maps: Telegraphic lines of southern Vietnam and Cambodia and Saigon and its surroundings.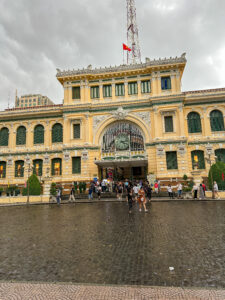 It was lovely seeing locals as well as tourists line up to send postcards to their loved ones
Notre Dame
Right opposite the post office you will find the Notre Cathedral.
Yet another French influence in Saigon, the Notre Dame Cathedral is bigger and grander than the pink church. And of course, as luck would have had it, it was under re-constructrion when I visited and buried under scaffolding 🙁
Book Street
Less than a 5 minute walk from the post office and Notre Dame, is the Nguyen Van Binh book street, lined with book shops. While most of the books are in local language, you can probably find a few English books here as well.
Not only is it a must visit for book lovers, but also a unique place to visit in this city.
Café Apartment Building
The Cafe Apartment Building is a unique blend of modern and old-world charm. Originally constructed in the mid-1960s, this nine-storey apartment block has undergone various transformations over the years. Today, it houses a vibrant array of independent cafes, workshops, boutique fashion stores, and co-working spaces. It has become a popular spot among tourists as well as locals. And while you are here, why not head inside for a cuppa coffee?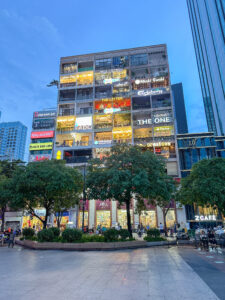 This Cafe Apartment building is one of the quirkiest places to add to your Ho Chi Minh city itinerary.
Bitexco Tower
The Bitexco Financial Tower is second tallest building in the city and probably the most iconic building in Saigon. For those who fancy getting a bird's eye view of the city, you can visit the 49th floor Skydeck. Entry fee is VND 240,000 for adults and VND 160,000 for children.
Ben Thanh Market
The Ben Thanh Market is located in the heart of the city. It is the oldest and most famous market in all of Vietnam.
A great spot to pick up first copies of designer bags, souvenirs, clothes, coffee, dry fruits, etc.
Ho Thi Ky Flower Market
Not a place that you would typically find in any travel blog, but you know how I am always on the hunt for some lesser-known spots.
With its alleys full of flower stalls and adjacent market offering exotic cuisines from Cambodia, it provides a unique experience for both the senses of sight and taste. The market showcases an array of fresh flowers, including traditional favorites and unique blooms. If you go early in the morning (before 8 am), you will find traders purchasing flowers in large quantities for distribution to local shops and other markets.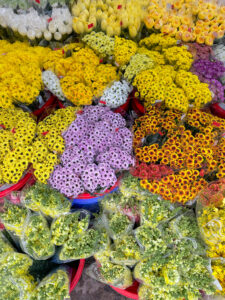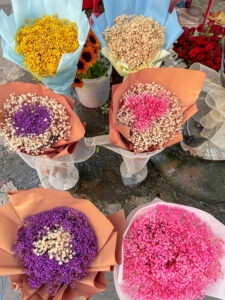 Bui Vien Street
Lined up with several bars and restaurants, this street becomes very lively at night. It is similar to the beer street of Hanoi, but on a much larger scale.
Binh Quoi Tourist Village
If you are craving the nature and have had enough of big city life, then make your way to Binh Quoi Tourist Village. Located around 10 km from the city centre, this laidback rural-looking village feels like another world away! It is a lovely miniature of the Vietnam's Mekong Delta. You see beautiful lotus ponds, thatched cottages, bridges and lots of green space. I wish I had the time to visit this one 🙁
Cu Chi Tunnels
If you are interested in learning more about Vietnam's history, then a visit Cu Chi tunnels should top your itinerary.
These tunnels were used by Vietnamese soldiers as hiding spots during combat, as well as serving as communication and supply routes, hospitals, food and weapon caches and living quarters for numerous fighters.
There are about 200 km of tunnels in total, and you will even have the opportunity to walk in one of the tunnels and see how small and dark they are.
It is located around 50 km from the city and you can combine your visit here with Cau Dai temple.
Mekong Delta
If you are in HCMC for longer, you can also do some excursions outside of the city, such as a visit to the Mekong Delta.
The Mekong Delta is a region in Vietnam. The Mekong River splits into smaller rivers as it flows towards the ocean, creating a network of canals, streams, and rivers. The region is known for its floating markets, floating forests, rice paddies, and fruit plantations. There are several tour companies which take you here on a day trip or overnight excursion.
Coffee Shops
Since I had very limited time in the city, I could visit only two – Padma de Fleur and Soo Kaffe. Padma de Fleur is a café + flower shop. Ordered a bac xiu which not only tasted delicious, but also special shout out for the presentation. Such a beautiful space, trust me you can spend all day here.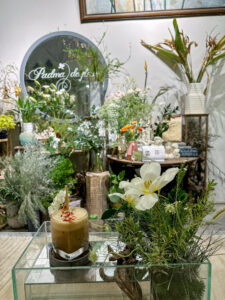 Soo Kaffe is located steps away from Ben Thanh market. Lined with books on one side and a terrace for those looking for natural light, it provides a wonderful refuge from the chaotic city. Ordered a baileys coffee and it was the perfect way to end my trip in Vietnam.
 Okkio and Hummingbird Café and Roastery are yet another popular cafés in the city to get your coffee fix.
* All the above prices as of November 2023