Ninh Binh is known for its impressive limestone mountains, caves, and scenic waterways. It is often referred to as "Halong Bay on land" given the similar landscape. The only difference being that these limestone peaks are set amid bright green rice fields and temples and not the sea.
We spent two relaxing days here soaking in the beauty and tranquility of nature and it ended up being our favorite region in the whole country.
Ninh Binh provides the perfect tranquility for those looking to escape the busy city of Hanoi. It is located 2 hours south of Hanoi. Many people also visit Ninh Binh on a day trip from Hanoi. But personally wouldn't advise this. This place is all about slow living and if you are just rushing from one place to another then how can you truly experience this place?
Buses and minivans run regularly between Hanoi and Ninh Binh city and can be booked via 12go. They typically drop you to Ninh Binh town center, from where you take a taxi to your hotel. For a hassle free transfer, book a private taxi. We paid USD 70 for a taxi from Hanoi to Ninh Binh with a pit stop at the incense stick village for a 7-seater car.
The main towns in Ninh Binh province are Trang An and Tam Coc. This is where most people stay when visiting Ninh Binh province. I would recommend picking an accommodation in Tam Coc area. It has several boutique hotels, guesthouses, bars, restaurants, making it a convenient base. Also, in the market area, you will easily find vendors to arrange for internal taxi, transportation to Halong Bay and several other activities.
Another frequently asked question is whether to visit Ninh Binh or do a cruise Halong Bay given both places have similar landscapes. Having done both I would say both offer different experiences and hence, if you have the time, do both. I visited Ninh Binh on my 10 day trip to Vietnam in autumn of 2023. A detailed guide on Vietnam will be up on the blog shortly.
Here are some of the things to do and see in Ninh Binh province. You can take a Grab (similar to UBER) to all the places, but advisable to rent a car+driver so you don't have to wait around in the middle of nowhere at the mercy of Grab drivers. Or you can rent a scooter for the entire duration of the trip, which is a much cheaper alternative.
Take the Trang An boat ride
One of the best ways to experience the beauty of this region is by hopping on the Trang An boat ride. Tickets cost VND 250k per person and each boat can seat up to four adults. If you have less than four people in your party, chances are that you will be paired up with other people. If you want the boat to yourself, you can pay extra to have a private boat. Since we were three of us, we didn't have to share the boat with any strangers.
You do not need to book the Trang An Boat ride in advance – just show up at the ticket counter, buy a ticket and wait in line for a boat.
There are three routes you can choose from for your boat ride. Each one provides a mix of temples and caves. In addition, the boat stops at small islands where you can get off the boat and wander around the small temples and gardens.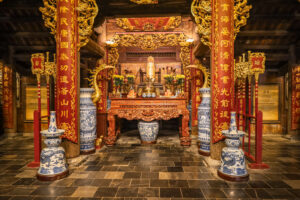 We ended up picking Route 3 which combines 3 temples and 3 caves, and not just any cave – it is the longest one (among the three routes). It is 1000 meters long and takes a whole 15 minutes to pass. Be prepared to duck your head at a few places but don't fret, you will make it out in one piece. Also, the stalactites are quite fascinating to watch up close.
The entire ride lasted around 2.5 hours and was an amazing experience. While you see hundreds of boats here, it still is a scenic and peaceful ride.
Route 2 involves around 9 caves and 3 temples, whereas Route 2 involves 4 caves and 3 temples. But Route 3 is the only one that includes the longest cave, so if you take any other route, you will miss it. The cave was certainly the highlight of this boat ride for us.
You could even do a boat ride at Tam Coc – I hear it is beautiful during the rice harvest season. But from what I read on other blogs and Tripadvisor reviews, it can get very touristy and locals often come up to boats and push you into buying things thereby making this ride anything but a peaceful experience.
Mua Caves
One picture that you typically see of Ninh Binh is of Mua Cave. While the name of this place is Mua Cave, there is no actual cave here 😊 rather, it is a viewpoint. And what a breathtaking view it provides!
With mountains that stretch as far as eyes can see and rice and lotus fields below, it is one of the most scenic viewpoints in the whole of Vietnam. But to get to this viewpoint, you need to climb over 500 stairs. One way can take 15-20 minutes depending on your speed. Keep in mind that some of the stairs can be uneven and there are no handrails. Ensure you wear proper shoes and clothes (since it can get very windy at the top). Entrance fee is VND 100k per person.
Once you reach midway, there are two separate view points – one is the iconic Mua Caves view point of the Tam Coc valley and the other one is further up, called the Mua Peak, for the view of the dragon statue.
The dragon statue, though breathtaking, is a bit dangerous to get to – the rocks are pointed at some places and very uneven. Plus, it is so narrow that you literally have to line up and make way for one person at a time. This final climb to the dragon statue is definitely not for the faint hearted. While I made it to the dragon, I was petrified to even remove my phone and camera from bag for pictures.
But even if you don't make it all the way to the dragon, you get a stunning view of the rice fields, boats rowing in the river and mountains from this viewpoint.
Is this place worth the hike? 100% or actually 200%!!
Apart from the scenic view from the top, be sure to spend some time at the lotus pond field. It was simply breathtaking! Once you pay the entrance fee, look for signs to the lotus field. They truly make for a stunning sight!
Cycle around
Most hotels in this region provide complimentary bikes to hotel guests. If not, you will find some bike companies which provide bikes on a measly rent.
Just grab a bike and ride around the countryside. You will pass by the countryside, beautiful rice fields, mountains, rivers and animals.
Bich Dong Pagoda
This cute pagoda in Tam Coc is an easy thing to tick off the list. A small stone footbridge takes you across a lake. Then, a short flight of stairs takes you to a shrine, which is partly built into a cliff face. It's a lovely spot to explore in this region.
Ancient City of Hoa Lu
Hoa Lu was Vietnam's capital city for 41 years and it is a place of historical importance, with many temples, pagodas and tombs on this site. The Dinh Tien Hoang Temple and Le Hoan Temple are two of the most popular sites in the complex – these 17th century temples were built in the style of the previous 11th century buildings which preceded them. Another notable building in Hao Lu is Nhat Tru Pagoda, which dates back to the 10th century.
Personally, I didn't find this place extra-ordinary. Plus, we visited on a Sunday when several school children were visiting making it very busy. If you are short on time then skip this one.
Ninh Binh Walking Street
One of my favorite places in Ninh Binh is this beautiful walking street.
You can admire the natural beauty of Ninh Binh during the day but what do you do post sunset? Make your way to Pho Co Hua Lu, which is open every day from sunset to 10 pm. Here you will find a beautitful temple, several food stalls, cafes, restaurants and street vendors. And you can even hop on a boat ride similar to the one in Hoi An.
With beautiful colorful lanterns in every corner, this place truly looked breathtakingly beautiful.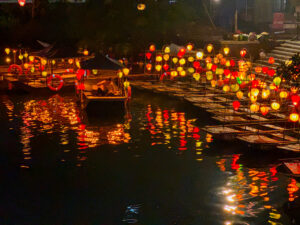 Reach during twilight hour so you get to experience the beauty of this place in day time as well as at night.
Where to Eat in Ninh Binh
Mona Lisa near Mua Caves
Chookie's Beer Garden
Buddha Belly
Aroma for Indian food
Dao Phuket for drinks
* Prices as of November 2023