New York City ("NYC") is one of the most iconic cities in the world! From an incredible skyline featuring some of the world's most recognizable buildings, to housing some of the the most famous landmarks, to a paradise for foodies, this city has plenty to offer every visitor!
Apart from noteworthy landmarks like Central Park, Times Square, Rockefeller, this city has several hidden gems. Be it unique neighborhoods or picturesque streets or insta-worthy cafés and restaurants, there is no dearth of beautiful spots in this city.
Walking around this city is such a delightful experience! Some crazy skyscrapers and incredible architecture is bound to make your jaws drop.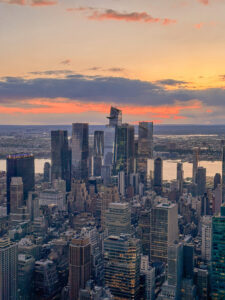 If this is your first time to NYC, planning your trip can get overwhelming. It is impossible to see it all in one visit. You can use this blog as a guide to help you in shortlisting the best places to visit and make the most of your time in this city.
Read on to plan your NYC itinerary.
Best Way to Get Around
Compared to other American cities, NYC has an excellent public transport system. New York City Subway started operations in 1904 and is one of the world's oldest public transit systems. Today, it has become one of the most-used, and the one with the most stations (more than 450 stations).
One ride on the subway costs USD 2.75 per person. You can tap your credit card / debit card/ smartphone/ OMNY card or pay with a MetroCard. If you take 12 paid trips using the same device or card starting Monday, you will automatically ride free for the rest of the week. So essentially, a week on the subway will cost you USD 33. Click here to read more about NY's subway system.
Some of the areas of attraction (e.g. Rockerfeller Centre, Bryant Park, Grand Central Station, Summit One. etc.) are within walking distance of each other. So, once you get down at the station, just open Googlemaps and start exploring on foot. Don't be Carrie from Sex and the City and strut around in stilettos. You are going to be walking A LOT, so wear comfortable shoes and clothes 🙂
You can, of course, use UBERs or LYFT or regular taxi to get you around as well. But riding the NY subway is an experience in itself so don't miss out on that.
How Many Days Required
Ideally, you should spend at least 3 full days in this city. With so much to explore and do, you can easily spend a week and still find new places to explore in the city. When I was living in Boston, I ended up visited NYC several times. And since then, I have gone back twice. Yet, I have barely scratched the surface of what this city has to offer.
Where to Stay
Both in population and area, this city is huge! NYC has five boroughs – Bronx, Brooklyn, Manhattan, Queens and Staten Island. Each area has its charm and innumerable neighborhoods. For instance, Manhattan is divided into Uptown, Midtown, Downtown, etc. Most of the attractions are in Manhattan area so ideally, this is where you should stay. But hotels here can cause a dent in your pocket. Hotels in Downtown area are comparatively cheaper.
I stayed at AC Hotel Marriott in the seaport area near financial district. The room was decently sized given how most NYC rooms are TINY. The main reason of choosing this hotel was that it was located at a walking distance from multiple train stations, thereby making it easier to explore the city.
If you want to save some money, you could stay off Manhattan island and stay in Brooklyn or even Jersey City but keep in mind that you will spend more time and money commuting. So, weigh your options before choosing the accommodation.
Top Places to See and Things to Do
Central Park
Central Park is an urban park located between the Upper West Side and Upper East Side neighborhoods of Manhattan. Spread over 843 acres, it is the fifth-largest park in the city. Also, it is the most visited park in the United States, with an estimated 42 million visitors annually (as of 2016).
From classic films like Breakfast at Tiffany's to holiday favorite, Home Alone 2, to rom-coms When Harry Met Sally, several movies have been shot here over the last few decades.
There are plenty of picturesque spots in this park, and many a times, you will spot photoshoots going on in different parts of this park. While this park is beautiful throughout the year, it is magical spring.
Some of the spots worth checking out in the park are:
The Mall and Literary Walk
Bow Bridge
Bethesda Fountain and Terrace
Alice in Wonderland
Strawberry Fields
Belvedere Castle
Gapstowe Bridge
Central Park Zoo
Cherry Hill
Sheep's Meadow
If you are looking for more parks in the city, then check out Bryant Park, Battery Park, Madison Square Park.
Washington Square Park
Washington Square Park has long been a gathering place for artists, performers, activists, students, and other members of creative community. It is located in Manhattan's Greenwich Village.
If you visit on a clear day, you will get to see the Empire State Building through the north side of the arch.
Like me, if you have watched the American sitcom, FRIENDS, you will notice that the great Arch of Washington and the fountain have appeared in between several scenes.
The whole neighborhood is lovely so spend some time wandering around the streets.
NYC Skyline
Love a bird's eye view of the city? You have come to the right city then 😊
If you have to select just one city to see from above, it has to be NYC! With a jaw-dropping and breathtakingly beautiful skyline, it truly is a delight to watch this city from above.
Luckily, there are many places in this city from where you can get a lovely 360-degree view of the city. But here comes the hard part – choosing which building to go on top of. For each building, the entry fee ranges from USD 45 – USD 80 depending on the time of the day, the floor level and the package you choose. If you decide to go to the top of more than one building during your visit, then these costs can add up. So, you need to choose wisely.
Here is a brief overview of what to expect from each observatory deck.
Whichever observation deck you choose, note that if you visit during the prime time (e.g. sunset hours), you will need to pay USD 10-15 extra.
In the past, I have been on Top of The Rock and absolutely loved the views here. I wanted to do something different this time. SUMMIT One Vanderbilt caught my eye since it looked different from other observatories. Not only does it have amazing views, there are three floors of multi-sensory experiences, from a playful room filled with reflective balloons to a giant space with mirrored floors and epic skyline views that truly leave you speechless. End your visit at the Après terrace with a cocktail and a front-row seat of the city that never sleeps.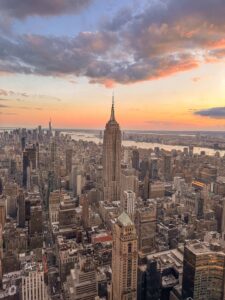 Pro tip – While picking a timeslot, book an hour before sunset – that way you get to witness daytime, sunset hour as well as night time view. Whichever observation deck you end up booking, make sure to book tickets in advance (at least 10 days prior to your visit) so as to get the desired day and time slot.
Grand Central Terminal
Now you may think why have I included a train station on this list? While most train stations are ordinary, not the Grand Central Terminal. But again, this one is so much more than merely a train station.
Have you ever seen a train station with gold chandeliers and a sky full of stars? This transit hub is a spectacular work of architecture with an incredible history!
Once you get inside, look up the station's Main Concourse. With a bright blue ceiling full of stars, constellations and beautiful clocks and lighting fixtures, it is truly a spectacular sight. The mural on the ceiling was painted by Paul César Helleu in 1912, showing the constellations as they would appear from the Earth.
Grand Central Terminal is spread over 49 acres. It is the world's largest train station by number of platforms and area occupied. Millions have passed through the halls of Grand Central since it opened in 1913. Apart from a transit hub, there is a food court which houses innumerable food stalls, ranging from upscale dining to casual fare. They even include popular NYC eateries like Shake Shack and Magnolia Bakery. And an Apple store too! Some people come here to simply grab a meal or a drink and/ or shop.
On the Dining Concourse, near the Oyster Bar, you will notice four arches joined by a curved ceiling, Together, they create a whispering gallery. If one person stands at one corner and another at the opposite end and speaks at a normal volume, the other person will be able to hear everything said perfectly. Isn't that fascinating?
An interesting fact – all clocks (and therefore departure schedules) in Grand Central Terminal are fast by exactly one minute, giving all passengers 60 extra seconds to get to their train.
Oculus
The Oculus is the new and improved transportation hub in the financial district area of New York city. It is built on the site of the fallen World Trade Centre.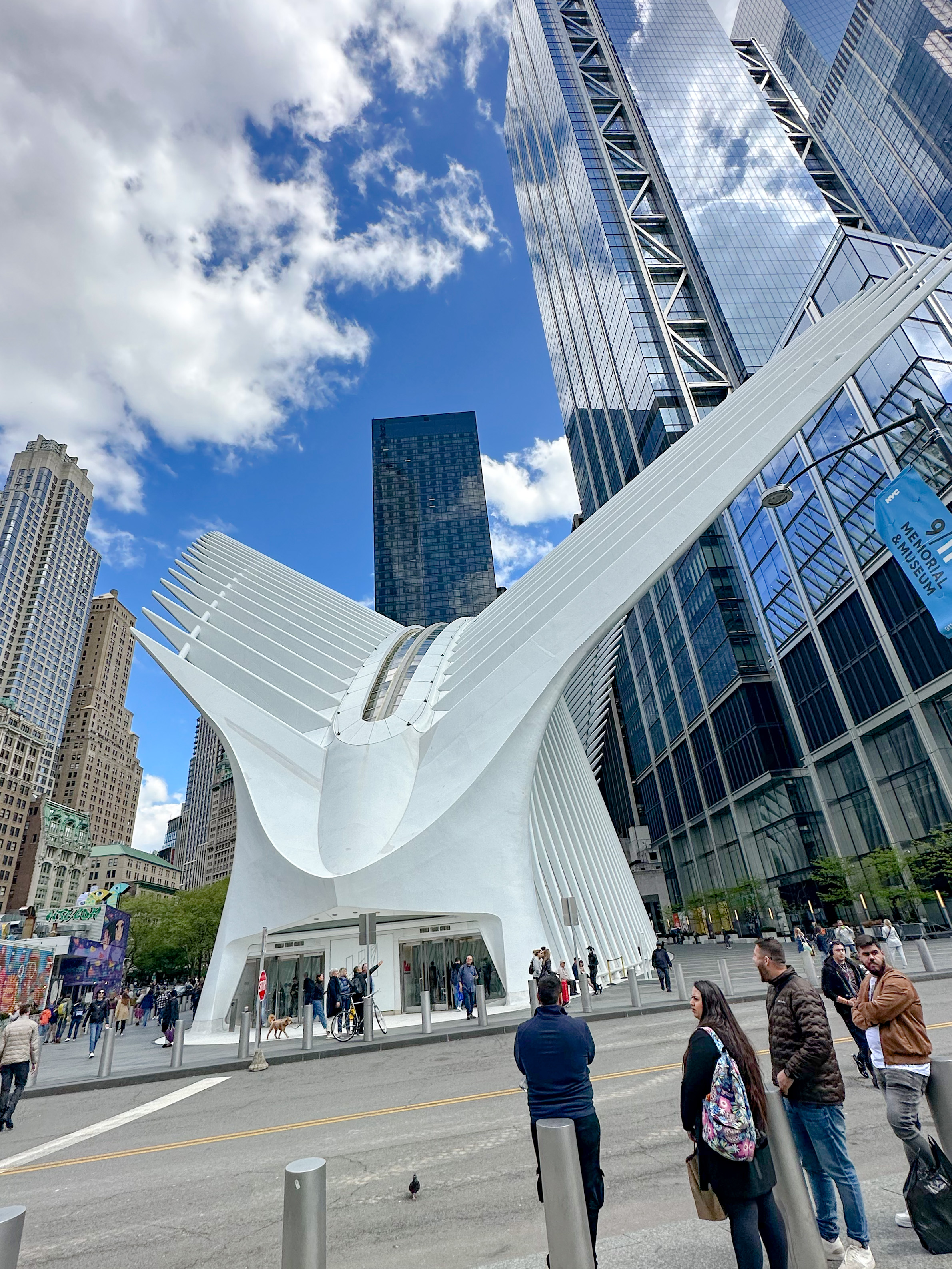 It was designed by Spanish architect, Santiago Calatrava, to allow light to fill the station as a memorial to attacks on the twin towers. In a way, it symbolizes that no matter what, light will continue to shine through times of darkness. Oculus is its centerpiece and resembles a dove in flight. Construction of this structure was started right after the incidents of 9/11 but the project took 14 years to be completed and opened in February of 2016.
The Oculus is home to 12 subway lines, the World Trade Center PATH station, and dozens of retailers. It also holds weekly programs, from farmers' markets and art exhibits to musical performances and retail events.
With several commuters and tourists whizzing past the main concourse, take out your phones and shoot a timelapse video here 🙂
Empire State Building
Located in Manhattan's Mid-town, this iconic structure stands at 102 stories in height and was recognized as the tallest building from 1931 to 1970. As of 2022, this building is the seventh-tallest building in New York City, the ninth-tallest completed skyscraper in the United States, the 54th-tallest in the world, and the sixth-tallest freestanding structure in America. But despite dropping down in number, it remains one of the most popular Instagrammable places in NYC.
Whether you are snapping a picture of this building from the streets or taking a picture from the observation deck, you can see why this building is so iconic to NYC.
Rockefeller Center and Radio City Music Hall  
Standing 70 stories tall, the Rockefeller Center is one of the most recognizable landmarks in the city of New York. It is home to a range of businesses, shops, restaurants and Top of the Rock observatory. This spot attracts millions of visitors every year.
Love American sitcoms? Sign up for NBC Studio Tour which offers behind-the-scenes access. You will get to see how your favorite shows are made. You will also get to visit the studios where Saturday Night Live, The Tonight Show, and other iconic shows are shot.
Radio City Music Hall is an entertainment venue within Rockefeller Center. Catch a show at this iconic venue, which has hosted legendary performers like Frank Sinatra and the Rockettes. The stunning Art Deco architecture and state-of-the-art sound system make for a memorable experience.
If you are visiting during the holiday season, then this is where you will find the big Christmas tree and ice skating rink. The tree is over 75 feet tall and is decorated with thousands of lights and ornaments, making it a must-see during the holiday season. A little fun fact, the rink was initially built for a movie, but has now become a permanent fixture during holiday season.
The Vessel
Hudson Yards is one of the newest additions to the Manhattan landscape, consisting of several office and residential buildings, a mall, an arts center, and a public plaza.
This neighborhood's signature structure, the Vessel, has quickly become one of the top NYC Instagram spots since opening in 2019. This honeycomb-like structure comprises 154 flights of stairs, 2,500 individual steps and 80 landings for visitors to climb. The vertical climb offers remarkable views of the city, the river and beyond.
However, due to unfortunate suicide events, Vessel has been closed off indefinitely. While you can no longer climb to the top, you can still enter the base level and admire its labyrinth stairs from the ground. This structure is equally impressive from the ground.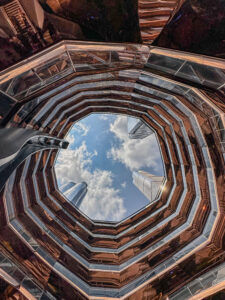 The High Line 
The High Line runs from Hudson Yards to the Meatpacking District and features a lot of greenery, unique flowers, murals and some of the best views in NYC. And the best part, it is absolutely free to access!
There are several access points to the High Line, but if you are at the Vessel, then the easiest would be 30th Street and 10th Avenue.
The High Line is a 2.3 kilometer public park built on a historic freight rail line elevated above the streets on Manhattan's West Side. Saved from demolition by neighborhood residents and the City of New York, the High Line opened in 2009 as a hybrid public space where visitors experience nature, art, and design.
A few top photo spots include the view of the West 15th Street Skybridge near Chelsea Market, Sam Falls' Untitled (Four Arches) installation near 13th Street, and the 10th Avenue Square and Overlook.
The High Line is currently open daily from 7am to 10pm. Walking from one end of the High Line park to the other should take around 20-30 minutes.
After you are done strolling around the High Line, make your way to Chelsea Market. Located in the heart of the meatpacking district. Chelsea Market is a multi-level indoor food and marketplace worth checking out. A must-visit for foodies. This place is full of vendors selling everything from bottles of wine to coffee and delicious plates of food. Come here hungry and sample a little bit of everything! If you are ready to wait in line, make your way to Los Tacos No. 1.
Like the High Line, Chelsea Market is free and open to the public.
Just steps away from Chelsea Market is Starbucks Reserve Roastery which features unique coffees and coffee-based drinks.
Flatiron Building
The Flatiron Building is a 22-storey building and 285-foot-tall steel-framed building. This building sits on a triangular block formed by Fifth Avenue, Broadway, and East 22nd Street. The name "Flatiron" is derived from its triangular shape. This building is so iconic that they named an entire neighborhood after it!
Seen as a "quintessential symbol of New York City," the Flatiron Building's unique design makes it a perfect spot for classic NYC photos. However, the exterior of this building has been undergoing restoration work since last couple years and it is expected to wrap up sometime this year. It is certainly not instagrammable with all its scaffolding, but it is still worth a visit for its unique architecture.
Located directly across the Flatiron Building, there is the Madison Square Park. In this neighborhood, do not miss out on Eataly, a vibrant Italian marketplace featuring shops, cafés, restaurants, and even a cooking school. Even if you are not in the mood to shop or eat, highly recommend checking this one out.
Want to grab a cup of coffee? Head over to Ralph's Coffee.
Times Square
Times Square is arguably the most touristy yet must-visit site in Manhattan. NYC is known as the city that never sleeps and Times Square is the perfect example of that.
Known for its bright neon lights and bustling crowds, Times Square is a favorite spot specially among first-time visitors to NYC.
From its flashing neon lights to gigantic digital billboards, this major commercial intersection attracts approximately 50 million visitors a year, making it one of the world's most visited tourist destinations. Visit Times Square at night or as the sun is about to go down, so that you can see all the billboards and LED signs lit up.
Also located in Times Square is the Theater District. You must check out some Broadway shows while you're in the city. Hamilton, Lion King, Phantom of the Opera, Wicked, Book of Mormon, MJ the Musical are some of the most popular shows here. You can try to get discounted tickets at one of the booths in Times Square, but get there early as they can get sold out quickly!
Brooklyn Bridge and Other Spots in Brooklyn
The famous suspension bridge connecting Brooklyn to Downtown Manhattan was the longest suspension bridge in the world when it opened in 1883.
Over the years, Brooklyn Bridge has become quite iconic and visitors from all over the globe come to see this bridge up close. This Bridge is located at an easy walking distance from the Financial district area and Chinatown.
If you decide to walk, from end to end, the Bridge is just a little over a mile of walking. It can take around 30-45 minutes depending on your speed and how often you stop to take in the views. Along the way, you will get amazing views of Lower Manhattan and Downtown Brooklyn. Even if you don't walk the entire bridge, at least walk till the middle so you can check out the NYC skyline from afar. Some of the noteworthy structures and buildings you get to see here are World Trade Center, Statue of Liberty, Seaport District, Empire State Building, Chrysler Building, etc.
A walk across the Brooklyn Bridge is certainly fun but it can get very crowded. There will be a lot of tourists like you who will be walking. If you want the bridge relatively free, then try to go in the mornings. I got here at 7.45 am and had quite a few sections of the bridge all to myself. It can get windy, so ensure you layer up.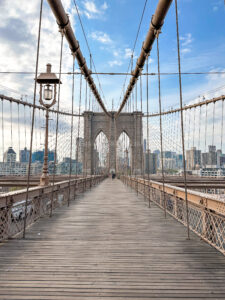 Whether you start your Brooklyn Bridge crossing on the Brooklyn side or the Manhattan side you can't go wrong by capturing this modern engineering marvel.
Once you get to Brooklyn, visit these spots from where you can enjoy a lovely view of NYC skyline:
Brooklyn Bridge Park
Pebble Beach
Timeout Market rooftop area
The first two spots are perfect to watch the sun going down in evenings. NYC skyscrapers shining in the golden light along with a beautifully lit Brooklyn Bridge can create some beautiful pictures. Once you are done, head over to Timeout Market to grab a meal. Even though it was a cloudy day when I visited, I had a wonderful time witnessing the sunset and night time view from here.
Even if you don't want to walk across the bridge, there are plenty of ways to get to Brooklyn. Trains can get you to Brooklyn in just a few minutes depending on which neighborhood you want to visit.
Another cool way to get to Brooklyn is via a ferry. You can take a ferry from Pier 11 near Seaport area for a mere USD 4. It is a short but scenic ride and drops you just a few minutes from the Brooklyn Bridge Park area.
Once you reach Brooklyn, you can spend a leisurely evening at the Park, take the kids or go for a ride yourself on Jane's Carousel, have a hearty NY style pizza at Grimaldi's and gobble up ice creams at Brooklyn Ice Cream Creamery. Or simply grab a seat at Pebble Beach and watch the sun go down.
Want that popular Instagrammable shot ? Head over to Washington Street. This street provides the perfect shot of Dumbo's cobblestone streets, the Manhattan Bridge and the Empire State Building. No wonder it's become one of NYC's top photoshoot locations in recent years! To get the perfect shot, stand at the intersection of Water Street and Washington Street in Dumbo – you will notice the two buildings perfectly frame the Manhattan Bridge overpass and the Empire State Building.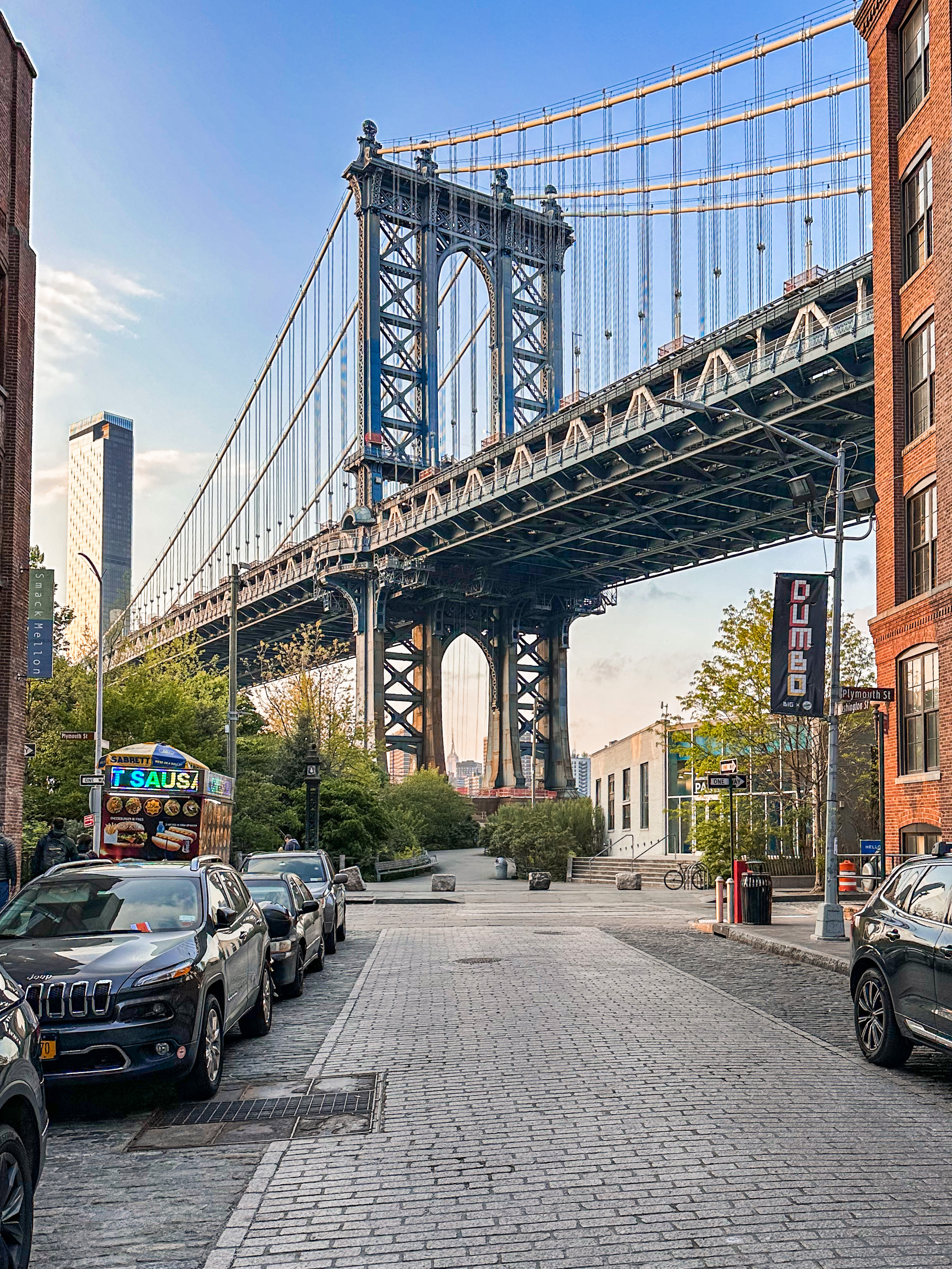 While I had heard that this spot can get very crowded during the day, I got here just before sunset and had this spot all to myself. I guess I just lucked out ! But if you are visiting in peak summer, then head over here early morning or a weekday if you want the place to yourself.
Have more time to explore Brooklyn? Check out some of its neighborhoods – Brooklyn Heights, Williamsburg, Green Point, Flatbush, etc. Since I had limited time on hand, I was able to explore just one neighborhood.
Brooklyn Heights is closer to NYC's financial district area. Just cross the Brooklyn Bridge and within just a few minutes you are here. With beautiful historic brownstones, cobblestone streets, quiet alleys, a promenade with scenic views and cute cafes, there are plenty of instagrammable spots here. You can easily spend a few hours soaking in the beauty of this neighborhood.
Unique Streets of NYC
Staple Street Skybridge
Located above one of the tiniest streets in the city, this small pedestrian bridge connects two classic brick buildings in Tribeca and gives you a sense of what the city looked like in the late 1800s for a taste of old New York.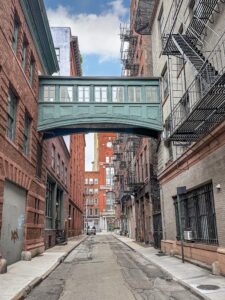 While the bridge itself is off-limits to visitors, the alley and cobblestone streets below make for incredible photos.
Stone Street
This narrow cobblestone street in the heart of the Financial District was the first street paved with stone in the city, back when it was a small Dutch farming and trading colony called New Amsterdam. Today, this charming old street, is one of the best dining destinations in Downtown Manhattan.  And in the warmer months, you can even dine al fresco in the middle of this pedestrians-only street.
The whole vibe feels very European.
Stuyvesant Street
It is one of the oldest streets in the city, is a charming little stretch of road that features ivy-covered brownstones, stone sidewalks, and classic streetlights. The Abe Lebewohl Triangle at the corner of 10th Street and Stuyvesant Street is a particularly photogenic spot and the perfect backdrop for photos any time of year.
Libraries and Bookstores
New York Public Library
Located just steps away from Bryant Park, New York Public Library is a public library system housing more than six million books. It is the second biggest library in United States and third in the world. Rose Main Reading Room is a major attraction sight but sadly, visitors aren't allowed to go inside so as not to disturb the readers.
Even if you aren't a bibliophile, highly recommend a visit – the interiors here are just breathtakingly beautiful. Best part – there is no entry fee.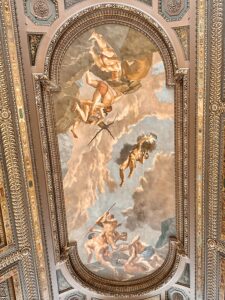 Morgan Library and Museum
If you are an avid bookworm, visit the Morgan Library & Museum. It is a museum and research library and houses many priceless, rare, and historical works. The library is more of a museum than an actually usable library today but is a great attraction while exploring the Big Apple.
Since it houses some very rare and fragile works, it is not possible to go and read at the Morgan Library. Instead, visitors are welcome to see and admire the beautiful library and rooms without touching the books.
Entry fee is USD 22 per person.
Albertine
Albertine offers the largest selection of French-language literature in the United States, with more than 14,000 titles from 30 French-speaking countries.
This bookstore is housed in the French Embassy on the Upper East Side directly across Central Park. It is a two floor space and once you get on the second floor, don't forget to look up the ceiling – it is simply breathtaking!
McNally Jackson
This bookstore features one of the city's most thoughtfully curated selections of nonfiction, novels, hard-to-find magazines, children's books and, poetry. I had to pick up books for my friend's son and stopped by the Seaport location. It is beautiful and worth checking out. They even have a cafe downstairs if you fancy picking up some snacks and coffee.
Cafes and Restaurants
With the most coffee shops and restaurants in any city, you truly are spoilt for choice here. As always, I had quite an elaborate list of cafes to visit. Here are some of the ones I tried and recommend.
Maman
Inspired by savory and sweet flavors from the south of France, the place offers a wide selection of baked goods, coffee, breakfast, lunch and brunch. Their nutty chocolate chip cookies are amazing and they actually made the list of Oprah's favorite things. I tried the almond croissant and orange blossom honey latte – ooh so delicious! While they have a couple of locations across the city, head to the Soho location and ask for the secret garden.
Felix Roasting Co
The most aesthetically pleasing café which offers a strong cup of coffee. Head over to the Madison Square park location. Just as you step in, I promise you will be blown away by the grand interiors and pink and green color palette.
Remi
A coffee shop inside a flower shop? Yes please! The gorgeous shop is full of beautiful flowers, plants and colorful coffees. There are tables so you can literally stop and smell the flowers. The latte art alone is worth writing home about.
Another similar coffee + flower shop in NYC is Ariston Flowers and Café.
Some others that I tried were:
Librae Bakery (best pistachio croissant)
Dudley (great for drinks and nibble food)
Jajaja Mexicana (vegan)
La Parissiene Café (best almond croissant)
Urban Backyard
Café Reggio
Taim (Mediterraean food)
Planta (vegan)
Few others that I had on my list but didn't have the time to try:
Jack's Wife Freda (a little slice of Paris in NYC)
Lafeyette Grande Cafe (pinwheel croissant)
Butler
Davelle
Laduree
Pietro Nolita
The Butcher's Daughter
NOMO SOHO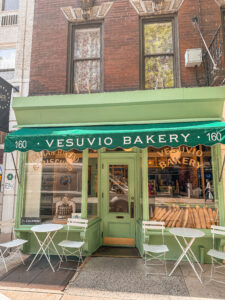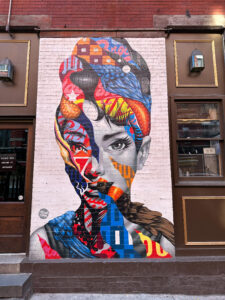 Statue of Liberty
Originally designed by French sculptor, Frédéric Auguste Bartholdi, Statue of Liberty was a gift from France during the 100-year anniversary of America's independence. The statue is of a woman holding high the torch, which symbolizes light or liberty.
It has become New York's most famous icon and is a sight not to be missed. You can see if from far from a couple of places (Brooklyn Bridge, Battery Park) or see it up close at Ellis island.
Ellis Island was originally an immigration station used to process immigrants coming into the United States for over 60 years. It is now a museum with exhibits displaying life in the early 1900s. Make your way to Battery Park to board the ferry. There is a charge for the ferry ride.
If you are looking to save costs, hop on the commuter ferry that shuttles back and forth from The Whitehall Terminal at the tip of Manhattan to the St. George Ferry Terminal on Staten Island. This is the best view of the Statue of Liberty you can get for free. You will also get stunning views of Lower Manhattan, Brooklyn Heights and a distant view of Brooklyn Bridge.
Charging Bull and Fearless Girl
The Charging Bull is a famous bronze statue that is an iconic symbol of Wall Street. This sculpture depicts the "bull" period of the stock market which means optimism and prosperity. Now don't be surprised if you notice people rubbing the bulls' private parts 😊 You will notice that part of the bull is lighter in color compared to the rest of its body.
After the bull, you can make your way to the Fearless Girl, a statue by Kirsten Visbal to promote female empowerment, which was installed in 2017. It was originally placed facing the Charging Bull. But the placement of the girl has been subject to many controversies over the years. Since then, The Fearless Girl has been temporarily moved to face the NYSE building in 2018. As of today, the statue is still there, but it is unclear how long it will remain.
The Metropolitan Museum of Art 
The Met is known around the world not just for its annual star-studded Met Gala, but also for housing over two million artworks. Click here to read more.
The Met Steps, made particularly famous on the TV show Gossip Girl, make a great backdrop for a photo. Wear your finest attire and channel your inner Blair Waldorf hehe. Let me make a confession – I still haven't watched the famous TV Show Gossip Girl!
If you appreciate modern, contemporary art and architecture, you will also want to visit The Guggenheim. It is located just steps away from Central Park. Designed by Frank Lloyd Wright, it has one of the most unique museum designs, spiraling upward in a cylindrical building.
Museum of Ice Cream
Looking for quirky things to do in NYC?
This interactive playground for ice cream lovers of all ages was basically built for Instagram 😊 It brings to life the universal power of ice cream by creating experiences that inspire imagination and connection, helping to rediscover the kid in you. Click here to read more and book your tickets.
*All prices as of May 2023