Whether you plan to visit Kerala backwaters, Thekkady or Munnar, your starting point will most likely be Kochi. So, it only makes sense to spend a day or two here.
Kochi's historic old town is also known as Fort Kochi. Here is a little history about this place – this area of Kochi was granted by the king to the Portuguese, who had built the grand fort called Fort Kochi (hence the name Fort Kochi). After 160 years of Portuguese settlement, Dutch captured the territory and destroyed the fort. After 100+ years of the Dutch settlement, the British took control of Fort Kochi. Another interesting fact – this city was also once the hub for Jews in India.
Take one stroll in Fort Kochi area and you will see that this town is the perfect blend of Dutch, Portuguese and British culture. Kochi is like a treasure trove filled with historical and cultural richness from different eras. Did you know Lonely Planet listed Kochi as a must-visit destination for 2020?
Look at these snippets from old town – rugged, but oh so charming !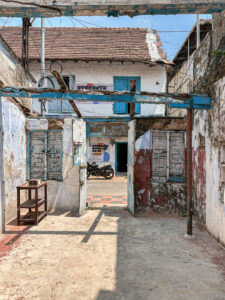 There are many fun things to see and do in Kochi, so here is a travel guide to help you plan your trip to this city.
We visited Kochi on our week-long trip to Kerala. Click here to read a basic overview of our itinerary, things to do in backwaters and Thekkady and a detailed article on Munnar.
Best Time to Visit
Kochi is hot throughout the year but the months of December to February are slightly better. Keep in mind that no matter which month you go, the humidity will kill you ☹ We were there on March 1st and it was unbearably humid.
If you are an art lover, you may want to visit during the Kochi-Muziris Biennale, the largest contemporary art exhibition in India. During this time, Indian and international artists exhibit artworks across various mediums, including film, installation, painting, sculpture, new media, and performance art. Alongside the exhibition, one can also attend talks, seminars, screenings, workshops and educational activities for school children and students.
Best Way to Get around the City
Most of the things to do and places to see are in Fort Kochi area. Once you arrive in Kochi, you can reach Fort Kochi via UBER. You can take autorickshaws as well but they don't run by meter (specially when they see tourists). If you take UBER, it will save you the hassle of bargaining.
In case you prefer public transport and are on a budget, you can also take a local bus. There are many buses from Kochi city to Fort Kochi area.
Most of the points of attraction are close to each other. This city is easy to explore on foot. I always prefer to walking around the lanes and alleys – it is the best way to explore a new town.
Another fun way to explore the city is via cycle/ bike. You will find plenty of places in Fort Kochi area from where you can rent on hourly / full day basis.
Since most of the places to see are close to each other, one day is all you need to explore this city.
Where to Stay
Ideally, one should stay in old town/ Fort Kochi area. There are many old-style buildings in Fort Kochi which have now been turned into boutique hotels.
If budget really isn't an issue, then Forte Kochi Hotel should be your pick. It is a 100-year-old Jewish house that has now been converted into a hotel. Bright yellow walls, an inviting pool and cozy rooms make Forte Kochi one of the most beautiful hotels in Kochi. And the best part is that it is located right in the heart of Fort Kochi. Since I passed by this area one of the days, I took a little peek in. Was drooling over those yellow walls !! And doesn't that pool look so inviting?
Other hotels in old town area that you can stay at are Brunton Boatyard, Fragrant Nature Kochi, Ramada by Wyndham Kochi Resort, Kochi Marriott Hotel, Grand Hyatt Kochi Bolgatty.
Since I had splurged on accommodation in other cities and was going to be out all day exploring, I preferred to save some costs here. I stayed at Holiday Inn, which was around 35 minutes drive from Fort Kochi area. The rooms were decently sized and the breakfast buffet spread was enormous ! While this hotel was far from the old town, I didn't mind the commute. Since I had the car and driver with me the entire trip, it wasn't much of a hassle. But even if you don't have a car, you can easily commute via UBER/ autorickshaws.
Things to Do/ Places to Visit
Chinese Fishing Nets
Over the last few years, these Chinese Fishing Nets have become an iconic spot in the city.
It is believed that Chinese explorers, who landed here in the Portuguese era, installed these fishing nets in the 15th century. They have been refurbished several times since then, but the fishing technique used is still the same. What makes these fishing nets unique is their design. Nets are fixed on bamboos and teak poles and are weighed down from large stones. Four to five fishermen are required to operate the fishing nets.
If you want to see these fishing nets in operation, head to Vasco da Gama Square, near Fort Kochi beach. Preferably go in the morning since fishermen typically fish at that time. Even if you visit in the morning, definitely stop by again during sunset. These fishing nets wrapped up in golden light make for a lovely sight. If you want to take pictures of these nets up close, then you may need to pay a small tip of INR 100-200 to these fishermen.
Fort Kochi Beach
Once you are done taking in the sights at Chinese fishing net area, stroll the walking path along the beach. It is the perfect spot to catch the sunset in this city. Also, this path is filled with small souvenir shops and vendors who sell interesting items.
End your walk with meandering around the alleys, some of which have vibrant and colorful graffiti. Type in "wings graffiti" on google maps to get to the exact location of this popular wall art.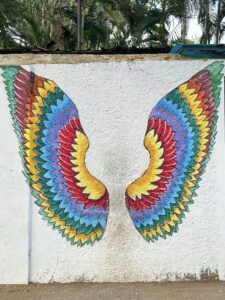 Jew Town and Pardeshi Synagogue
It is said that the king of Kochi gave shelter to the Jews in the year 1524. He allocated them land in Mattancherry, which was next to his palace. This area later became the Jew Town.  Since Jews came from overseas, the locals started calling them 'Pardesi' (the literal English translation is 'one from another land').
After Israel was established as a nation, most of the Jewish families migrated to Israel. But you will still find a few houses/ shops in Jew town where you can experience Jewish culture.
Today, Jew Town houses quaint shops selling antiques, carvings, and vintage collectibles, along with Keralan crafts and aromatic spices. You will also find cafes and restaurants, serving local specialties and Western delicacies. Even if you are not a shopping buff, do check out this place for the unique items they offer.
Located in Jew Town, Pardeshi Synagogue is the oldest (450 years) active synagogue in India. To visit from inside, you need to pay an entry fee of INR 10 per person.
As soon as you enter the synagogue, you will see a large hall displaying rare antiques. There are also beautiful chandeliers and lamps here, some of which belong to the 19th century and were imported from Belgium. Pay special attention to the floor which has beautifully hand-painted tiles. These ceramic tiles were brought from China in the 18th century.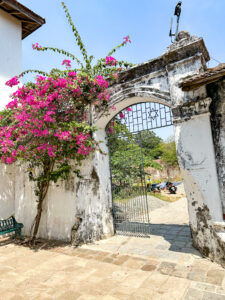 Mattancherry / Dutch Palace
Mattancherry Palace is popularly known as the Dutch Palace. Despite the name "Dutch Palace", the palace was built and gifted by the Portuguese as a present to the king of Cochin around 1545. Back in the day, coronation ceremonies of the kings were held at this palace.
The Dutch Palace has now been turned into a museum. It is not a grand palace but there are some interesting things to see here. Here, you get to see coronation costumes, throne, royal chariots, swords, and other royal artifacts. There are some beautiful murals in the palace depicting scenes from Mahabharata and Ramayana and portraits and exhibits of the kings. Photography is permitted in certain areas but prohibited in some sections of the palace.
The palace looks a bit depleted from outside but it is beautifully maintained inside. Entry fee is INR 5 per person.
Visit the Spice market of Kochi
Spices such as ginger, cloves, cardamom, turmeric, nutmeg and pepper are grown in abundance in Kerala and Kochi has been the main hub for spices in India since ancient times. In fact, Kochi has been exporting spices for over 5,000 years. If you are keen to learn more, sign up for a walking tour where you get to visit a spice market or wholesaler's godown and taste the best spices grown in Kerala. You can even buy spices for yourself or as souvenirs for friends and family back home.
St Francis Church and Dutch Cemetery
St Francis is one of the oldest European churches in India. Portuguese explorer, Vasco Da Gama, who had discovered the sea route to India, was buried here after his death in Kochi. Hence, this church is also 'Vasco Da Gama Church'.
If you want to explore a bit more about Dutch architecture, do visit Fort Kochi Dutch Cemetery. It is kept closed and opened only on request by the visitors.
Santa Cruz Basilica
The Santa Cruz Cathedral Basilica in Fort Kochi is one of the eight Basilicas in India. This heritage edifice of Kerala is one of the finest and imposing churches in India. It is located close to St. Francis Church.
The exterior is white-washed and the interior of the church has Gothic style architecture with its beautiful arches. Given its grandeur and details, this church has become a must-see destination in Fort Kochi.
Watch a Kathakali Performance
Looking to immerse yourself in Indian culture? Then sign up for a Kathakali dance performance.
The word "Katha" means story and "Kali" stands for dance. Kathakali is a beautiful blend of literature, music, acting, mime, dance and painting. Each performance starts with a detailed process of makeup application, where you get to see step by step how colors are added on the face. Did you know that these colors represent different moods and sentiments?
There are couple places in Kochi where you can watch a Kathakali dance performance. Kerala Kathakali Centre and Folklore Musuem are a few options.
Cherai Beach and Vypin Island
While Fort Kochi has beach, you cannot really swim here. If you are in the mood for swimming, go to Cherai beach in Vypin Island. If you are lucky, you can also spot some dolphins.
It is slightly far from the city and you can get there via ferry or car. If you take the ferry, you first need to reach Vypin Island. Once you reach Vypin island, either take the public bus to reach Cherai beach or alternatively, you can hire a bike from Fort Kochi area and take it along with you in the ferry.
Where to Eat
I can safely attest that the café scene in Fort Kochi made the little café explorer in me do a happy dance! I had jotted down a few based on reading blogs, some based on recommendations from locals and then some, I discovered wandering around aimlessly. Since I had a little over 24 hours in this city, I knew I wouldn't be able to try them all. But given that the humidity was through the roof when I visited, I stopped by quite a few cafes to quench my thirst via iced coffees. All in all, I can say that the café scene in Fort Kochi is amazing. And one day was certainly not enough to try them all.
Here are a few cafes that I visited and highly recommend:
Pandhal Cafe and Deli
French Toast
Kashi Art Cafe
Mocha Art Cafe
East India Street Cafe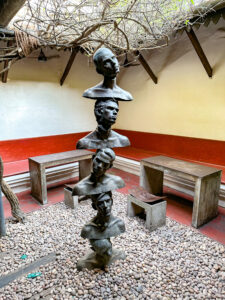 Here are couple others that have great reviews and you may want to check them out:
Ginger House
Loafers Cafe
Qissa
Teapot Cafe
Pepper House Cafe
We also tried dosas at Brindavan restaurant located near Holiday Inn area and absolutely loved it. Also tried Chukku Kaapi, a local specialty coffee here. It is made with dried ginger, black pepper, jeera, basil and is typically made by locals during colder weather. It also boosts immunity and gives relief to sore throat, running nose, congestion and breathing issues related to congestion.
*All prices are as of March 2023