Located on India's southwest coast, the state of Kerala is often referred to as 'God's own country'. With postcard worthy backwaters, magnificent mountains, endless tea plantations, rolling hills and a historic old town, you can see why it is so called! If you are looking for the perfect mix of wildlife, nature and city life, then make your way to Kerala right away 😊
I spent a week in Kerala exploring the historic Fort Kochi, getting mesmerized by the tea plantations in Munnar, spotting elephants in the wild at Thekkady and cruising along the Backwaters.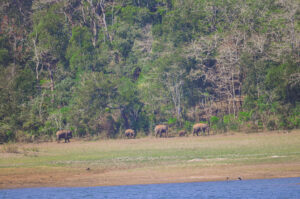 Read on to plan the perfect trip to Kerala.
How to get there
Kerala is relatively easy to access by flight as it has a huge international and domestic airport. There are many airlines flying in directly to Kochi from Delhi, Bangalore, Mumbai. Kerala is also accessible by direct train from Mumbai, Goa and Bangalore. You can also find international flights flying in directly to Kochi airport from some Middle Eastern countries.
If you are planning to visit Kovalam, then you may want to fly in and out of Trivandrum airport instead of Kochi.
Best time to visit
November to early March is the best time to visit Kerala. The temperatures in the coastal areas are moderate but the hill stations can get chilly. This climate is perfect for sightseeing, houseboat rides, and to enjoy the scenic beauty of the region. Once summer sets in, these towns can get unbearably hot.
Monsoon season (June – August) is yet another lovely time to visit. Kerala has some beautiful waterfalls which are gushing with water in monsoon season. Also, the rains provide a much needed respite from the scorching summer heat. During this season, you will see fog rolling in on the tea plantations, making it look even more magical. But due to incessant rains, the cars may need to drive slowly, thereby increasing the travel time to get from one place to another.
From August – September, the backwaters of Kerala are full of pink water lilies. So, if you want to see the lilies, this is the best time to visit. Malarikkal village, which is otherwise a paddy plantation, transforms itself into a pink sea in August and September due to the blooming of the water lilies. I have seen pictures from this place on the web, and it looks breathtakingly beautiful.
If you happen to be in Kumarakom between August and September, you can also witness the world famous boat races – Nehru Trophy snake boat race, Champakulam Moolam Boat Race, Aranmula Uthrattadi Vallamkali, and Payippad Jalolsavam. It is a fun and unique competition to witness.
Neelakurinji flowers are special type of flowers which bloom once every 12 years. 'Neela' literally translates to 'blue' and kurinji is the name given to it by the tribals of the area. You will spot these flowers mainly in Munnar area. They last bloomed in 2018 and the next time you get to see them will be in 2030. Imagine being surrounded by purple mountains – would be quite a sight to behold! If I do go back, it will certainly be during this time 😊
Getting around in Kerala
Fort Kochi is easily accessible from Kochi airport. Once you reach Fort Kochi, most of the attractions here are within walking distance. If you want to give rest to your feet, you will find plenty of autorickshaws (be ready to bargain) and UBERs in the city to take you around.
If you are heading to the hill stations, national parks, and the backwaters, then public transport can get a bit tricky. You can take sharing cabs and buses to reach main locations, but after that you're on your own. Also, in Munnar the hotels are spread out and you will rarely find one restaurant / place of attraction within walking distance. Also, keep in mind that if you plan to rent directly from your hotel, they tend to charge more.
So, unless you're staying in Munnar city, rickshaws and taxis can be difficult to find and book. For the most stress-free vacation, I would highly recommend hiring a driver for your entire trip. Most of them charge approximately INR 3,000- INR 4,000 a day depending on the duration and type of car you hire.
If you need details of the travel agent I used for hotel bookings (his hotel rates were considerably cheaper than what I was getting online) and car hire, please drop in an email / connect via DM on Instagram (@beantowntraveller).
General Itinerary
Kerala is HUGE and there is only so much that you can cover in one week. Below is the complete itinerary of our trip. The details for Kochi and Munnar can be found under their own separate pages and Thekkady and backwaters are summarized in this article itself.
Kochi – 1 N
Munnar – 3 N
Thekkady – 2 N
Alleppey / Kumarakom backwaters – 2 N
This gave us the perfect balance of heritage, culture, tea plantations, beaches, and backwaters.
You will most likely land in Kochi whether you take the train / the flight. Depending on what time you get there, you may want to drive straight to the next destination. Or you can spend the day day in Kochi and begin your drive the next day.
Most people start their trip with Munnar and end it at Kumarakom. The reason being that backwaters are where you can relax after the long drives and busy days at Munnar and Thekkady.  However, we had to switch our route and start with Kumarakom due to non-availability of preferred hotels on our travel dates.
If you have additional time on hand, here are some more places you can visit in Kerala:
Athirapally
Wayanad
Poovar + Munroe Island
Vagamon
Varkala
Kovalam
As you can see, there is plenty to see and do in the state of Kerala. You can easily spend a month and not get bored of the scenic vistas.
Things not to be missed in Kerala
Kerala is famous for ayurvedic massage and most of the hotels here have a spa on premises. There are different types of massages; the most famous being Shirodhara and Kerala style body massage. What makes the massages special here is the kind of oil they use in massages. It is coconut oil mixed with other Ayurvedic oils. I tried the potli massage (similar to hot stone) and my mother tried Shirodhara at Niraamaya Resort in Kumarakom. Shirodhara technique refers to dripping or pouring of warm herbal ayurvedic oils on the forehead from a specific height, for a specific time period in a continuous stream, allowing the oil to run through the scalp and down into the hair. My mother said it was the best massage experience she has had in her life!
Toddy is a famous beverage in Kerala. It is basically coconut liquor, made by tapping the coconut palm. This sweet sap has both an alcoholic and non-alcoholic version. You will find them at almost all towns in Kerala.
Begin your day with fresh coconut water. Coconuts here are much bigger than what I am used to in Mumbai and the water is sweeter too. Also, who doesn't enjoy fresh coconut water with a view of the bakcwaters or the tea plantations, right?
Visit spice plantations and tea plantations and do not forget to pick up local spices and loose leaf tea for friends and family back home.
Indulge in local delicacies like apam, stew, thoran, idiyappam, puttu with kadala curry, phew the list is endless. Also, try the traditional Kerala style meal which is typically served on banana leaf.
Kochi
Walking in Kochi's old town is like walking in a treasure trove. With rugged but charming little corners, vibrant streets, a scenic waterfront, art galleries and plenty of cool cafes and restaurants, you will find it hard to put your camera down.
Click here for a detailed itinerary.
Munnar
If you are looking for a scenic drive in India, then add Munnar to your list. I was literally glued to the window and must have taken a million pictures! With rolling hills and endless tea plantations and beautiful winding roads, it truly makes for a scenic drive.
Click here for a detailed itinerary.
Thekkady
With a wildlife sanctuary, numerous spice plantations and beautiful tea estates, Thekkady makes for a lovely addition to your Kerala itinerary. Thekkady is where tourists flock to see wildlife in Kerala and to escape the heat.
From Kochi airport, the drive to Thekkady can take around 4 hours. If you are traveling by train, then Kottayam Railway Station, located 110 km from Thekkady, is the nearest railway station.
There are a couple of hotels inside Periyar Tiger Reserve, the most famous one being Spice Village CGH Earth. Periyar Tiger Reserve is probably one of the few reserves in the world that allows tourists to camp and trek inside the forest area.
A few years ago, I had seen this boutique property, Hills and Hues, pop up on my Instagram feed. Ever since then I knew that if and when I visited Thekkady, I would stay here. And let me tell you, this property exceeded my expectations. From the cutest little reception area to that infinity pool to the views – it truly felt like a dream. They have a multi cuisine restaurant serving delicious food all day and the most courteous and helpful staff. Also, they have a well-equipped game centre where you can play ping pong to carrom to foosball to chess! They also offer cooking deomonstrations and complimentary tea tastings every evening, followed by a bonfire (weather permitting). No reason truly o leave the property 😊
The only downside is that this property is slightly far from the main town. It is around 10-15 minute drive, but to be honest, we didn't mind it at all. It was like a little oasis away from the hustle and bustle of the city.
Things to See and Places to Visit
Periyar Tiger Reserve
The main attraction in Thekkady is Periyar Tiger Reserve. In addition to tigers, you also get to see elephants, wild pigs, sambar, gaur, deer and Indian wild dog in this reserve.
At Periyar Tiger Reserve, the tiger population is around 40. To be honest, compared to the rest of the national parks in India, your chances of spotting tigers here are quite low. But this park is a great place to enjoy the nature and the beautiful scenery that this area has to offer.
There are a number of activities to choose from ranging from nature walks to bird watching to overnight camping. Since I was traveling with my mother, I did not to do anything too adventurous. Instead opted for a boat ride at Periyar Lake. There are around 5 rides a day and each ride lasts for an hour. These boat rides can fit around 100-150 people at a time. But since it is one of the popular activities here, they tend to get sold out. It is advisable to buy tickets online / at least a day prior so you get the desired time slot.
Click this link to check the available time slots and book your tickets. Each ride costs INR 255 per person. Since the park is in an enclosed area, in order to get to the boat ride, you also need to buy bus tickets and also pay an entry fee for the park.
Coming to the boat ride – it was quite scenic and peaceful (despite there being a hundred people on board). And the best part is that we lucked our seeing a herd of elephants (almost 6-7 in one place) and then a mother and calf. We also spotted a sambar out there. But keep in mind that spotting wildlife is purely on luck. We were told that this was the first spotting they had in 2 days. While we were lucky and loved spotting them in the wild, the only downside was that the boat was quite far in the middle of the lake, and hence, we could not see the animals up close.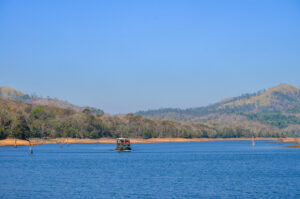 If you are looking for something more adventurous, you can go rafting on Periyar Lake. This activity involves hiking for an hour to reach the lake and then you hop on a bamboo raft and actually raft across the lake– how cool is that right? Rafts are accompanied by a guide as well as an armed forest ranger.
In addition to the above, there are quite a few nature walks and trekking options available at Periyar Tiger Reserve. Treks vary from one to multi-day, with the longer ones being more difficult. Treks are always accompanied by guides and armed forest rangers. The chances of spotting animals in their natural habitat is high and you get to see them up close. You can find more information here.
Visit a Spice Plantation 
One thing that you must do in Theaddy is tour a spice plantation.  With plenty of spice plantations in the vicinity, you will find the largest collection of authentic spices gathered from the local plantations. On this tour, you get to learn about different medicinal and ayurvedic benefits of various spices like cardamom, pepper, cinnamon, clove, etc. You can also purchase fresh spices to take back with you, once the tour is over. We did a spice garden tour at Abraham's Spice Garden based on a friend's recommendation. Established in 1952, it is one of the oldest and biggest gardens in Periyar. The tour was informative and we got to smell and taste organic spices. Our tour lasted for more than an hour which kind of breezed by since our tour guide was really funny. And we shelled out just INR 100 per person for this tour.
Elephant Rides
Periyar Tiger Park offers an elephant ride which includes elephant ride (duhh), a photo session with elephants, elephant bath, and elephant feeding. While it sounds cool, I personally wouldn't recommend. Please let the animals enjoy their natural habitat. They are not here for our personal entertainment.
Tea Plantations
While driving around, you will notice plenty of small tea plantations in this area. If you are visiting Munnar, then I will suggest you visit a tea plantation there since they are much bigger and more scenic.
But if you are not visiting Munnar and are keen to visit one here, then here are some tea factories that you can visit:
Connemara Tea Plantation
Pattumalay Heritage Tea Factory
Poabs Estate
Cultural Activities
If you are keen to learn more about Indian culture, there are a bunch of activities like Kalaripayattu, Kathakali dance, tribal dance, etc. that you can sign up for.
'Kalary' means school or gym and 'payattu' means the art of combat. This age-old form of martial arts is performed inside the kalary under the guidance of a master. The agility and gravity defying stunts of the performers will truly leave you speechless.
Head to the ticker counter near the entrance of Periyar Tiger Reserve where you can learn more about the shows and buy tickets. Tickets are in the range of INR 100 – INR 200 per person.
Off-road Jeep Safari
If you are looking for some adventure, then hop into a jeep and go to Sathram, which is located approximately 30 km from Thekkady. You get to see wild animals (elephants mainly) and pass by beautiful tea plantations. Cost of this jeep safari is INR 2,500.
While we lucked out spotting wildlife at Periyar boat ride, luck clearly wasn't in our favor here. The only thing we saw was a deer and that too, almost at the end of the trip.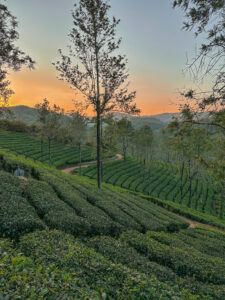 Honest feedback – the views and the drive along the tea plantations was scenic, but personally I didn't think it was worth the time and money. The entire drive took us around 4 hours. We could have rather enjoyed the infinity pool of our hotel.
Cafes and Restaurants
Since our hotel was slightly far from the city, we didn't venture into the town much. But we ate a traditional Kerala style thali (sadhya) at Tuskers and absolutely loved it. Highly highly recommend !! And this entire meal cost us just INR 150 – which is a steal!
Couple other cafes and restaurants based on recommendations:
Ebony's Café Restaurant
SORA
Drizzle Thekkady
Rangerwood Castle Restaurant
Periyar Tiger Café Restaurant
Coffee garden rooftop restaurant
Also, don't forget to try famous banana chips in the markets.
Kerala Backwaters – Alleppey/ Kumarakom
This is where you come to relax. The backwaters of Kerala are a network of rivers, lakes, lagoons, canals and inlets.
From Kochi airport, the drive to Alleppey/ Kumarakom can take around 2 hours. If you are traveling by train, then Kottayam Railway Station, located 16 km from Kumarakom, is the nearest railway station.
Alleppey and Kumarakom are two towns here, which are essentially divided by Vembanad Lake. It is the largest lake in Kerala and the longest in India. Kumarakom has better hotels but the other side of Alleppey has the beach (Marari Beach). Depending on your preference, you can pick the destination. The distance between the two cities is around 32 km (20 miles) and can take around an hour.
The best way to experience the beauty of the this place is via water. This part of Kerala is synonymous with houseboats. These houseboats come in different sizes – ranging from one bedroom to 3-4 bedrooms. They also come with a cook and a driver onboard. Perch up your feet, enjoy the breeze and have a relaxing day as you cruise through the water.
You can either stay overnight in a houseboat or do a day trip like we did. Note that staying in a houseboat can be an expensive affair. One night rate can start from INR 10,000 and can go up to INR 40,000 depending on the quality of the houseboat. The journey starts at noon with lunch and ends the next day with breakfast. However, note that the boats are anchored in the lake from 6 pm – 7 am and are not allowed to sail. I was told that post sunset, smaller fishermen go to the lake for fishing and hence, sailing is stopped during this time.
That being said, I bet staying on a houseboat and experiencing the tranquility in the middle of the water must be surreal. Imagine witnessing sunrise and sunset in the middle of the lake or being lake surrounded by brightly lit stars at night! Must be magical, right?
One other alternative is hiring the houseboat for half a day instead of staying overnight. The cost reduces by almost 1/3rd. Essentially, you get the same boating experience minus the early morning and night time experience.
We opted for the half day houseboat wherein our we started cruising at around 1.30 pm and came back to the shore at 5.30 pm. We started from Kumakarom side and went all the way to Allepey side. We passed by the famous Chinese fishing nets and ended with cruising along narrow canals. We passed by several villages and got a glimpse of locals living their daily lives – some fishing, some doing daily chores and others just relaxing in their backyards by the canals.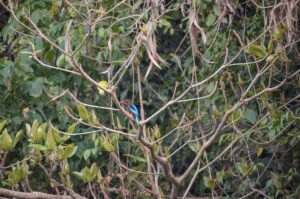 As you can see, there are beautiful water lilies in this lake – however, they typically bloom post sunset until 8 am – 9 am in the morning. So if you want to spot them fully open, time your boat ride accordingly. Since our ride was in the afternoon, they were completely closed.
While cruising in the middle of the lake was lovely, I preferred the smaller canals since it gave a glimpse of local life. Also, we spotted so many beautiful birds in this part of the lake. We felt that a half day houseboat tour was good enough and gave us a glimpse of what the backwaters had to offer.
If you want to reduce the cost further, you can take a boat ride/ canoe ride/ shikara ride which costs approximately INR 1,500 – INR 3,500 for a couple hours. The advantage of a smaller boat is that they can navigate thru smaller channels and you get a glimpse of locals living their daily lives from the boat. You can even sign up for a full day tour which includes traditional Kerala style lunch, visiting one of the villages and spending time with the locals.
We stayed at Niraamaya in Kumarakom for 2 Nights and loved our experience. We opted for the Lake View room and it was totally worth the extra moolah. The rooms including the bathroom are HUGE. The grounds are slightly small but there is enough to keep you occupied. They had lovely hammocks, swings and benches where we could relax, read books and watch the birds and boats go by. It was truly relaxing!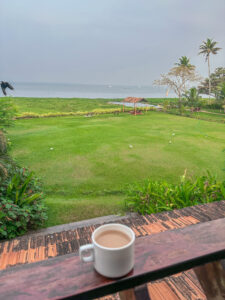 Also, we witnessed some vibrant sunsets by the lake.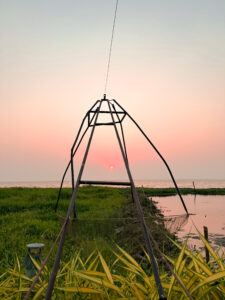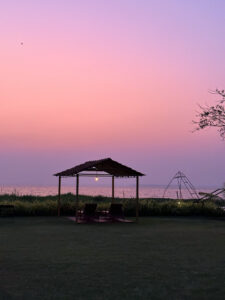 There are few local restaurants in this side of the town since the whole area is lined up with hotels. If you are staying in Allepey side, check out Asado Café and Cafe Paradiso. We preferred relaxing in Kumarakom and didn't really venture out except the houseboat ride. We had three meals here and everything we tried was delicious. We also tried some traditional Kerala style food – it was amazing. The staff is courteous and goes that extra mile to keep guests happy. Highly recommend this hotel.
Here are couple other hotel options in Kumarakom area:
Coconut Lagoon
Kumarakom Lake Resort
Taj Kumarakom
Gokulam Grand
If you are looking to stay in Allepey area, check out CGH Marari.
For all you bird lovers, there is Kumarakom Bird Sanctuary right in the city, which is famous for migratory birds. Particularly in the month of November to February, a lot of birds flock here. The bird sanctuary is dense and full of trees of different kinds. You can get glimpses of some rare species here.
*All prices are as of February 2023