With rolling hills, endless tea plantations and beautiful winding roads, Munnar is one of the most picturesque towns in the Indian state of Kerala. As you are driving around, trust me, you will want to stop every few minutes to soak in the beauty of this place. Just look at this – simply postcard perfect, right?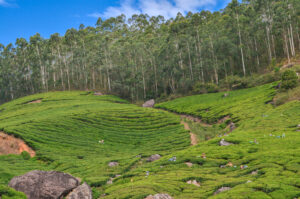 Located in Idukki district of Kerala, with an elevation of over 5,200 feet above sea level, Munnar enjoys pleasant weather throughout the year. However, Munnar is at its best during the months of August-September and November-December. During the monsoon season, you will see multiple waterfalls at every corner, which add to the beauty of the place. In the monsoon as well as winter seasons, sometimes, you will notice fog rolling into the tea gardens, making them look even more magical.
Did you know Munnar used to be the summer capital of the British, who wanted to escape the soaring temperatures of Kerala when they were ruling India?
Munnar was undoubtedly my favorite town in Kerala and I am already dreaming of going back someday.
Scroll down and read to plan the perfect trip to Munnar😊
We visited Munnar on our week-long trip to Kerala. Click here to read a basic overview of our itinerary, things to do in backwaters and Thekkady and a detailed article on Munnar.
Best Way to Reach
Munnar does not have an airport. The closest airport is at Kochi, from where Munnar is around 110 km away. The roads from Kochi to Munnar are in excellent condition but slightly narrow (compared to Indian highways) and hence, the drive could take around 3-4 hours.
If you are driving from Kochi, there are couple of waterfalls enroute Munnar that you may want to stop at. Valara and Cheeyapara waterfalls are the two famous waterfalls here. Sadly, since we visited in February, Cheeyapara was completely dry. Valara still had some water comparatively but nothing to really rave about! But yes, from June to December, they are gushing with water and make for a scenic stop.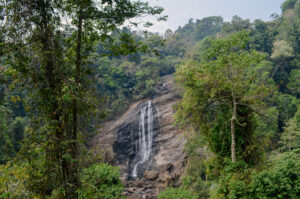 If you are visiting Munnar in addition to other cities in Kerala, then most likely you will be getting here via Thekkady / the backwaters. Munnar is located around 90 km from Thekkady and 160 km from the backwaters.
If you are driving from Thekkady/ backwaters, then stop by Kallimali View Point. The spectacular views of the dam, the reservoir and the natural greenery surrounding it make the visit worth it. There are a couple hiking trails here as well if you have additional time on hand.
How Many Days to Spend
There is quite a lot to see and do in Munnar and for people of all ages. Whether you are simply looking to relax in beautiful surroundings, enjoy the tranquility of the place, or indulge in outdoor adventure, this town has everything in store for you.
You can spend up to a week and still find plenty to do here. I recommend spending at least 2N-3N  so you get to see most of what this place has to offer. Since I was traveling with mom and wanted a relaxing trip, ended up spending 3 N in Munnar.
Where to Stay
Most of the places of attraction are spread out in this city and in opposite directions. Pick your hotel area depending on what you want to see and do in Munnar.
There are a couple of basic hotels in the main town of Munnar – but personally, wouldn't suggest staying here. The hotels are dated, the area isn't the best and you don't even get any scenic view. Clearly not what you signed up for when you planned a trip to Munnar, right?
If you want a beautiful view of the valley and tea plantations, pick a hotel around 20-30 minute drive from Munnar town. There are a gazillion hotels in this area to choose from.
I had jotted down a couple options and finally zeroed in on Fragrant Nature. They have around 45 rooms in total and a beautifully maintained garden which houses more than 70 different varieties of flowers. You name the flower and they have it – from sunflowers to dahlias to daisies to orchids to gerberas. Loved coming back to the hotel after a long day of exploration and simply walking around the lovely garden. Also, they organize complimentary tea tastings, cooking demos and bonfire every evening (depending on the weather). Perfect way to unwind in a hill station, right?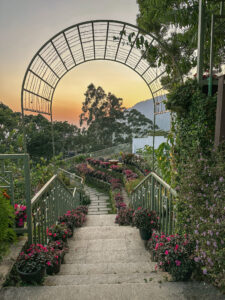 The only downside is that the property is relatively old and hence, the rooms are slightly dated. However, apart from the room, the rest of the property is beautifully maintained.
Couple other hotels in Munnar:
The rooms and the views at both these hotels are spectacular but the approach road to get there is in a terrible shape. Also, wouldn't recommend these if you are visiting in monsoon season since the road conditions get worsened in the rainy season.
Vibe Munnar is a new property and has great reviews – you may want to check it out.
Things to see and Do
Scenic Vistas
First things first, let's talk about the scenic vistas Munnar has to offer. As you are driving by, you will glued to your window and have the urge to pull over every few minutes. Rolling hills, endless tea plantations and beautiful winding roads, make for a scenic drive. Listing down some of the beautiful areas not to be missed when in Munnar:
Chinnakanal and Anariyangal Dam – It is said that elephants from nearby jungles often visit the dam to drink water. Sadly, we didn't spot any any.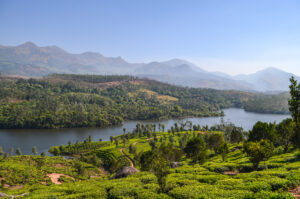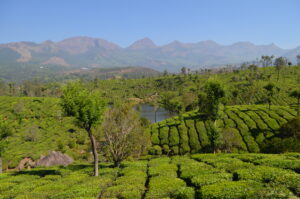 Gap Road – Personally, I love winding roads, and combine it with tea plantations, it makes for quite a beautiful drive!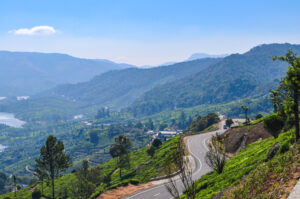 Devikulam tea estate – the only tea estate where general public is allowed to enter and roam around at their will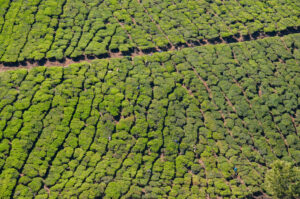 Pothamedu View Point
Munnar Photo Point
Attukad Waterfalls – We didn't get too close but spotted it while driving around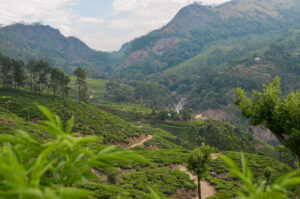 Visit the Tea Estates
Did you really go to Munnar if you did not visit the tea estates? After all, a trip to Munnar begins and ends with Tea 😊
The climate and altitude of Munnar are ideal for growing tea. Did you know these trees can actually grow up to 15 feet in height? They are actually pruned and kept at this height for easy picking. Yet another interesting fact is that all workers picking the tea are women. They typically get paid by the weight of tea collected.
There are three types of tea being picked here. The larger leaves are picked for making black tea, the smaller leaves for green tea and the small bud leaves become the most premium, white tea.
Though there are plenty of tea estates right in your face anywhere you go in Munnar, you cannot just hop over and visit the tea plantations. These plantations are privately-owned and trespassing is strictly forbidden. Majority of the plantations here belong to large private tea estates – namely the TATA Group and Lockhart Group.
If you do want to take a closer look into the tea estates, then visit a tea factory / museum here. Not all, but some of the tea estates may organize walking tours for tourists. Many even have a shop where you can buy freshly picked tea leaves as a souvenir.
Apart from the tea museum, there are two main tea factories (Tata and Lockhart) that you can visit in Munnar. I had read great reviews about Lockhart tea factory and had planned to visit that one. However, I ended up being in that area on a Monday – when most tea factories and government offices are shut in the city. Since I was closer to the Tata tea factory (KDHP) the next day, I ended up visiting that one. The tour began with a 5-7 minute pre-recorded video and thereafter, one of the staff explained the whole process in another 5-7 minutes. After that, we were left on our own and made to see the machines and the processes from a glass window. While the entry fee did not cost much (INR 100 per person), personally, I felt it was a total waste of time.
My mother had previously visited a tea factory in Ooty a few years ago and since Lockhart was another 45 minute drive, I decided to skip it this time. Avoid this one and go to Lockhart instead.
However, I managed to do a lovely tea plantation walk arranged by Fragrant Nature hotel. It was a wonderful experience. Do send an email / leave a comment/ connect via DM on Instagram (@beantowntraveller) if you need additional details.
Watch sunrise at Kolukkumalai Peak
If you are looking for a unique experience in Munnar, then make your way to Kolukkumalai, a small village in Tamil Nadu. The highlight of this place is witnessing the sunrise from Kolukkumalai peak. Since it is located on the border of Kerala and Tamil Nadu and Kerala, you can see both states from the peak.
After watching the sunrise, spend some time at Kolukkumalai Tea Estate. At 7,900 feet, it is the highest tea plantation in the world!
What makes Kolukkumalai special you ask? Well, it is only accessible by authorized jeeps. You are not allowed to ride to the top in your vehicles. Basically, you need to reach the town of Suryanelli in your private vehicle and thereafter, jump into the jeep. If you are travelling around Munnar via private car, speak to your driver who will drop you to Suryanelli. He will also arrange for the jeep to take you to the top of the peak. If you haven't booked a private driver and car for your entire trip, ask your hotel to arrange a jeep for you. All the hotels in Munnar have a tie-up or at least know some jeep drivers who can take you for the Kolukkumalai sunrise. If you need details of the jeep driver I used, send an email/ leave a comment/ connect via DM on Instagram (@beantowntraveller).
Kolukkumalai is located quite far from Munnar. Also, since this is a sunrise expedition, you need to start the drive in the middle of the night. We left our hotel at 3.30 am and reached Suryanelli at around 4.30 am. If you are traveling in monsoon or winter months, factor in additional time since fog could make the visibility lower.
We then transferred ourselves into the jeep, from where it was another 13 km drive to the top. Now comes the fun part or not ☹ Of the 13 km, only 5 kms is a paved road. The rest is a complete off-road experience. Before going, I had read that the road was bad, but it still didn't prepare me for how bad it was. We literally held on to the railing inside the jeep to ensure we didn't fall off. The road was BUMPY and we literally had a sore back the next day. Thankfully the pain just lasted for a day.
Once you're dropped off, you need to climb around 20 odd steep steps to get to the viewing area. Witnessing the sun rising through the clouds with the background of the mountains, is truly a sight to behold.
Once you are done, you can also visit Tiger Rock nearby, which is a naturally formed rock that resembles the face of a tiger. Also, you are literally standing above clouds on one side and tea plantations on the other. It was simply surreal!
After spending some time here, you can visit Kolukkumalai tea factory or make your way back to Suryanelli through the same route. This time though, you will notice that the entire road is covered with tea gardens. It was funny how we didn't see anything on our way up since it was pitch dark.
You need to pay around INR 2,500 for the jeep, which includes necessary permits and fees. Note that the cost is for the jeep and not the number of persons inside the jeep. So if you want to save costs, then you may want to ask around and club with others going to the top.
If you are even more brave, then you can opt for Kolukkumalai trekking and camping packages with one of the tour operators. You essentially spend overnight in a tent and trek the next morning.
Couple points to note:
The jeep ride is not for the faint hearted. Do NOT go if you have back problems.
The weather is at least 8-9 degrees cooler on the top compared to what you find in the city. Also, because you will be going in the middle of the night vs day time, it will be a lot cooler.
Layer up and wear comfortable shoes.
Tea and basic snacks are available at the top.
There is a basic washroom at the top.
Lakkam Waterfalls
This place is famous with both locals and tourists alike so try to get here early in the morning. I didn't get a chance to visit but I hear it is always flowing with water anytime of the year.
Eravikulum National Park
Another popular attraction is Eravikulam National Park, located around 13 km from Munnar. Home to a variety of mammals, including Nilgiri tahr, Sambar deer, Golden Jackal and Leopard, this is a must visit place for wildlife lovers. You will also find over 130 species of birds and over 100 species of butterflies around.
Entry fees
Indian: INR 200
Child: INR 150
Foreigner: INR 500
Additional charges applicable for camera.
Best time to visit is between September to May. However, note that this park is closed in February and March for calving season and hence, we did not get to visit.
During your visit to this park you can also stop by Anamudi Peak. At 8,842 feet, it is the highest peak in southern India. The peak offers a breathtaking view of the valley and hills around. You can see the tea plantations, spice plantations and wildlife in this area. It is also a popular hiking spot.
Top View Station Point
Located around 5500 feet above sea level, Top View is around 32 km drive from the town of Munnar. This place falls on the Kerala-Tamil Nadu border and provides a panoramic view of Western Ghats and the valley of Theni district of Tamil Nadu.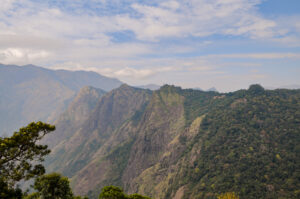 Entry fee is INR 20 per person. There are two viewing decks here. If you want to get a closer look at the view, then you need to climb down a few steps to get to the other viewing area. It is quite a steep climb so wear comfortable shoes. Additional cost of INR 25 is applicable for this viewing deck. It was a little hazy when we got here so didn't get very clear views.
If you are visiting Kolukkumalai, then you can skip this one.
Mattupetty Dam
A water reservoir in Idukki district, located at about 12 km from the heart of the hill station. The dam is used to conserve water to create hydroelectricity. This place also offers boating and other water activities.
It is possible to sight elephants by the Matupetty Lake as it is a vital source of water for them.
Kundala Dam and Lake
This dam is built on River Periyar, and it is surrounded by the green Western Ghats mountain range. If you are visiting in spring, then you get to see beautiful cherry blossoms. And if you're lucky, you can even witness the vivid purple cover of Neela Kurunji flowers on the hills, which bloom only once in 12 years.
Echo Point
This is a scenic spot in Munnar enroute Top Station. It is called Echo Point because when you scream here, you get to hear your echo. Echo Point is located 15 km away from Munnar.
This place wasn't too crowded when we visited in the morning.
Rose Garden
To be honest, I had no plans of visiting this one but since we were passing by from here one of the days, I decided to pay a visit. And I am so glad, I went in.
With hundreds of colorful flowers in addition to roses (duh!), this is such a beautifully maintained garden. Apart from flowers, you can also see crops like vanilla, cardamom along with the diverse fruits. If interested, you can also buy seeds of the plants of your choice to bring back home and grow them.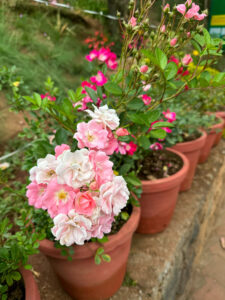 Entry fee is INR 50 per person.
Hydel Park
If you are traveling with kids then make your way to Hydel Park. This park offers a range of activities like cycling, roller-skating, zorbing, etc. There is also a separate kids play area furnished with swings, hammocks and tree houses.
Or simply perch yourself on a bench, with the hills and tea estates in the backdrop, and read your book. You can also stroll around in the lawn soaking in the beauty of the place.
Hiking Trails
There are a couple hiking trails here in Munnar. Since I was visiting with my mother, hiking certainly wasn't on my agenda.
Visit a spice garden
There are several spice gardens are located a short drive outside Munnar. Here, you can learn about plants such as pepper, turmeric, and ginger and how they are used in Ayurvedic medicine to treat and prevent a wide array of ailments.
We did a lovely spice plantation walk in Thekkady and hence, skipped it here.
*All prices are as of February 2023