Pike's Place, the Space Needle, the Gum Wall – these are the first few things that come to your mind when someone mentions Seattle. Right ? Exploring a new city is always fun but after staying put in Bay Area for two weeks, we were itching to escape the city and experience nature.
One of the best things about Seattle is the sheer amount of natural beauty surrounding the city. Whether you are looking to escape the city for an island retreat or hiking adventures or a small town experience, this region offers plenty of options. We were in Seattle for four days and ended up exploring the city just for a day. Rest of our time, we ventured out of Seattle for day trips.
We had limited time in Seattle and had to really pick and choose what we wanted to see/ do. With so many different places close to Seattle, you truly are spoilt for choice. Here's hoping this blog helps you make the most of your time in Pacific Northwest ("PNW"). If you ever plan a trip to PNW region, highly recommend visiting the surrounding areas – there is just so much to explore here.
We visited PNW as part of our three week trip to USA in September 2022. Click on these links to read about Bay Area and Boston itineraries.
Getting around
A car is an absolute must to explore PNW region, specially if you are planning to visit the parks. Unlike some of the popular parks in USA, the national parks in this region do not have a shuttle taking you to the main areas of the park. Furthermore, these parks are spread out. So, having your own car is the best way to explore all  the viewpoints and trails. You can find car rental companies at the airport itself.
Snoqualmie Falls
One of the easiest day trips one can take from Seattle is Snoqualmie Falls. Located just half hour away from Seattle, is the beautiful 268-foot Snoqualmie Falls on the Snoqualmie River. Given its proximity to the city and the fact that there is no entry charge, it has become a popular attraction in this area. In fact, about 1.5 million people visit these falls every year. If you have a limited time in Seattle and are looking for an easy day trip, then this place is a no-brainer.
There are two parking lots here – one is free and the other one, closer to the falls is paid (USD 7). From both the parking lots, it is barely a 5-10 minute walk to the viewing deck. The best view of these falls is from the upper viewing deck. But if you are feeling adventurous and are up for a hike, then you can walk along a well-maintained boardwalk to the lower viewing platform, where you will get a close-up view of the falls. I wish I had known about this hike before I visited – would have been lovely to get a unique perspective of these falls.
Looking to spend longer in this area? Stay at the beautiful Salish Lodge & Spa overlooking the falls. You can also visit this one for a meal after you are done viewing the falls.
One other waterfall you can visit in this area is Franklin Falls. It is located about 40 minute drive from Snoqualmie falls. The trail to the falls is an easy 2 mile hike and is open year-round. We were in a rush the day we visited to had to skip this one.
I was recently checking pictures on Instagram and saw few pictures of these falls. They look absolutely stunning in winter when they become completely frozen. It looks like a scene from Narnia ! So if you are visiting in winter months, then you must visit this one.
Gold Creek Pond
Located around 40 minutes drive from Snoqualmie Falls (and an hour from Seattle) is this picturesque place.
The water is a beautiful shade of green and looks even more stunning with mountains as its backdrop. It is a short hike to get to the pond, suitable for both kids and adults. If you are looking for something adventurous, you can hike the entire loop of the pond. After enjoying the scenic views, you can have a picnic at one of their numerous tables overlooking the beautiful pond.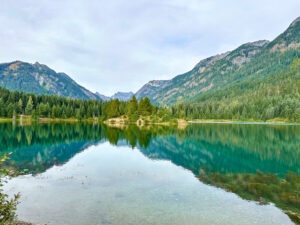 The lake is a popular spot for couple photoshoots – we actually saw a couple taking their engagement pictures. Similar to Franklin falls, this place looks magical in winter months.
Leavenworth
Located around 2 hours from Seattle, Leavenworth is a charming village located in the state of Washington. The moment you step in, you will be transported to Germany. This town is modelled to look like a Bavarian village – from the architecture of buildings to the signs and street names are in German-style. Leavenworth is full of shops, great dining options, and quirky sites like a nutcracker museum and more. While this town turns into a magical wonderland in winter months, a trip here is good any time of the year.
Leavenworth is small and you can cover most of it in a couple hours, making it the perfect day trip from Seattle. Most of the action takes place on Front Street, which is lined with souvenir shops, bars, wine tasting rooms, and restaurants. It is interesting to see restaurants offer German food like Bratwurst, pretzels, sauerkraut and German beer.
During our time here, we visited a couple of stores. The Oil & Vinegar Cellar offers a wide range of olive oils and vinegars (duhh) – they give generous tastings, and you can buy what you like. We picked up the chilli oil and rosemary oil. There is even a year-round Christmas store – Kris Kingl, where you can pick up all Christmas related items as well as beautiful home décor. Some of their installations are so beautiful – be sure to stop by. I spent a good half hour browsing here. End your day with ice cream from Whistepunk – I got maple pecan ice cream – the perfect fall flavor!!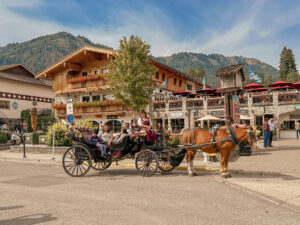 Looking for some adventure? You can go whitewater rafting on Wenatchee River.
Did you know they celebrate Oktoberfest in Leavenworth? Fun right!! During the winter and early spring season there is a lot of snow, which is ideal for those wanting to indulge in winter sports. You can ski or snowboard in the nearby Steven's Pass area or engage in other winter activities around Leavenworth itself. Lake Wenatchee even has cross-country skiing in the winter months.
The Christmas lights typically turn on at Thanksgiving and stay lit through Valentine's Day! It you are looking for a slice of those picturesque European Christmas market vibes without actually leaving USA, then Leavenworth is your answer! Leavenworth offers the best slice of Europe in Washington state.
Mt Rainier National Park
If you like nature, then one of the best places you can visit from Seattle is Mount Rainier National Park. At 14,410 feet, Mt Rainier dominates the landscape of a large part of western Washington State. In fact, you can even see this mountain from Seattle on a clear day. It is the most prominent peak in the Cascade Range.
An active volcano, Mount Rainier last erupted approximately 150 years ago. From glaciers and volcanic peaks to river valleys and old growth forest, Mount Rainier provides a variety of environments to experience. Nearly two million visitors a year come to Mount Rainier National Park for hiking, mountain climbing, backpacking, and more. There are plenty of hiking trails, both long and short.
Mount Rainier National Park is open all year, 24 hours a day. There is a $30 entry fee per vehicle which is valid for seven consecutive days.
This park is packed in the months of July and August, when the weather is warm and the wildflowers are blooming. If you are planning a summer trip to Mount Rainier, consider visiting mid-week, when it is generally less crowded. Parking is limited in many areas of the park. Wait times at some of the entrances as well as the popular spots can be over an hour on the busiest summer weekends and holidays. It may be advisable to enter the park before 10 am or after 2:30 pm during these months.
There are couple of entrances to the park – Paradise, Longmire, Sunrise, Ohanapecosh and the Carbon River-Mowich Lake areas. Depending on what you want to see and do and how much time you have, you can decide where to enter the park from.
The most important thing – check the weather before you visit – you want to visit the park on a clear sunny day. If the mountain peak is hiding behind the clouds for the entire duration of your visit, then that would be a bummer.
While summer is the best time to visit, this park is equally beautiful in spring (with gushing waterfalls) and autumn, with brilliant colors. However, some of the roads inside the park may be closed during these seasons. Vehicle access to the park in the winter is only available from the Nisqually Entrance, in the southwest corner of the park on the way to Paradise. The Carbon River Entrance is open but the road within the park boundary is limited to foot and bicycle traffic. DO NOT visit the park without checking the road status on the park's website as road conditions are subject to change.
We just had half a day to spend at the park since we had a red-eye flight to Boston the same night. We decided to focus on one area of the park – Paradise region. Like us, if you have limited time on hand then advise visiting the Paradise area – it offers an impressive collection of hikes, great views, waterfalls, and much more.
In the Paradise area, there are three waterfalls to see – Christine, Narada and Mrytle. Christine falls are the easiest to access – they are located just off the road.
Next up is Narada waterfall located on the road from Longmire to Paradise, just one mile west of the entrance to the Paradise area. At 176 feet high, the falls have two distinct features: the top tier, and tallest at 159 feet is a horsetail fall. The lower tier is a 17-foot plunge to a pool. It is an easy 0.5 mile roundtrip and could take around 20-25 minutes depending on your fitness level.
Another easy hike to do is the Nisqually Glacier trail. At just 1.2 miles, it is an easy trail and could take around 30-45 minutes to complete. This is a very popular area for hiking, snowshoeing, and walking, so you'll likely encounter other people while exploring.
The Skyline Trail is one of the most popular hiking trails in this park. It is challenging hike (around 5.5 miles) and could take around 4.5 hours to complete. But the views are straight out of a postcard. If you plan to do this hike, make it your first stop so you can get an early start. The best times to visit this trail are July through October.
Even if you can't do the entire trail, hike upto Mrytle falls, which are located 0.4 miles into the trail. The 72 foot high Myrtle Falls with Mount Rainier in the background, creates the perfect photo opportunity. This undoubtedly is one of the most photographed areas of the park. Since we were short of time, we only hiked until Mrytle Falls and did not do the entire Skyline trail.
We then made our way to Reflection Lake. On a clear day you get to see postcard view of Rainier reflected in the surface of the lake. But of course, as luck would have had it, by the time we made it here, the mountain was hiding under a thick cloud.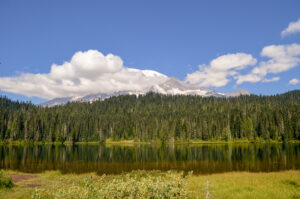 If you have additional time, then hike Bench and Snow lakes trail – 2.5 miles round trip hike.
There is limited accommodation inside the park but you will find additional options (cabins, lodges, bed and breakfasts) on the outskirts. Also, advisable to carry bottles of water, sandwiches and other snacks since food options are limited inside the park.
North Cascades National Park
North Cascades National Park, nicknamed the "American Alps," is located about 2 hours from Seattle. Despite being so close to Seattle, it is shockingly, one of the least visited National Parks in the US.
The North Cascades are quite popular with serious backpackers and mountaineers – there are some spectacular hikes here. Ideally, you need to spend at least two days exploring this park and its beautiful trails. But like us, if you are short on time, you can still get a beautiful glimpse of what this park has to offer on a day trip. There are a few hikes that can easily be done in less than two hours, some in less than one hour. This park is free to enter but the main road into the park is closed between late November to April or even early May – be sure to check the park's website before planning your trip.
There is no fee to enter North Cascades National Park though there are fees if you wish to camp there. There is a wide selection of hiking trails available in this park and it can be challenging to decide which one to do. Stop at the Newhalem visitor center to get a feel of all the trails and speak to the experts here who can guide you.
Since we were just spending the day here, we chose to hike the shorter trails:
Happy Creek Forest Walk (0.3 miles)
Happy Creek Falls (2 miles)
Gorge Creek Falls (0.5 miles)
River Loop Trail (1.8 miles)
Trail of Cedars Nature Walk (0.3 miles)
Ladder Creek Falls (0.4 miles)
Of course, we had to stop at Diablo Lake – the most stunning spot in this park. Just look at the view!!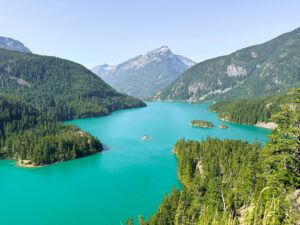 Located between Ross Lake and Forge Lake on the Skagit River, it is elevated at an astounding 1,201 feet above sea level. The vivid, turquoise-colored Diablo Lake is an artificial lake that sits along the Skagit River. While artificial, the stunning surroundings provide the area with a natural feel. The creaking glaciers, which give the lake its color, and the tall snow-capped mountains, offer a spectacular backdrop.
While there are many beautiful Washington waterfall hikes locals tend to flock to, this hike is among one of the few that compares in beauty. Hikers may opt to take a ferry from Diablo Dock back to the trailhead during the summer months. The ferry costs about $10 per person and runs twice a day, at 9 am and 3:30 pm.
Even though we were in this park for just a few hours, we loved spending our day driving along scenic roads, stopping at overlooks, and admiring the unreal greenish blue lakes.
Note that there is no accommodation inside the park but you will find hotels, cabins, lodges, bed and breakfasts in the neighboring towns. Also, advisable to carry bottles of water, sandwiches and other snacks since there are no food options inside the park.  If you are coming from Seattle, stop by Moe's at Darrington (about 40 miles before the park) to grab coffees, sandwiches etc. Their outdoor seating area is lovely. We stopped here in the morning as well as on our way back to the city to grab a pizza and ice cream. Totally earned it after all the hiking 🙂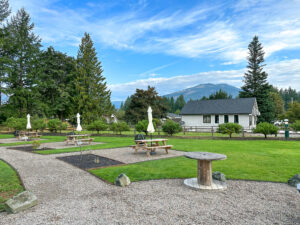 Other places to visit
Olympic National Park
This park features an amazing variety of scenery from lush rainforest to mountains to beaches. But since it is far from Seattle, a two day trip is required.
Vancouver, British Columbia
When traveling to Vancouver from Seattle, keep in mind that you will be crossing an international border. Ensure you check and carry all the necessary documents for border crossing in each direction.
Bainbridge Island
Taking a day trip to Bainbridge Island is an easy day trip from Seattle that you can take. The ferry ride alone is one of the main reasons people love coming here and one of the best Seattle summer activities to do.
Bainbridge has plenty of hikes near Seattle to explore if you take your car. There is also a small town to have lunch at if you want to walk across instead.
Skagit Valley
About 70 miles north of downtown Seattle, the Skagit Valley makes for one of the more colorful and lowkey day trips from Seattle. It is most famous for its tulip festival and, if you're visiting around late March to April, it is a must visit.
While the tulips are the main draw, the valley also features a lot of farm stands full of delicious seasonal produce. There are pumpkin patches and apple picking in the fall, and it's one of the best day trips near Seattle for bird watching, particularly in the wintertime to see eagles.
Mt Baker
Yet another place with majestic mountains, breathtaking scenery and plenty of hiking trails.
*All prices are as of September 2022