Home to the Golden Gate Bridge, cable cars, steep hills, tons of Michelin star restaurants, San Francisco is one of the most visited cities on USA's west coast. 
With iconic landmarks, a great food scene and diverse neighborhoods, there is plenty to see and explore in San Francisco. For a first-time visitor, planning a trip to San Francisco can be overwhelming since there is so much to do and see here! Hopefully this blog will help you plan the perfect itinerary to explore San Francisco. If you are looking for potential day trips from the city, click here.
We visited San Francisco a couple times when we were living in Boston. When we decided to go back last month, I was determined to explore this city beyond the general touristy path.  In this blog, you will find some basic tourist spots to see as well as some places off the radar that you can visit if you have additional time on your hand.
We recently visited San Francisco as part of our three week trip to USA in September 2022. Click on these links to read about Pacific Northwest and Boston itineraries.
Best Time to Visit 
San Francisco is a great city to visit any time of the year. It never gets freezing cold in the city (compared to the east coast) but the city can get extremely windy any given time of the day. Be sure to bring layers.
Fog is a very common phenomenon in this part of California. So much so, that San Francisco has actually named the fog that often engulfs the city as "Karl the fog" 😛 So, don't be surprised if the Golden Gate Bridge is hiding under the fog during the entire time you are there. 
How Many days to spend  
The best thing about San Francisco is that it works as a great base to explore the neighboring places. With a wine country, scenic coastal drive and national parks, just a few hours' drive away, it would be a shame if you come to San Francisco and not explore the region beyond the city. 
A four-day trip is ideal since it gives you enough time to explore this city as well as go on those day trips to explore the neighboring regions. But with so much to see and do, the longer, the better. 
Best Way to Get around the city 
The best way to explore a new city is always on foot. Be sure to wear comfortable shoes since some parts of the city are quite hilly. You will be getting more than your fair share of cardio walking up and down the hills. 
While you don't need a car to go around the city, you will certainly need one if you are planning day trips up north or to the coast.
Another unique way to explore the city is via cable cars. They stop by some of the touristy spots and hence, make for a great option to go around the city. A single or a full day ride on the cable car costs USD 8 per person. 
The bus and metro system, MUNI, is also convenient to get around using day passes. An individual ride costs USD 3 whereas a day pass costs USD 5 – I extensively used MUNI buses to go around the city. You can even track the bus timing on the MUNI app, making it super convenient. If you are staying slightly far from the city, then you can use the BART or Caltrain to get into the city and then use the buses to go around.
If you plan to extensively use the trains/ buses, then download the Caltrain/ BART/ MuniMobile app which will allow you to purchase tickets as well as day passes. You can even buy a Clipper Card (for additional $3 fee) which will allow you to load money which you can thereafter scan for payment.
For a unique experience, you can explore the city using electric GoCars. They have a built in GPS and tour guide that talks to you while you go around town. They are a tad bit on the expensive side but certainly a cool way to explore the city.  
Lastly, you can always rely on Uber and Lyft to ferry you from one place to another. 
Places to See / Things to Do 
Golden Gate Bridge 
Isn't this the first thing that comes to mind when someone mentions San Francisco? There are plenty of spots from where you can get that perfect view of the bridge. But first things first, why not admire it up close?
The bridge is about 2 miles long and you can drive or even ride a bike across the bridge. You can even walk as far as you want. Stop by and look out for spectacular views from the bridge.  
Next up is admiring this bridge from far. There are several viewing points in the city but listing down some of my favorite ones: 
Battery Godfrey
From here, you can get a unique view of the Golden Gate Bridge. This spot is mostly known to locals but getting popular among tourists thanks to instagram. You really get a great vantage point of the bridge from here.  
Baker and Marshall Beach
Viewing the icon of the city from a beach? Doesn't get any better right? Head over to Baker beach, from where you will be able to admire the icon while walking next to the crashing waves of the Pacific Ocean. It is also the perfect spot to catch sunset in the city. 
The water isn't ideal for swimming, but perfect for a barefoot stroll or a game of fetch with your pup. We also saw a lot of families enjoying a picnic here. Since it is a popular spot, make sure you arrive early specially on weekends otherwise, parking will be hard to find.
But beware, even in early September, the water was cold. In fact, one of the coldest beaches I have walked barefoot on.
Since Baker beach is quite popular among locals and tourists alike, if you are looking for a quieter place, then hike up north to Marshall beach. The hike just takes around 30 minutes and it is a lot less crowded compared to Baker beach. 
Chrissy Fields Park
For that classic view of the bridge, make your way to Chrissy Fields Park. There is even a sandy beach here if you are brave enough to dip your toes in cold water 😊 
Presidio Tunnel Tops Park
Located just a few minutes' walk from Chrissy Fields Park is this newly opened park. It also has tons of activities for kids along with views of the bridge.  
Marin Headlands
Once you have crossed Golden Gate bridge, make your way to Marin Headlands for a view of the city from the other side. There are a couple hiking trails here as well.
Battery Spencer
There is a short 10-minute hike involved but you get an up-close and personal view of the bridge from here. On a clear day, you can even spot the Bay Bridge in the distance and admire SF skyline. But beware, no matter what time of the day you visit, this spot can get very windy. It was so hard to get that perfect shot.  
Cable Car 
Did you even go to San Francisco if you did not ride the cable car?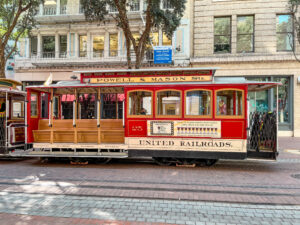 San Francisco is home to one of the world's last manually operated cable car systems. First created in 1873, it is still standing strong today. San Francisco's cable cars run through diverse neighborhoods and you have an option of which route to hop on to.
The most popular route is the Powell Hyde Line because it takes you directly to Fisherman's Wharf. This cable car stops at the top of the crooked block of Lombard Street, where you can get a great picture of the city and bay, with Coit Tower and Alcatraz in the distance.
The other route with fantastic views is the California route since it goes up and over Nob Hill, one of the steepest hills in the city. The ride up to Nob Hill is especially scenic since the road slopes all the way down with a view of the Bay Bridge.  
If you want that perfect photo of you on a cable car, then head over to Franciso and Taylor Streets (near Fisherman's Wharf). You will find a couple empty cable cars parked and you can hop on and get your insta-worthy shot! 
Want to get an insider's look at how the cable cars run? Visit the Cable Car Museum and actually see the gears churning. Admission is free of cost but note that it is closed on Mondays.
Fisherman's Wharf 
San Francisco has several piers, right from Pier 1 which houses the Ferry building (more on that later) to Pier 39, which is the most popular waterfront area in this city. Here, you will find souvenir shops, some shops selling quirky things (for instance, they have a full store selling items for left-handed people), a mirror maze, a carousel, a fruit market, street performers and restaurants. At any given time of the day, this area is buzzing with tourists.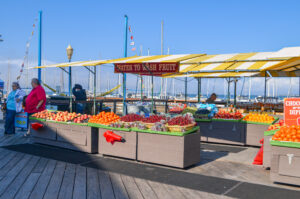 Make sure you go all the way at the end for a close up for sea lions. You can watch them bark, enjoy the California sun, jump, fight, and swim in the water.  
If you're looking for fun colorful murals for your Instagram feed, then you wouldn't want to miss Umbrella Alley in Fisherman's Wharf. Nestled between two buildings on Beach Street, Umbrella Alley is one of the coolest alleyways in San Francisco – here, you will find several cool murals, colorful balloons and umbrellas suspended throughout the entire enclosure.
While there is no entry fee, a $5 donation per adult for mural artists is encouraged. It is a work in progress and new murals are added on an ongoing basis.
Lombard Street 
Lombard Street is one of the most crooked streets in the world. It has not two or three but eight sharp hairpin turns. While it is impossible to speed here but it certainly makes for a unique driving experience. 
There are stairs located at both sides of the street if you fancy walking down instead of driving the car.  Also, watch out for some lovely houses on both sides. I wonder how much of a menace it would be to live here given how it is always crowded. 
Once you reach the bottom, step back and admire the crooked street.  
Alcatraz Island 
Alcatraz is a small island located just 1.25 miles from San Francisco city. It was converted into a prison in 1934. The strong currents around the island and cold-water temperatures made escape nearly impossible, and the prison became one of the most notorious in American history. The prison closed in 1963 and the island is now a major tourist attraction. 
So how do you get here? The only way to get there is via ferry! You can purchase tickets at Fisherman's Wharf. The ticket includes ferry transportation to Alcatraz Island and an audio tour of the island. On the island, you can tour historic buildings including the federal prison, military fort, and a lighthouse. Also, you get to enjoy the city skyline and Golden Gate bridge from afar.  
During the audio tour, you get to learn about several famous inmates that were held here. You will also learn about their crimes, attempts to escape, and the life of prison guards and families who lived on the island.  
Despite visiting the city several times, I am yet to cross this one off my list 🙁 
Ferry Building   
The Ferry Building (Pier 1) is another landmark structure in the city which is not to be missed. In the past, this was where ferry passengers landed. Now, the Ferry Building is home to a huge food hall – lined with markets, cafes and small shops, it definitely makes for a lovely stroll. You can even see the Bay Bridge at a distance.  
There is even a farmers market held near the Ferry Building couple times a week.  
If you are not pressed for time, you could even walk all the way from Pier 1 to Pier 39. With scenic water views on one side and cityscape on the other, it sure does make for a lovely walk.  
Palace of Fine Arts 
Located a few minutes from Chrissy Fields Park is a unique spot in the city, Palace of Fine Arts. It is a beautiful, historical building built in the Roman style of architecture. It has majestic columns, dome, and statutes of gods and goddesses. Entry is free of cost. 
Also, there is a lovely spot right opposite perfect for that picnic by the water (and of course, with a view). It is a great place for a stroll.  
Also, watch out for houses on the opposite side of the street – some of the most beautiful facades I have ever seen!
Chinatown 
Every big American city has Chinatown, so what makes San Francisco's Chinatown so special? 
Oh well, this Chinatown is one of the world's oldest and largest Chinatowns thereby making it a major tourist attraction in this city.  
Walkthrough Chinatown and explore its alleys. You can eat dim sums, Peking duck, sip bubble tea and of course, check out the souvenir shops.  Fun fact – souvenir stores here sell items at a slightly cheaper rate compared to Fisherman's Wharf. So if you like to collect souvenirs from your travels, then definitely pick them up from Chinatown vs Fisherman's Wharf.
One of the most picturesque street corners is at Easterrn Bakery (Grant and Commercial Street) with the combination of red street lanterns, beautiful street signs, and Chinese temples pagoda lining the street. 
Looking for a fun way to explore this neighborhood? Sign up for a walking tour. 
Union Square 
Any shoppers out here? Then Union Square is the right place for you. 
Union Square is a hub for high-end shopping in San Francisco. Department stores, fancy boutiques, art galleries, luxury hotels and the theater district surround the square on all sides. During the holiday season, you'll find the square taken up by an outdoor ice rink. 
Golden Gate Park 
One of the largest green spaces and best parks in San Francisco, Golden Gate Park is where you escape to be closer to nature. 
The park is free to enter but some of the individual attractions may charge a separate fee. 
Did you know the Golden Gate Park is actually larger than New York City's Central Park? In fact, almost 20% bigger! You could spend an entire day in the park and still not see everything! There is actually quite a bit to see here but here are some of the sites that you shouldn't miss: 
Japanese Garden – this lovely garden is full of authentic Japanese pagodas, koi fish, and has a lovely tea shop on site. Entry is USD 13 for adults

 

Conservatory of Flowers – a beautiful space built in 1879 which features many different species of flowers from all over the globe. Entry is USD 13 for adults. Or you can buy a combined ticket for USD 25 which will give you access to this as well as Japanese Garden.

When I visited in early September, the area outside the Conservatory was filled with dahlias. Seeing these beauties in every possible color – from yellows to pinks to reds to oranges to whites – made me one happy girl!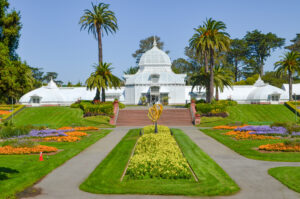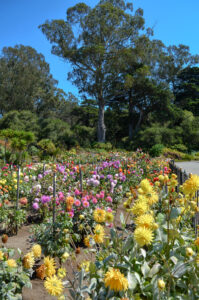 If you are visiting in spring, visit the Dutch windmill to see tulips in full bloom.  
There is even a Ferris wheel at the Golden Gate Park providing amazing views of entire park.
While not a part of the Golden Gate Park, if you want to enjoy yet another green space then make your way to Salesforce Garden. Home to 600 trees and 16,000 plants arranged in 13 different botanical feature areas, it is the newest public park in the San Francisco. This park has a curved walking trail lined with benches, grassy lawns, dancing fountains, a children's play area, and an amphitheater and is free for public.
Mission District 
San Francisco has many diverse neighborhoods. Mission District is the perfect place to experience the Latino culture. 
Mission District is also great area for foodies. If you like Mexican food, then you are in for a treat. So many amazing options here ! We had quesadillas at La Taqueria and loved it. There was a bit of a line and wait involved, but totally worth it. 
After you are done with food, stretch your feet at Mission Dolores Park. It also offers great views of San Francisco. Also, there are some lovely murals on this street.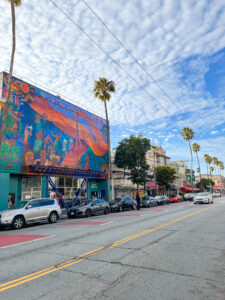 City Hall
Not a place that you would typically find on tourist's itineraries. but if you like architecture, then make your way to the City Hall. A popular wedding location as well as for couples' photoshoots – in fact, there were three couples taking their wedding pictures when I visited on a weekday. When the place is so beautiful, I don't really blame them.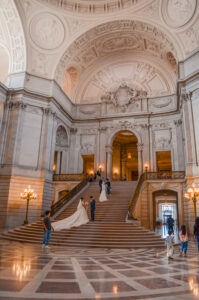 Painted Ladies 
Located near the eastern side of Alamo Square Park, is one of the most iconic and most photographed sights in San Francisco. These pastel-colored Victorian homes, on the slope of Steiner Street, are called the Painted Ladies and have been featured in some of the popular stories set in San Francisco – such as Full House.  
The best time to get a shot of them is at sunset, when the sun is casting a lovely golden light on them. 
But apart from painted ladies, there are several other lovely houses depicting Victorian architecture in this area. So make sure to walk around the whole of Alamo Square. 
Twin Peaks 
Want a 360 degree view of SF city? Then make your way to the top of Twin Peaks. Originally called "Los Pechos de la Choca" (Breasts of the Maiden) by early Spanish settlers, these two adjacent peaks provide postcard views of the city. You can see many of San Francisco's landmarks from here – the Golden Gate Bridge, Bay Bridge, Alcatraz, Transamerica Building, Market Street and several downtown skyscrapers including Salesforce tower. On a clear day, you will even be able to spot Mt Diablo at a distance.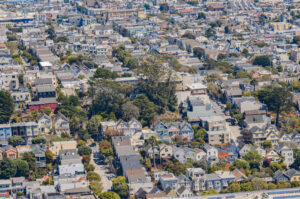 Where to Eat 
This city is a haven for foodies. On our recent visit last month, we tried a variety of food – from pizzas, to Mexican food, to falafels to Indian food, and right from fancy places to super instagrammble cafes to hole in the wall ! And we certainly weren't disappointed. In fact, still dreaming of some of the delicious food we tried here. 
Listing down a few which were we tried and loved:
For Brunch
Son and Garden – A beautiful brunch restaurant which has a couple of locations in the city. The one in downtown gets full pretty quickly so try to make reservations in advance. Else, you can try the Menlo Park or Palo Alto location.
Tartine Manufactory – Like bread and other baked goods? Then make your way to Tartine. With three locations in San Francisco, one of the best places to grab brunch including croissants that literally melt in your mouth. There is a take away joint near Mission Dolores park (where there was at least a 20 people line), but if you want more of a sit down experience, head over to Tartine Manufactory.
Le Marais – Located in Mission district, this one offers a little slice of Paris in San Francisco.
The Mill – Yet another beautiful cafe located in Mission District. They offer a range of specialty toasts and baked goods. I tried their double baked pistachio blackberry croissant – it was so darn good.
For other meals
Boudin Bakery – While the iconic Boudin Bakery has many locations in the city, the original on Fisherman's Wharf is full of character and is must-visit for tourists. At Boudin, you can find San Francisco's take on the New England clam chowder – a delicious clam chowder soup in a sourdough bread bowl! They even make a tomato soup for vegetarains. Boudin's bakes the bread fresh daily and has been operational since 1849!
La Taqueria – Looking to eat Mexican food? Then head over to Mission District. While we tried only La Taqueria (and loved it), there are plenty of options here. Just take a stroll on Mission and pop into one of he eateries here. 
Yellow Moto and 'Napizza – With a bunch of pizza joints spread across the city it certainly gets hard to pick just one. We tried pizzas at both Yellow Moto and 'Napizza and loved them. If you have to pick just one, then my preference is the former one.
IN and Out Burgers – The only In-n-Out located in San Francisco, this is a must for anyone who's never had their amazing burgers! Its located near Fisherman's Wharf and is quite busy throughout the day.  
Ghirardelli Chocolates – Ghirardelli Square was where the famous Ghirardelli Chocolate Factory was once located. An iconic spot for all you chocolate lovers – they serve a variety of chocolates (perfect to pick up for gifting), hot chocolate, chocolate truffles, baking chocolate bars, and even hot fudge sundaes. The smell of chocolate wafting through the air is delicious. 
Looking for something different ? Then check out Dandelion Chocolate. Apart from selling bean to bar chocolates and chocolate based drinks, they also conduct chocolate tours and chocolate making classes. Quite a cool way to spend the afternoon in the city, right?
For Coffee
Sightglass Coffee – If you like coffee then look no further. This one is hands down, one of the best coffee spots in the city. They have a couple locations in the city and they even supply their coffee to other local restaurants.
Philz Coffee – Yet another coffee shop spread all across the city and Bay Area suburbs. I guess what Dunkin Donuts coffee is to Boston, Philz Coffee is to the Bay Area.
* All prices are as of September 2022