After you have explored the city of San Francisco, it is time to explore the neighboring towns and national parks. For a detailed overview of things to do in San Francisco, click here.
With a wine country, scenic coastal drive and national parks, just a few hours' drive away, it would be a shame if you come to San Francisco and not explore the region beyond the city of San Francisco. Some of these places are less than an hour away from San Francisco, and some, could take more than 3 hours one way. These day trips make sense IF AND ONLY IF you have at least 3-4 days in the city. If you are in the city for shorter, then just explore San Francisco and leave these day trips for next time.
Some places, which are close to the city, can be accessed via public transport, but for most others, you will a need a car.
Potential Day Trips
Muir Woods
Can you believe that some of the tallest redwoods can be found less than an hour north of San Francisco?
But wait, what makes redwood trees so special? They are the tallest trees on the planet. In fact, they can grow up to 300 feet high or more, as compared to the tallest pine tree at 268 feet. Despite the height, a typical redwood's root system is only 6 to 12 feet deep.
Muir Woods, located just 12 miles from the Golden Gate Bridge, make for the perfect day trip from San Francisco. You could get to Muir Woods via:
Car; or
Ferry to Sausalito and the shuttle; or
One of the commercial tours from San Francisco.
If you drive or take the shuttle, you MUST make reservations in advance. You need to pay and reserve a parking spot before entry. Parking spots can fill up fast, so be sure to book your spot well ahead of time. While you can buy tickets once you get there, you may as well buy your tickets online since you will be paying for parking before-hand too. Saves you time!
Parking fee is USD 9 and entry fee is USD 15 per adult. The shuttle costs USD 3.5 per adult. Click here for more details and to reserve your parking spot.
Once you get inside, there are several hiking trails to choose from. Most of these trails can get very close to the trees, giving you plenty of time to marvel at Mother Nature's beautiful creation. According to the National Park Service, most of the trees are 500 to 800 years-old and some are almost 1000-years-old!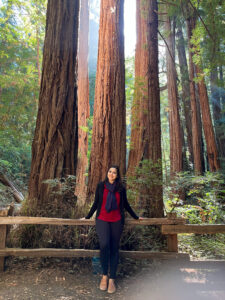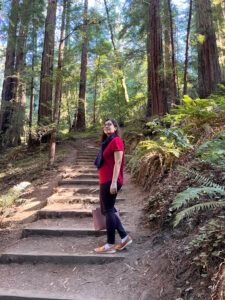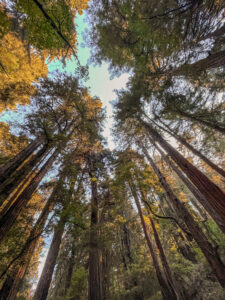 Since the trails are completely covered by trees, it can get cooler – be sure to carry a light jacket. Most of these trails are relatively flat and easy.
Note that there are several spots within the Bay Area which boasts of redwoods, but this is the closest one to the city. Pro tip – visit first thing in the morning since the place gets quite crowded as the day progresses.
There is a souvenir shop as well as a small café inside the park.
Wine Tasting
No trip to San Francisco is complete without a day trip to the wine tasting region. There are hundreds of gorgeous vineyards here, many with their own private wine tasting. And you have so many regions to choose from – Napa, Yountville, Saint Helena, Calistoga, Sonoma, Healdsburg, Paso Robles. It can be overwhelming to narrow down one-two that you want to visit. I have only been to Napa Valley so far so cannot comment on the other regions, but they all offer very different wine tasting experiences.
Are you a teetotaler? Fret not, some of these places even offer olive oil tasting so you are covered😊
I have been to a few wineries over the years and listing down the ones I have liked:
Kuleto Estate – the views here are incredible
Castello di Amorosa – a slice of Tuscany in California
Del Dotto – a unique wine tasting experience inside a cave
Sterling Vineyards (they are currently closed for renovations and should resume in spring 2023)
The drive from San Francisco to Napa is scenic – beautiful rolling hills on both sides.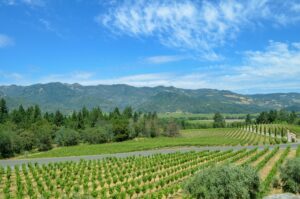 On my recent visit, I was looking for a different experience and V. Sattui totally fit the bill. At V. Sattui Winery, you get to taste delicious wines, grab fresh food and enjoy the picnic grounds with beautiful vineyard views. You could either bring your own food or buy pre-made sandwiches from their deli or even buy freshly prepared food from a food truck (only on weekends) parked at their picnic ground.
Wine tasting here costs between USD 40 per person to USD 50 per person. You get to choose the wine tasting experience – an indoor or outdoor tasting room or bubble bar tasting. I opted for the outdoor wine tasting experience (USD 50 per person) wherein I got to taste five wines (I could pick and choose between reds, whites, roses and dessert wines).
Couple other wineries that I have heard great reviews about:
Artesa Vineyards and Winery
Beringer Vineyards
Domaine Carneros
Cakebread Cellars
Another unique way to explore Napa region is by hopping on a train. The Wine train is a three hour, 36-mile round-trip journey from Downtown Napa to St. Helena and back. Once aboard, you get to see spectacular scenery of this region, some of the most expensive and famous farm real estate in the country, and pass through the charming towns of Oak Knoll, Yountville, Oakville, and Rutherford. You can even enjoy excellent dining on board – click here for more information.
The best part about signing up for this ride is that you can drink as much as you want without having to worry about being pulled over for drunk driving 🙂
Looking for something more adventurous? Then sign up for a hot air balloon ride. I bet the vineyard views make for a scenic ride.
Apart from wine tasting, there are quite a few Michelin star restaurants here – the most famous being, The French Laundry. Also, don't forget to stop by the famous Bouchon Bakery. Since we visited over the long weekend, there was at least a 30-minute queue and hence, we skipped it. Couple other cafes to try – The Model Bakery, Le Paris Artisan and Gourmet Cafe.
If you are here for longer, you can even consider staying overnight. There are plenty of boutique hotels to choose from.
Silicon Valley
Comprised of a string of suburbs between San Francisco and San Jose, this area offers something for everyone. Whether you want to see the big tech companies, go shopping, or take a hike, there is plenty to do here.
Downtown Palo Alto, Menlo Park, Sunnyvale and Mountain View have a row of lovely cafes and restaurants. Palo Alto, being close to Stanford University has the most cafes and restaurants and is always buzzing with people, some even students. Most of these places are easily accessible from San Francisco by the CalTrain rail line.
Santana Row is Silicon Valley's premiere destination for shopping, dining, living, and more. It has over 20 restaurants, stand alone shops and even a mall.
Did you know you could visit one of the most prestigious colleges in USA, Stanford, from inside? Anyone can enter and tour one of the Stanford Campus – isn't that so cool? Take a stroll and just like me, you will wish you studied here 😊
Filoli Gardens
One place that I had wished to go but could not, due to logistical issues was Filoli House and Gardens. It is a beautifully manicured garden located between San Francisco and San Jose. Entry fee is USD 25 per person.
Filoli was built as a private residence in 1917 by a wealthy San Francisco family. It is now open for the public to enjoy. The gardens are well manicured and blooming with a wide variety of trees and flowers. With different blooms all around the year, you can go back in different seasons and see different flowers each time!
Half Moon Bay
Half Moon Bay is the perfect little place to get away from the hustle and bustle of the city. Only 45 minutes from San Francisco, Half Moon Bay provides an array of activities. We did not have time to visit this trip but have visited on one of our earlier trips.
If you don't have time to go all the way down south, then Half Moon Bay is the perfect place to admire the coastal views. After you are done, you can explore the downtown area – you will find plenty of great restaurants, bakeries and boutiques stores.
Looking for something fancy? Then head over to the Ritz Carlton, which offers an impressive view of the ocean and coastline. Grab cocktails during sunset at the Ocean Terrace, where you can snuggle up around one of their fire pits, with a drink in hand, and catch the beautiful sunset.
Santa Cruz
A popular place to visit specially if you are traveling with kids. Start with a walk along the wharf, which is the longest wooden wharf on the west coast of the United States. It offers great views of the Santa Cruz Beach Boardwalk amusement park and has lots of shops and restaurants.
I had visited this one on one of my previous trips and hence, did not go back this time.
Capitola Beach
Located just a few minutes from Santa Cruz, is the colorful Capitola Beach. This seaside town is known for its pretty beachfront and shops and rainbow colored cottages.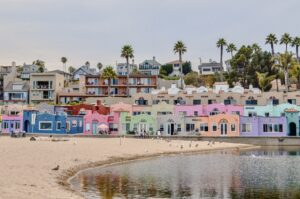 The beach here is perfect to enjoy on a hot summer day. We saw plenty of kids running around, playing and having a good time. It was also one of those weekends before the arrival of fall, so I guess, people were just making the most of last few warm summer days.
The main Esplanade is lined with local shops, restaurants overlooking the beach and ice-cream parlors. Some of them even have a lovely outdoor seating area, either overlooking the beach or the Esplanade.
We had pizza by the slice from Pizza My Heart, a local California pizza chain and also indulged in Mexican food at Mijos. Highly recommend both. Pizza My Heart is located at a walking distance from the beach – so you could even grab a pizza, head over to the beach and enjoy a little picnic on the beach.
There was a wine and arts festival when we visited one of the weekends and the whole area was buzzing with day trippers. There was live music, performances and all in all, a good time was had.
If you have more time on hand, then head over to Davenport and Shark's Cove.
Pacific Coast Highway
Popularly known as Highway 1, the Pacific Coast Highway runs along most of the Pacific coastline of the US state of California. At 656 miles (1,056 km), it is one of the best drives in the country with scenic coastal views. In fact, a drive along this highway is on most people's bucket lists, and rightly so!
This scenic drive is best done from north to south. Most of the beaches and viewpoints are right on your side, thereby providing you the best views. As you make your way down south, you will notice that some parts of the road are pretty narrow. Be careful while pulling over for the views – only pull over in designated spots.
One way to explore the Pacific Coast Highway is to drive and pop over some of the towns along the coast. Many people drive from San Francisco all the way down to Los Angeles and San Diego.
Listing down some of the towns that you could explore on this route.
Monterey
In the past, we had driven across the scenic 17-mile drive near the town of Monterey but this was the first time we actually stopped in the town.
As soon as we got here, we headed to Alta Bakery – there was about 20-minute wait here but loved the variety of baked goods and coffees. We picked up a tartine, coffee and headed to the outdoor seating area. Next up was Bagel Bakery to pick up some bagels. We were all fueled up for our day trip and made our way to Fisherman's Wharf.
Once a working wharf solely for the fishing industry, Monterey's Fisherman Wharf is now filled with tons of little shops, restaurants and walkways to stroll through. It is a shopper's paradise and probably one of the most visited spots in this town. On weekends, you will often find this place full local vendors selling handicrafts and artwork or live music performers.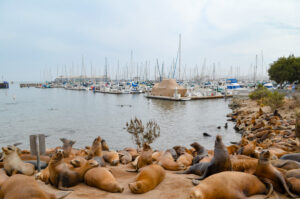 If you have additional time on hand, you can sign up for a glass-bottom boat tour or even go whale watching. If not, simply take a relaxing walk around the oceanfront. Here, you can spot sea lions and otters that stay in the inner portion of the harbor. But beware, they really stink and can get noisy.
This city is famous for its Aquarium – It is especially great for kids, but also anyone who loves the ocean. You can check out more information here.
After you are done exploring the town, take the scenic 17-mile drive. There is an entry fee of around USD 11.25 (per vehicle). One of the most famous spots here is the Lone Cypress tree framed by the majestic Pacific Ocean. Would you believe that this tree is almost 250 years old?
The entire drive is beautiful, but make sure to also pull over at some of the scenic spots. Some of our favorite spots here are Spanish Bay Beach, Restless Sea, Seal Rock, Crocker Grove. You can also stop at the Pebble Beach Visitor Center if you want to learn more about the area's history, or Pebble Beach Golf Links to check out the golf course.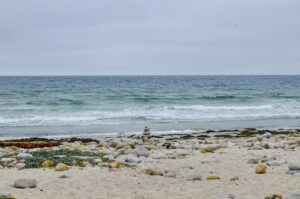 End your day at the Lodge at Pebble Beach. The perfect spot to stretch your legs, take in the views and grab something to eat or drink.
Pacific Grove
Located only two miles from the town of Monterey, the neighboring town of Pacific Grove is worth a visit. We had not heard of this place before but a random drive along the coast led us to this beautiful place.
Pacific Grove offers beautiful coastal views, some envious houses overlooking the coast and even a lighthouse. Some of these beautiful Victorian houses have now been converted into quaint b&bs. There is even a sandy beach here. It was very cloudy and gloomy the day we visited and can only imagine how much more beautiful this place would look on a clear sunny day!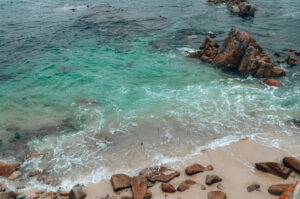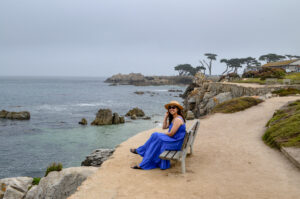 Take a leisurely stroll along the boardwalks of Asilomar State Beach and don't be surprised if you are stopping frequently to take in the views.
If you are visiting in April or May, then you are in for a visual treat – this place is surrounded by a pink carpet of flowers.
Once you are done admiring the coastal view, drive a little further to Point Pinos lighthouse. Built in 1855, it is the oldest operating lighthouse on the Pacific Coast. A fun fact – the building, lenses and prisms here are all original. How cool is that right? You can take go inside and tour for a fee (USD 5 per person) or simply admire from outside. Also, watch out for cute elks in the surrounding area.
Carmel by the Sea
Just south of Monterey, Carmel-by-the-Sea is one of the best day trips from San Francisco. In Carmel, you will find a charming European-style village full of chocolate-box streets lined with thatched roof shops and a quaint downtown area full of unique shops, boutiques, art galleries and restaurants.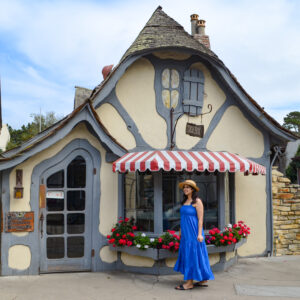 This was probably my fourth time in this town and I would happily go back the next time I am back in Bay Area. If you like small fairytale like towns, then Carmel should be up high on your list.
The main street in this town town is Ocean Avenue – park close to this street and simply wander around. The best part is that you can explore most of this town by foot. Apart from boutique shops, cafes and restaurants, there are numerous wine tasting rooms and wine bars in this town. Walk through this charming village and taste some of the region's premium wines. The tasting rooms offer a walkable and lively atmosphere for visitors who want to enjoy Monterey Country wines. End your day at the beach – the sand is super soft and the perfect spot to watch sunset.
It is interesting to note that the city of Carmel does not allow big chain restaurants or hotels in town, so it retains that old world charm!
You can easily spend half a day here or even stay overnight if you want to experience the town without day-trippers.
Point Lobos
Point Lobos State Natural Reserve is a beautiful, wild and preserved area in California, along Highway 1. The park is located less than 5 miles from Carmel can be clubbed with it.
At Point Lobos, apart from the coastal views, you also get to spot sea lions, seals, otters, thousands of birds and whales, depending on the season.
I discovered this spot thanks Instagram – the views looked spectacular and given its proximity to Carmel town, I figured I could squeeze in a little detour. Now little did I know that to get to the viewpoints, one had to hike up. There are a variety of trails here – the South Shore Trail (2.5 miles) to follow the ocean, Sea Lion Point Trail (0.7 miles) to meet marine animals, especially sea lions or South Plateau Trail (1.6 miles) – you can choose one depending on your fitness level and availability of time. The "Point Lobos hike," a loop that captures most of the trails in the park, takes about 4 to 5 hours if you walk at a leisurely pace to enjoy the views and snap photos.
While I love hiking specially when scenic views are involved, I was wearing flip flops and a dress – clearly not ideal outfit for hiking. I could only make it to the shortest viewpoint before walking back to my car ☹
Big Sur
The final stop along the Pacific Coast Highway is Big Sur. It isn't a town or city but a scenic region that encompasses the stunning stretch of California's coast. The entire stretch is around 90 miles from the towns of Carmel to San Simeon.
If you want to see Pacific Coast in all its glory then a drive through Big Sur is a must ! Here, you get to see the beautiful coastline with rocky cliffs, states parks with hiking trails, blue ocean with beaches and lots of natural beauty.
The drive from San Francisco to Big Sur itself takes around 3 hours one way. While a day trip to Big Sur is doable, it is advisable to stay overnight to truly do justice to this place. Also, given how Carmel and Point Lobos are a short driving distance from Big Sur, you can visit these towns on a two-day trip. Since we were had limited time on hand, we tried to cram it all up in a day. It wasn't the best decision and had to skip some of the places in this region ☹
Anyway, hopefully you will be smarter than me and avoid this mistake. Listing down some of the must visit spots in this region. Note that there is limited to absolutely no cell phone service in some parts of this area so ensure you download offline maps before-hand.
After you cross Carmel town, one of the first spots on this road is Garrapata Beach. It isn't a frequently visited spot but we absolutely loved it and hope you do too. A small 10-minute hike is required to get down to the beach. While the waves HUGE and the beach isn't ideal for swimming, the views are lovely.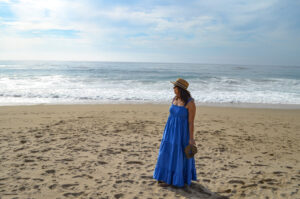 Next up you will spot Rocky Creek Bridge – while it looks similar to the Bixby bridge, it isn't the same one that you see on postcards. Pull over and admire the scenic views.
Then of course, you gotta stop at Bixby Bridge – I am sure you have seen all over Instagram and Pinterest 😊 This bridge was built in 1932 and is considered an engineering marvel.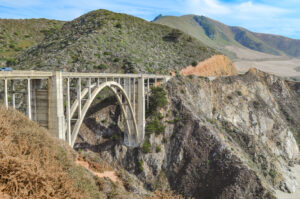 We were tired by the time we reached Bixby Bridge. Also, the lack of cellphone data network made it difficult to navigate further, so we headed back to San Francisco. But if you have additional time on hand then certainly drive further to cover these additional spots:
If you love raw landscapes, then keep driving further to Andrew Molera State Park, where you will find miles of trails leading you to stunning beaches, expansive meadows, offering scenic Big Sur views.
Did you know there is a purple sand beach here? Yes, you read it right – Pfeiffer Beach – try visiting in afternoon so you get to see the color in bright sunlight.
After Bixby Bridge, yet another postcard perfect view that you see all over Instagram and Pinterest is Mcway Falls, a beautiful 80 foot waterfall. A short 10-minute walk from the parking lot will get you to a beautiful waterfall crashing directly into the Pacific Ocean's emerald water.
If you have additional time on hand, then head further south to Elephant Seal Vista Point in San Simeon. It is the best spot to see these magnificent marine mammals up close on one of the prettiest coastlines in California. You get to see hundreds of seals laying all up and down on the beach playing around, chilling and soaking up the California sun.
Other Places
There are a couple more places just a few minutes up north of San Francisco, which you can visit if you have additional time on hand.
Sausalito
Cypress Tree Tunnel
Point Reyes Lighthouse
Mt Tamalplais
Yosemite National Park and Lake Tahoe are yet another beautiful places to visit in this part of California. However, they are at least a four hour drive away from San Francisco. Hence, a two day trip is ideal. I have been to both places on previous trips and highly recommend. I have visited Lake Tahoe twice – once in spring and once in winter. If you are visiting in winter months and want to experience snow, then a trip to Lake Tahoe is a must. Sharing some snippets from both places from my previous trips.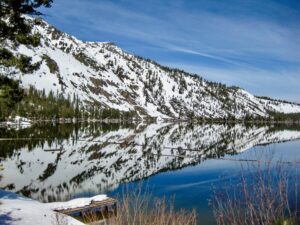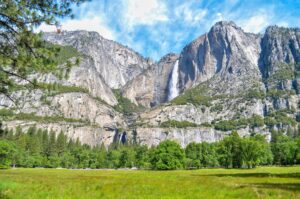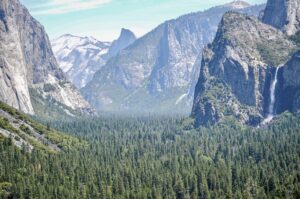 *All prices are as of September 2022