For those who are new to my page, a little fun fact for you – I lived in Boston for over 5 years, before moving back home, to India. Since then, I have gone back twice. Safe to say, Boston will always hold a special place in my heart. 
For anyone travelling from outside the US, Boston is typically not on the list and is often traded for New York City. I don't blame you – Boston is not as big as NYC or Chicago. I have visited several American cities but let me tell you, nowhere else will you find the old world charm that Boston exudes. With cobblestone streets, narrow passages and quaint little squares, Boston offers a slice of Europe.
New England (comprising US states of Massachusetts, Vermont, Connecticut, Maine, New Hampshire and Rhode Island) is one of the most frequently visited region during autumn months. These towns get vivid fall colors and make for that perfect leap-peeping roadtrip. With vibrant colorful trees, a slight nip in the air and the scent of pumpkins everywhere, fall is undoubtedly the best time to visit New England. If you have not been to New England in autumn, then you truly haven't experienced this amazing season! If you are planning a trip up north, to Vermont or New Hampshire, most likely, you will land in Boston and hence, only fair that you spend a day or two exploring this city. See how beautiful this city looks in autumn colors !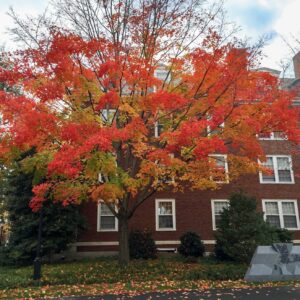 Boston is a relatively small city, with most of the sights at walking distance from each other. A two-day trip is ideal if you want to see most of what the city has to offer. While autumn is one of the best times to visit Boston, this city offers distinct experiences depending on the season you visit. I have put together images from my time during various seasons thereby giving you a little glimpse of what to expect in each season.
Read on to plan your trip to Boston aka Beantown.
Best Way to Get Around
Boston is a walkable city. If you are not up for a walk, then the MBTA (i.e. the main public transport in Boston) will take you anywhere you want to go. Personally, I feel that Boston is easily navigable for tourists compared to other American cities.
Click here to get an idea of basic fares on MBTA.
Places to Visit/ Things to Do
Freedom Trail
One of the "must dos" in this city is the Freedom Trail. It is a 2.5 mile walk which takes you to various points of interest and historical landmarks. Freedom Trail is similar to the walking trails in Europe. The best thing is that you can do this trail on your own vs having a guide take you around. You basically follow a red-brick line along the pavements/ roads. The trail starts at Boston Common and ends at Bunker Hill Monument. It takes a few hours, depending on how many sites you visit. Most of the stops here are free, but you need to pay for some.
If you are short on time, just do the Freedom Trail – it will take you to some of the most iconic parts in the city.
Gardens
Right in the middle of the city, you will find two gardens – the Boston Common and Boston Public Garden. An interesting fact – the Public Garden was the first public botanical garden in America.
Between the two, personally, I prefer the Public Garden – it is more quiet, beautiful, a great place to relax, take a walk, and enjoy a bit of peace in the midst of the city. Don't be surprised if you find a couple of engagement and/ or family photoshoots going on while you are there 🙂 It is such a picturesque garden.
If you are visiting in spring/ summer months, then you can even enjoy the views from the water via swan boats. They barely cost USD 4.5 per adult (and USD 3 for kids) and make for a fun activity.
At Boston Common, be sure to check out the Make Way for Ducklings Statue near the corner of Beacon Street and Charles Street. This sculpture recreates the duck family in Robert McCloskey's children's classic Make Way for Ducklings. One of the best things about these statues is that they dress as per the season/ events for instance, big sport games. They make for a cute sight. Also, there is a carousel right in the middle of Boston Common – perfect activity if you are traveling with kids. In winter months, this park turns into a playground for little kids.
Also, as you are taking a stroll through the Common, watch out for the the gold domed Massachusetts State House.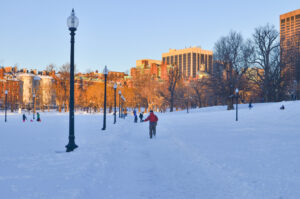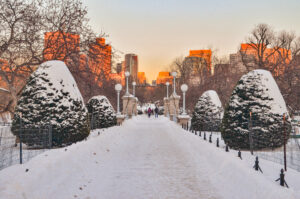 If you are a book lover, stop by Brattle book store, located just off Boston Common. Their open courtyard houses hundreds of books and certainly is a unique place to visit.
Back Bay
Back Bay is where you will find most of the action happening in Boston. From farmers markets to a breathtakingly beautiful library to high-end stores to boutiques to restaurants to some of the priciest houses in this city!
Start with a stroll on Newbury Street, take a peek in boutique stores and enjoy a leisurely meal at one of the al-fresco dining spots. If you have a sweet tooth like me, stop by Levain for their delicious cookies (be prepared to wait in queue), Georgetown Cupcakes for their cupcakes and Jonquils Cafe and Bakery for some unique desserts.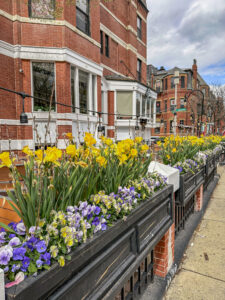 If you are a fan of tall buildings, then stop by Prudential Center, the tallest building in Boston. Earlier, you could visit the viewing deck at the top floor. There also used to be a restaurant and bar at the top. However, this space closed in early 2020 to make way for another bigger and better observation deck. It is slated to open sometime in 2023.
If you fancy shopping, take a peek in one of the stores inside Prudential Center. And oh, it also houses Eataly. What is Eataly you ask? Well, it is a vibrant Italian marketplace that features an array of cafes, counters, restaurants and a cooking school. And also, some of the best wines that you typically won't find anywhere in Boston. It certainly makes for fun browsing experience.
You can also grab a meal at one of the many restaurants it houses. Apart from sandwiches and salads, they have a separate pizza and pasta restaurant. There is also a square (literally modeled after an Italian city square), where you can find different food like fresh crudo, oysters along with wine and cheese. It is truly a place you have to visit and experience.
We ate at Terra and absolutely loved the food. Oh and that tiramisu!!!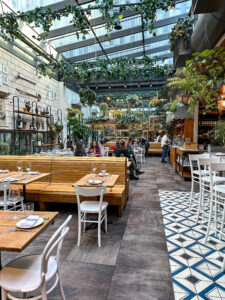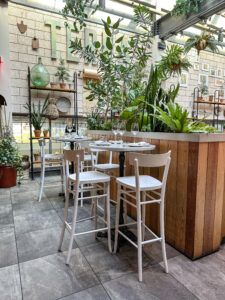 Also, don't forget to try their canoli (utterly delicious) and gelatos.
If you love architecture, then you must visit the Boston Public Library. Not only the library, but even the courtyard is stunning. If I went here to study, I would probably be too distracted by its beauty to actually study. It is also a popular wedding location – check it out for yourself – doesn't it make for a beautiful wedding location?
Right opposite the library, you will find Trinity Church, one of the most beautiful churches in Boston.
Once you are done with all this, take a stroll on Commonwealth Avenue and admire the beautiful brownstone houses – you will probably be walking with your jaw dropped the entire time. The adjacent Malborough Street has some lovely houses and stoops as well, which are cutely decorated during Halloween season.
Here is the same street captured in both winter and autumn – which one do you prefer? Also, this street makes for a lovely stroll in spring. Check out the pictures and let me know if you disagree 🙂
Beacon Hill
If you want to witness the quintessential Boston you see on postcards, then make your way to Beacon Hill. It has Victorian brick mansions, cobblestone paths, flower filled windows and antique lanterns.
It is an absolutely gorgeous neighborhood to wander through – there is no set itinerary here, just pick your camera and meander through the alleys. Also, stop by Acorn Street, the most photographed street in Boston and Rouvalis Flowers, the iconic flower shop of Boston. Some of the other picturesque streets are Pickney Street, Joy Street, Mrytle Street, Charles Street.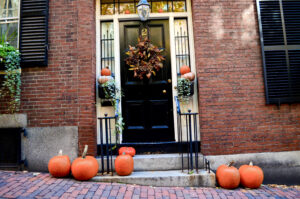 If you are visiting Boston during Halloween Season then you are in for a treat. The home owners here truly go all out with Halloween décor.
Stop by the cutest book store, Beacon Hill Book Store on Charles Street. It is a three level book store which houses all kinds of books right from children's books to fiction, non-fiction to even books on interiors. There is a small cutesy cafe on the lower level which offers indoor and outdoor seating.
All this walking making you hungry? Head over to Tatte Bakery & Cafe for a hearty meal. Tatte (pronounced like latte) has become an iconic spot in the city over last few years. What started as a humble restaurant in Kendall MIT area, has now spread all over Boston – they have locations in Seaport, Beacon Hill, Back Bay, Harvard, etc. It is hard to miss this one while walking around some of the famous neighborhoods of Boston! Tatte serves delicious pastries, breakfast items, baked goods, sandwiches, etc. Even though you may have to wait for a while to grab a seat, trust me, it is worth it.
Fanueil Hall
Fanueil Hall is one of the most touristy places in the city but you gotta do some touristy things while you are here right? At Fanueil Hall, you will find an indoor food market with lots of different stalls. Looking for fresh juices to beat the heat? Some clam chowder? Some Boston souvenirs? You will find it all here. Even though food is slightly on the expensive side, you will find plenty of options here. During summer months, you will even find street performers entertaining the crowd. Definitely a fun spot in the city.
After you are done wandering around Fanueil Hall, pay a visit to the New England Holocaust Memorial. It is a relatively small area but certainly worth stopping by.
North End
Located just steps away from Fanueil Hall, you will find the iconic North End. It is the city's oldest residential community, where Europeans have continuously inhabited since it was colonized in the 1630s. Though relatively small, this neighborhood is known for its Italian American population and Italian restaurants.
And while you are in North End, don't forget to try the cannoli. Now where to get the best cannoli? There are two pastry shops within walking distance of each other – Mike's Pastry and Modern Pastry. While Mike's Pastry usually has a long queue, personally, I feel Modern Pastry's delicacies are much better. From cannoli to tiramisu to ricotta cakes – I love them all!
Seaport District
The Seaport district has been revamped over the years. It has now become an excellent area to explore in this city!
Looking for a scenic walk by the water? There is a trail right till the aquarium. There are a couple seafront restaurants as well which make for a great way to spend a summer afternoon.
Stop by Lawn On D, which is an innovative and vibrant seasonal outdoor venue and the perfect place to relax. Typically open from May to November, there is always something to do and see here. Lawn On D provides a colorful collection of public seating and lounge chairs, interactive art exhibitions, assorted games such as bocce and ping-pong, and free Wi-Fi.
If you are traveling with kids, the Aquarium would make for a great spot.
Harvard and MIT
Boston has some of the top-notch schools and colleges and while you are here, why not check out iconic ivy league schools?
Both Harvard and MIT are located in the neighboring city of Cambridge (which is just across the river from Boston). Both can be easily reached via the MBTA train and are a short distance from Boston.
Harvard's campus is pretty impressive and makes for a lovely stroll. Also, wander around the lovely Harvard Square, which is the neighborhood around the Harvard Square subway and bus station.
Here, you will also find tons of charming cafes, eclectic shops, and restaurants right from hole in the wall places to great sit down restaurants. Don't forget to grab a pizza by slice from Ottos and / or Pinocchios like Harvard students do 🙂
Charles River and Esplanade
As mentioned earlier, Charles River is what separates the cities of Boston and Cambridge. Apart from the main river, there is a lovely esplanade area with walking and cycling paths. You can even go kayaking and sailing in the river or simply admire the boats from afar and have a picnic at the esplanade during summer months. A walk here during spring and autumn months provides a visual treat!
A fun fact – the annual rowing competition is held every October at River Charles. This event attracts huge crowd and competitors from around the world.
Other Things to Do
If you have additional time on hand, check these out:
Isabella Stewart Gardner Museum
All you art lovers, make your way to Isabella Stewart Gardner Museum. This art museum houses significant examples of European, Asian and American art. Its collection includes paintings, sculpture, tapestries, and decorative arts. It was founded by Isabella Stewart Gardner.
In 1990, thirteen of the museum's works were stolen. The crime still remains unsolved till today, and the works, valued at an estimated $500 million, have not been recovered. A $10 million reward for information leading to the art's recovery remains in place.
I am not really a museum person but absolutely loved my visit here. Oh and that courtyard had my heart!
Go Island Hopping
Made up of 34 islands and peninsulas, Boston Harbor Islands National and State Park is an urban oasis just minutes from Boston's city center. Hop aboard a ferry and discover islands rich with opportunities for outdoor recreation, relaxation and learning. A perfect summer activity.
Watch a sports game
Bostonians love their sports and nothing like watching a live game at a Boston stadium. Be it a baseball game, or ice-hockey or football, the energy is buzzing at the stadium. Fenway Park, where baseball games are held is an icon of this city. Grab a beer in hand and sing Sweet Caroline, oh oh oh (if you know, you know ;)
Boston Tea Party
Boston became famous for the Tea Party – an 1773 incident in which 342 chests of tea belonging to the British East India Company were thrown from ships into Boston harbor by Americans. Today, you can stop by the Boston Tea Party located in downtown area, where you can be a part of the event that forever changed the course of American history. Here you will find live actors, interactive exhibits, and full-scale replica 18th-century sailing vessels! Tickets cost approximately USD 32 per person.
Duck Tour
Looking for a unique way to explore the city? Then, hop aboard Boston Duck Tour, where you can enjoy a fully narrated, historic tour of Boston in a W.W.II style amphibious landing vehicle that travels on land and water.
You will cruise by all the major points of interest from the golden domed state House to the Boston Common, the historic North End to fashionable Newbury Street, Quincy Market to the Prudential Tower, and more. Just when you think you've seen it all, it's time for a Big Splash as your boat dives right into the Charles River for a breathtaking view of the Boston and Cambridge skylines.
If you are looking to get an overview of Boston's most famous sights and history without too much walking, then a Duck Tour might be the right choice for you!
Cheers
One of the biggest attractions in Boston is the Cheers Bar from 1980s/90s TV series Cheers. If you recollect, this series was set in the city of Boston. If you have watched the series, then you certainly need to pay a visit here.
Museum of Science
If you are traveling with kids, then highly recommend a visit to this place. It has over 700 interactive exhibits, the museum features a number of live presentations throughout the building every day, along with shows at the Planetarium and the Imax theater. For more information, click here.
* All prices are as of October 2022