Goa may be one of the smallest states in India but the most popular destination for tourists, both for domestic and foreign travellers. Whether you are looking to just chill at the beach, enjoy the nightlife or gorge on mouth-watering food, Goa has something for everyone.
Goa may look tiny on the map but driving around from North to South will eat up all your time. Pick what you want to see/ do during your visit to Goa and plan your itinerary accordingly.
If you want to party / have a gastronomic experience, then pick North Goa. Most of the famous shacks, restaurants and cafes are located at Calangute, Baga, Anjuna and Vagator beaches, which are part of North Goa. If your primary purpose is to relax by the beach, then South Goa is where you need to be.
Having visited twice in last six months, safe to say, Goa has become our favourite destination in India lately 😊
The scene in North Goa has changed tremendously over the last few years. Even if you have been to Goa countless times before, there is always something new to see. Read on to see the top instagrammable spots that you must visit in Goa.
Beaches
You cannot come to Goa and not go to the beach, right? Each beach in Goa has a different vibe and attracts a different kind of traveller.
Beaches of South Goa are more beautiful compared to the North. Palolem beach has gained tremendous popularity over the years. You will find a ton of activities here, local markets and lovely cafes and restaurants.
Other beaches which are beautiful and comparatively less crowded – Utorda, Cavelossim, Mobor, Cola Beach, Kakolem Beach, Agonda Beach, Varca Beach, Butterfly Beach.
With endless palm trees, golden sand and the beach right at your doorstep, South Goa is what beach dreams are made of.
Vagator, Anjuna, Baga, Calangute, Morjim, Arambol are some of the popular beaches in North Goa. Even though they aren't your typical postcard worthy beaches, they tend to get crowded especially during sunset. But don't worry – these beaches are lined up with some of the most amazing shacks. So, grab a beer in hand and enjoy the view.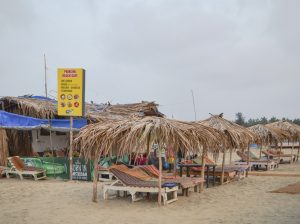 If you are looking for a good beach in North, then head up to Morjim – the beaches here are much cleaner and relatively less crowded.
Fontainhas
One of Goa's most instagrammable spot is Latin Quarter or Fontainhas, a colorful neighborhood located in Panaji. Take one stroll here and you will notice Portuguese influence in every corner. For those who don't know, Portuguese ruled Goa for close to 450 years.
Fontainhas is a UNESCO world heritage site and a must visit when you are in Goa. As you are walking in this neighbourhood, you will notice that some of the streets are named in Portuguese – e.g. Corte de Oitero, Rue 31 de Janeiro etc.  Most of the facades here are painted in vibrant colors. Today, many of the residential houses and buildings are converted to heritage hotels, villas, art galleries and cafes. Though some buildings are dilapidated, they still hold their colonial charm.
Doesn't this look like somewhere in Europe? Fontainhas is truly unlike any other place in Goa!
If you are keen to learn more about this place and its history, sign up for a heritage walk (you will find plenty options via Airbnb) – some of these tours barely cost INR 500 per person.
While a guided tour is always helpful, you can discover this neighbourhood on your own. The streets here are like a maze you wouldn't mind getting lost in. Start your walk from Rue 31 de Janeiro, one of the most vibrant streets. Did you know these houses are re-painted every year after monsoon season? It was a rule laid out by the Portuguese, which is followed even today after all these years. You will spot houses in all kinds of colours – green, pale yellow, and blue, along with red-coloured tiled roofs, artistic doors and balconies.
The row of colorful facades instantly reminded me of Old San Juan in Puerto Rico.
If you are tired with all the walking, head over to one of the many cafes this area boasts of. One of Goa's oldest and well known bakery, Confeitaria 31st January is a tiny store located in one of the by-lanes. Pick up a pack of fresh bebinca, dodol or baath (a Goan coconut cake), puff pastries, croquettes, maybe even a plum cake or date and walnut cake.
One of Panjim's most well-known cafes, Cafe Bodega has a lovely open-air café adjoining the art gallery. I have heard that their red velvet is worth trying – they also have excellent breakfasts, sandwiches and coffee!
Parra Road
One look at Parra road, and you will see why most movies/ series shot in Goa include a scene from here. Lined with palm trees and overlooking fields on both sides is one of the prettiest, most picturesque roads in Goa. And these fields truly came alive in monsoon season. Driving here in the monsoon season was such a visual treat!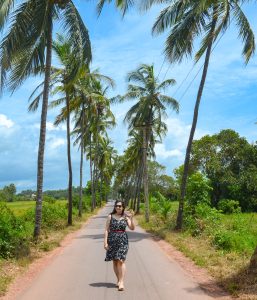 Type in "Parra Coconut Road" on google maps – it is located about 15 minutes from Anjuna. Even though you will rarely find it deserted, if you are patient enough, you will get your insta worthy shot.
While most of the crowd was trying to get their insta worthy shot at Parra road, we noticed this lovely house brimming with bougainvillea, right opposite Parra Road. Isn't it a beauty ?
But note that you will find bougainvillea only in non-monsoon months.
Beach Bars
Most people visit Goa for its amazing nightlife. You will find amazing beach bars in North Goa – between Vagator and Calangute. The best time to visit would be during sunset but note that some of them may charge a cover fee if you visit during busy hours. We had cloudy weather when we were in North goa, and sadly, the sunsets were nothing to rave about.
Titlie had the best view and Olive had the best ambience. Purple Martini had an amazing view as well, but it was too crowed to truly enjoy the place.
Pisco by the Beach is newly opened and has an amazing ambience. I couldn't visit Raeeth and Romeo Lane but have heard rave reviews from friends.
If you don't mind going all the way to Morjim (about half hour drive from Anjuna), then make your way to Saz on the Beach. Absolutely loved the ambience, the view and the food here.
During our previous visits to Goa, we had visited Thalassa and Antares. Both are beautiful restaurants with amazing water views. Again, a place to be visited during sunset/ late night.
Whichever place you plan to visit, do make reservations in advance.
Cafes/ Restaurants
Over the last few years, Goa has become a food paradise. Whether you are looking for a laid back café or an artsy place or a beach shack or a sea facing restaurant, or want to experience fine dining, or a co-working space, Goa has it all!
The neighbourhood of Assagao in North Goa has some amazing Portuguese villas converted into restaurants. They have retained the essence of old villas and have added tables for dining in. We ended up visiting Jamun and Maai located in this neighbourhood and absolutely loved the food and ambience.
If you want a feel of Ubud, Bali, then head to Mojigao. We had smoothies and falafel sandwiches here – both so filling and delicious. Also, the whole set up reminded me so much of Bali.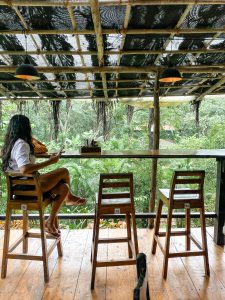 Gunpowder Goa is yet another hotspot in Assagao but was closed when we visited.
If you are looking for more of a breakfast place, then head to Artjuna or Babka in North Goa or Padaria Pazares in Panjim. They have a range of delicious pastries, donuts, bagels, sandwiches and coffee. I could hop on the next flight for Padaria Pazares' pasteis de nata and Baileys berlineer – so darn good ! Their baked treats will keep you coming back for more.
Eva Café is one of the prettiest cafes in North Goa but its quite a small space – go right before it opens or be prepared to wait a while for the table.
Burger Factory is an institution of sorts in Goa. They have locations at Anjuna, Morjim and serve the yummiest burgers. Keep in mind there is always a bit of a wait at their Anjuna location.
Garden of Dreams is yet another beautiful bohemian spot in Morjim. With lush greenery, comfortable seating and live music, it is the perfect spot for breakfast or lunch. But note that it closes at 6 pm.
Lollo Rosso, Baba Au Rhum, Elephant and Co and Prana Café provide the quintessential Bali feels with the endless rice paddy field views.
If you are a seafood lover, then head to Poussada by the beach located at Calangute beach. Since we were in Calangute one of the days we made a pit stop here – it's a lovely restaurant with amazing beach views!
If you are in South Goa, check out Martin's Corner, Riverside (located at Leela) and Fisherman's Wharf.
If you are looking for more food recommendations, check out these options. They may all not necessarily be instagrammable, but they offer amazing food.
Suzies
Sublime
Ida
Felix
Roboto
Mahe
Elephant Art Cafe
Artjuna
Wildshack
Bean Me Up
Wigwam Cafe
Tamil Table
As you can tell, I will need multiple trips to cross these all off my list 😊
Also, if you are visiting during the busy season, try to make reservations in advance.
Churches of Goa
One of the most iconic church in Goa is Our Lady of Immaculate Conception Church, located just steps away from Panaji's main city center. Originally a chapel built in 1541, what makes this one of the prettiest churches in Goa is the symmetrical staircase. Isn't it beautiful?
If you have extra time on hand, also check out Chapel of our Lady of the Mount located around 20 minutes from the town of Panaji.
As you are driving around the city, you will spot many beautiful churches specially in South Goa.
Cabo de Rama
Since Goa is a been there done that destination for most Indians, people now tend to look at newer places to explore here. One such place that has lately gained popularity is Cabo de Rama. The USP of this place is the cliff view of ocean. Since this place is relatively newer, expect minimal crowd. It is totally secluded, and the views are perfect to free your mind of any stress. The only downside is that this place is a very far from North Goa. Vagator beach to Cabo de Rama can take at least 2 hours one way. If you are staying in South, then expect to get here in 1-1.5 hours (depending on where your hotel is located).
If you are hungry, grab a bite at The Cape. We had plans to visit this place but due to lack of time we couldn't. Hoping to cross this one off my list next time I am back in Goa 😊
Arambol Lake
A short walk from the Arambol Beach lies the Sweet Water River or the Blue Lagoon of Goa. The Sweet Water Lake is a fresh water paradise that originates in natural hot springs from within the Goan jungle. The lagoon is surrounded by lot of greenery and coconut groves.
The lake is officially named Vagkolam, but Goans and travellers insist on calling it by its nickname, Sweet Water Lake. Dip your feet in the warm, fresh water. Feel the heat of the sand, which comes from the hot springs. The clay blocks nearby are said to contain magical healing properties, so join in the practice of rubbing the clay on your body in the water.
Anjuna Flea Market
All you shoppers, make your way to Anjuna Flea Market. You will find lot of clothing items, souvenirs, dreamcatchers, food and beverage. As with any roadside markets, put on your bargaining hat on and haggle with the vendors. Note that this market is closed in the monsoon season.
Old Heritage Portuguese Houes
Goa is home to some lovely heritage Portuguese houses. Some of these have existed for over last four centuries. These houses started getting built soon after the conquest of Goa by the Portuguese in the early 16th Century and many more kept getting built till the time they left in 1961. One such house is the Braganza Pereira House located in the Chandor area of South Goa. There are no set tour times, but once you enter, a family member or representative would be happy to give you a guided tour and regale you with stories of Goa's years of Portuguese rule. The entry fee (INR 150) at each side is a suggested donation and goes towards the considerable upkeep of the homes, which receive no official funding.
Forts
Chapora fort, located near Vagator is an amazing place to catch sunset. You will get 360-degree view from up here. Aguada Fort is yet another fort you could visit.
Doodhsagar Falls
As much as tourists avoid visiting Goa in monsoons, Goa truly comes alive in this season. If you are visiting in monsoon season, take a day trip to Doodhsagar falls. But keep in mind that you will need a local cars to go to the top. Permit is given to only a limited number of cars everyday and hence, it is best if you start your day early.
Divar Island
If you have more time on hand, do a day trip to Divar island, which used to be the capital of Goa in olden days. The only way to reach Divar is via a ferry ride. The ferry ride is free but you need to pay an additional fee of you intend to take your car.
General FAQs
Best time to visit
Goa, being a tropical destination, experiences warm weather throughout the year. November to March are ideal months to visit Goa. You will get to witness postcard worthy sunsets, great weather to stroll around the city and of course, swim at the beaches.
The monsoon season lasts three months – June to September. All beach shacks are closed in this season. Some of the cafes and restaurants (e.g. Eva Café, Tulum) may also be shut during this time of the year. If there are certain places you want to visit, please check Zomato or their Instagram page to see whether they are operational during the time of your visit. Also, swimming at the beach may be prohibited if the weather gets worse.
Not matter what season you end up visiting, the heat and humidity can almost kill you! Remember to frequently apply sunscreen and hydrate as much as you can.
Best area to stay
If you stay in North or South Goa, keep in mind that the drive from North to South can easily take 1.5 hours (or even longer depending on where your hotel is located) one way. So while a day trip is doable, it isn't ideal.
In the past, we have stayed at W and Westin in North Goa and ITC Grand Goa, Leela and Planet Hollywood in South Goa. If you are looking for unique accommodations, check out the below options:
Postcard Hotels
Amrapali House of Grace, Velha
The Cape, Cabo de Rama
Cabo Serai, Cabo de Rama
How to get around the city
One of the biggest downside of Goa is lack of Ubers/ availability of regulated taxis. Due to this, local taxi drivers exploit tourists. Pick up from and drop to the airport can easily cost INR 1,200-2,000 one way.
The cheapest way to get around Goa is a scooter. Alternatively, you can rent a car + driver to take you around. Eight-hour rental would cost you around INR 2,500 – INR 3,500.  But keep in mind that you would need to pay extra if you keep him till late in the night.
If you are willing to drive the car yourself, the cost is considerably cheaper. Expect to pay around INR 1,100 – INR 1400 per day. Note that the above rates are applicable if you rent from North Goa. Since South Goa is mostly luxury hotels, the drivers charge higher rates. Expect to pay at least INR 1,000-INR 1,500 extra if you are renting from South Goa.
If you don't need a car for your entire stay, then check out Goa Miles App. I have heard that the rates on this app are much cheaper rate compared to what these drivers quote.
* All prices are as of March 2022