Situated on the banks of River Jhelum, Srinagar will be your gateway to Kashmir – no matter which part of India you are coming from, most likely, you will land in Srinagar.  So why not spend a few days here and see what all this city has to offer.
The scenic Dal Lake with the backdrop of the Himalayan snow clad mountains makes Srinagar a dream destination for every traveller. Read on to plan the perfect trip to Srinagar.
We visited Srinagar on our week long trip to Kashmir – click here to read more about our trip in general and other Kashmiri cities of Gulmarg and Pahalgam.
How to get there
Srinagar's airport, Sheikh ul Alam Airport, is well connected with some of the main Indian cities and you will find regular flights from Delhi, Mumbai, Chandigarh and Amritsar to Srinagar. The airport is located just 15 km away from the center of the city.
Keep in mind that once you collect your baggage at Srinagar airport, there is a counter near the exit where you need to show your COVID vaccination certificate. Once they take down your vaccination details and the details of your stay in Kashmir, you can step out of the airport.
Once you reach Srinagar, you will find autos in the main tourist spots of the city – Dal lake, some of the gardens and market areas. But for the most stress free trip, advisable to rent a car for the entire duration of your trip.
You can even reach Srinagar via train which is well connected with different parts of India.
How many Days required
A two-night stay is ideal. But if you are visiting some of the nearby towns on a day trip, then you can extend by a day or two.
Where to Stay
Looking for a luxurious stay in Srinagar? Then check out The Lalit Grand Palace and Taj Vivanta Dal View. The USP of Lalit is its location – literally steps away from Dal lake. Also, the grounds are beautifully manicured and have apple orchards, tall Chinar trees and lush gardens with a variety of flowers. Taj Vivanta is situated at the top and provides an uninterrupted view of Dal lake.
Since we needed large rooms for our accommodation, we were essentially looking at budget friendly suites. Four Points by Sheraton, located just 2 kilometers from Dal lake, fit the bill perfectly – both in terms of size of the room as well as price. We absolutely loved the room and food here.
Other budget friendly options in Srinagar are Radisson Hotel and Ahdoos Hotel. They are located in the main market area and you will find plenty of restaurants at a walking distance from these hotels.
If you are visiting in spring/ summer months, then you may want to check out Rah Bagh, a newly opened luxury boutique hotel. It is located on the outskirts of Srinagar but is relatively closer to the gardens.
Looking for a unique accommodation? Then why not stay in a houseboat? Each houseboat usually has 2-4 bedrooms plus bath, dining room, living room, upper deck and a balcony providing uninterrupted view of the lake. These houseboats are anchored at one spot and do not move around the lake.
The USP of staying in a houseboat is undoubtedly, 24/7 access to the lake. Sip on kahwa enjoying the lake views at the balcony, put your negotiation skills to use – many vendors come right up to the houseboat selling a range of items from fruits and vegetables to Kashmiri pashmina and jewelry. If you like something, they will hop on board your houseboat and show you their complete collection.
I had visited Srinagar briefly around 12-13 years ago and had stayed in a houseboat then. Since we were visiting in winter and the temperatures were freezing, we skipped the houseboat this time – we wouldn't have really enjoyed sitting by the water for long in bitter cold weather.
Places to Visit/ Things to Do
Dal Lake
What is the first thing that comes to your mind when someone says Srinagar? Dal lake, right? Spread over 15 kilometers, Dal Lake is an iconic spot in this city. You can simply walk by the lake and admire the view from far or hop on a shikara and go for a ride along this lake. You can also witness Dal lake views from some of the gardens and of course, houseboats.
A trip to Srinagar is incomplete without a shikara ride. Shikaras are basically small wooden boats decked with colorful carpets and rugs. Shikaras are used as mode of transport by locals as well as tourists for leisurely rides.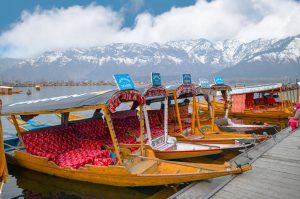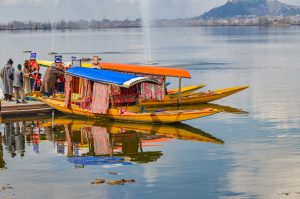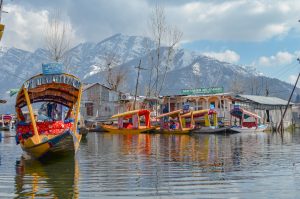 Once you get into a shikara, simply perch your feet up and enjoy the tranquil lake views or indulge in some shopping – vendors literally load their stock in shikaras and come right up to your boat to sell stuff. Fancy a sheesha on shikara? Fret not, you can even find a shikara selling sheesha – so fascinating, right?
In the middle of this lake, you will even find stalls selling basic snacks and beverages like maggi, pakoras, sandwiches, chai, coffee, kahwa. There is a cafe right in the middle of the lake as well – Cafe Gulshan. It is basically a book shop with a reading room and cafe attached to it in the Nehru park island of Dal lake. We had already picked up maggi and kahwa from one of the floating stalls in the lake. Had we known about this cafe, we would have certainly enjoyed a leisurely meal here.
If you have flexibility in your schedule, then pick a day when its sunny – on a clear day, you will be able to witness beautiful mirror-like reflections. You can even go for a shikara ride during sunset. During the winter season, temperatures can really drop, thereby, freezing the lake. But even then, these shikara rides continue.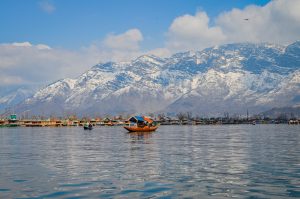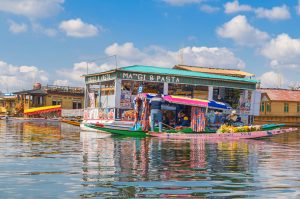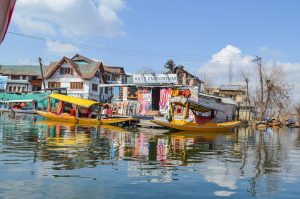 A shikara ride can cost anywhere between INR 1,500 – INR 3,000 depending on the time of your ride. Be sure to bargain.
Dal Lake is truly unique in the sense that despite being a lake, you can find accommodation (houseboats), shopping markets, vegetable markets, flower markets right in the middle of the lake. Its like they have built a small village right in the middle of the lake.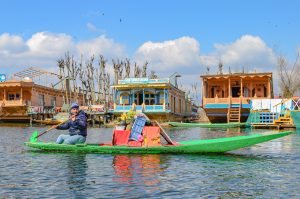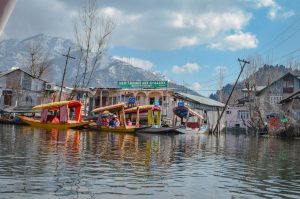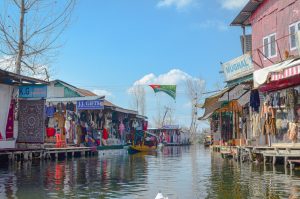 Nigeen Lake
Nigeen Lake (also known as Nageen Lake) is yet another beautiful lake in Srinagar. It is less crowded than Dal Lake and much more serene and peaceful. It is actually connected to Dal lake via a narrow strait. It is just 2.7 kilometers long and thus, much smaller compared to Dal lake.
Nigeen lake is surrounded by a large number of willow and poplar trees. Hence, it is referred to as a "nageena", which means "the jewel in the ring".
Since this lake is not very deep and crowded, one can even swim here in summer months. Similar to Dal lake, you will find houseboats here as well. The houseboats here are upscale and more expensive.
If you are visiting in peak tourist season and if Dal lake is very crowded, then you can go for a shikara ride in Nigeen Lake instead.
One of the days we drove the whole circular loop of both Dal lake and Nigeen lake – it made for such a scenic ride.
Visit the Gardens
Indira Gandhi Memorial Tulip Garden is the largest tulip garden in Asia and a must-visit place if you are visiting in spring months. Tulip flowers are in full bloom during the months of March (third week of March) and April so time your visit accordingly.
There are around 48 varieties of tulip flowers here. Apart from tulips, this garden also houses other flowers like daffodils, hyacinths, roses, ranunculus, narcissus, etc. This garden opened in 2007 with the aim to boost floriculture and tourism in Kashmir Valley and has now become one of the top visited places in the spring months in this city.
Even if you are visiting in other months, there is no shortage of scenic gardens in Srinagar. The Mughal Gardens with terraced lawns, fountains and colorful flowers make for a lovely visit. The beauty of these gardens is undoubtedly, in spring and summer months but the layout of these gardens lends a unique beauty even in other months.
You can easily spend a day visiting the different gardens in this city – Shalimar Bagh, Nishat Garden, Badamwari (which is spectacular in spring with almond blossoms), Chashme Shahi garden. Since we were visiting in winter, we only visited two gardens – Nishat Bagh and Chashme Shahi. Even though they were completely barren, they looked beautiful with that fresh cover of snow on ground and snow-capped mountains in the backdrop. I can only imagine how much prettier they would look in full bloom.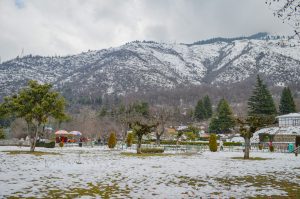 The design of Nishat Bagh (first three pictures) is largely inspired by Persian Architecture. We were in two minds before visiting this one given how barren it would look in winter, but so glad we ended up visiting.
Entry fee at both Chashme Shahi and Nishat Bagh is INR 24 per person.
Pari Mahal
Looking for a bird's eye view of the city? Then make your way to Pari Mahal, also known as Abode of the Fairies or the Home of Angels.
Pari Mahal is a seven terraced garden located at the top of Zabarwan mountain range overlooking city of Srinagar and south-west of Dal Lake. The architecture depicts an example of Islamic architecture and patronage of art during the reign of the then Mughal Emperor Shah Jahan. It was built as a library and residence for the Mughal prince Dara Shikoh in the mid-1600s. Dara Shikoh was said to have lived in this area in the years 1640, 1645, and 1654.
Sadly, it was cloudy and gloomy the day we visited. So, we couldn't really enjoy the scenic views from the top. Entry fee is INR 24 per person.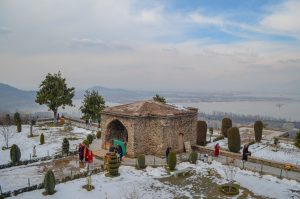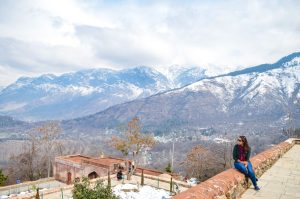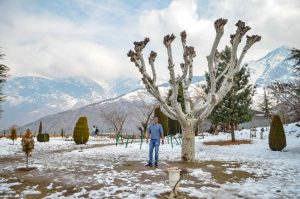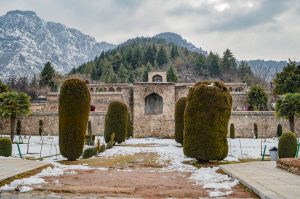 You can combine your visit to Chashme Shahi garden and Pari Mahal since Pari Mahal is located just 5 minutes away from this garden.
Floating Market on Dal Lake
If you are an early riser, then why not visit the floating vegetable and flower market at Dal Lake at sunrise. Witness the hustle and bustle of markets in the middle of the lake where you will find vendors as well as customers arrive in boats. Doesn't it sound like a unique experience?
Since I visited in peak winter, I decided to skip this activity. It would be freezing in the lake early morning.
Hazratbal Shrine and Jama Masjid
Haratbal literally translates to "majestic palace". This shrine is considered to be the most sacred one as it houses the Moi-e-Muqqadas, i.e. hair of the Prophet Muhammad.
Regarded as one of the holiest Muslim shrines in the entire Kashmir valley, it is located on the banks of Dal Lake, and welcomes devotees, from all different religions.
Once you are done visiting the shrine, make your way to the backside from where you will get amazing view of Dal Lake. We almost spent an hour sitting by the shore and admiring the tranquil waters.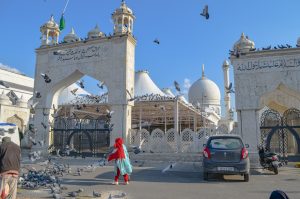 Yet another beautiful mosque you can visit in Srinagar is Jama Masjid, located right in the middle of bustling market of Nowhatta. Do stop by and check out the magnificent courtyard and 378 deodar pillars. It is said that the prayer halls were designed to accommodate more than 30,000 people. The huge size of the prayer halls at Jama Masjid Srinagar will make you pause, gaze and admire the sheer beauty.
Since these mosques are sacred, girls, make sure your elbows and knees are covered – also, bring a scarf/ dupatta to cover your head. Otherwise, you might be denied entry.
Shankaracharya Temple
Apart from iconic mosques, Srinagar is also home to the beautiful Shankaracharya Temple where you can seek blessings of Lord Shiva. This temple is located at a height of 1,000 feet (300 m) above the valley and overlooks the city of Srinagar. Keep in mind that you need to climb almost 200+ steps to get to the top.
Indulge in Shopping
If you are keen on shopping, then stop by Lal Chowk and Polo View Market. There is a Sunday market held on the streets on Polo View Market.
Couple of items that you must buy / at least browse through in Kashmir are:
Pashmina shawls
Carpets
Kahwa
Saffron
Almonds
Shilajit – ayurvedic medicine that has a calming effect on your body
Potential day trips
If you have additional time on hand, then check out the below for day trips
Sonamarg
Yousmarg
Lolab Valley and Wular Lake
Dachigam National Park
Dachigam National Park would make for the perfect day trip if you are traveling with kids. You can spot snow leopards, Kashmir stags, black and brown bears and dozens of colourful birds here. It is located just 22 kilometers from Srinagar. However, keep in mind that tourists need a special permit to enter this park. Plan in advance so necessary permits can be obtained.
Some people also visit Gulmarg on a day trip since it just 90 minute drive away. But if you are traveling in winter months, I wouldn't recommend a day trip. Due to snowfall, the drive could take longer. Also, there is plenty to do in Gulmarg so why not stay a day or two there.
If you are traveling in winter, yet another place that you could check out would be Aharbal waterfall. It is also known as Niagara Falls of Kashmir and it truly makes is a sight to behold in winter months.
Where to Eat
A beantowntraveller guide would be incomplete if it didn't mention cafes and restaurants to visit, right?
I was pleasantly surprised by the whole café and food scene in general in Srinagar. I was expecting decent Mughlai and North Indian food here but was pleasantly surprised by cafes serving delicious baked good and continental food. When you are spending just a few days in a city, you don't want to have a bad meal, right? Read on to check out the must visit cafes and restaurants in this city.
Chai Jaai
Chai Jaai located in Polo view market area is a tea room inspired by the iconic Cotswold tea rooms. In addition to a local and international variety of tea, they also offer continental food.
This place has gained popularity over the last few years thanks to Instagram. The décor is very Instagram worthy with cute little corners everywhere. They also have cute little crockery on sale at reasonable prices.
We had pizza, pasta and hot chocolate here. If you are keen to try Kashmiri noon chai (also known as shir chai/ pink tea), you can order here. Kashmiri locals usually have noon chai for breakfast – they prefer this tea instead of eating any fruit or vegetable for breakfast. It is traditionally made from a type of green tea leaves, milk, salt and baking soda. A pinch of baking soda gives it a pronounced pink color. I was excited to try it but I took one sip and had enough. Since I have never had salt in tea, I found the taste very different. I guess it just wasn't my cup of tea 😉
But their hot chocolate was probably the best I had on this trip – so rich and delicious! Perfect drink in the cool Srinagar weather.
Overall, we had a good experience here but may be because we were visiting at peak time on a Sunday the service was very slow.
Books and Bricks
Book lovers – you are going to love this one!
A cute little café inspired by the aesthetics of American diners and has a quirky interior done in bricks and wallpapers that are pages from books. They also have shelves stacked with books. We ordered falafel burger, garlic wedges and hot chocolate. Everything was so good. Highly recommend a meal here.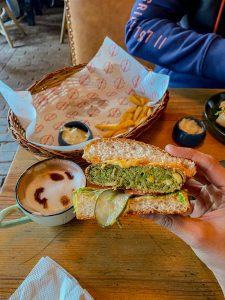 14th Avenue Café and Grill
This was an accidental find. We stumbled upon this one while driving around, we were intrigued and stopped by to take a look after our lunch at Books and Bricks. The moment we stepped in, we were spoilt for choice – their baked goods looked just so inviting. We had a tough choice but eventually picked up a walnut tart – it was so good that we promised ourselves we would return for a full meal.
On our last day, we stopped by here on our way to the airport. We ordered a pasta, cappuccino, chocolate milkshake and packed sandwiches for the flight. The decor is very European style. This cafe serves a variety of Italian, Lebanese and Mediterranean food.
Ahdoos Restaurant
Okay okay – I didn't just gorge on continental food in Srinagar. Ahdoos is probably one of the oldest restaurants in Kashmir and serves traditional Indian, Mughlai and Chinese cuisine. Their wazwan is supposed to be legendary. Vegetarians, do not fret – they also serve vegetarian wazwan.
What is a wazwan you ask? Well it is a multi-course meal, which has mostly meat-based dishes consisting lamb, beef or chicken with a few vegetarian dishes.
Since we weren't too hungry, we skipped wazwan. We ordered Kashmiri Dum Aloo, Naan, and Biryani – everything was very good. If you are looking for good Indian food in Srinagar, then highly recommend a visit here. If you aren't keen on Indian food, then they even have a bakery downstairs – Creme, where they serve light snacks and baked goods.
Le Delice
As we were strolling by Dal lake one evening, we stumbled upon this cute little French bakery. Truly surprised by the number of bakeries here – I guess, I am not the only one with a sweet tooth 😊
We took a peek in and noticed that they serve a variety of pastries, breads, drinks in addition to food. They even serve Gujarati food – dal dhokli and khichdi; not sure how authentic it would be, but my Gujarati friends, I have you covered 😉
Since we were keen to eat at Ahdoos, we just picked up a few baked goods – carrot cake and hazelnut rocher ball.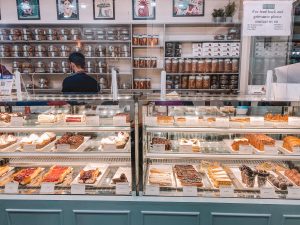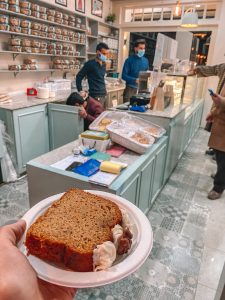 Fat Panda
We were tired of eating breads and wanted to eat Chinese food one of the days. Located just below Winterfell Café, Fat Panda serves delicious oriental food. We ordered pot rice and thai curry – both were delicious.
Other Options
Winterfell Café
Krishna Dhaba
Cafe Liberty
Moon Light (they have amazing chocolate fudge which you can pick for friends back home)
*All costs are as of February 2022