Agar Firdaus bar roo-e zameen ast, hameen ast-o hameen ast-o hameen ast
If there is a paradise on earth, it is this, it is this, it is this
These words hold 100% true for Kashmir!
I spent a week in this beautiful winter wonderland and it totally lived up; rather, exceeded my expectations. There were several pinch-me moments where I was left awestruck by the beauty of the place. Even though the landscape was barren in winter, that cover of fresh snow with the backdrop of snow-capped mountains truly made for a breathtaking sight. See for yourself – doesn't this look like a painting?
Even today, one of the frequently asked questions is whether it is safe to visit Kashmir. Kashmir, located in northern India, is one of the highest militarized zones in the world. You will often see military vans moving on the roads of Srinagar like any other vehicle. But the locals here are the sweetest and kindest people you will ever meet. They are always smiling – so warm and hospitable. They truly go that extra mile to make tourists comfortable. They love regaling you with their stories and won't hesitate to invite you home for a cup of kahwa or noon chai (special Kashmiri chai). I have to say, more than the scenic landscapes, the best part about Kashmir is undoubtedly the locals!
Oh and whether at a local's house or otherwise, do not forget to sip on Kahwa – a drink made with green tea, saffron, spices and sprinkled with almond slices. It will keep you warm you up on long winter days.
For detailed itineraries, click below links:
Best time to visit
The beauty of Kashmir is different in every season. Here is a month by month break down of what you can expect in each season.
December to Mid-March – If you want to experience winter in its true sense, then you should visit during these months. The temperatures drop below zero and some of the towns are fully covered in snow. It is the perfect time to indulge in winter activities such as skiing, snow boarding, snow mobiling, etc. If you have never experienced snow, then Kashmir is the place to visit – there are high chances of snowfall on winter days. Even if not fresh snowfall, you are guaranteed snow on the ground at Pahalgam and Gulmarg.
End of March to Early May – This is the season of spring. You get to experience pleasant climate during these months with temperatures ranging between 10 degrees to 15 degrees. The famous tulip festival held at Srinagar, attracts thousands of visitors this time of the year. It has more than 1.5 million tulips of about 48 varieties. Not only tulips, but you will also see almond trees blooming as well as other beautiful spring flowers.
May end to September – This is the peak summer season. Kashmir boasts of several hiking trails and this time of the year you get to see beautiful scenic vistas in their full glory. It is the best time to visit Kashmir and regale in its beauty.
October to November – If like me, you love seeing leaves turn their colors into bright golden and orange hues, then this is the time you should visit Kashmir. Srinagar is full of autumnal beauty, and it truly is a sight to behold.
After moving back to India from Boston, I had not really experienced winter. As most of you may know, Mumbai, the city I live up, hardly experiences winter. Even on the best winter days, temperature rarely goes below 15 degrees Celsius (60 degrees F).
It had been years since I last saw snow and was literally craving for it. After a few setbacks due to COVID, finally decided to visit Kashmir in winter this year. Lo and behold, all my winter dreams came true – out of the eight days spent in Kashmir, I experienced snowfall on five days. So much so that the day before we were flying to Kashmir, all flights were cancelled due to excess snow. Thankfully, we did not face any cancellations, but just a few delays. It was all worth it the moment I looked out of my airplane window – what a grand welcome we received! Seeing the whole city of Srinagar covered in a blanket of snow, was truly a sight to behold.
Since early 2021, Kashmir has become a popular destination among Indian tourists. Some of the smaller towns have fewer hotels and tend to get sold out months in advance. Hence, make your hotel bookings as soon as your travel dates are finalized.
Here are some snippets of how beautiful Kashmir is in winters.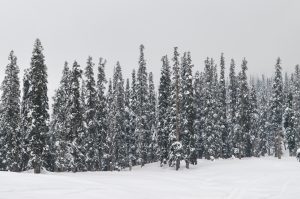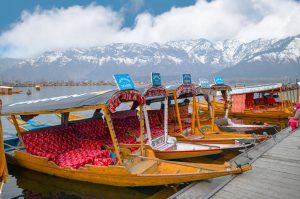 Having visited Kashmir in winter, I have promised myself that I will return in spring, summer and autumn someday. Anyone wants to join me 😉
How to get there
Srinagar is the gateway to Kashmir and is well connected via flight from Indian cities of Mumbai, Delhi, Amrtisar and Chandigarh. If you are travelling from other cities, then you will most likely be taking a connecting flight from either of these cities.
Getting around in Kashmir
There is very limited public transport in Kashmir. You will have to hire a local cab for the day to take you from one place to another and also for local sightseeing. The cost depends upon the distance and the destination you are covering. While autos are available in Srinagar, they do not use the meter and generally over charge. You will find autos easily at tourist spots like Dal Lake or Lal Chowk market, but not all places.
Hence, for the most stress free vacation, it is advisable to rent a car for the entire duration of your trip. Once you reach Pahalgam, you need to rent a local car for sightseeing. Srinagar cars are not allowed to ply in Pahalgam. Expect to pay around INR 2,000 extra per day at Pahalgam for car rental.
If you are visiting Gulmarg in winter season, then you need to attach chains to the tyres of the car at Tanmarg to avoid skidding in the snow. We ended up spending 30-40 minutes extra at Tanmarg for this since it had just started snowing – so buffer in extra time to reach Gulmarg. Also, you will need to pay extra (INR 1,500 – INR 2000) for the chained car.
Overall, we ended up spending approximately INR 4,000 per day for car rental during our entire stay (including sightseeing at Pahalgam and Gulmarg). We used this guy – feel free to reach out to him. Highly recommend him.
General Itinerary
Below is the complete itinerary of our trip. The details for each location can be found under their own separate pages.
Pahalgam – 2 N
Srinagar – 3 N
Gulmarg – 2 N
We were planning to visit Sonamarg from Srinagar. But due to excess snow, some of the roads were closed, thereby leading to delays. Also, the true beauty of Sonamarg is in summer when the meadows are lush green and brimming with flowers. Hence, we decided to skip Sonamarg this time.
General tips/ FAQs
Only Airtel, Vodafone and Jio postpaid work in Kashmir.
Once you collect your baggage at Srinagar airport, there is a counter near the exit where you need to show your vaccination certificate. Once they take down your vaccination details and the details of your stay in Kashmir, you can step out of the airport.
Highly recommend selecting rows D, E and F in an aircraft if you want scenic views while landing at Srinagar – trust me, it is worth paying extra for this.
Due to weather conditions, remain flexible in your plans – some places can be shut / take longer to reach due to excess snow.
If you are visiting in winter months, you can rent shoes at most tourist spots. But if you truly want to enjoy winter in its fullest sense, advisable to invest in good quality winter wear. Apart from sweaters, you will need a down jacket, gloves, inners, woolen socks, boots. I had most of my sweaters and winter wear from my time in USA and what I did not have, picked up from Uniqlo and Decathlon.
You may want to carry additional socks in your purse/ bag in case the ones you are wearing get wet due to snow.
Advise layering up top and bottom – that's the only way to comfortably enjoy being outdoors for so long. We didn't wear thermals but were layered up so we didn't feel very cold.
Do not step out without applying sunscreen. Even in winter, the sun is pretty harsh, so advisable to apply sunscreen at regular intervals.
Alcohol is not widely available in Kashmir. Even in hotels, they do not sell alcohol. You can find a few shops in Srinagar but advisable to carry your own.
Food in general, is not very expensive in Kashmir. Some cafes in Srinagar are slightly expensive but we even found places where the meal cost us just INR 200 per person.
While checking in at Srinagar for your journey back home, you will need to do security check of your luggage at least three times. So, buffer in extra time.
*Prices are as of February 2022. The rates for local sightseeing and car rental may differ depending on the season you visit