Do you like snow? Do you like to indulge in winter sports? If you answered yes to either of these questions, then you must add Gulmarg to your bucket list.
Gulmarg literally translates to "meadow of flowers" because in summer, this town is filled with colorful flowers. However, over the years, Gulmarg has gained popularity for all the winter activities it has to offer. It is one of the few destinations in India which has guaranteed snow in the winter months. Given the easy connectivity via Indian metro cities, Gulmarg has now become the top visited Indian city in recent times. In fact, tourism has increased ten times post COVID.
Whether you want to snuggle in the blanket and enjoy the snowfall outside, go on long nature walks, try out adventurous winter sports or simply play in the snow, Gulmarg is the ultimate winter destination in India. And in winter, this town looks like a piece of heaven.
We visited Gulmarg on our week long trip to Kashmir – click here to read more about our trip in general and other Kashmiri cities of Pahalgam and Srinagar.
How to get here
Gulmarg is located in the Baramulla district of Jammu and Kashmir, India. It is just 50 kilometers away from Srinagar, the gateway for your trip to Kashmir. Due to the proximity from Srinagar, some people visit Gulmarg on a day trip. However, I wouldn't recommend that specially if you are visiting in winter.
Gulmarg is located at an altitude of 8,690 feet. The road till Tanmarg is fairly easy and mostly flathill. If you are visiting in winter, then you need to change your car/ attach chains to your car since the road to Gulmarg can get very slippery in the snow.
As you begin the drive from Tanmarg market up the mountain, you will notice that the landscape starts to change drastically. With endless snow-covered pine and fir trees, this drive will make you feel like you are in a snow globe.
On a good day, the drive from Tanmarg to Gulmarg can take 20-25 minutes. However, both times we were driving, we got caught up in snowstorms and it took us almost 60 – 80 minutes each way. To be honest, it didn't really matter since the drive was simply breathtaking.
What is interesting to note is that the local population does not reside in Gulmarg. Except the hotel staff, most people end up staying in the town of Tanmarg. In fact, the day we were leaving, we saw innumerable cars ferrying these locals who travel to Gulmarg during the day for work.
Winter Gear
If you truly want to enjoy winter in its fullest sense, recommend investing in good quality winter wear. Layering up is key. Apart from sweaters/ full sleeved t-shirts, you will need a down jacket, gloves, inners, woolen socks, boots. You can find most of this stuff at fairly reasonable rates at both Uniqlo and Decathlon.
At Tanmarg, you will find plenty of shops providing boots or long jackets on rent for a measly fee. If you are not well equipped with winter gear, then advise you to pick it up from here. The last thing you want to do is be stuck indoors due to lack of proper shoes or jackets.
Right at the gondola station in Gulmarg, you will find people selling hand gloves and sunglasses. Both are a must – the sun can get extremely harsh as you go up and hence, advise to either pick it up from home or here. Similarly, if you play in the snow without gloves for too long, you may end up getting a frostbite.
Before stepping out, ensure you apply sunscreen. Even in winter, the sun is pretty harsh, so advisable to apply sunscreen at regular intervals.
How many days required
A two night stay in Gulmarg is ideal. However, if you are keen to learn skiing or if your primary purpose is to enjoy skiing, then recommend spending at least 4-5 days here.
Where to Stay
There are numerous hotels and resorts in Gulmarg ranging from budget to luxury. If you are looking for ultimate luxury, then check out Khyber Himalyan Resort and Spa. Given the recent surge in tourism, this hotel gets sold out months in advance. If you are still keen on staying here, you can also reach out to travel agents who typically have some blocked rooms.
If you are looking for budget friendly hotels, then check out The Vintage and Kolahoi Green Hotel and Resorts. Since we planned our trip absolutely at very the last minute, most hotels were sold out. We literally called every hotel in Gulmarg to see if rooms were available on the days of our visit.
Luckily, we found rooms at The Vintage, where we stayed for two nights. We had to change our itinery based on hotel's availability but it worked out fine. The rooms at Vintage were spacious and clean – the only downside was their location. To reach the gondola station, it can take 30 minutes on foot (which can be a task in winter). Or you can take a private car which would cost you INR 500 – INR 600 one way. To be honest, we didn't mind it since it was a lot more peaceful this side of the town. Also, there were a couple of lovely dhabas and restaurants just 5-10 minutes walk from the hotel, so it worked out completely fine.
The best part about this hotel was their open balcony on the top floor which provided a scenic vista of the town. Both evenings, after we were done with sightseeing, we retired there along with some fellow travellers and shared our stories of Kashmir.
Things to do/ see
Gondola ride
The gondola here is Asia's largest and highest and the world's second highest cable car. This ropeway is capable of ferrying 600 people per hour. It is divided into 2 phases – Phase 1 and Phase 2. Gulmarg is the starting point, Kongdori is the end point of Phase 1 and Apharwat is the end point at Phase 2.
All the winter activities are at Phase 1. Whether or not you are engaging in winter activities, you must ride this gondola for the panoramic views of the valley. It is a must-do, irrespective of the season. For those not engaging in winter adventures, you can just go to the top and play in snow. While you will have fresh snow cover in winter months, I have heard the snow lasts well until May at Phase 1. Make a snowman, throw snow-balls at each other, watch people learn skiing or simply pose for pictures 😊
Due to the post COVID surge in tourism, there could be a significant wait time at the gondola station – both for buying tickets as well as boarding the gondola. Advise hiring a guide who can buy tickets for you in advance. This guide will also assist in negotiating with locals for the activities. These guides typically charge INR 600-900, which is totally worth it.
We started the day early and reached the gondola station at around 10 am – fortunately for us, we did not have to wait more than 5-7 minutes in the queue. From the base, it took around 10 minutes to reach Phase 1, which is located 8,530 feet above sea level. Keep your camera ready since you will want to click the scenic views.
You can get down at Phase 1 and engage in winter sports (more on that later). You will also find couple small restaurants/ dhaba selling everything from kahwa to coffee to maggi to pulao to momos. Proper chairs and tables are laid out for dining. We saw a few stalls serving even Jain food.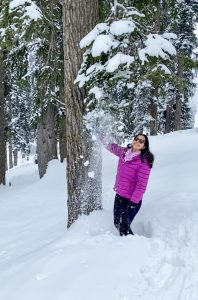 The visibility was very poor the day we visited, so we skipped Phase 2. If you do decide to go to Phase 2, note that the boarding station for Phase 2 is just beside that of Phase 1. Phase 2 is at 12,300 feet above sea level and it takes around 12 minutes to reach.
If you are visiting in non-winter months, then you must visit Phase 2 for the snow. I have heard that you can find snow all around the year at Phase 2. Also, on a clear day, the views from Phase 2 are simply breathtaking. However, Phase 2 is not recommended for those who have heart diseases or breathing issues.
The ticket cost for the Gondola Ride for Phase 1 is INR 740 and INR 1,210 for Phase 2. For those who will be skiing, you can buy a day pass. The timing of the Gondola is from 10 AM to 5 PM. However, the timings may change depending on weather conditions.
Winter sports
There are a range of winter activities to choose from here.
Gulmarg is the ultimate destination in India for skiing enthusiasts. The best part of Gulmarg is that anyone can do skiing here. Whether you are a newbie or an experienced skier, you will find all kinds of slopes that work best for you. You will also find local ski instructors here from whom you can learn. They also provide the equipment on rent for a fee. For beginners there are bunny slopes where you can learn to ski. Apart from skiing, you can also do snowboarding here.
Whether you are a beginner or a professional, you are going to love it here. Since we had limited time in Gulmarg, we did not end up skiing. Instead, we tried out other activities.
The activity that I was most excited about was snow biking. It is similar to an ATV but has almost double the speed. You can either take the short or long route here:
Short route costs INR 1,000 per person
Long route costs INR 2,000 per person
This is a fixed rate. You get to sit behind a trained guide who will essentially ride the bike. But if you opt for the long route, then they let you drive for a part of the route. Highly recommend paying extra for the longer route. They will also stop and let you enjoy the picturesque views and click pictures. The whole ride lasts for about 30-35 minutes.
If you want to go back to the base, you can either take the gondola back or go down via a sledge. We obviously chose the sledge 😉. We were a bit skeptical if my mother (age 66) would be comfortable, but she thoroughly enjoyed the ride. The whole ride down took approximately 2 hours and gave us plenty of time to stop, click pictures and just admire the scenic beauty.
It was very foggy when we started the ride down. We could barely see anything beyond five feet. A few minutes after we began our descent, it started snowing. It immediately cleared up and when we saw our surroundings – we were speechless. It was absolutely breathtaking. Highly recommend taking the sledge so you get to admire the beautiful snow landscape up close.
The guys quoted INR 3,500 per person at first, but our guide was able to negotiate and bring it down to INR 2,000 per person. But if you see the amount of physical strength these guys require to make it a smooth ride for you, you will notice that the high price is totally worth it. Also, these guys drag the sledge all the way from the base to the top of Phase 1 (instead of gondola) – be sure to tip these guys well, they deserve it.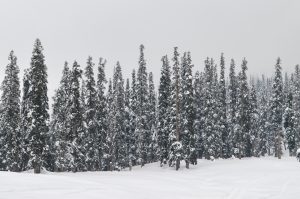 Igloo
Just last month, an ice igloo has been opened outside Kolahoi hotel. It is apparently the world's biggest igloo.
Entry here costs INR 200 per person and they serve basic snacks and beverages inside for an additional charge. Seating is comfortable inside – while all tables and benches are made of snow and ice, they have added sheep hides to make the person sitting on snow feel warm.
While the igloo is certainly a unique experience, personally, I found it a little crowded to enjoy. If you have additional time on hand, you can check it out.
Tour of the town
There are couple of sights to see in the town of Gulmarg – Shiv temple, St. Mary's Church, strawberry fields, a golf course, where you can play in the summer months.
One of the coolest ways to explore the town is via an ATV ride or sledge. The ATV ride costs around INR 2,000 per person whereas the sledge costs INR 1,000 per person. The tour lasts a little over an hour. However, since it was snowing both days we were in Gulmarg, and it was foggy, we decided to skip this. At times, we couldn't even see beyond 5 feet so it was really pointless to do an actual tour of the town.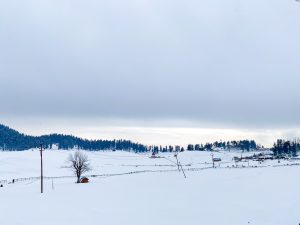 Drung Waterfall
Drung, is a small village in the Tangmarg tehsil of Gulmarg. This town is located just a 10 kilometers car ride away from Tangmarg which makes for the perfect day trip or detour. The road leading to Drung is a bit narrow but remains accessible throughout the year.
The main attraction here is the waterfall which freezes in winter months due to extreme low temperatures.
When I laid my eyes on this waterfall, I literally had to pinch myself. It was such  breathtaking sight. While Gulmarg was swarmed with tourists, there were barely 10 people here. The road leading to the waterfall was a bit slippery due to fresh snow but the locals were more than happy to guide us. It started snowing a few minutes after we got there, and it made this place look even more magical.
Walking around in dead silence, soaking in the beauty, getting drenched in snowfall and meeting the ever helpful locals, it truly was an experience to cherish a lifetime.
If you are visiting in winter, you have to add this place to your itinerary! It truly is a surreal experience.
Where to Eat
If you like authentic North Indian food, then head over to Bakshi Restaurant. We ate there the first afternoon we reached Gulmarg. We loved it so much that we ended up eating three out of four meals there. Just order the naan – it is hands down, one of the best naans I have had in my life. It is not a very fancy place, but the food is delicious, service is prompt and the staff is just the best. Highly highly recommend a meal here.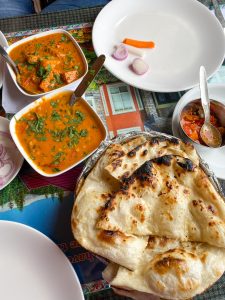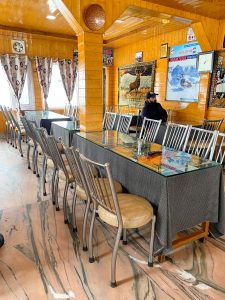 Royal Vaishno Dhaba is yet another place serving North Indian food which has great reviews. However, the indoor seating area is pretty small and since it was cold, we didn't want to sit outside. We skipped this one but you may want to check it out.
Looking for coffee? Hot chocolate? Pastries? Sandwiches? Pizza? Then head over to Black Bear Brew located in the market area.
*All prices are as of February 2022