With lush green meadows, apple orchards and a beautiful river flowing through the town, Pahalgam is where you can leave all your worries behind. It is far away from the hustle and bustle of a city thereby, making it ideal for a relaxing getaway. If you are looking for a place to relax amidst the nature, then Pahalgam should be your pick.
Pahalgam is home to several hiking trails, thereby making it a popular summer destination. There are several camping sites set up in summer here. You can even go rafting in Lidder river in spring and summer months.
Even if you aren't the adventurous type, simply grab a book, a cup of coffee, sit by the river and listen to the water flowing – it is simply therapeutic. Or just take a walk around the town soaking up the views of mountains, fir-covered forests and apple orchards. This town is filled with scenic vistas and not surprisingly, it attracts thousands of tourists each year 😊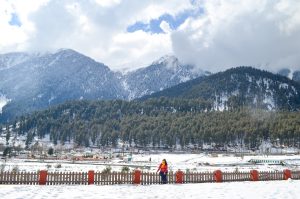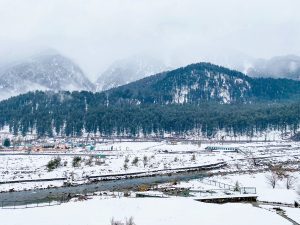 Pahalgam was once a shepherd's village, and hence, it is also known as the Valley of Shepherds. Personally, I found this town less touristy than Gulmarg. Locals actually live here – unlike Gulmarg.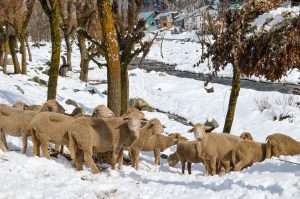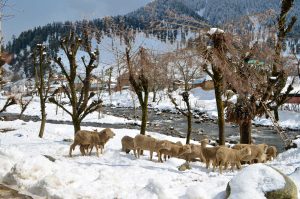 We visited Pahalgam on our week long trip to Kashmir – click here to read more about our trip in general and other Kashmiri cities of Gulmarg and Srinagar.
How to get there
Like most destinations in Kashmir, to reach Pahalgam, you need to first reach Srinagar. From Srinagar, it is a 90 kilometer (2 hour drive) to Pahalgam.
Even if you have rented a car for your entire trip, keep in mind that once you reach Pahalgam, you need to rent a local car for sightseeing. Srinagar cars are not allowed to ply in Pahalgam. Expect to pay around INR 2,000 extra per day at Pahalgam for this car rental.
How many Days required
If you are visiting in winter months, then a two-night stay is ideal. However, if you visiting in other months and are the adventurous type of traveler, then you can easily spend 4-5 days here. You can go on day long hikes as well as river rafting here.
Where to Stay
There are several good hotels and resorts in Pahalgam ranging from budget to luxury.
We stayed at Welcomhotel ITC Pine and Peak, one of the luxury hotels in Pahalgam. Couple other budget friendly options here are Hotel Heevan and Royal Hillton and Kolahoi Green. Hotel Heevan is located right next to River Lidder and that truly is the USP of this hotel. You walk out of your room and can reach the river is just 5 minutes ! The rooms are slightly dated but you are essentially paying for that location! Kolahoi Green is another good hotel but slightly far from the main city.
Now coming to the hotel where we stayed, Welcomhotel ITC, well, it was beyond perfect. Set on a hill, overlooking the valley, this hotel is the most sought after accommodation in this town. It offers a spectacular view of the valley which looks even more beautiful after a fresh dusting of snowfall. We lucked out with significant snowfall on both days we stayed here and each morning we woke up, we literally felt like we had stepped into a winter wonderland. It was like walking in a snow globe.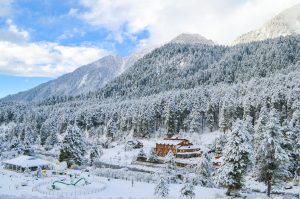 The room, the common areas, the food including buffet spread and the hospitality of the staff – all amazing! Highly recommend staying here. Even if you aren't staying at Welcomhotel, highly recommend stopping by for a cup of coffee and / or meal so you can check out the beautiful views from this property.
Places to Visit / Things to Do
Aru Valley, Betaab Valley and Chandwari
There are three picturesque valleys in Pahalgam which should be on every traveller's itinerary – Betaab Valley, Aru and Chandanwari. Keep aside at least a day for these beautiful valleys.
Betaab valley is enroute Amarnath Temple Yatra and is one of the most beautiful valleys of Pahalgam. It is located around 9 kms from the town of Pahalgam. It is actually called Hagan Valley, but was made famous by the Bollywood movie Betaab, which was filmed here in 1983. Today, this place is famously referred to as Betaab valley.
The drive from Pahalgam to Betaab is equally beautiful. Once you get there, you can either explore the place on a sledge ride or walk and explore on your own. Highly recommend the latter so you can explore at your own pace. The views here are lovely, keep your cameras ready and fully charged. The valley is surrounded by lush green meadows (which were fully covered in snow in February), snow clad mountains and river. It truly is a sight to behold.
Bear in mind that cars have a wait limit of an hour here – so if you want to spend more time, let your driver know in advance. You may have to pay him extra to wait for longer.
We spent a little over an hour soaking up the mountain and river views. The guides here will coax you into renting winter shoes and jackets saying it is impossible to walk in the snow without their shoes – if you have your own winter gear, DO NOT fall for it – we managed to walk in deep snow with our own winter shoes and it was perfectly fine. But yes, there was a hell lot of deep snow on the ground – if you do not have proper shoes, please take them on rent. Do not try to walk in sports shoes. They will get completely wet in snow and thus, make it difficult / uncomfortable for you to walk.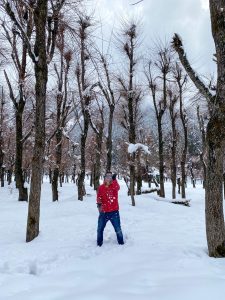 Once you are done with Betaab Valley, make your way to Chandanwari, located 7-8 kilometers from Betaab Valley. It is the starting point for Amarnath Yatra, a spiritual retreat for Hindus. If you are visiting in summer, you will find thousands of tourists here. The road to Chandanwari is typically shut during the winter months since this region receives significant snowfall.
Yet another beautiful valley to visit here is Aru Valley located around 13 km from Pahalgam. It serves as the base camp for a number of treks like the Tarsar Marsar Trek and Kolahoi Glacier Trek. There are many other small trekking trails starting from the valley. Aru Valley is best explored on foot but if you are not fond of hiking, you can take pony rides to different points of interest.
Sadly, the road to Aru Valley was closed when we visited due to excess snowfall. I guess they say, you should always leave something for next time – in our case, it actually came true!
Baisaran Valley
Baisaran is famously known as mini-Switzerland because of its meadows resembling the ones in Switzerland. It is a hilltop green meadow dotted with dense pine forests and surrounded by snowcapped mountains. In the summer months, it also serves as a campsite for trekkers going to Tulian Lake. Some of the famous tourist points which you can see en route to Baisaran are Kanimarg, Pahalgam Old Village, Kashmir Valley Point, Dabyan and Deon Valley Point. You can also enjoy panoramic sights of Pahalgam town and Lidder Valley from here. I have heard that in the summer months, one can also do zorbing and zipling here.
Located just 5 kilometers away from Pahalgam, Baisaran valley can only be reached on a pony ride or on foot. Since we were visiting in winter, we skipped the hike and instead took a pony ride which cost us INR 2,400 per person (be sure to bargain since the starting price was INR 3,000). If you decide to hike, do wear comfortable shoes since the path can get slippery due to snow. Also, you are essentially climbing all the way up the mountain, so it is a moderately challenging hike.
On a pony, it typically takes around 90 minutes to go all the way up and around 60 minutes to come back down. There are two routes – the shorter one will take almost half the time, but it is a very dangerous route. Even if your driver insists on taking the shorter route, do not fall for it – ensure he takes the longer one.
The views on the way are absolutely beautiful – trust me, you will want to take your camera out every five minutes. Once you reach up, you need to buy entry tickets which cost INR 30 per person.
As luck would have had it, I got a really notorious horse for my ride – he literally kept running away from the herd and that too, at a fast speed. Luckily, I held on to him really tightly, so I didn't fall off the horse. But I had quite an adventurous ride !! As we started our ride back to the town, it started snowing heavily. It took us around 90-100 minutes to come down and we were literally drenched in snow. Since it was our first day in Kashmir, we really enjoyed the fresh snowfall but the only downside was I could hardly click any decent photos.
Lidder River
The beautiful Lidder River runs through Pahalgam. If you love nature, then you will love enjoying some calm moments here. Camping is also popular at this spot in summer months. While the flow of water was less since we visited in winter, we still enjoyed spending time by the river and listening to the water gushing.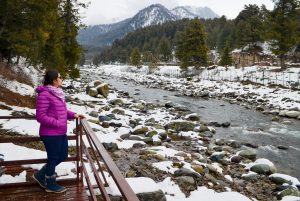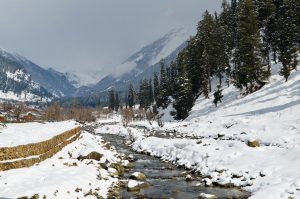 Other Places to Visit
Our flight from Mumbai to Srinagar was delayed by couple hours due to snowstorm. Instead of reaching Srinagar at 12.30 pm, we ended up reaching at 4.30 pm. The drive to Pahalgam is typically 2 hours, but it took us longer due to evening traffic.
There are a couple places enroute Pahalgam that you can stop by but since we were already delayed, we preferred reaching our hotel in Pahalgam directly. Hence, we had to skip all these extra places. But if you do have time on your hand, you can look into these and try to visit during your trip.
Ashmuqam Dargah (Shrine)
This Shrine is just 20 kilometers away from Pahalgam and became famous after the shooting of Bollywood movie, Bajrangi Bhaijaan. If you want to visit this shrine bear in mind that you need to climb 560 steps before you can enter the shrine.
Awanti Swami Temple Ruins
Avanti Swami Temple is a Hindu temple located in Awantipora. There were two temples, one each for Shiva and Vishnu. The temples were built by king Avantivarman of the Utpala dynasty in the 9th century A.D. on the banks of river Jhelum. This temple is over 1100 years old.
However, almost all of them were destroyed by Islamic invaders. Today, you will only find ruins of the temple here. Some parts of it are still preserved and you can see detailed sculptures of Hindu gods and goddesses on them.
Where to Eat
We ended up eating our main meals at Welcomhotel ITC itself but tried out a couple places in the main town.
Cafe Log Inn serves a variety of snacks, beverages and desserts. We ordered a vegeterian pizza, a walnut brownie and a cappuccino. Everything was delicious but the service was a little slow.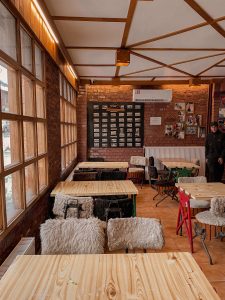 If you like authentic North Indian food, then head over to Daana Pani Restaurant. We ordered Kashmiri Dum Aloo, Dal Makhani and breads. The Dum Aloo was undoubtedly the best I have eaten in my life! The place is very simple but the food is delicious. We were a little too hungry so didn't click any pictures – but highly recommend a meal here.
On our way from Srinagar airport to Pahalgam, we stopped by Sifar for a cup of coffee. This random place off the freeway had the most epic backdrop! Since we were in a rush to reach our hotel, we just ordered coffee. But yes, you can stop by here if you want to break the drive from Srinagar/ Gulmarg and grab a bite.
*Prices are as of February 2022. The rates for local sightseeing and car rental may differ depending on the season you visit