You must have heard of or even visited Mussoorie, a popular hill station located in northern state of Uttarakhand, in India. But how many of you have heard of Landour? To be honest, I had not heard much about this town either until I started planning my trip to Uttarakhand.
Landour is a cantonment town located at an altitude of 7500 feet, which is about 1000 feet above Mussoorie. This town derives its name from Llanddowror – a tiny Welsh village in Great Britain. During the British era, when the English soldiers became homesick, they named Indian towns after the ones in their homeland. Since the British times, Landour has remained a station for military and hence, a Cantonment area.
Landour is very much a part of Mussoorie but once you set foot here, you will feel like you have entered a whole new world of peace and tranquility! One look at Landour and you can tell that very little has changed here over the years. In fact, you will probably feel like you have stepped back in time here.  You may wonder, despite being so close to Mussoorie, why is Landour so different? Well, the Cantonment Act of 1924 states that all the trees/ plants in the area have to stay with the military. Since Landour is a part of the cantonment area, there has been no woodcutting or deforestation in Landour for the past 100 years. Also, new construction of any type is unlawful. One can only construct temporary structures or repair the existing structures. Because of these rules, Landour truly retains its old world charm. And lets hope it doesn't ever succumb to modernization!
While we spent just a day here, if you are looking for peace and solitude, you can easily spend a 2-3 days here. Read on to plan your trip to the quaint little town of Landour.
We also visited Mussoorie and Rishikesh during our trip – click on the links to read more.
Where to Stay
Since new construction is somewhat banned in Landour, there are just a handful of accommodation options here. You won't find any big hotels; but expect more homestay type accommodation.
We did not stay in Landour and just did a day trip from Mussoorie. We stayed at JW Mussoorie, which is located 15km away (around 40 minute drive) from Landour.
If you are planning to stay in Landour, then check out Rokeby Manor – pictured below.
One other lovely homestay in this town is La Villa Bethany. Both are relatively smaller hotels and the rooms tend to get booked quickly. If you plan to stay in Landour, book them as soon as your travel dates are finalized.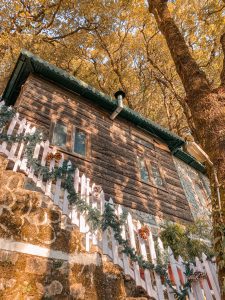 How to Reach
Landour is located just a few km from Mussoorie. The easiest way to get to Mussoorie is via Dehradun, which is well connected via flight from most Indian metro cities. If you are traveling from Delhi, you could also drive to Mussoorie – 300km taking around 8-9 hours. If you are traveling by train, you need to get down at Haridwar station, which is a 83 km drive from Mussoorie.
Once you reach Mussoorie, take a taxi from Mussoorie's mall road to Landour. It will cost you approximately INR 300-400 and about 20-25 minutes. The road from Mussoorie is very steep and narrow. It often jams up during peak season. Even if you are an experienced driver, these steep climbs are not for the faint hearted. It is advisable to hire a private cab from the mall road rather than manoeuvring these roads yourself.
If you enjoy walking, then you can reach Landour from Mussoorie on foot in 40 minutes. This path is scenic and a peaceful walk but keep in mind there is a considerable amount of uphill climb involved.
Best time to visit
Landour enjoys pleasant climate throughout the year. Most people visit Landour in summer (April to June) to escape scorching heat prevalent in other parts of India. While you can expect snow in winter, depending on the amount of snow, the road to Landour could be blocked. If you are visiting during snow season, factor in additional time to reach Landour.
Landour has gained more popularity over the years; hence, more and more tourists are flocking here. If you wish to enjoy the peace and quietness of the town, visit Landour on any weekday. Even if it does get crowded, you will still find it peaceful compared to Mussoorie!
Things to do/ Places to visit
Landour is surrounded by lush green trees and winding streets, offering ample opportunities for quiet walks. Given the size of this town, it is best explored on foot.
Chaar Dukan
The first thing you notice as you reach Landour is a line of small shops also known as Chaar Dukan. Chaar Dukan literally translates to "four shops". These four shops have been here since this town came into existence. Even after all these years, nothing much has changed here – the only change is an addition of two more shops and a small post office.
All the shops here serve a variety of food like light snacks, Maggi, parathas, omlettes, pancakes. The famous Anil's cafe and Tip Top tea shop have been at Char Dukaan for more than 50 years!
St. Paul's church
Right beside the Char Dukaan area, you will find St. Paul's church. The interesting thing about this church is that the benches have holes. It is said that British soldiers often complained about theft of their rifles from outside the church during prayers. Holes were carved into the wooden benches, where soldiers could keep their rifles during worship. In fact, this is the first church where rifles were permitted to be brought inside. The yellow painted church looks spectacular with blue sky and green trees in the backdrop.
Gol Chakkar
The paths in Landour are circular and you generally end up where you start from. As you are exploring the streets, you will notice that the road is in the shape of the figure 8, also known as Gol Chakkar/ Landour Loop. Most of the things to do and places to visit are scattered on the two sides of the road.
This road is well-built and covered with tall Deodar trees. The whole stretch of Gol Chakkar is just 3.5 km but you can take a leisurely stroll here spending as much or as little time as you like. Take your time walking and stop and read the many interesting sign boards with quotes and poems. The walk is fairly easy with hardly any ascends or descends. On most of the stretches here, we were the only ones walking – it kinda felt like our own private little town 😊
Kellogg's Memorial Church and Landour Language School
Right at the intersection of the Gol Chakkar loop, lies Kellogg's Memorial Church. We did not get to see the interiors as it was closed during our visit but it looked quite lovely and imposing from outside. The church has elegant glass stained windows and is built in Gothic architectural style. Built in 1903, this church is named after Dr. Samuel Kellogg, an American missionary who was very active in the development of Landour.
Right behind this church, you will find Landour Language School. Britishers learned Hindi in this school when they ruled India. The Landour Language School is operational even after all these years and teaches Indian languages like Hindi, Sanskrit, Punjabi, Urdu and local Garhwali to students coming from all over the world.
Sisters' Bazaar
Just a few steps away from Kellogg's Church is Sisters' Bazaar. Here you will find the famous Landour Bakehouse, Prakash Handicrafts and Anil Prakash Store, from you can buy souvenirs, homemade jams, preserves, pickles, peanut butter, cheese etc. We picked up Strawberry and Plum jams from A. Prakash Store and they were both delicious!
Landour claims to be the first place in India where peanut butter was commercially made. Anil Prakash Store apparently makes delicious peanut butter – personally, I am not a fan of peanut butter so didn't pick it up. But if you do like it, then definitely consider buying it from here.
Winter Line
The winter line is a unique phenomenon which occurs around mid-October to January during sunsets. It is a rare atmospheric phenomenon that develops under special conditions when warm air is trapped beneath cold air. It can be spotted just at two places in the world – Switzerland and Mussoorie. Isn't that cool!!
The best place to witness sunset in Landour is Lal Tibba, which is the highest point in this town. There is a café upstairs which charges an entry fee (INR 100). It also has a binocular on their terrace for a measly fee, from where you can zoom in to see the snow-capped Himalayan mountains and the villages far-off. Lal Tibba is best visited during sunrise or sunsets.
Even though Lal Tibba was fairly crowded compared to the rest of the town, we absolutely loved the sunset view here. Luckily we were visiting in January and could admire the unique winter line from here – the sky truly left us speechless.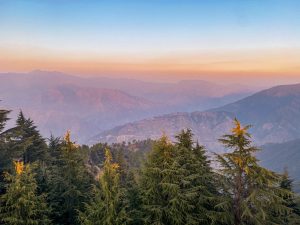 There is another café right opposite Lal Tibba – Klick Café. The interior of this cafe is quite unique – camera lenses are used as the lamps, the walls are painted with cameras and even a few cups are shaped like lenses. This cafe was shut during our trip to Landour, but this is another lovely place to witness sunset in this city.
Cafe Hopping
There are quite a few lovely cafes and restaurants which have opened up in Landour over the last few years. The first and foremost that you shouldn't miss is Landour Bakehouse. It serves baked goods including croissants, scones, buns, cookies, crepes, cookies, sandwiches and hot drinks. This place has a lovely old world charm with wooden décor and rustic ambiance. The best table at Landour Bakehouse is beside the window. Also, do yourself a favor and do not forget to order their hot chocolate – you can thank me later 🙂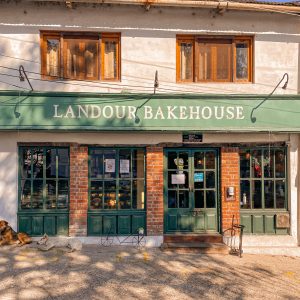 If you are looking to have a hearty meal, then check out Emily's at Rokeby Manor hotel. This restaurant serves delicious Indian and Continental cuisine. The interiors of this restaurant are quite lovely and give a countryside feel. They have some lovely signs put up on the walls – take your take reading them. Even though we visited in mid-January, they still had Christmas decorations.
The breakfasts at JW Marriott, where we were staying, were quite elaborate. Plus we had just had light snacks at Landour Bakehouse and weren't too hungry. Having heard rave reviews from a bunch of people about their Sticky Toffee Pudding, I couldn't leave without ordering it – and let me tell you, it totally lived up to the hype!
One other place that you shouldn't miss in Landour is Cafe Ivy, located near Chaar Dukaan area. Cafe Ivy serves a wide variety of food – European, American and Indian along with a wide range of beverages. It is the perfect place to hang out with friends or that special someone. The view from this cafe is breathtaking – specially that outdoor seating with beautiful view of the valley. It does tend to get busy in evenings so head here a little before sunset to ensure you get that table at the balcony. We had hazelnut hot chocolate and maggi here and both were delicious ! And yes, before you say anything, I am addicted to hot chocolate 😊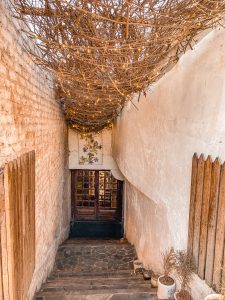 Since we just spent a day in Landour, we couldn't visit all the cafes on my wishlist – but if you are spending more time here, then check these out:
Lotte's Homebaked Goods
MudCup Cafe
Doma's Inn (Tibetan food)
Also, all the shops at Chaar Dukaan serve amazing food.
Meet the legendary author, Ruskin Bond
Ruskin Bond, a renowned Indian author of British descent, lives with his adopted family in Landour. He is recognized for his role in the growth of children's literature in India. Most of his books are influenced by life in the hill stations at the foothills of the Himalayas where he spent his childhood.
Cambridge Book Store, located in Mussoorie, is an institution of sorts. If you are a book lover, you don't want to miss this store. Ruskin Bond visits this store every Saturday – don't be surprised if you find a large crowd queueing up outside the store to get their books autographed by him.
Even if you aren't lucky enough to catch him here, there are autographed books available in the store for you to buy. Alternatively, you can buy his book from the store, leave your name and postal address with the owner of the store, who could get it autographed and couriered to you. You would, of course, have to pay for the book and courier charges.
Hiking Trail
There are multiple hiking trails in Mussoorie. Click here to read about the hiking trails we chose.
But if you are planning to explore hiking trails close to Landour, then check out Jabarkhet Nature Reserve. It is located just 5 kilometers away from Landour and is home to a variety of wildlife – birds, mammals and insects.
General Pointers
We flew in and out of Dehradun. The flight was around 2 hours and cost INR 10,000 per person.
We hired a car and driver to take us around the places and airport pick up and drop offs. We didn't feel the need to have a car with us during the entire duration of our stay. The cost varies depending on the duration as well as category of the car. We paid INR 11,000 for the entire trip for the basic car. But if you are looking to have the car with you the entire time, expect to pay around INR 22,000 – INR 30,000 for a week.
* Prices are of as January 2021