After being cooped up in our homes for more than 10 months, we finally decided to take a flight and explore a new place in India.
Our main criteria for a getaway were:
A place where we could spend at least a week
A place with direct flight connectivity from Mumbai
A place where we could practice social distancing
A place with cooler weather than Mumbai
A place with some hikes/ activities
Keeping these parameters in mind, we settled on Rishikesh and Mussoorie, located in the northern state of Uttarakhand. (Click on the links if you want a detailed guide on Mussoorie and Landour)
Rishikesh, located in the foothills of the Himalayas in northern India, is one of the holiest places in India. Known as the Yoga Capital of the world and the Gateway to Himalayas, Rishikesh became popular when the Beatles came to visit in late 1960s. Over the years, Rishikesh has become a melting pot of culture with people from all over the world coming to find spirituality, enjoy tranquility and seek adventure.
Best time to visit
We visited in mid-January and the weather was in the range of 10 degrees – 18 degrees Celsius. It was perfect – cool during early mornings and nights and pleasant during the day. However, if you are planning to do any water based activities, then it may be advisable to skip the winter months since the water can be freezing cold. Also, avoid peak summer since it can get very hot (more than 35 degrees C).
How many days to spend
Most people, who visit Rishikesh for yoga, tend to spend a week – 10 days and sometimes even longer. Since we were mainly looking for relaxation with a bit of exploration, we spent 2 nights here. We felt it was sufficient time to explore most of what this city had to offer.
How to get there
Rishikesh is located 21 km from Dehradun airport. Dehradun is well connected via flight from most Indian metro cities. If you are traveling from Delhi, you could drive to Rishikesh – 250 km taking around six-seven hours.
You could even reach Rishikesh via train – get down at Haridwar station, which is a 30 km drive from Rishikesh.
Where to Stay
Since it had been more than a year since we had traveled, we didn't mind splurging on this trip. We picked Taj Rishikesh, an upscale 5-star property, located on the banks of River Ganges. Surrounded by the majestic Himalayas, crystal clear river and lush greenery, Taj Rishikesh is a haven for nature lovers.
Taj Rishikesh is located around 52 kms from Dehradun airport. Even with the ongoing construction work on the road from the airport to the hotel, we managed to reach in 75-80 minutes. There are 80 rooms, each of them offering a private balcony and unspoiled views of the river and/ or mountains. However, monkeys roam around freely in the resort. Ensure that you lock the balcony while stepping out – otherwise they may raid your room and create quite a ruckus!
This hotel offers three dining options – Riverside, Rock Flour and Pebble Beach & Pizza Bar serving international, Indian, local cuisine and drinks. The views from Rock Flour (all day dining restaurant) are simply spectacular – starting the day with a cuppa chai overlooking the Ganges and the mountains was simply heavenly!
The best part about Taj Rishikesh is the private access to River Ganga – you walk along a beautiful manicured path, and then across some pebbles/ rocks to get to this river. There is even a beautiful white sand beach just steps away.  Although River Ganges in Varanasi is extremely dirty and polluted, the part of river flowing through Rishikesh is extremely clean. If you step in the town, you will see Hindus taking a dip in the river – it is said that a dip in this holy water washes away your sins.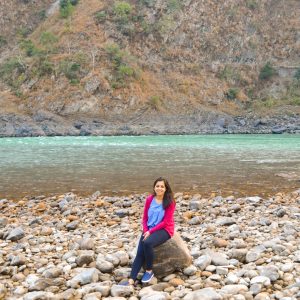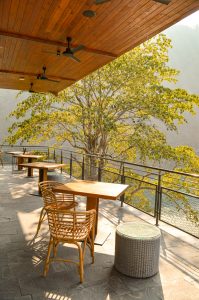 The hotel organizes complimentary meditation sessions (30 minutes) and yoga sessions (60 minutes) everyday. There is NO network in the hotel (except for Jio users) – you truly are immersed in the lap of nature. If you do need to stay connected though, free Wi-Fi is available.
Our stay here was truly memorable! Even with respect to COVID, the staff ensured basic social distancing was observed between guests. They even had masks handy at the buffet station so as to ensure guests had their masks on when they visited the buffet counter.
The only downside is that this hotel is an hour drive from main city center, hence, may not be ideal if your main purpose is to explore the city. But yes, if you are looking for peace and tranquillity, then Taj  is the place to be!
In addition to Taj, there are other luxury properties in Rishikesh in the similar price range :
If you are looking for a budget accommodation, then check out Aloha by Ganges.
Things to do/ see
Hiking Trails
During our stay at Taj Rishikesh, we signed up for a hike at Singthali forest, led by one of the nature experts at the hotel. The hike started on a stoned pathway, we then walked on a 90-year old cable-suspension bridge which took us to the opposite side of the river, through the Singthali forest. En route we encountered a cave, unique local plants and trees and a lovely beach. The reward at the end of the hike was a private sandbank – imagine a picnic here with bonfire! The sandbank was truly spectacular.
The overall hike took around 2 hours, with several pitstops including a small picnic at the sandbank. Even though we started the hike in the morning during winter, we were sweating as we were walking – hence, advisable to layer up. We paid INR 2,500 per person (plus taxes @ 18%) for this hike. If you are staying at Taj Rishikesh, then highly recommend this hike.
Yoga
Rishikesh is famous as the yoga capital of the world. People from all over the globe visit Rishikesh to learn yoga and meditation.
You will find several meditation centers and Yoga schools in the town. Hatha Yoga is the most popular yoga type in Rishikesh but you will also find centers offering different techniques such as Kundalini, Vinyasa and so on. If you are staying in Rishikesh main center, then you could either walk-in to join a yoga session or enroll in a week or month long yoga course.
We participated in a yoga and meditayion class held by Taj Rishikesh and it was a unique experience for sure.
Laxman and Ram Jhoola
Laxman Jhoola and Ram Jhoola are iconic suspension bridges in the city of Rishikesh. Both have become famous attractions of Rishikesh over the years and for a good reason – the view from the jhoolas (i.e. bridges) is spectacular! Specially as you are walking on Ram Jhoola, you will notice how clear the water is even from so many meters up! Laxman Jhoola is pedestrian only, whereas Ram Jhoola allows scooters and motorcyles in addition to pedestrians. Don't be surprised if you are greeted by monkeys on these bridges 😛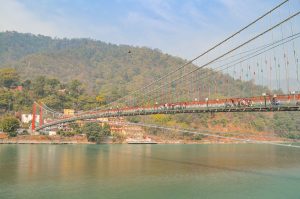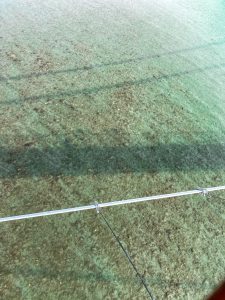 River Rafting and other Adventures
Rishikesh is a haven for adventure seekers. All over the town, you'll see shops advertising rafting, ziplining, bungee jumping, hiking and more.
The beautiful and ever-flowing River Ganges provides an excellent base for white water rafting. You could choose from different levels – based on the length of the river and rapids. We enquired at one center and they were fairly reasonable (INR 300 – INR 1200 per person depending on the difficulty level). As we were walking on Laxman Jhoola, we were approached by many people for rafting. Since we were visiting in winter, they weren't fully booked and were accepting walk-ins. However, if you are visiting from April – October, then advisable to pre-book. If you are keen on doing rafting in India, then this is the place to do it !
Due to COVID, we weren't comfortable sharing a raft with others. Also, we have tried our hand at white water rafting in Maine, USA and New Zealand and hence, chose to skip it here.
One other activity which is hugely popular here is bungee jumping. I have done it in New Zealand and literally had my heart out when I jumped off the bridge ! Don't think I can do it again.
Ganga Aarti
A notable sight to witness in Rishikesh is the Ganga Aarti held every evening. A spiritual offering is made to River Ganges since it is considered sacred by Hindus. Priests perform the ritual facing the river with lamps lit, chanting and praying to god.
Ganga aarti is held at a couple places in the town but the main aarti is held at Parmarth Niketan Ashram. This place is located near Ram Jhoola and just a 20-30 minute walk from the Laxman Jhoola Bridge. The aarti is also held at Laxman Jhoola and Triveni Ghat.
Typically a huge crowd gathers to witness this aarti and seek blessings. We did not want to take a chance with COVID and avoided going to the main city for aarti. Instead, we attended the aarti organized by Taj Rishikesh – it was truly divine to attend this aarti. There were barely 12-15 hotel guests attending this aarti and we all maintained social distancing norms.
Beatles Ashram
Rishikesh first came to the limelight when the Beatles came here in 1968. The location of this town, specially with the beautiful River Ganga with the backdrop of majestic mountains, provided the perfect set up for practicing Yoga and performing meditation. They stayed at Maharishi Mahesh Yogi's Ashram to study yoga, meditation and search for spirituality. This now abandoned place is taken over by the Government and reopened inside the Rajaji National Park. The place is a serene beauty with meditation caves, eye-catching graffiti's and paintings, a photo gallery and is surely a visual treat. There is an entry fee of INR 150 for Indians and INR 600 for foreigners.
We were getting late for our next destination and hence, had to skip this.
Shop from local markets
As you are walking towards Laxman Jhoola, you will stumble upon several shops selling local wares (bags, jewellery, clothes) and health and wellness products related like essential oils, natural beauty products. If you like to shop locally, put on your bargaining hats !
Visit Local Cafes 
Because Rishikesh has gained global popularity over the years, the cafe/ restaurant scene here is pretty good. From basic breakfast items to elaborate meals (including international cuisine), these cafes offer a great variety. During our time here, we ate some snacks at Ganga View Cafe, located near Laxman Jhoola. This cafe offers panoramic views of the hills, Laxman Jhoola and River Ganges. We also visited Honey Hut Cafe, located just a few steps before Laxman Jhoola. They have their own honey farms and not only do they sell pure honey, but also have a whole menu incorporating honey recipes! We picked up a honey banana chocolate smoothie which was delicious.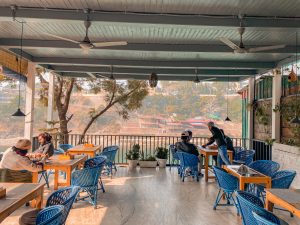 Since we had a limited time in the city, we couldn't explore many cafes/ restaurants. But if you do plan to go, look up these others too (have heard great reviews):
Little Buddha Cafe
Tat Cafe
Shambhala
Beatles Cafe
Secret Garden Cafe
Other Places to Visit
Since our trip was centered more towards relaxation, we didn't explore much. But if you do have additional time in hand, then couple other places/ activities that you can look into
Sunrise at Kunjapuri temple
If you have an adventurous streak and are happy to wake up early, then this is something you could look into. You need to get here in the middle of the night and after a bit of a hike, you are rewarded with not only the sunrise but a view of the Ganges and the Himalayan Peaks!
Neergarh Waterfall
Neergarh waterfall is located just a few kilometers from Laxman Jhoola. This waterfall is made up of several tiers as the flow cascades down the mountain slopes. There is a walking track to each tier and the hike is short and easy. Since we weren't comfortable visiting crowded places due to COVID, we skipped this one.
Rajaji National Park
This park is home to the tigers, exotic birds, leopards, elephants, bears, deer, chital, nilgai and a variety of ape species. If you are an avid bird watcher or a wildlife enthusiast, then add this one to your list.
General Pointers
We flew in and out of Dehradun. The flight took 2 hours and cost INR 10,000 per person.
In addition to Rishikesh, we also visited Mussoorie and Landour, hill-side towns (click on the respective links to read more)
We hired a car and driver to take us around the places and airport pick up and drop offs. We didn't feel the need to have a car with us during the entire duration of our stay. The cost varies depending on the duration as well as category of the car. We paid INR 11,000 for the entire trip for the basic car. But if you are looking to have the car with you the entire time, expect to pay around INR 22,000 – INR 30,000 for a week.
This holy city is vegetarian by law, and meat and alcohol are not legal here. However, we did get our fair share of alcohol at Taj Rishikesh.
* All prices are as of January 2021