After being cooped up in our homes for more than 10 months thanks to COVID pandemic, we finally decided to travel!  While half of India was vacationing in Maldives and Goa, we didn't want another vacation where all we had to do nothing or simply relax by the beach – haven't we had enough lazy days since March 2020? Instead, we wanted an adventure filled vacation. Also, with temperatures rarely going below 20 degrees C in Mumbai even in winter, we wanted to sneak away to a cooler place.
We started looking at options and settled on Mussoorie, located in the northern state of Uttarakhand in India. Situated at an elevation of 6,580 feet, Mussoorie offers panoramic views of the surrounding snowcapped Himalayan peaks. It is rightly nicknamed the Queen of Hills!
With lush green hills, spectacular views and pleasant weather, Mussoorie is one of the most frequently visited hill stations in India. The history of Mussoorie dates to early 1800s. Like most hill stations in India, Mussoorie was founded by the British. If you love nature, hikes and mountain views, then you will fall in love with Mussoorie in no time.
We also spent a few days in Rishikesh, another town located in the state of Uttarakhand, before visiting Musoorie. Rishikesh is located about 80 km from Mussoorie and is famously known as the Yoga Capital of the world. Click here to read more about our trip to Rishikesh.
Best time to Visit
Mussoorie retains a cool and pleasant climate throughout the year. If you visit during the months of January and February, you can expect snowfall. That was one of the reasons why we timed our trip in January – but sadly, it didn't snow the days we were here. During early mornings and late nights, the temperature was between 3 degrees – 5 degrees C and it was around 10-11 degrees C during the day.
If you are looking for pleasant weather, then you should visit during the months of April to June. Since most cities in India get incredibly hot in these summer months, everyone escapes to these hill stations located in Northern India. Be prepared to pay premium rates at hotels and bump into crowds this time of the year.
During the monsoon season (July – early September), there could be landslides and thus, some roads could be blocked. Autumn would be a great season to visit since it wouldn't be too cold and the town would be less crowded.
How many days to spend
We spent 4 nights in Mussoorie. During our stay, we went on a couple hikes in addition to exploring the town. We had enough to keep ourselves occupied here and could have easily extended by a day or two. Even if you are short on time, recommend spending at least 2-3 nights here.
How to Reach
Mussoorie is located about 60km from Dehradun airport, which is well connected via flight from most Indian metro cities. However, since it is located on a hill, the drive takes longer. Depending on where your hotel is located, expect to spend at least 2 hours from Dehradun airport. If you are traveling from Delhi, you could also drive to Mussoorie – 300km taking around 8-9 hours.
If you are traveling by train, you need to get down at Haridwar station, which is a 83 km drive from Mussoorie.
Where to Stay
Being a hill station, you can expect great views of the surroundings no matter where you choose to stay. The mall road and Library Bazaar are where most of the restaurants and shops are located. If you want quick and easy access to all the hotspots in Mussoorie, then base yourself along the mall road.
We stayed at JW Marriott, located 20 minutes from the mall road. We had looked up their website and they offered a bunch of hikes (more on that later), which is what lured us here! To be honest, I wanted to stay at least a night at the neighboring town of Landour, but given the packing and unpacking involved (since we were also staying a few nights at Rishikesh), we decided to spend all nights at JW Marriott and simply do a day trip to Landour. After having spent four nights here, I couldn't recommend this hotel more – Our stay was excellent and exceeded our expectations on all fronts. Right from the food, to the staff at restaurants to the activities, this place offers the best value for your buck.
JW Marriott has five restaurants serving Indian, Japanese, Thai and Italian delicacies. The breakfast buffet spread is insane – a variety of baked goods, eggs, hot beverages, fresh juices, fresh fruits, cereals, yoghurts and local delicacies, you really will fill yourself to the brim. We were so full after breakfast that we ended up skipping lunch most days. My favorite restaurant here though was Wisteria Deck, their Italian trattoria. It is an outdoor dining restaurant overlooking the lovely mountain range. Even though it was chilly on most evenings, we absolutely loved dining here. Highly recommend the risottos / rice bowls, wood fired pizzas and their sinfully delicious tiramisu. Even if you aren't staying at JW Marriott, you could stop by one of the evenings for a meal here. Since it is an outdoor restaurant, it may not be open all day during the winter months. Hence, advisable to check the timings before you make your way here. For instance, during the month of January, this restaurant was open only from 12 noon – 6 pm.
Also, you could enjoy a cup of tea, coffee or a hot chocolate with marsh mellows at Perch, which also offers a picturesque view of the Garhwal range. There is even a Greenhouse in the hotel, which serves healthy juices and light snacks.
JW Marriott also has an entertainment and kids centre where you can play table tennis, carrom, pool, video games and rides for children and even a bowling alley! I picked up a badminton racket after almost 20 years here and it seriously took me back in time. We literally spent one day here doing nothing but play table tennis and badminton. Every evening, the hotel organized a fun get together over special garhwal chai, corn on the cobb and dry snacks alongwith a live music session, followed by tambola.
The hotel also organizes special dining experiences for an extra charge – a meal overlooking the mountains accompanied by live music, a meal under the stars, breakfast by the lake (this was sadly shut due to winter), a special arrangement in the greenhouse, and so on. To be honest, with all the hiking and sight seeing, we didn't have time to try out any of of these dining experiences.
The staff took extra precautions due to COVID and ensured basic social distancing norms were followed by guests. They even had masks handy at the buffet station so as to ensure guests had their masks on when they visited the buffet counter. And at times, they reprimanded guests who were roaming around without masks.
The only downside is that this hotel is a quite a drive from Mussoorie main town. Also, there aren't much dining options outside this property – so you will need a car every time you want to step out. Since most of the drivers are based out of Dehradun, even if you need the car for just a few hours, you will end up paying at least INR 2,000.
If you are planning to stay in the heart of Mussoorie, then check out ITC Welcom Savoy. It is a historic hotel, built in the style of English Gothic architecture. Although located on the busy mall road, it is perched high on a hill, away from the crowded road.
Another option in Mussoorie is Mosaic Hotel, located at the other end of mall road. If you are looking for a unique accommodation, check out Rockvilla located near Jabarkhet National Park.
Things to do/ see
Hiking Trails
Mussoorie being a hill station, offers plenty of hiking options. You can choose from short walks to one-day treks to multi-day overnight treks. As some of you may know, we were infected with COVID in late November. We did not want to sign up for something very strenuous or extreme and wanted the flexibility to opt out if we weren't feeling too well. Hence, we decided to go for the hikes conducted by our hotel, JW Marrriott.
If you are looking for treks lasting more than a day, then advisable to sign up with a trekking company.
If you were to ask me about the highlight of our trip it would undoubtedly be the hikes arranged by the hotel! During our stay, we signed up for two hikes. The first one was a short hike (about 30 minutes one way) to a pine tree forest. We spoke to the guide and explained our COVID situation – he advised us to sign up for this short hike and if we felt better, then we could hike all the way to the top of the hill, Dalai Hill.
We started the hike from the hotel itself. At first, it was a narrow trail – we even bumped into village dwellers going on with their daily chores. After walking for 30-40 minutes, we reached our first pit stop – a lovely pine tree forest. Living in a city like Mumbai, this spot truly left me speechless. I literally danced around these trees soaking every minute here.
Since we were feeling comfortable till this point, we decided to extend the hike up to Dalai Hills. From here on, it took us another 40 minutes to get to the top of the hill.
As we reached the top, the views left us speechless. This place was decorated with the Buddhist Prayer Flags all over and even had a statue of Lord Buddha in gold. On a clear day, you can see snow capped mountains! There were barely 6-7 people here apart from the two of us. It truly was a divine feeling.
Mussoorie occupies a special place in Tibetan history as it was the first home of the Tibetan spiritual leader Dalai Lama in India after his escape from Tibet. After spending a year in Mussoorie, he moved to Dharamshala in Himachal Pradesh. The first Tibetan school was established in Mussoorie in 1960. Today, some 5,000 Tibetans live in Mussoorie.
We then started our descent back to the hotel. We stumbled upon a lovely Tibetan temple, Shedup Choephelling. However, this was shut due to COVID. We continued our descent and stopped by the pine forest once again to indulge in hot maggi. Doesn't Maggi in the mountains taste different 😊
Even if you aren't staying at JW Marriott, you could do this hike – the route, of course would be different since you won't be starting your hike from the hotel.
One of the other experiences we signed up for was a hike in a wildlife sanctuary followed by a picnic. When we first heard of this, we assumed this would be similar to the picnic we had at the pine forest. We were thinking of skipping this, but after endless discussions with the nature expert, we decided to try it out. We figured, even if it is the same, we don't get the opportunity to spend time in the nature back home, so there wouldn't really be any downside! And oh boy, we were so glad we signed up for this.
Benog Wildlife Sanctuary is home to several exotic birds and animals and is a part of Rajaji National Park. It is home to a variety of animals like Himalayan jackal, panther, leopard, deer, fox, porcupine, bear, etc. The sight of several indigenous and exotic birds, including great hill barbet, gray treepie, gray hooded warbler make this place a paradise for birdwatchers.
In addition to a large number of fir and pine trees, this sanctuary is populated with several medicinal plants. Also, there is a natural stream here. Right from when we started the hike till the end, we were walking by a stream of water. Hiking in the dense forest while listening to the sound of water flowing and the birds chirping was truly therapeutic. The peace and tranquility it offered was unlike any other experience ! And the best part – we were the only ones on this hike that day – can you imagine having the whole forest to yourself ?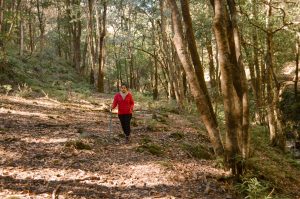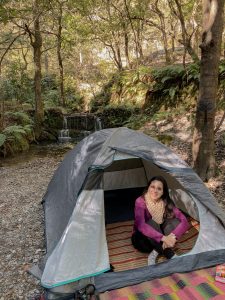 During our hike, we spotted a few langurs, woodpeckers, whistling thrush. Since this sanctuary is home to several wild animals, a guide/ nature expert is mandatory here.
Even if you aren't staying at JW Marriott, this hike is something that you could do on your own. It is located about 20 minutes' drive from Mussoorie's mall road. Once you reach the entrance, they would assign you a guide.
If you are looking for easy-moderate hikes, one other place that you could check out is Jabarkhet Nature Reserve, located near Landour. I hear it looks really beautiful in summer when rhododendrons are in full bloom.
Visit the main sights in Mussoorie
The mall road is where all the action lies in Mussoorie. Dotted with cafes, restaurants, hotels and roadside stalls – this area is buzzing with people and activity all day! The only other hill station I have been to in Northern India is Shimla, and the one is Mussoorie is pretty much similar.
As you are walking, be sure to step out on the look out areas and be mesmerized by the views – I have a special place in my heart for winding roads, and needless to say,  the views were truly breathtaking! We stopped by a café for a cuppa coffee and enjoyed fresh fruits from a roadside stall.
However, I won't lie – I was a bit underwhelmed by Mussoorie. It felt very commercialized and hence, we decided to head straight to Landour, located about 300 m away from Mussoorie.
Because of its easy access, lots of people flock to Mussoorie – leading to heavy tourist traffic, noisy roads, hoardes of shops. We didn't really spend much time here except the mall road. But if you are looking to spend more time here then here is the list of places to visit/ things to do:
Visit Kempty falls (situated about 15 kms from mall road)
For scenic views, head over to George Everest peak – cars aren't allowed beyond a point and you need to hike 1-2 kms to get to the top. But the views apparently are spectacular. We were informed by our driver that the road leading to the peak was under construction and hence, had to skip it.
If you are looking for more picturesque views then head over to Gun Hill, located at 400 ft above the mall road and accessible by a cable car as well.
If you enjoy walking, then make your way to Camel Back road. It is a beautiful and peaceful walk in the nature. This 3 km long road is named as Camel Back road due to the presence of natural layout of rocks shaped like a camel's hump at the end of road.
There is no dearth of beautiful cafes and restaurants here. We only tried the Clock Tower Café which was decent (nothing to rave about) – the views were really nice though. Couple others I had on my list:
Lovely Omelette
Little Llama Cafe
Spend a day at Landour
Ahh Landour you beauty ! One of the other reasons I preferred Landour over Mussoorie was because Landour was much compact and devoid of tourists. During our entire time here, there were barely 50-60 people in this entire town. Also, unlike Mussoorie, Landoour has retained its old world charm. I will let the pictures do the talking but if you want a detailed guide, then click here.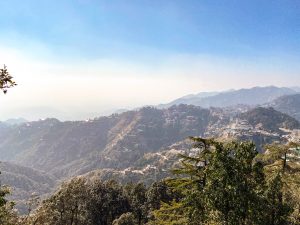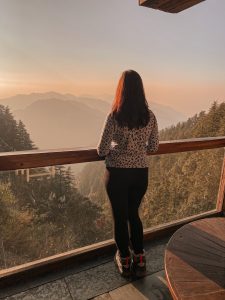 Both Mussoorie and Landour are surrounded by lush green trees and winding streets, offering ample opportunities for quiet walks.
General Pointers
We flew in and out of Dehradun. The flight was around 2 hours and cost INR 10,000 per person.
In addition to Mussoorie, we also visited Rishikesh – click here for a detailed blog
We hired a car and driver to take us around the places and airport pick up and drop offs. We didn't feel the need to have a car with us during the entire duration of our stay. The cost varies depending on the duration as well as category of the car. We paid INR 11,000 for the entire trip for the basic car. But if you are looking to have the car with you the entire time, expect to pay around INR 22,000 – INR 30,000 for a week.
*Prices are of as January 2021