With breathtaking landscape, azure blue water and charming little towns, Lake Como is a favorite destination of many A list Hollywood Stars.
The moment we started planning our trip, I knew I had to visit this part of Italy. Having spent 2 weeks in Italy, I would recommend that even if you have fewer days in hand, skip one of the big cities and do this region instead. This region is so charming and different from the rest of Italy that you will be glad you visited. Oh and if you are lucky, you may just bump into George Clooney at dinner!
For a general overview of our two week itinerary please click here
Where to stay
Lake Como is dotted with small towns that sit right at the base of the mountains on the lake.You could set up base in one of the towns in the lake region and make day trips to the other towns. Most towns are easily reachable by car/  ferry. In terms of distance, the towns are not that far, however, the roads are two lane roads and relatively narrow, so it may take longer if you decide to drive.
We set up base in Tavernola, a small lake town about 20 minutes from Como and made day trips to Lenno, Menaggio, Tremezzo, Bellagio, Varenna and Como.
Day 1
We landed in Milan early morning and after picking up our rental car, started our roadtrip.  We had initially planned on spending a couple hours in Lugano – a small city on the Italian Swiss border. However, we decided to skip this and instead explore other towns in Lake Como region. If you do plan to visit Lugano, note that is about 40-50 minutes from Milan's Malpensa airport. If you want a taste of Switzerland during your Italian sojourn, it is easily doable from Milan. But bear in mind that you need to pay Swiss Francs 40 to be able to drive on Swiss highways. Also, note that this toll remains valid for an entire year.
After settling in our apt, we left for Villa Balbianello in Lenno. There are several villas in the lake region – Villa Balbianello, Villa Carlotta in Tremezzo, Villa Monastero in Vernazza, but if you have to see one, Villa Balbianello should be top most on your list. It is a grand property with a stunning backdrop. In fact, a few scenes from Star Wars Episode II and the 2006 James Bond Casino Royale were shot were. Note that the villa is closed twice a week, so check here before you plan your visit.
If you are coming via car, note that there is no parking at the villa itself but you need to park in a public parking lot. Once you have parked, you have two options – either take a boat to reach the villa (it costs € 5 for one way and € 7 for a return ticket) or walk through a scenic path for 20-30 minutes. We chose to walk to the villa – it was an easy walk but had a bit of an uphill climb. The entry to the garden is € 10 per person and if you want to see the garden and the villa it will cost you € 20 per person. We opted for just the garden tour and it was worth every penny. It is not a guided tour and you can stroll and wander around for as long as you like. With the wisterias in full bloom, the villa looked even more stunning.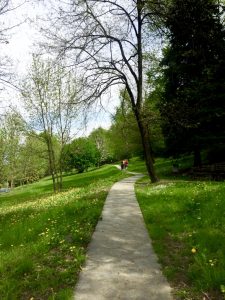 After exploring the villa, we wandered around the town of Lenno. It was not a very big town but had a few restaurants overlooking the lake. We grabbed a light lunch and headed to La Fabbrica del Gelato – if you are in the region, you MUST visit this gelateria. Their gelatos are rich, creamy and absolutely delicious!
We then made our way to Menaggio – another lakeside town. It was definitely a lot bigger than Lenno. We walked by the main town square, stopping by the quaint little shops and cafes and sat by the benches admiring the views.

On our way back, we stopped by Tremezzo, where Villa Carlotta is located. We wanted to visit this one as well but as we were approaching the closing time, we simply admired this from outside. Later, we stopped by Grand Hotel Tremezzo for drinks. This is a stunning property with magnificent views of the lake. And just look at that pool! Of course this place isn't cheap by any means – we definitely couldn't afford to stay, but stopped by for drinks.
Day 2
If I could go back in time and relive one day, this would be it! We drove from Tavernola and it took us an hour to get to Bellagio – if you decide to take the ferry, the slower ferry takes approximately 2 hours and the faster one (available from Como) takes an hour. While distance-wise, Bellagio is not very far from Como, but since the roads are narrow, it takes longer to reach by road (and not to mention, I stopped every few miles to take in the views). There is paid parking (€ 1.5 per hour) available at the beginning of the town or if you are lucky, you can find free parking as well.
We spent hours walking through the cobblestone streets, quaint little balconies and beautiful lanterns and soaked in every bit of this charming lake town. You can sit on one of the benches, grab a gelato in hand and enjoy the views of the lake. If you zoom in your cameras, you can see the towns of Menaggio and Tremezzo on the opposite side of the lake.
There are ferry services from Bellagio to all three corners of the lake – Tremezzo, Menaggio and Varenna, allowing tourists to visit a variety of little towns, or simply to cruise along the lake enjoying the dramatic views.
In Bellagio, you could also visit Gardens Melzi (entry is about € 6.50 per person) or do a kayaking tour around the lake. Bellagio is definitely on most people's list when they visit Como lake region, so this town is going to be more crowded than others. But 30 minutes into the city and you will see why this town is a must visit.
There are many delicious restaurants to choose from situated right on the lake serving traditional Italian cuisine. We decided to have lunch at Ristorante Bilacus – the restaurant is divided in two areas – the dining room and terrace. We sat on the terrace, which overlooked the picteresque Salita Serbelloni street.
After wandering around Bellagio for 4-5 hours, we took the ferry to Varenna. The return ferry tickets cost us approximately € 18.50 for two adults and it took only 20 minutes each way.
The views from the ferry as you approach Varenna are stunning. Varenna is adorned with colorful buildings, which look even more beautiful as you are cruising along the lake.
We had limited time so we preferred to walk around the town rather than do touristy things. But if you have additional time on hand, there are several things to do like Villa Monastero, gardens of Villa Cipresi, boat tours, etc. For those who are a bit more adventurous, you can visit Castle di Vezio. The castle can be reached by climbing to the very top of the mountain which will take you about 45 minutes from the base of town.
You can head towards the lake and walk along the narrow streets branching off from Piazza San Giorgio. Be careful when walking since most of the streets are cobblestone streets and some alleys are quite steep. Walk along the colorful houses and get to Riva Grande, the lake promenade of Varenna. Do not forget to pick up a gelato or two at La Passerella or Gelateria Riva di Riva Duilio.
Day 3
This day was reserved for Como – it was the largest and busiest of all the towns. We did not do much but strolled around the main center, then by the lake and the gardens. Alternatively, you could also visit Furnicolare Como-Brunate from where you can see the entire Como region from the top. It takes a short 15 minute train ride to the top of the hill. There you will have a great view of the town of Como and its lake and you can walk along the paths to the churches, fountains and lighthouses.
Overall, we were a bit underwhelmed by this town and preferred the smaller towns of Bellagio, Varenna and Menaggio.
*All prices are as of April 2017