Have you never heard of this town? Oh well, I had not either until one day, I stumbled upon pictures of this fairytale town while browsing through Instagram.
Full of traditional half timbered houses, cobblestone streets and picturesque bridges, I knew I had to see it for myself whenever I visited Germany.
Monschau is located in western Germany, near the Belgian border. When we realized we had a few additional days in hand on our Belgium-Netherlands trip, it was the perfect opportunity to cross this one off my list! Monschau is located within the Eifel Nature Park and makes for a perfect day trip from Belgium, the Netherlands or Germany. We visited Monschau as part of our 2 week long road trip to Germany, Belgium and Netherlands – you can read more about our itinerary here.
Monschau is one of Germany's most fairytale like town and definitely one of its best kept secrets. Not many people know about this village except for Germans and locals from neighbouring countries of Belgium and Netherlands.
If you love hiking, then you need to add this part of Germany to your list. Eiffel National Park has numerous trails ranging from easy to difficult. You can easily discover Monschau in a day but if you enjoy hiking, then a overnight stay combined with hiking is recommended.
Where to Stay
We decided to stay in Simmerath, another German town located about 15 minutes from Monschau. We chose the lovely Kragemann Hotel and Vinothek since parking and breakfast was included in the room rate. They even had a vinothek – since we arrived late in the day, we couldn't explore the restaurant/ vinothek but it looked lovely. The room was cozy and comfortable. Highly recommend!
If you are looking to stay in Monschau, Hotel Horchem is a lovely hotel right in the center of town.
How to get there
This part of Germany isn't well connected in terms of trains. Also, buses are limited and the connectivity isn't the best! Hence, it is advisable to rent a car if you are keen to explore this region.
The main town is entirely pedestrian zone so you need to park your car outside the city. There are public garages available where you can park your car for about Euros 7 a day. We were lucky to find free parking right outside the city. From there, it was a 20-minute steep walk to the city. As we were approaching the town on foot, we got a lovely panaromic view of the city.
I have read that if you are staying in the town overnight or for a few days, a parking permit can be obtained from your hotel or Monschau Tourism Bureau for €3 per night, so you may want to check that out.
Things to Do
Monschau has been rightly described as the 'Pearl of the Eifel'. It is a very charming and picturesque village with preserved half-timber houses in the Eifel mountains on the Rur River Valley. Monschau is also famous for its Christmas markets, but of course, since we visited in May, no Christmas markets for us.
What is interesting is that this town has remained unchanged for over 300 years. The minute we stepped foot in this lovely town, we felt like we were in a fairytale. We reached Monschau around 9 am and had the town to ourselves for almost an hour! One of the best things to do in Monschau is to simply wander around the town and its little alleys. There are a few churches and museums you can visit to learn more about the town's history.  The main centre of the town is very compact and can easily be seen within an hour.
There aren't many things to do in Monschau, after all it is a small town – no need to grab a map here as its unlikely you will get lost 🙂 The most scenic part of the town are the half-timbered houses which line the Rur River. One after the other, these houses enhance the beauty of the town.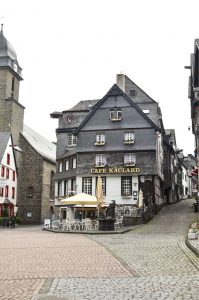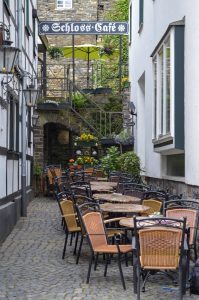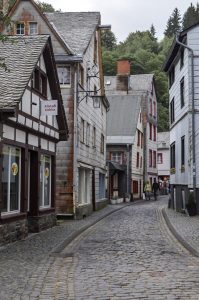 Near the main market area you will find some cute shops to peek into, and a bunch of cafes and restaurants. Grab a seat, enjoy a beer or coffee and just admire the beauty that surrounds you!
One of the famous houses is the Rotes Haus or the Red House, which was once both a residential home and a manufacturing office for cloth. The house is open to the public for 3€ per adult but is only partially open for tourists.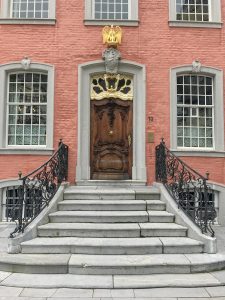 The specialty of Monschau is mustard. There is a historic mustard mill about 20 minute walk from the town. There is another one in Cochem near Moselle valley which we had planned to visit so skipped this one.
Another famous landmark is the Monschau Castle situated in the old town of Monschau, up in the hilltops. It is now a popular place for summer concerts and operas. Since World War I, the castle has also served as a Youth Hostel.
Monschau is one of the most charming and fairytale like town that I have visited. It is the perfect place for a day trip and should not be missed when you are in the area. If you have more time, you can also visit the neighboring town of Aachen, located about 30 minutes from Monschau.
We were keen on doing at least one hike in the Eifel region and headed to the visitor center to seek more information. We decided to take the Romantic Rur Valley Trail number 55, around 8 km roundtrip. On this trail, as you cross the Rur river, a beautiful path leads you upwards, into the unspoilt hillside forest until you reach the source of the Hasselbach stream, a spring in the midst of fertile meadows. In summer, the trail is bursting with colour thanks to the flowers. It was the perfect way to start our two week long Euro trip!
*All prices are as of June 2019