Firstly, lets learn to pronounce this place right – "Cinque" is pronounced as CHEEN'kweh. "Terre" is easy, it is pronounced as TEHR'reh.
Most people think that Cinque Terre is one place – in fact, Cinque Terre literally means "five lands," referring to the five beautiful villages of Riomaggiore, Manarola, Corniglia, Vernazza and Monterosso al Mare. Each of these villages are located at a distance of about 5-7 minutes by train but if you plan to hike, getting from one place to another could easily take 1-3 hours.
For a general overview of our two week itinerary please click here
Where to stay
One way to experience this region would be to divide your stay between the villages. Personally, I would not recommend this since imagine yourself dragging suitcases from the train station (note that to get from the town to the train station itself involves a good amount of walk) to the hotels. It's a total pain in the ass. Instead, set up base in one of the towns and you can do day trips to the other towns.
If you want that postcard pretty view, then Manarola, Riomaggiore and Vernazza are the best options. If you want to stay somewhere with a beach and in a bigger town, then Monterosso will be the best one for you. Corniglia is very pretty as well but note that getting to the town itself requires you to take a little hike of 365 steps upon exiting the train station (more on that later).
You could also set up base in other neighboring towns such as La Spezia or Portovenere and make day trips to Cinque terre villages. If you have a car, definitely suggest finding accomodation in La Spezia since some of the Cinque Terre towns are not accessible by car.
How many days required
In terms of how many days you need to set aside, it completely depends on you. If you are planning to hike between the villages, ideally you should spend 2 nights or even more. If you cram it all up and end up seeing everything in a day, you will end up being overwhelmed and not truly do justice to either town. In addition to the five towns, you could also visit the other neighboring towns of Portofino, Genoa, Portovenere or Lerici, which completely reflect the Ligurian culture and are postcard perfect towns.
How to get around
Train is the most convenient option . There are almost 2-3 trains each hour; of course the frequency is slightly less early in the morning or later in the night. Do check up the train schedule in advance. You could either take one day or two days train ticket – if you plan on visiting 2 or more towns, the full day ticket turns out to be a cheaper option. For instance, the one-day train ticket costs € 7.50 whereas a one-way train ticket costs € 4. Note that you need to validate the ticket in the machine at the station before getting on the train. The card is then valid until midnight of that day.
If you plan to hike between the villages, you also need to buy a hiking card. There are guards at the start of each hike who check whether or not you have one. Similar to the train tickets, the hiking cards also depend on a one-time vs. full day hiking card. We ended up paying € 16 per person for a full day train and hike pass. For the latest prices, refer to this link:
http://www.cinqueterre.eu.com/en/cinque-terre-card
You could also take a boat to get from one town to another (except Corniglia). The boats run less frequently and are slightly more expensive, but you can take it at least once, as the view from the sea gives you the possibility to appreciate the colorful buildings against the backdrop of hills.
Our itinerary
We set up base at La Spezia and ended up doing day trips to Cinque terre towns. When we reached La Spezia and checked on the weather forecast, it showed that it was supposed to rain on one day and clear skies on the other. So we decided to maximize the day when it was supposed to be sunny.
We reached the train station at around 9 am for a 9.25 am train and there was a huge queue to get to the ticket counter and the information desk. The next train was at 10 am; so leave a few minutes early so you can get there in time. Once you reach the station, go to the information desk and figure out the logistics since there could be a few trails that may be closed / under maintenance.
Ideally, you should start from Riomaggiore and then make your way to Monterosso – the paths are easier and paved, and you work your way up to the more challenging trails. That way, you can stop at any time… and head to the nearest train station if you have to!
Riomaggiore and Manarola trails were closed during our visit and hence, we decided to start our hike from Corniglia. Corniglia is the only village in Cinque terre, which is not reachable by boat. Since it is not as easy to reach Corniglia compared to the other towns, there are fewer tourists. So if you are visiting in the peak of summer and need to get away to a quieter town, Corniglia should be ideal! But bear in mind that it takes 365 steps (yes, you read it right) to get from the train station to the town – it just gives you another reason to treat yourself to double scoop gelato or an extra cheese pizza once you are in the town. Also, these steps are not even considered a part of the hike!
Once we reached Corniglia, we explored Corniglia for a bit and started our first hike. Corniglia to Vernazza trail climbs up to the highest point of the Cinque Terre (and back down) so expect a fair amount of climbing and descending. There is one rest area during the hike where you can use the washroom and grab a few snacks. Overall, the hike was not tough; there were a few uphill climbs but it was mostly at the beginning of the hike, so do not get discouraged. Plus, you get stunning views of Corniglia, Manarola and Vernazza during the hike.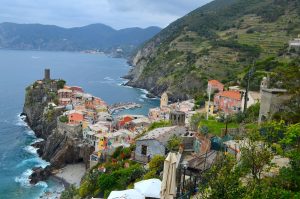 Overall, it took us about 1.5 hours including a few pit stops in between. With the cool April breeze, the hike was manageable but yes, it can be terrible it must be in the peak of summer.
Once you reach Vernazza, its time to reward yourself with a wholesome meal. Vernazza is a one street town filled with countless shops and restaurants. When in Cinque terre, do not forget to try the pesto – in fact, pesto orginated in this region. For those who want to stick to salads and sandwiches, the Lunch Box is a great option – they have a range of juices, salads and mouthwatering sandwiches. Once you are done with lunch, reward yourself with a gelato at Gelateria Vernazza or simply fuel up for your next hike. Spend a couple hours at the waterfront piazza, strolling by the shops and soak in the picturesque town.
The below shot is what you see on the cover of countless European guidebooks and is considered the face of Cinque Terre. Note that to see this view you need to do a little bit of hiking (about 15-20 minutes) since this view can be seen from the Vernazza – Monterroso trail. Even if you are not planning to do the entire hike, at least walk for a few minutes to get this view.
We then started the hike to Monterosso. While one may think that the hike from Vernazza-Monterosso or Monterosso-Vernazza should all be the same, we would strongly suggest starting the hike from Vernazza. This is because from Monterosso, to get to the hiking trail, you have to pass through narrow passages and endless stairs. You do not want to tire yourself at the beginning of the hike itself. Even as you begin the trail from Vernazza, there are numerous stairs that get you to the top and it can get tiring, but trust me, it is much easier than the other way around. Some of the passages are really narrow. There are a couple rest areas where you can rest up and recharge yourself. This is undoubtedly the most difficult hike but it also has the most rewarding views. If you haven't had a proper meal before starting the hike, please keep a few snacks handy – they will be very useful. Overall, the hike took us about 1 hour and 45 minutes.
Once you get to Monterosso, you will notice that it definitely is the biggest town of the five. The town is differently structured compared to other towns and it is made up of an old town, a new town, two beaches, some larger hotels and a long seaside promenade.
The water was slightly cold and all we could do was dip our feet into the water for a few minutes, but there were a few brave souls who were busy swimming. Then again, after all the climbing up and down and dollops of sweat, a beach is the perfect excuse to slip into your swimsuit and dip in the sea.
Before leaving Cinque Terre, do not forget to buy pesto. Small jars of pesto are sold in the local grocery stores and gift shops. One other speciality of the Ligurian region is Farinata, a flatbread snack sold at pizza and focaccia places, is made from chickpea meal, water, oil, and pepper and baked on a copper tray in a wood-burning stove.
Having done two hikes, our legs were a bit wobbly by the end of the day, but the views along the trails were so stunning that we almost forgot the pain in our legs. Even if you do not consider yourself to be very fit, try one of the hikes at least. You tend to appreciate the beauty of such regions more once you have hiked.
After we were done strolling around the town, we left for La Spezia. We were too tired to visit Riommaggiore and Manarola and crossed our fingers for no rain day the next day.
However, the rain god did not answer our prayers and the next day turned out to be a rain day. We were bummed about missing Riomaggiore and Manarola but it clearly did not make sense to venture out in the heavy rains. Instead, we started checking the weather in neighboring towns and since the weather was better in Pisa, so we ended up going there (read more our Pisa here).
On our way back from Pisa, we stopped by Lerici, another small town off the Ligurian coast based on our b&b host's recommendation. Lerici has every trademark of the Ligurian culture – bright colored buildings, main piazza, narrow alleys and a promenade along the coast. It was in fact much bigger than some of the smaller towns of Cinque terre and we were so glad we visited this. Since it is not as famous as the other Cinque terre towns, there were more locals and fewer tourists.
You can get to Lerici by car and there is a big parking lot outside the town. Otherwise, you can take the train/ bus.
Some key tips:
If you plan to do even one hike – dress accordingly. Needless to say, wear appropriate shoes. Comfortable sneakers should suffice.

Hydration is essential. If you go in the summer it will almost certainly be very hot. 

The trails can get exhausting at times, so carry basic snacks.

Wear layers of clothing, especially in the fall and winter. And in the spring and summer, do not forget sunscreen, hats, and sunglasses.

If you go in the summer, try to head out as early as possible to avoid the sweltering midday heat and the pack of tourists.

Good to carry some snacks with you in case you get hungry on the trails.

Avoid driving in Cinque Terre. If you are roadtripping through Italy, preferably stay in one of the bigger towns like La Spezia/ Portovenere since it may be easier to find parking there. Plus, for travelling in and out of the towns, trains are the most convenient option.

Finally you absolutely cannot forget your bathing suit and your camera.
*All prices mentioned are as of April 2017.