Rolling hills, cypress trees lined pathways, wine, wine and more wine – these are some of the things that come to mind when you think about Tuscany, right?
Tuscany has been my dream destination for years! So when we first started planning our trip, we knew that we had to set aside a few days for Tuscany. Even if it meant eliminating a few cities/ compromising the number of days in few cities. 
You will find several tour companies on the web, which provide a day tour from Florence to Tuscany. These tours typically combine a visit to vineyard, along with cheese tasting in one of the Tuscan towns. While it is convenient, I recommend visiting this region on your own. That way you can plan your day the way you want, without having to comply with the tour timings and activities.
With public transport being somewhat absent in this part of the country, it is advisable to rent a car at least for this leg of your trip. A car gives you flexibility to explore the smaller towns at your own pace.
For a general overview of our two week itinerary please click here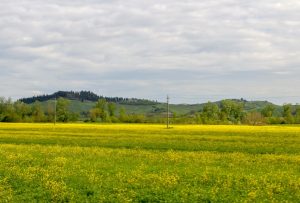 Where to stay
You could set up base in Florence and make day trips to Tuscan towns. However, some of the towns end up being a longer drive from Florence and hence, you would spend way too much time traveling back and forth.
Hence, it is advisable to stay in one of the Tuscan towns. Some of the popular towns here are Siena, San Gimignano, Montepulciano, Montichellio, Pienza, San Quirico D'Orcia and Montalcino. Depending on the towns you wish to visit in this region, base yourself in a destination which is within an easy driving distance. 
90% of the pictures that you see of Tuscany are of this Val d'orcia region, which is the most beautiful part of Tuscany. Gentle hills, dotted with dark cypresses, and yellow sunflowers make this region the perfect postcard.
Now if you really want to get a taste of the countryside, you should stay in an agriturismo. Err, what, exactly, is an agriturismo? Well, it is a "farm-stay." But it's also much, much more … and the best way to experience Italy's countryside! In most agriturismos, breakfast is included and you can choose to dine there as well for lunch/ dinner (on payment of a fixed amount or a la carte). And most of the produce is fresh off the farm, so you definitely cannot go wrong. It also gives you a chance to interact with your hosts and get a peek into their daily lives.
We ended up staying in a b&b at Montichellio, a tiny medieval hilltop village set in the heart of the Val d'Orcia. It was similar to an agriturismo and had one of the best views overlooking the valley. Also, the town of Montichellio is literally out of a postcard! It probably has just a handful of residents and is truly untouched. As you are walking by, you will feel like you have stepped back in time. Oh, and not to mention, this town has the best restaurant in all of Tuscany (more on that later).
https://www.ristorantedaria.it/en/apartment-il-torrino/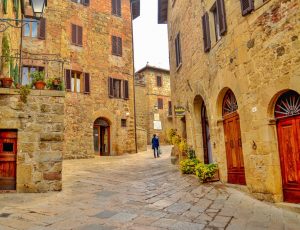 How many days required
Most tourists we encountered during our stay were visiting for 5-7 days. While a longer stay is ideal, for those who wish to spend shorter time, a 3-4 day stay is perfect to explore the winding roads and hilltop towns of Tuscany.
What to do
Wine tasting in Tuscany is obligatory – after all, this is the primary reason why you have chosen to visit this region. However, the difficult part will be deciding where and which one! If you have spent even 10 minutes "researching" on the web, you will notice that there are countless options. In addition, you will find wine shops in each town that also offer wine tasting.
After endless research, we decided to do wine tasting in the beautiful Chianti region. It is nestled between Florence and Siena and world famous for its red wine. Driving along this region you get to see vineyard-covered hills with olive groves, each offering a panoramic view of the wine region.
We picked Fattoria Viticcio for wine tour and tasting for its stunning views. In Tuscany, the Sangiovese grape is king. If you're drinking Chianti, Sangiovese is the majority grape in that bottle. Most wineries in Tuscany conduct wine tours and tastings twice a day – so check with your winery and make reservations in advance.
The tour at Fattoria Viticcio was very informative and lasted approximately 2 hours. We tasted about 4 wines – three Chianti Classico wines and one Supertuscan, all of which were excellent. Since we had started the day early (visit to Bardini Gardens in Florence), after the wine tasting, we made our way to our bnb at Montichellio.
The next day we left for Siena, the biggest and one of the most popular city in the Tuscan region. We parked our car (we found free parking-yay!) and headed straight to the heart of the city. We walked by narrow streets and alleys to the beautiful Piazza del Campo. You can decide to start your day in Siena right here or instead, head towards the Duomo and return to Piazza del Campo later. The main attractions of the city are located between Piazza del Campo and the Cathedral, so you are likely spend most of your time here anyway.
Stroll through the streets of the city, browse the shops, wander through the colorful facades, pick up gelatos and get a sense of what daily life is in Siena. As you are walking by the bakeries, stop by to try the traditional desserts – Panforte (fruit cake with nuts and spices) and ricciarelli (almond cookies).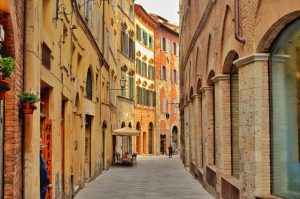 On our way back to our apt in Montichellio, we stopped by a small town called Buonconvento. It was raining so could not wander around much, but it was such a cutesy town. You can visit the whole town in less than 45 minutes. It is different compared to the other Tuscan towns in the sense that it is not located atop a hill. Since it is a smaller town, it does not feature on every tourist's list and you will bump into more locals here.
Before calling it a day, we drove by San d'quirico, which again offers countless opportunities for postcard perfect views of Val d'orcia region.
The next day, we decided to visit Pienza and Montepulciano. Now Montepulciano, is known worldwide for its Brunello di Montalcino and Vino Nobile de Montepulciano wines, making wine tasting a MUST activity here. We did not know what to expect from Pienza, but we were so glad we went there. Pienza is the city of cheese! The Pecorino of Pienza is a tasty cheese made from sheep's milk. The town's streets are full of small charming shops selling various types of pecorino, from fresh to aged pecorico. Best thing is that they let you taste for free – it can go from a delicate flavor to a decisive one based on how aged it is. Stroll by these shops, try Pecorino cheese at the local shops; and you can even buy some for family/ friends. Once are done wandering the city, stop for a few photos along the Belvedere lookout point overlooking the valley. The views here are nothing short of spectacular!!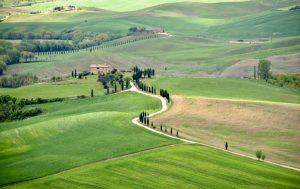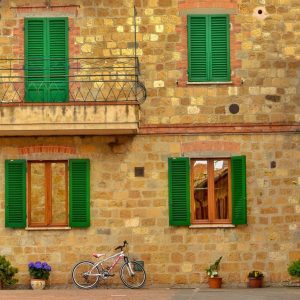 Coming back to wine tasting, since we had done a detailed tour at Chianti, we were not keen on visiting another winery. Instead, we choose to do wine tasting at one of the wine shops. While we were wandering around the medieval streets of Montepulciano, we stumbled upon a few wine shops which had full blown wine cellars built underneath. We ended up visiting Cantina de'ricci and Fattoria Talosa wineries. Now from the outside, these wineries look like typical wine stores – but once you enter and get down a couple stairs, you will be amazed at how huge these cellars are. You will find a maze of stone corridors lined with oak barrels. Once you are done exploring the cellars, you get to taste the wines for measly € 3 at Cantina de'ricci and absolutely free (yes, you read it right) at Fattoria Talosa.
Other suggestions
For a true Tuscan meal, ask any local and 90% of them will recommend Osteria La Porta. This little gem is tucked away in Montichellio. This place tends to get busy (for obvious reasons) so be sure to make reservations. In the warmer weather, you can choose to sit on the terrace and enjoy your meal staring at this view. The hostess, Daria, knows her food and wine well, so ask her for a few recommendations and be bowled over by the sumptuous food and wine.
If you love truffle, you have come to the right place. You can get a truffle tagliatelle with truffle sauce on which they will grate even more fresh truffle. We loved La Porta so much that we ended up going there 2 nights. Easy decision for us since we were also staying here 🙂
We also visited Podere il casale one of the days. Here, you will be served dishes created with fresh produce coming from the farmhouse itself. As you enter, you will be greeted with peacocks, followed by the farm's cats and dogs. You could also take a cooking class and learn how to make pizzas, pasta from scratch. It is a unique experience and must try if you have additional time on hand. They also offer behind-the-scenes look at the fine art of cheese making. Or you could simply opt for cheese tasting. 
Podere il casale offers one of the best views of Pienza, so do not forget to stop by for picturesque views. Even if you are not doing any of the activities, just grab a wine and sit at the terrace overlooking these views.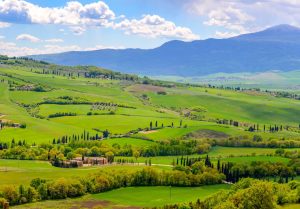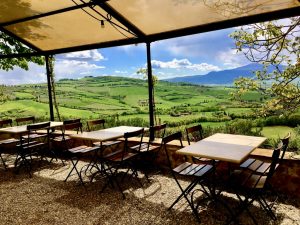 Since I devoured gelatos everyday, I cannot leave out this section without mentioning a few must try gelaterias: