Bali has been popular with tourists since a long time but has risen to fame lately, thanks to Instagram. Once you open the gram, you will see countless pictures of never-ending infinity pools spilling over into crystal-clear oceans in addition to jaw-dropping pool villas set in the midst of jungles. Like all tropical islands, Bali has lush palm trees and amazing sunsets but add to it, gorgeous rice terraces, adorable monkeys, colorful fruit bowls, decadent flower baths and it makes Bali, the perfect getaway!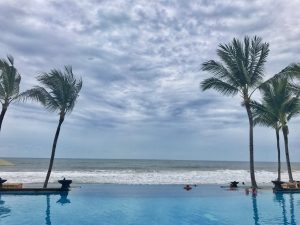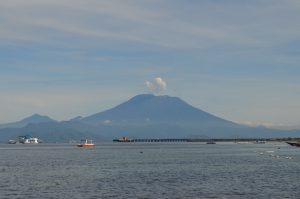 I had Bali on my mind for the longest time but it took me forever to convince my husband. He was keen to restricting the trip to a nice beach resort, but having done some research (aka instagram stalking), I realised that there is so much more to Bali than just beaches. 
At first glance, you will notice that Bali has a lot of Western influence. Lately, many bloggers have moved to Bali and call Bali their "home". You will find all kinds of travelers in Bali – the backpackers who travel all across Southeast Asia, the spiritual yogis, luxury travelers, divers, surfers. Despite the number of tourists, Bali is still quite affordable compared to the other Asian countries. They all come to Bali, mainly for one reason: It is an excellent value at a good price, and the variety that Bali has to offer is unlike any other tourist destination in the world.
Planning a trip to Bali can be overwhelming since the island is HUGE – getting from one place to another can take hours! Having said that, you need to go to Bali for at least a week since there is just so much to explore. We spent about 9 days in Bali and felt like we could scratch off only a bunch of items on our list. We packed in quite a bit during our stay but also had some relaxing days. There is no doubt in our minds that we will be back someday.
Click here for the list of most instagrammable cafes, restaurants and beach bar in Bali.
Best time to visit
Bali weather typically oscillates between 27 to 30 degrees celsius. Bali experiences only two seasons – the wet season and the dry season. During the wet season (November – March), rainfall is the highest. The most popular time (and expensive time) to visit Bali is July and August (try to avoid visiting during these months). 
We were in desperate need of a vacation and had not had a beach vacation in almost 3 years. So despite being the rainy season, we went ahead and booked our tickets to Bali for a January travel. When we were Bali in January, we realized that it was generally one quick downpour and then clear for rest of the day. Plus, even when it was raining – it was comparatively mild! So we didn't really mind exploring the island despite getting soaked in the rain. Overall, we encountered two full rain days – other than that it was manageable. But yes, those clouds can shadow those gorgeous blues and ocean views.
As an added plus point, visiting in the low season, you can forget noisy restaurants and overcrowded beaches. The streets are less congested and you even get to negotiate better rates with private taxi drivers. Tranquility is the number one reason to come to Bali during the monsoons.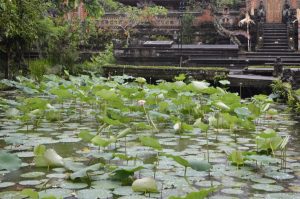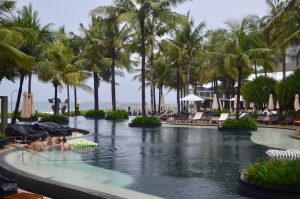 Local Transport
If you are comfortable riding the scooter, bike rentals are dirt cheap (they cost barely $3 – $5 per day)! We are certainly not comfortable riding a scooter so opted for private car with a driver. Plus, it's a lot easier when you don't have to worry about parking. And not to mention, going around in air-conditioned cars can be quite a respite in the heat. 
We had booked an airport pick up in advance and paid approximately IDR 130,000 for a drop to Nusa Dua (much cheaper than what we found online otherwise). The driver offered to take us around during our stay in Nusa Dua. For a full day (8-10 hours), we paid approximately $35-$40. For half a day (4 hours), we paid approximately $20. If you stick to one driver for most of your trip, he is bound to give you a better rate.
If you are staying in Ubud/ Seminyak and plan to make day trips to other parts of the island, hang around in the market areas and you will find tons of drivers. Talk to them and find out the ongoing rate in the maket. Do not forget to bargain – most times, you will end up paying at least 20-30% less than what they initially quoted. For instance, when we were in Ubud, we found a great driver for just IDR 400,000 (he initially quoted IDR 550,000) for the full day and he took us to the rice fields and the northern part of the island.
Note that Uber is somewhat banned In Bali. You can still use Uber, but you need to be very discreet about it and cannot use them to get to and from populated areas (Seminyak, Ubud). Otherwise, use the Blue Bird app for cab services.
General itinerary
As I said earlier, Bali is HUGE. Add congestion (particularly around the southern beach areas and tourist hotspots like Seminyak and Ubud) leading to bad traffic, and it makes travelling around Bali, a slow process.
Since the island is huge, there are a lot of varied areas in Bali to stay. If it is your first time to Bali, you probably want to see some of the main areas of Bali and get a good overview of what Bali is all about. For a first time trip, I would definitely recommend staying in at least two different areas. The main tourist areas are Seminyak, Canggu, Jimbaran, Uluwatu, Kuta and Ubud. I would say Ubud is a must and pick one other area.
If you are dreaming of picture perfect white sandy beaches and azure waters, you better leave the main island of Bali and hop on a boat to nearby islands. Popular getaways are Nusa Lembongan, Nusa Penida and of course, the Gili Islands. Geographically, Gili islands are not a part of Bali, but still close enough to get there quickly by speedboat (2 hours).
If you do not want to venture out of the mainland in Bali, then the best beaches in Bali are Nusa Dua, Bingin beach, Padang Padang, Uluwatu, Geger Beach, Jimbaran Beach, Legian Beach, Green Bowl beach, Dreamland beach.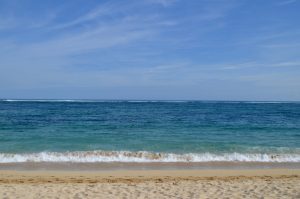 For our trip, we split our stay as under:
Nusa Dua (4 nights)

Ubud (3 nights)

Seminyak (2 nights)
Nusa Dua is where you will find most 5 star resorts. If you want to be away from the crowd and are in need of a relaxing holiday, then Nusa Dua should be your pick. 
Pandawa Beach, one of the most beautiful beaches in Bali, is only a short drive away from Nusa Dua. Tanjung Benoa, Nusa Dua's neighbour, has a wide variety of water sports available. Nusa Dua serves as a great base, since it is an easy driving distance to Jimbaran, Seminyak and Uluwatu for day trips and dinner. It is less crowded and hence, no traffic, plus the beaches are calmer. But being away from the crowd has its cons – it lacks culture.
During our stay in Bali, I was keen on visiting at least one of the neighboring islands – Nusa Penida, Nusa Lembongan and Cenignan. Having seen countless pictures of the T-rex, I settled for Nusa Penida as a day trip from Nusa Dua (more on that in a separate blog article).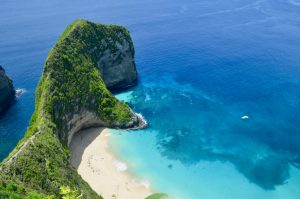 Ubud is known as the cultural hub of Bali with temples, holistic centres, yoga studios and local markets on every corner of the street. All you health freaks will be in heaven since the food and drink options are incredible! Plus, Ubud serves as a great base to explore the famous rice fields, Mt. Batur and the legendary Monkey Forest. Ubud gives a very different perspective from rest of the island and a day trip will not do any justice. So, if you do visit Ubud, plan on staying for a couple days here.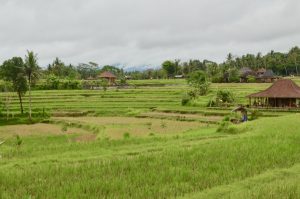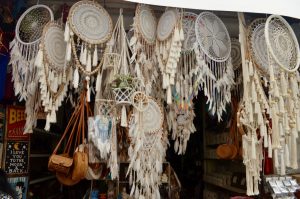 Lastly, I wanted to end my vacation in Seminyak – where all the action is! Even if you are not staying in Seminyak, try to at least make a day trip and be blown away by the beach bars/ café scenes.
One more neighborhood which is slowly catching on is Canggu (pronounced as "Changgu"), or 'the gu' as locals call it. Canggu is located just north of Seminyak on the west coast. Canggu consists of an array of unique and beautiful restaurants, cafes, shops and bars flanked with beaches on one side and rice paddies on the other. Canggu is one of the hottest spots on the island with surfers and if you go – you'll most likely end up with a cocktail or two at one of the beach bars as you watch the surfers do their thing and the sun descend beyond the horizon.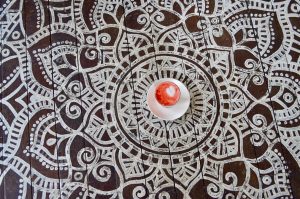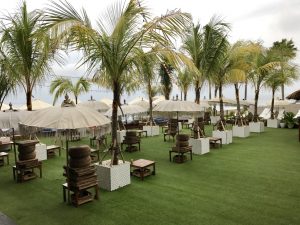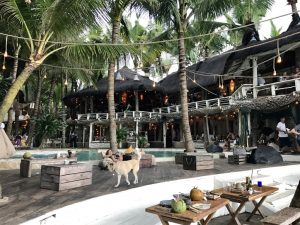 The food on offer in Seminyak and Canggu deserve a separate article! Pretty much everywhere you go you will receive beautifully presented food suitable for every diet type under the sun. Click here for the list of most instagrammable cafes, restaurants and beach bar in Bali.
Accommodation
We decided to stay at Westin Nusa Dua for the first leg of our trip. It has a beautiful beach, view of Mount Agung (on a clear day) and plenty of things to keep you busy (multiple pools, table tennis, spa) at the resort. Also, there are several other resorts (The Laguna, Sofitel, Melia) connected by the beach so you can easily walk around and go there for lunch/ dinner. 
If you are not hungover or jetlagged from your flight, drag yourself out of bed early to catch a beautiful sunrise! I am certainly not a morning person but decided to wake up the day of Nusa Penida trip (since I was going to wake up early even otherwise). It was just me and one other person at the beach who had taken the pain to wake up early. I was left completely in awe of the sky at sunrise. So much so that I woke up again on my last day to witness it again. The peace and tranquility that you get in the morning is incomparable to sunset. It is safe to say that I have now been converted into a sunrise person.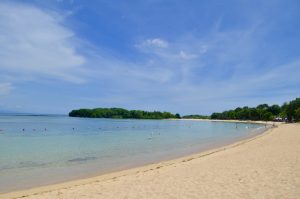 When I first started researching on Ubud, I will admit I wanted to stay in Ubud only for their private pool villas. After endless research on the web (there is clearly no dearth of pool villas in Ubud), we settled on The Udaya Resort and Spa. Set among lush greenery in Ubud, The Udaya Resorts and Spa is the perfect tropical retreat. It is about 10 minutes away from the market area and they offer shuttle services every 2 hours to go to the market.
The private pool villa room is not only spacious and beautifully decorated but also has a private infinity pool overlooking the jungle, perfect setting for a romantic day.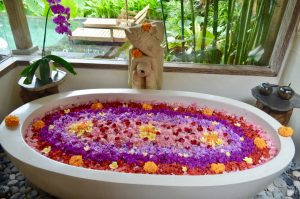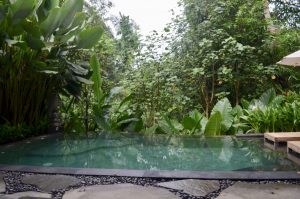 During our stay, we ended up getting massages at Kaveri spa and it was excellent. This spa has been strategically built to overlook the river and surrounding valleys for an indulgent experience. Their Jacuzzi also deserves a special mention. Another highlight of the property is the rooftop yoga hut – classes are offered alternate days under the guidance of a professional yoga teacher.
The Udaya offers luxury facilities and services at a much more reasonable price than most 5-star hotels located in Ubud. I honestly did not want to leave this villa – I had everything I needed for ultimate relaxation.
For Seminyak, my main itinerary was to eat at numerous cafes (yes, I can plan my day around meals) and hang out at beach bars. So I was certainly not going to be spending a lot of time in the hotel. Based on this, ended up staying at the very basic Hotel Tijili which was at a walking distance from the main spots in Seminyak.
General tips
We flew a budget airline and the flight tickets cost us less than USD 300 per person.

We paid approximately USD 200 for car + driver during our 9 day stay (including airport pick up and drop).

Book your airport pick up beforehand – we booked ours through BaliCab. For airport drop, expect to spend around IDR 250,000 from Ubud, IDR 150,000 from Seminyak and IDR 130,000 from Nusa Dua.

If you intend to travel a lot on the island, easier and cheaper to take the bike or book a car + driver for the full day. If you do take taxis, take Bluebird taxis (they always run on meter). Download Bluebird taxi app (it is similar to an Uber app) – you can book cars, motorbike taxis and also it will tell you the approximate cost from place to place. That way you know roughly how much alternative taxis should be charging. It is a useful tool to ensure you are not getting ripped off.

If you intend to visit the neighboring islands, no need to book the ferry in advance. There are countless tour operators who will arrange for pick up from your hotel, boat transfer and take you around the island.

You will get a better rate when changing money at Bali. Carry USD with you and you can get it converted to IDR at Bali airport. You will also be able to exchange foreign currency at most big hotels and/ or local shops in tourist areas such as Ubud/ Seminyak. When exchanging money, make sure you double-check all the bills even after they count it in front of you.

Always carry cash with you. A lot of restaurants, markets and travel agencies only accept cash so it is always helpful to have money on you. If you are falling short on cash, you can easily withdraw from ATMs, which are quite common in Seminyak/ Ubud.

When entering temples be sure to cover your knees with a long skirt / sarong and your shoulders too, where possible. Indonesia is predominantly a Muslim country and you should respect the views and religion through which you are travelling.

If you plan to shop in the local markets, you need to put your barter game on. There is usually a pretty big margin to play with when purchasing goods from stalls and markets. Do not buy from the first shop that you step your foot in – it is a good idea to shop around before buying anything and speak to people to get an idea of the actual prices. In a lot of cases you can get the item for 40% of the original price offer.

If you are planning to hit any beach bars for sunset views, try to get there at least 90 minutes before sunset. These places are famous for a reason and to ensure good seats, its better to get there before everyone else arrives.

We bought a local SIM card at Mumbai airport and it cost us INR 1,100 (USD 17) for a sim card with 3 GB data and 250 minutes free local calls and 500 minutes of calls to India. From what I have heard, do NOT buy a SIM card at Bali airport for they will rip you off! Just ask the hotel reception for where you can buy a phone card instead.
*All prices mentioned are as of January 2018.