One look at Instagram and Pinterest, and you will notice that Bali has become the hottest Asian region in the restaurant and café scene! From healthy breakfasts to fine dining restaurants, Bali has a place for everyone on the table. Not only do they serve delicious food, almost every corner of these cafes and restaurants is instagrammable. Apart from trying the food at cafes and restaurants, catching a beautiful sunset on the island is an absolute essential! And there are plenty of spots to do so.
Here is a round up of the most instagrammable cafes/ restaurants/ beach bars in Bali I ended up visiting.
For a general overview of Bali, please click here.
Motel Mexicola, Seminyak
This is by far, the coolest restaurant I have visited in Bali with the most stunning decor. Every corner of Motel Mexicola is so colorful and picture-perfect! And guess what – this restaurant turns into a funky bar at night. And if that wasn't enough, the Mexican food served here is delicious. Take chips and guac, margaritas, live music, an awesome ambiance, and you can have the best Mexican fiesta in Bali.
La Brisa, Canggu
La Brisa is a relatively new beach bar opened in Canggu. From the moment you enter, you will notice that every corner of La Brisa is totally instagrammable! Wooden boats, bean bags, fishing nets, swings and nautical touches throughout the beach club create the perfect atmosphere. And the view of waves and surfers surfing into the sunset will keep you glued to your seat.
I loved it so much that I ended up going there twice during my stay.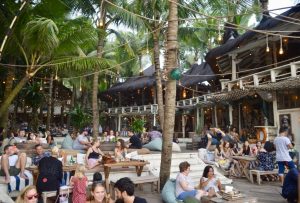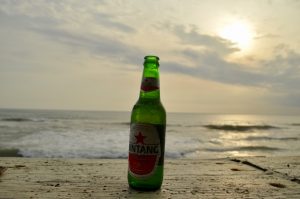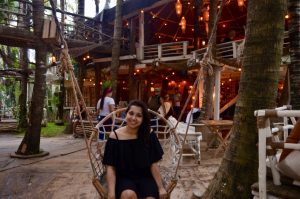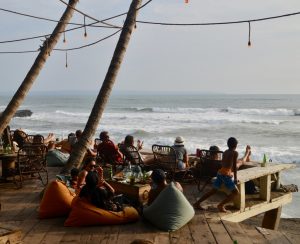 Rock Bar, Jimbaran
Rock Bar, located within the Ayana Resort, is one of best bars in the world and is built on the cliffs overlooking Jimbaran Bay. Sunset is the busiest time for Rock Bar, so if you are not staying at the Ayana Resort, be sure to get there EARLY (at least 90 minutes before sunset time) in order to get best seats at the bar. If you are staying at the resort, you get priority access to the bar, so need not fret reaching early to grab your spot. This is hands down, one of the best spots to watch the sunset in Bali.
(Note that this was the most expensive bar on the island that we visited)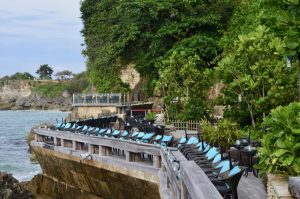 Kynd Community, Seminyak

All you pink lovers out there, you HAVE to stop by Kynd Community! They make the yummiest and prettiest smoothie bowls and are "kind" enough to spell out words like "LOVE BALI" "BALI VIBES" or even your instagram account in their smoothie bowls. Take a seat at their famous pink "another day in paradise" wall and you will be instagramming till your fingers hurt!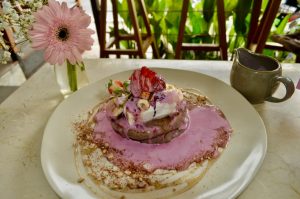 Nalu Bowls, Multiple Locations
If you swear by smoothie bowls to begin your day, make your way to Nalu Bowls. They reportedly invented the smoothie bowl game in Bali. Their delicious bowls use fresh Bali ingredients and homemade granola that they bake every day. They have many branches in Bali but my favorite is the one in Seminyak, tucked away in a small alley off the main Seminyak area. Sit down on the outdoor shack bar and get your acai bowl fix, or you can choose to go up to Shelter on the second floor. Shelter is a rooftop garden café that offers great breakfast and coffee.
I tried their Uluwatu bowl (frozen dragonfruit blended to perfection and topped with mango, coconut flakes, papaya, strawberries, and banana and granola) and absolutely loved it.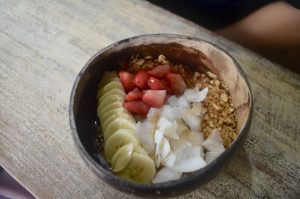 Revolver Espresso, Seminyak
Like me, if you cannot function without a caffeine fix, then make your way to Revolver Espresso! I almost missed this spot since it is tucked away in a little alley in Seminyak – but follow the coffee aroma to this little alleyway and enter through a small unassuming door and you'll find this coffee heaven. They roast the best coffee in Bali and for those who couldn't care less about coffee, don't you worry, they serve a variety of food too – I hear their tiramisu pancakes are to die for!
Corner House, Seminyak
One of the days, while walking back from Nalu Bowls, I chanced upon Corner House. The moment I saw they serve Revolver Coffee, I knew I had to stop by. Since I was full from the breakfast stop at Nalu Bowls, I couldn't really eat anything except for coffee. 
Practically every inch of this place is instagrammable. The stools, the tiled floor, the tables, bricked walls, vintage decor, long-hanging dim lights, jars of hydrangeas. And the best part, they serve Revolver coffee!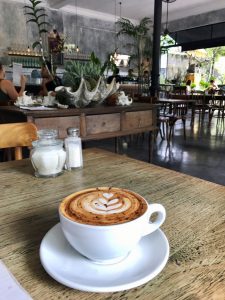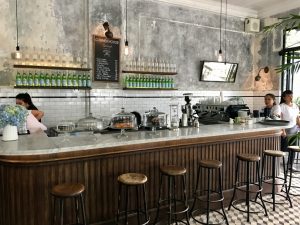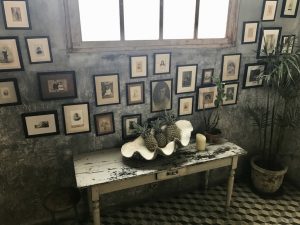 Fat Turtle, Seminyak
For those who know me, will vouch that I have a sweet tooth – after stalking their signature red velvet pancakes on Instagram for a while, I finally decided to try them out. Three stacks of red velvet pancakes decorated with powdered sugar, chocolate soils, honeycomb and caramel sauce around the plate – and cream cream cheese on top of the pancakes.
If you are a pancake-lover, make sure to stop by Fat Turtle when you are in Seminyak!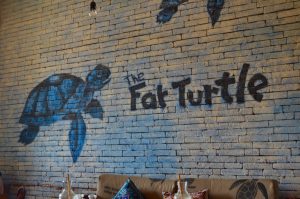 Mad Pops
No better way to brave the Bali heat than a scoop (or two, or three…) of ice cream! Mad Pops serves coconut-based, dairy-free ice cream and vegan popsicles. They also pride themselves in using fresh, locally-sourced ingredients.
Sea Circus, Seminyak
This funky, whimsical brunch restaurant in Seminyak has now become the top instagrammable spot in Seminyak. Check out their funky wall art. Sea Circus is the perfect spot to get a perfect start to the day – something nutritious, satisfying, and of course, instagram-worthy.
La Plancha, Seminyak
Potato Head and Ku De Ta are the most famous beach clubs in Seminyak. But I decided to spend my last night in Seminyak at La Plancha, located on Seminyak's popular Mesari beach. It is known for its colorful sunsets and even more colorful bean bags. La Plancha is an awesome spot to end your day with your feet in the sand and a drink your hand.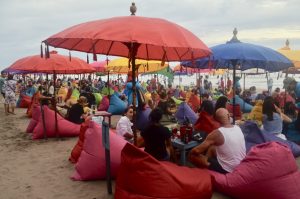 The Loft, Canggu
One of the hottest instgrammbale spots in Canggu. Insta lovers make sure to get your phones out.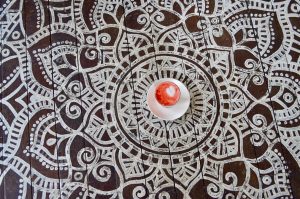 La Laguna, Canggu
Enroute Canggu and Seminyak, is yet another beachfront place, La Laguna. It has a fun bohemian décor and you will find great food and cocktails. As you walk in from the entrance, you'll come across colorful gypsy carriages. La Laguna has both indoor and outdoor sections. They also have bean bags on the grass; sadly, it was pouring when we visited so the bean bags were not out that day but even then, every corner was so photogenic. Enjoy a cocktail at the bar and then kick off your shoes and walk down towards the beach to enjoy the sunset.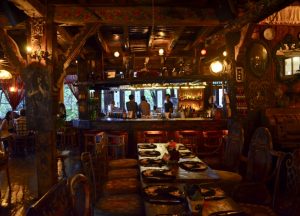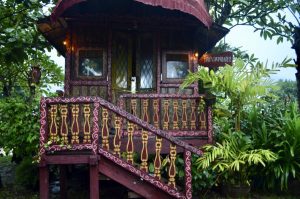 Sundays Beach Club, Ungasan
The one place that I really wanted to go but couldn't due to lack of time (and also rains) was Sundays Beach Club. A day pass costs around IDR 300,000 (as of January 2018) and you get full access to the beach club, towels, wifi, INR 150,000 food and beverage credit, kayaks, snorkeling equipment and paddle boards.
Another place located right next to Sundays Beach Club is Karma Kandara. You have to pay a fee to get down to the beach, which includes food and beverage credit.
Both these places have one of the nicest beaches in Bali and certainly, the best way to spend a beach day sipping on cocktails and paddleboarding, surfing, or just soaking up the sun. As a bonus, Sundays Beach Club even has bonfires daily at sunset.
Other places
Woo Bar, The Lawn, Cafe Organic, Acai Queen, Old Man's, Karsa Cafe … phew, the list is endless.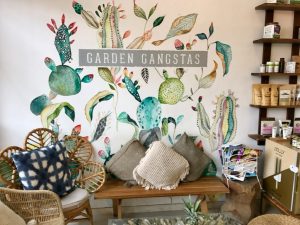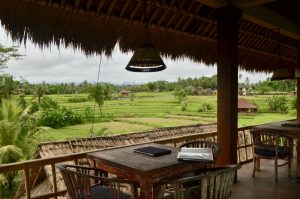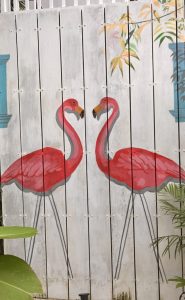 c