New Zealand features on the bucket list of most travellers. Having spent two amazing weeks in New Zealand, driving through scenic landscapes, indulging in adrenaline rushing activities, tasting wine in the most scenic wineries and hiking to the most jaw-dropping sights, I couldn't be happier! New Zealand is, without doubt, one of the most picturesque countries in the world offering some of the most beautiful views you will ever see.
While we were in New Zealand for two weeks, we realized it wasn't enough time to really enjoy all the beauty and adventure this country had to offer. It has been little over a year since we have been back, but another trip (albeit, a longer one) to New Zealand is always at the top of our minds.
With so much to see and so little time, hoping the below itinerary helps you make the most of your time in New Zealand. With limited time on hand, we did not want to spend too much in the big cities, when there was so much amazing nature to experience. We decided to spend more time in the rustic countryside in the midst of natural beauty and split our stay as 11 days in South Island and 4 days in North Island.
Here is a detailed day-by-day itinerary –  for a general overview, please click here.
Days 1 and 2 – Auckland
Auckland is usually the first port of call for tourists arriving from overseas and it is the largest city in New Zealand. We flew in early morning, picked up the rental car, settled in our Airbnb, and then explored the city rest of the day and next morning.
We first visited One Tree Hill, where we were greeted with amazing views of the city and countless sheep. Now, don't be surprised, you will encounter a lot of sheep all over New Zealand – in a way, you know you are in New Zealand when you spot more sheep than humans 🙂
We also visited Cornwall Park – combined with One Tree Hill, they are the largest parkland in Auckland. There were bbq parties everywhere, children playing and it was a lovely spot in the middle of the busy city.
We then visited the SkyCity casino and tried our luck at gambling – needless to say, we lost some money but it was a couple of hours well spent. Later in the night, we drove by Mission Bay – if you visit in the morning, not only do you get spectacular views, but when you arrive you are rewarded with a lovely beach and can have a dip in the sea to cool off as well.
The next day we drove to Devonport – just 20 minutes from Auckland, Devonport is one of the most delightful suburbs in Auckland. You can step back in time by watching the sails over Auckland harbor while wandering its quaint streets or dinning in one of its cafes/ restaurants. From here, you also get lovely views of the city skyline.
If you love wine and have more time in Auckland, there are several wineries close to Auckland where you can go. Also, there are several great islands (such as Rangitoto) to visit within a short distance of central Auckland. If you have more days on hand, you can add Cape Reinga and Bay of Islands to your itinerary. In Cape Reinga, you can engage in sandboarding and take boat tours including swimming with dolphins in Bay of Islands.
Days 2, 3 and 4 – Coromandel and Rotorua
From Devonport, we decided to take a long-winded detour to the Coromandel Peninsula before reaching our next destination. You can head to the one of Coromandel Peninsula's famous beaches for the afternoon or spend time at Cathedral Cove (the beach is a 40 minute walk from the entrance). We got a bit of a crappy weather (read thunderstorms) so did not drive much further to Coromandel, and instead reached our friend's house in Rotorua.
Rotorua is renowned for its geothermal activity and intense egg-like sulphur smell (no kidding, the town really stinks). Rotorua also has several activities for the adrenaline junkies and is the spot to hit if you will only be visiting North Island on your trip.
The next day, was an action packed one, beginning with the two-hour Hobbiton Movie set tour. The movie, The Lord of the Rings, is what put New Zealand out there on every traveller's list. When Peter Jackson spotted the Alexander Farm during an aerial search of the North Island, New Zealand, he knew he had found the perfect location to bring The Lord Of The Rings to life. Hobbiton now stands as a major tourist attraction, open to visitors for tours.
The tickets cost approx. NZD 79 per person. As a general recommendation, try to book the first available tour in the morning since it gets quite crowded later in the day and it gets difficult to take pictures without having multiple strangers photo bombing.
Our tour started with a drive through the picturesque sheep farm, and our guide recounted the fascinating details and inside-stories of the movie. As we were walking through the Hobbit holes, we literally felt we had walked into another world. Even though the Hobbit holes here are just facades (the interior sets were all shot in Wellington), the details here are INCREDIBLE. 
Our tour ended at the Green Dragon Pub where many of the Hobbits would party while celebrating Bilbo Baggins' birthday. We helped ourselves with some Shire beer and relished our LOTR memories.
After the Hobbiton tour, we left for Waitomo to visit the famous glowworm caves. Glowworms, as the name suggests are worms that glow in the dark. The best way to describe them is by saying that they look like little stars glued onto a ceiling. The tour lasted for about an hour where they took us to see various formations of stalactites and stalagmites and ended with a boat ride to see the fascinating glowworms. Sadly, photographs are prohibited once you get on the boat! Overall, it was a good tour but found it on the expensive side for NZD 49.
Next, we wanted to experience the geothermal area that Rotorua is essentially famous for. Te Puia is one of the best, boasting the region's most famous geyser, Pohutu Geyser. Like Old Faithful in America's Yellowstone National Park, Pohutu blasts out gushing hot water fountains quite regularly. You also get to see boiling mud pools and kiwi birds. It took us about an hour to see the whole area, but to be honest, having been to Yellowstone National Park in the USA, we were a bit underwhelmed by our visit to Te Puia. Plus, we found it to be on the expensive side – NZD 49 per person.
As mentioned earlier, Rotorua is home to many activites but the one that we were keen on doing was white water rafting. And this is no ordinary river rafting – you get to raft down the 7 metre Tutea Falls, the highest commercially rafted waterfall in the world (for NZD 99 per person). In fact, there are three waterfalls in total, with the highest one being 7 meters. I was excited and could hardly wait to get on that raft but once our guide started going through the options of what to do when we free fall, I almost wanted to back out. I was okay until she got to Plan B, but Plan C, Plan D, Plan E … hello, is this for real! I understand Plan B and probably Plan C but how can you have so many multiple options?? Are we all going to fall off the boat???
After some persuasion from my husband, I braved myself and got onto the raft. And, oh boy, it was so much fun. Needless to say, I was the only one who fell out of the raft 🙂 but I survived to tell the tale ! So do not fear and book yourselves on this tour. 
As we made our way to Wellington, we stopped by Whakarewarewa Forest, a Redwood forest. The Redwoods are home to tall trees, boast of dozens of walking trails (some trails are for an additional fee) and are just a few minutes away from Rotorua's town center.They are similar to the Californian Redwoods, but much smaller in size. A walk through this beautiful forest will not disappoint.
If you have additional time, one other geothermal area you can visit is Wai-o-Tapu.
Day 5 – Drive to Wellington
After a fun-filled day rafting and walking through the Redwoods, we made our way to Wellington via Lake Taupo. There were several photo opps along the way and it was a scenic route. If you have additional time, you can break your trip and spend an evening at Huka Falls.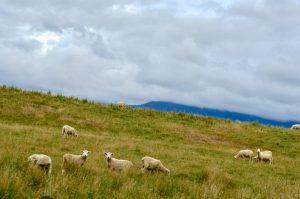 We reached Wellington late at night and had a ferry to catch next day morning so did not get a chance to explore the city.
Day 6 – Ferry to South Island and Blenheim wine region
Our car rental company did not allow for the car to be transported to the South Island via ferry, so we had to drop our car at the rental company, which was located at a 5 minute distance from the ferry terminal.
In terms of the ferry itself, do not think of ferry crossing as a mere commute – the Interislander ferry passes through the scenic Cook Strait and there are great scenic vistas on offer. It takes a little over 3 hours to get to the South Island and in the last hour and half is where you need to come on the deck to enjoy the views of Marlborough Sounds. You pass through the scenic Marlborough Sounds and views are straight out of a postcard!
Once we reached Picton, we took another car from the rental company and began our journey into South Island. To be honest, we were initially annoyed with having to drop off and rent another car, but overall, the process was seamless.
From Picton, most people make their way to Kaikoura for whale watching, but you know me – wine and I go hand in hand 🙂 So the moment I found out about the Marlborough wine region, I knew I had to forsake whale watching for wine. Now who can blame me, right? And I kid you not, this region makes the yummiest white wines and has the most gorgeous wineries.
Blenheim is the heart of wine-growing Marlborough region, where you will find a wide selection of wineries, cafes, restaurants and shops. Marlborough is New Zealand's premier wine growing region in the South Island and Sauvignon Blanc is the specialty here.
As you make your way to Blenheim from Picton, you will pass through several wineries. Our first stop was Wairau Winery, one of Marlborough's oldest and largest family owned wineries. Wairau Winery has a cellar door where you can indulge in wine tasting and next door, is the Wairau River restaurant with the winery as its backdrop. It was a beautiful sunny day and we were seated in the restaurant courtyard, which was partially covered by flowering vines. The setting was absolutely gorgeous. Also, their Sauvignon Blanc was so darn good that we picked a bottle for the rest of our trip. 
Next on our list was Cloudy Bay winery. This winery as well, has a lovely setting- grab your glass of wine and wander around – you will not want to get out of that egg chair! For NZD 5, you get a generous tasting of their wines. We loved the Riesling and bought a bottle for our trip. If you end up buying a bottle, then the tasting fee is waived – such a sweet deal. You can easily spend a few hours here – the property is absolutely beautiful and the wines, oh so delicious!
We then spent some time driving around the Marlborough Sounds. There are several hiking tracks as well; or if you have additional time, you could explore this magical place by sea kayak. Queen Charlotte Sound is the most well known in this region.
The drive from Queen Charlotte Sound to Havelock is one of the most picturesque drives – magnificent views of the sounds can be had from many vantage points so allow plenty of time to enjoy the scenery. We eventually made it Nelson by evening.
Day 6 – Nelson
Nelson is the perfect place to base yourself for exploring one of South Island's best kept secret, Abel Tasman National Park. Home to golden sand beaches and excellent hiking trails, this part of the country is relatively untouched and does not feature on most tourists' lists. This park is not accessible via car and your only options for exploring Abel Tasman are on foot, cruise or kayak. There are a bunch of tour operators available that combine hiking and/ or kayaking trips for exploring this stunning national park. We had planned on taking one of the kayaking tours, however, it was raining all day, so we realized it was pointless to go to Abel Tasman National Park. If you intend to visit the Park, keep aside at least half a day; however, many people choose to spend several days.
We stayed at the most gorgeous airbnb at Nelson and were greeted with this view ! While we were bummed with not being able to visit Abel Tasman, this sunset view kind of made up for it.
The next day, we spent a couple hours at Nelson town – it was surprisingly a pretty big town with several cafes, restaurants and small shops. Next on our list was Franz Josef Glacier, but since it was a long drive from Nelson, we decided to break our journey and spent the night at Hokitika.
Day 7 – Franz Josef Glacier and Lake Matheson
There are two glaciers in this region for visitors to explore – Franz Josef Glacier and Fox Glacier. You can take a flat, easy walk to get close to them in just over an hour; or climb aboard a helicopter and soar above them; or for those who are a bit more adventures, why not walk on them.
Now when are you ever going to get an opportunity to walk on a glacier, right? While you can walk almost right up to the faces of the glacier on your own, a guided tour is a must for walking onto the ice.
Once you have decided on doing a glacier hike, the next decision you need to make is which one – Fox or Franz Josef. Since we were staying in Franz Josef, we decided to hike Franz Josef glacier. Glacier hike is a popular activity for most visiting this region, so if you are keen on doing one, try booking in advance. We paid NZD 435 per person for a 4 hour tour where all we had to do was show up at the designated time and the tour company took care of everything else! The tour company provided all the rental gear (e.g. hiking boots, crampons, jackets, pants, gloves, etc.) free of cost. (Tip – try to book the first available tour in the day since clouds set in by 11.30-12 so the view may not be as good)
The exciting aspect of the glacier hike is that the only way to reach the glacier is by helicopter. This means that a 5-7 minute ride each way is included in your ticket. Once we were briefed on the safety measures, we walked to the heli-pad, climbed aboard the chopper and took off for a scenic flight over the area, out to the glacier. You enjoy panaromic views of the surrounding mountains and the glaciers. As soon as you see the blue glaciers, you cannot help but stare at them in awe. Flying over the icy blue glaciers, you get the best view imaginable. I cannot express in words how beautiful these glaciers look from up close.
Now, coming to the glacier hike, it was an insanely cool activity – definitely once in a lifetime experience! You get to walk over ice, squeeze through snug spots and see blue and white ice towers all over. Even though we were on top of the ice, we were very comfortable inside our warm adventure gear. Our guide was amazing, working away with an axe as we went, chopping away at the ice to create more stable walking space and pausing often to share a wealth of knowledge about the glacier.
The glacier hike also included complimentary access to the Glacier Hot Pools. We were initially a bit hesitant to step into common pools but they turned out to be better than the private ones. This is because when you book private pools, there is only one set temperature whereas the public ones, have three pools with varying temperatures. Such a relaxing way to end the long day after hiking the glaciers!
All in all, glacier hike was honestly one of the best experiences we had on our New Zealand trip. It was completely unlike anything we have ever done before and so enjoyable we would do it all again. There are so many great adventure activities to do in New Zealand, but this one you should definitely do because it's unique and something you cannot do anywhere else (except of course Iceland/ Alaska).
Day 8 – Lake Matheson, Fox Glacier and drive to Queenstown
The next day, we took a walk to Lake Matheson. This picture perfect lake offers views of Mt Cook and on a clear, calm day, you can get the perfect reflection of it as well. The walk around the lake takes about one and half hour with lots of places to stop to take in the view along the way. If you want the best views, try going for sunrise or sunset when the lake is still and offers clear reflection.
We also explored Fox Josef glacier on foot by walking the marked trails. Overall, Fox Josef town  felt more like a dead town – had fewer restaurants and hotels compared to Franz Josef.
Next, we made our way to Queenstown. The landscape and scenery we saw along the 4.5 hour drive from Franz Josef to Queenstown beats anything we've seen so far. Almost every second of the drive is breath-taking. Steep mountains, blue lakes, clear water creeks – you will think some of these have been photoshopped by god.
The drive takes you out of glacier country through lush forest and eventually back to the coast at Haast. If you are not strapped for time, once you reach Haast, an easy 15-20 minute walk on a gravel path through the forest will take you to the Blue Pools. These crystal clear pools appear to be a bright blueish green colour and are fed by the surrounding glaciers. It was raining once we pulled into the parking for the Blue Pools trail, plus, we wanted to reach Queenstown before sunset and hence, decided to skip this.
Once you cross Haast, you will pass through Mount Aspiring Park and Lake Hawea and eventually reach Wanaka. From Wanaka, drive along the Crown Range – the views along this winding mountain road are some of the best in New Zealand however the road is not for the faint hearted. We were left spellbound by the views approaching Queenstown. Make sure you drive in broad daylight to appreciate the picturesque views – stop by at the look out points, you are bound to be left bowled over – this was one of our best drives in this country so far. Around every corner and over every mountain range, our eyes were spoilt with so many awe-inspiring views that we were left utterly speechless by the time we pulled into Queenstown. And don't be surprised if you feel the urge to stop at every turn and click countless photos 🙂
Now where do I start with Queenstown! People aren't joking when they say New Zealand is the adventure capital of the world and that Queenstown is the adventure capital of New Zealand. Queenstown is home to dozens of heart pumping activities that will satisfy your inner adrenaline junkie. You can do absolutely everything here from hiking, mountain biking, skydiving, kayaking, bungee juming, canyon swinging … phew, the list is endless ! We did not book tours in advance and once we got there, it was helpful to learn more about the different available options before finally committing to the adventures. If you are visiting in the peak season and have limited time in Queenstown, it may be better to monitor the websites to ensure they are not completely booked once you get there.
Day 9 – Glenorchy and Queenstown city center
Any dedicated LOTR fan would have heard of Glenorchy as it was one of the main filming locations for the movie. But even if you are not a die-hard fan, you can still enjoy this drive since it truly is one of the most scenic in all of New Zealand. The drive to Glenorchy is breathtaking – it goes along Lake Wakatipu and takes about 45 minutes from Queenstown. But you should factor in additional time since you will be stopping incessantly for pictures. Once in Glenorchy, make sure to head to the pier and have a look at the colour of the lake – it is amazing!
After spending a couple hours at Glenorchy, drive a bit further to get to Paradise – yes, that is what this place is called. Just look at the landscape and you will know why!
We drove back to Queenstown and explored the city. Queenstown city centre is really cosy and there are a lot of shops, cafés, bars and restaurants.
For the best views from above in Queenstown, take a ride on the Skyline Gondola. The gondola glides up Bob's Peak offering stunning views of the town, the Remarkables mountains and Lake Wakatipu. Book yourself on a luge activity – it is so much fun for young and adults! Ride along the luge admiring the views of Queenstown. On a clear day, you even get to see paragliders taking off and glide around the hillside. If you plan to do multiple rides, be sure you buy the tickets in advance otherwise you will have to come all the way back down to buy them.
Day 10 – Doubtful Sound
In the South Island, Milford and Doubtful sounds are a major tourist attraction. Milford Sound is the more famous one and is four hours drive from Queenstown. Doubtful Sound is a little more secluded since in order to get there, you need to drive to Manapouri, take a boat ride to Lake Manapouri, then pass through Wilmont Pass, after which you will eventually be taken over a 3 hour cruise over the Doubtful Sounds. Now, this certainly sounded a lot more mysterious than Milford Sound and we booked ourselves on a day trip (you cannot do this yourself so you will have to book a tour).
Doubtful Sound is practically untouched by man – the grandeur of towering peaks, waterfalls and just one other boat in the water, create an atmosphere of solitude.
Both Milford Sound and Doubtful Sound are different but equally beautiful. We did not have the time to do Milford Sound but have jotted down a few pointers, which will help you make the pick:
Since Milford Sound is far more accessible by road, you are bound to be sharing the waters with many other boats and people; not to forget planes and helicopters hovering above you.

There is no direct road to Doubtful Sound and you need to be transported by boat over Lake Manapouri and then by bus over Wilmot Pass. So it receives only a fraction of the visitors compared to Milford Sound. The isolation of this place makes the fiord a very unique place few people get to experience. Doubtful Sound remains relatively untouched and is more of a wilderness experience.

Doubtul Sound is much larger compared to Milford Sound. However, the peaks at Milford Sound are much more vertical and imposing than Doubtful Sound.
Lastly, do not worry if it is raining on the day of your visit – rains mean additional new waterfalls and you get to see lush green peaks.
Day 11 – Bungee Jumping and Queenstown downtown
When we first started planning our trip to New Zealand, I knew I had to do bungee jumping! AJ Hackett, the guys who run bungee jumping in Queenstown, have three different jump sites, depending on the kind of thrill you are seeking. I booked myself for bungee jumping (I signed up for the one at Kawarau Bridge – the shortest one) and almost backed out. I have done skydiving before, but that was a completely different beast. With a skydive, you don't really see the ground as a real thing, it seems so surreal, and you're strapped to another person who pushes your frozen body out of the plane for you. With a bungee, you gotta jump yourself off that ledge! Scary enough!!!
Just then, I realized that I am probbaly never going to get an opportunity to jump off a bridge again! So, I braced myself and decided to jump over the ledge. I must admit, they almost had to push me, but it was such an exhilarating experience! The adrenaline rush you get is like no other. The whole experience lasted just a few minutes, but I left from there with memories for a lifetime.
There are quite a few vineyards and wineries within driving distance of Queenstown. The most notable winery is the Gibbston Valley Winery, which has a wine cellar and tasting in a cave. My head was still spinning after the jump, so did not indulge in any wine tasting, but it has a good restaurant and excellent cave cellar, if you want to check it out.
We came back to Queenstown and walked around Lake Wakatipu. For the 4 days that we were in Queenstown, I kid you not, we had an ice cream from Mrs. Ferg every day. They have some crazy flavors like banana cherry chocolate, pear walnut, mascarpone fig and almond, etc. but they are so darn good!
One more local place that is hard to miss is Fergburger. Known for their burgers, Fergburger is very popular among both locals and tourists so at most of the times you'll find a rather long queue. In fact, even at 7 in the morning, there was at least a half hour queue! But even if you have to wait, it is more than worth it and a visit to Queenstown is not complete if you haven't been to Fergburger!
We had also booked ourselves on Shotover Jet activity, but it was cancelled due to bad weather.
Day 12 and 13 – Wanaka via Arrowtown
Just a short 25-minute drive from Queenstown is gorgeous little Arrowtown. Arrowtown is a historic gold mining town, which now is a charming little town lined with cafes and local artisan stores. Even though it is a small town, there is plenty to see here. Take a walk down the main street past the old gold miners houses; make a stop at one of the many cafes through town; explore the Chinese Settlement which was first settled by the Chinese miners in 1866; or head down to the river for a longer walk.
For those feeling adventurous, hike the Tobin's track for spectacular views of Arrowtown. If you are planning to hike this, bear in mind that it gets uphill almost immediately as you begin the hike and is not for the faint hearted. Do not forget to carry lots of water!
Arrowtown is a very small town, but we absolutely loved it. It was one of the most quaint little towns we have been to!
We then made our way to Wanaka. Wanaka town, located at Lake Wanaka, offers amazing views of the lake and surrounding mountains. You can take a stroll at the lakefront and visit the famous Wanaka Tree, or take one of the numerous hikes (short or long, depending on how fit you are) to enjoy breathtaking views of this town from above the mountains. One of the most popular hike is the Rob Roy Glacier Track – a 5-6 hour round trip which provides the best view from above of Wanaka.
Since it was cloudy and raining while we were in Wanaka, we decided to explore the town center and take numerous walks along the lake. We also decided to rent a kayak and spent a couple hours in the water.
The next day, we stopped by Rippon Valley Winery – a beautiful vineyard overlooking Lake Wanaka with stunning views of the town. No wonder it is one of the most photographed vineyard in the world !
Day 14 – Lake Tekapo via Mount Cook
The next stop on our journey was Mount Cook – since accommodation in Mount Cook village is scarce and tends to be booked in the high season, we decided to book accommodation in Tekapo. If you decide to stay in Mount Cook village, note that there are no supermarkets in this area, so ensure you buy whatever you need before you leave Wanaka. Plus, there are just 1-2 restaurants in this area.
Mount Cook National Park is home to the country's highest mountain and not surprisingly; it is a paradise for hikers and photographers. We had decided to book a scenic flight to enjoy the mountain and Tasman glacier from up close. As luck would have had it, it was a cloudy day when we got there, so we had to cancel our ride. Instead, we decided to hike the Hooker Valley track. The entire hike which took us around 3 hours, offered great views passing through three swing bridges (a bit too scary), and eventually ended at the glacier lake with amazing views of Mount Cook, the Hooker Glacier and the Alps. We even saw icebergs carving off the glacier and floating in the lake. It was a relatively flat 5 km hike and had some of the most scenic views in the whole park. Since it was a cloudy day, during most of our hike, Mt Cook was covered up – however, it was a beautiful hike nonetheless.
If you have additional time, you can also do the Tasman Glacier hike – it takes under an hour for a round trip and similar to Hooker Valley, you get to see icebergs floating in the lake.
Next, we made our way to Tekapo, which is one of New Zealand's most photographed lakes because of its powdery blue colour. Our main reason for staying in Tekapo was to indulge in star gazing – it is said that on a clear day, this place offers unparalleled views of the stars and planets. In fact, the Milky Way is easily viewable with your bare eyes!! You can also book a stargazing tour operated from the top of St Johns Observatory near Tekapo village. But, it was a cloudy night and all we could see were a few stars in the sky – even the Observatory tour was closed that night. I braved myself in the bitter cold and sat on the deck of our house hoping for the clouds to disappear! Well, I was rewarded with barely 2-3 stars in the sky, but just then, I was lucky to catch a shooting star.
The next morning we made our way to the Church of the Good Shepherd. It is located within walking distance of the town center and is a beautiful little chapel situated close to the shore of the lake. However, this place tends to get crowded, so if you want a good shot, be prepared to get there early or late at night.
We then made our way to Mount John Observatory. It is about a 15 minute drive from the town center and is a windy road leading to the top. The views of Lake Tekapo from up there are breathtaking. There is even a small café up there; grab your cup of coffee and sit by the bench admiring the views.
If you have additional time, take a dip at Lake Tekapo Hot Spring. There are three large hot pools set at varying temperatures, overlooking the lake and mountain range. If you have not had a chance to dip into the hot pools yet, then you should certainly check this out.
If you are visiting in November – early January, you could get to see Lupin flowers in full bloom.
Day 15 – Christchurch
After a two week long trip, we were exhausted and wanted to just relax in our hotel. We grabbed lunch on our way from Tekapo and checked into our hotel. There is plenty to see in Christchurch but we chose to stay indoors and sipped on our Cloudy Bay wine.
Day 16 – Fly back to Mumbai
We had a morning flight to catch and were at the airport by 9 am. On our flight back home, we kept reminiscing about walking on a glacier, spellbinding scenery on our drives, entering the Hobbit holes, crystal clear lakes, rafting off a 7 meter waterfall and finally ticking off jumping off a bridge!
* All prices are as of March 2016