Dubrovnik is an absolute must on any Croatian itinerary! The HBO series, Game of Thrones, one of the most watched TV shows in the world, is what put Dubrovnik on the world map.
Dubrovnik has been a UNESCO World Heritage Site since 1979 and is also known as the "Pearl of the Adriatic". With its old town surrounded by fortified walls built in the 13-14th century and overlooking the crystal clear Adriatic sea, it is easy to see why Dubrovnik is called the Pearl of the Adriatic.
Although the city itself isn't particularly big, two days are more than enough to see all that this city has to offer. It will also give you time to visit some of the neighboring towns and islands.
For a general overview of the itinerary, please click here.
Where to Stay
Dubrovnik's old town of Dubrovnik is pedestrian only. Living in the heart of old town has its own charm; but unless you love dragging your through never ending staircases, do not pick an accommodation inside the old town.
You will find several hotels and airbnbs just outside the old town. Uvala Lapad area is a 5 minute drive from the old town, where you will find tons of cheaper options. We were traveling with friends and hence, needed a big apt for our stay. We did not find one which suited our needs close to old town; and hence, ended up staying at Mlini, about 15 minute drive from the old town.
If you end up staying in the neighboring towns, it is advisable to take the bus/ uber into Dubrovnik since the parking lots charge exorbitant parking fees – we paid almost 40 kunas per hour!
How to get there
Several international flights fly in to Dubrovnik daily. If you are roadtripping Croatia, the drive from Split to Dubrovnik is going to be the most scenic leg of the drive. You get uninterrupted views across the Adriatic and will be tempted to stop your car at innumerable viewpoints throughout the drive. You will be exiting Croatia, entering Bosnia and Herzegovina for a few kms before re-entering Croatia – so keep your passports and cameras ready.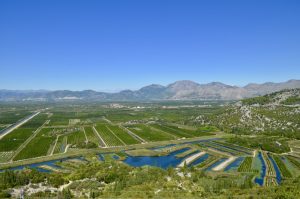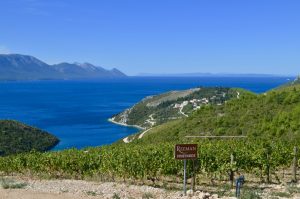 Things to do/ see
Walk the City Walls
Dubrovnik's old town is surrounded by a 25 m high city wall that runs almost 2 km. These walls were built in the 13-14th century to protect the city from invaders. Walking these walls is an absolute must-do for anyone visiting Dubrovnik. You get to see amazing views of the Adriatic Sea on one hand and the city on the other!
Aim to be at the Dubrovnik city walls by the opening time of 8am. As the day progresses, it gets insanely crowded and hot and you don't want to be stuck in one of the narrow sections sandwiched between huge tour groups. It takes about 2 hours (including several pit stops to take photos) to walk around the entire walled city. As a tip, buy the tickets in advance (150 kunas per person) so you don't waste time queueing up in the morning.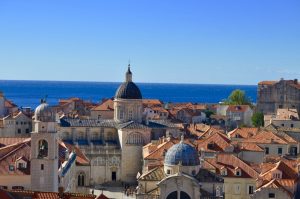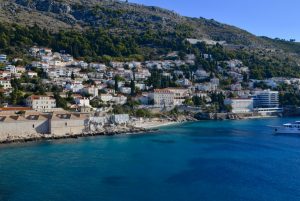 If you are not an early riser, start the walk later in the afternoon – after 4 pm. Entry to the walls isn't permitted after 6 pm but you will still have plenty of time to navigate these walls peacefully without the crowd.
Fort Lovrijenac
After you are done with the walls, make your way to Fort Lovrijenac. This fort is built outside of the Dubrovnik walls overlooking the Adriatic. This fortress has withstood numerous attacks by invaders all over the world, but in particular from the Venetians.
The ticket that you buy to walk the Dubrovnik Walls includes an entrance to Fort Lovrijenac, so do not throw away your ticket! Fort Lovrijenac showcases beautiful views of the sea, Lokrum Island, and the West side of the Dubrovnik walls. All you GOT fans out there, a little fun fact for you – this fort was a major shooting location for the series. Most of the Red Keep scenes were shot here.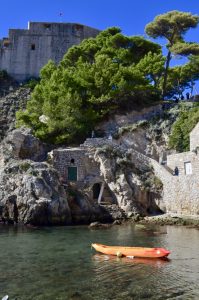 Old Town
Old town is adorned with stunning white stone Venetian style buildings. There are two gates from which you can enter the old town. The Pile gate, which is the main gate, is located on the West side of the old town. The Ploce gate is located on the East side – it has a wooden and stone draw bridge that leads you into the old town. The famous Banje beach is located close to the Ploce gate.
Once you enter the old town, you will find numerous shops, restaurants and cafes lining up Stradun, the main street in old town. It the main promenade where you will see most of the action. The best way to enjoy Stradun is to take a leisurely walk up and down the street. Once you get tired, sit in front of one of the cafes, get your drink and enjoy watching passing crowd.
Another 'must do' activity would be to explore the beautiful and charming little alleys of Dubrovnik. Even though we were wandering around in afternoon, we found these alleys almost empty (yet another perk of traveling in off season).
The harbor right outside the old town is one of the most picturesque parts of the city – the photo opps here are endless. There are a few restaurants on the harbor, which are perfect for a sunset meal or just to grab drinks. This harbor is where all the boat tours take off from and the ferry to Lokrum island is located. Or you can just head to Stradun, where you can grab a drink and indulge in people watching in one of the various street bars/ restaurants.
If you keep walking, you will spot the famous Jesuit staircase, where the epic Walk of Shame scene was filmed. It was so funny to see many tourists enact that famous Cersei Lannister walk of shame (of course, with their clothes on lol)
A few steps away from the Jesuit staircase, you will find the famous Buza Bar. It is literally located on the rocks and is a great place for drinks. It has limited seating so if you are aiming to catch the sunset, get there early. If you are lucky, you will even spot a few adventurous tourists, cliff jumping!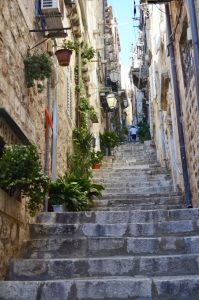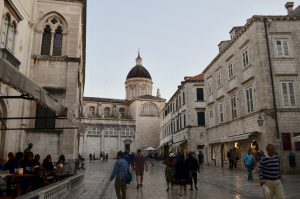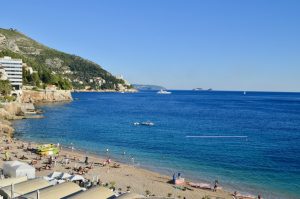 Visit one of the neighboring islands
There are numerous islands, just a short boat ride away from Dubrovnik. Depending on how much time you have, you can choose from Elaphiti Islands, Korcula and Lokrum.
With our friends being hardcore GOT fans, we picked Lokrum, which was just a 10-minute ferry ride away (round trip ticket cost us 150 Kunas per person). Note that one cannot stay on this island so ensure you keep track of the last ferry back to Dubrovnik (the timings may vary depending on the season).
We had limited time in hand so wanted to make the most of it. Our first few minutes into Lokrum, we spotted cute little bunnies and numerous peacocks. In fact, you could say that there were more rabbits and peacocks freely frolicking around on the island than humans.  We quickly made our way to the ruins and Benedictine Monastery located in the center of the island. Some of the ruins date back to the 1000s AD, while others are from the 12th century. This is where the iron throne, or rather its replica, is located as well!
Thanks to the cold wave, it was freezing cold – plus, being next to the water our fingers and faces were almost numb! But if you are visiting in better weather and fancy a dip in the sea, there are several little coves and areas to swim on Lokrum Island. There are ladders in most of these spots for an easy entrance and exit out of the water.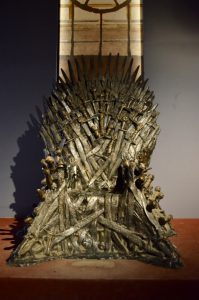 Lapad/ Cavtat
Lapad is located about 5 minute car ride/ 15-20 minutes by bus from old town. We took bus number 6 (or was it 4) and a return ticket cost us 24 kunas per person. Lapad is a stretch of beach, restaurants, and cafes. Lapad is not as touristy as Dubrovnik's old town but is a nice place to relax for the afternoon.
There is an amazing boardwalk that goes around the entire Lapad peninsula. It is mostly shaded and makes for a great walk to burn off those extra calories. You will also find various access points to go down to the beach and several spots where you can sunbathe and take in the beautiful ocean views.
Walking around this boardwalk, we stumbled upon Restaurant More and Cave Bar, located in a cave overlooking the Adriatic Sea. We were starving at this point, so chose to head up to the restaurant for a hearty meal.
If you are planning to visit Lapad around sunset, definitely stop by Sunset Beach bar.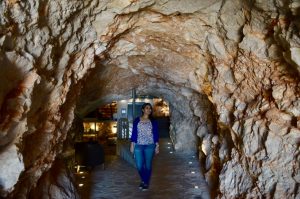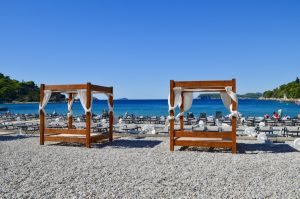 During our stay, we also ended up spending some time at Cavtat. It wasn't originally in our itinerary but thanks to a minor hiccup at Montenegro border crossing, we ended up spending a whole afternoon here.
Cavtat is the southern most town in Croatia and if you are looking for a quieter place to chill, then you should definitely add this one to your list. There are several boats that can take you from Dubrovnik to Cavtat at regular intervals and I believe it takes about 45 minutes by boat (costs approximately 50 kunas one way). Or, you can just drive to Cavtat – it takes about 30 minutes by car. There are several cafes, restaurants and gelato shops lining up the promenade and not to mention, some beautiful beaches too.
Walking Tours
With so much history to the city, a walking tour is a great way to get to know a city!
For all you Game of Thrones fans, there are several companies that offer a guided tour of the shooting locations. While the series is filmed in close to 7 different countries, majority of the Kings' Landing scenes have been shot in Dubrovnik.
A guided tour is always fun since you get so much BTS info. These tours are of course pricey (they start from 300 Kunas), so we decided to DIY. Here are some of the major shooting locations in and around Dubrovnik:
City Walls (King's Landing)
Fort Lovrijenac (Red Keep scenes)
Jesuit staircase (Cersei's walk of shame)
Ploce Gate (where Cersei ends her walk of shame)
Ethnographic Museum (Littlefinger's brothel)
Rector's Palace (City of Qarth)
Trsteno Arboretum (gardens of the Red Keep)
Hotel Belvedere (the battle between Oberyn and The Mountain)
Lokrum (City of Qarth)
Mt Srd
As you drive out of the city, if you look back, you will get the most beautiful view of Dubrovnik! If you want to get the best views, take a cable car (150 kunas per person) and head to the top of Mount Srd. Sunset is the best time to visit. Specially once the sun has set and you get to see the city twinkling at night from up above, is a feeling hard to describe in words.
We opted for a "free" view and stopped our car on the way to Mlini for this priceless view.
* All prices mentioned are as of September 2018