If you would have asked me at the beginning of the year, I would have never imagined getting to cross Jaisalmer off my list ! We were looking for a quick relaxing getaway and enjoying the cool weather before the arrival of harsh Mumbai summer. After shortlisting couple destinations, we zeroed in on Jaisalmer.
While most tourists visit Jaipur, Jodhpur, Udaipur and Jaisalmer as part of the Indian golden triangle tour, since we were looking for a short trip, we picked just one city. Jaisalmer is often overlooked in comparison of Jaipur and Udaipur. Agreed those cities have more to offer, but if you are looking for a relaxing getaway and don't want to be bothered with the crowd, then Jaisalmer should be your pick.
Best time to visit
Weather during November to early March is cooler thus, making it an ideal time to visit.
How to get there
Jaisalmer is the furthest tourist stop on the western-most side of India, close to the border of Pakistan.
SpiceJet, one of India's low cost airline, has recently started flights from various Indian cities such as Delhi, Jaipur, Ahmedabad, Surat and Mumbai. If you are visiting Jaisalmer from other cities in Rajashtan such as Jodhpur, Udaipur and/ or Jaipur, then you can reach Jaisalmer via bus, train or private taxi.
Where to stay
Our main agenda for this trip was relaxation with a little bit of sightseeing, so we chose to splurge on accommodation.
We wanted to stay at the luxurious 5-star hotel, Suryagarh but sadly, it was sold out during the days we were supposed to be in Jaisalmer. Somehow, miraculously, the booking opened up, but just for one day! While changing hotels is taxing on a short trip, we didn't care! We went ahead and booked a night at the exquisite Suryagarh.
Oh boy, we were so glad we ended up staying at this beautiful hotel! Every corner of this property was so gorgeous! Specially, their courtyard was to die for! I literally spent more than 3 hours in the morning at the courtyard – reading my book, listening to the music and enjoying the lavish breakfast spread! Plus, the staff took utmost care and went to great lengths to ensure all our needs were met. If you are looking to experience Indian hospitality at its best, then look no further!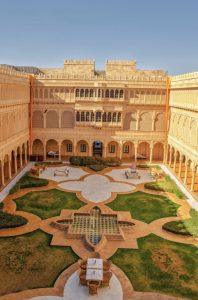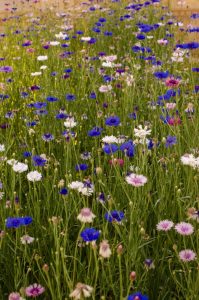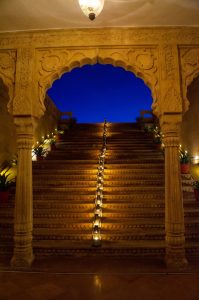 Bear in mind that Suryagarh is about 15 minutes drive from the city, so you will need a private taxi if you plan to step out of the hotel.
Once we checked out of Suryagarh, we checked in to Jaisalmer Marriott Resort & Spa. It was a good modern hotel, located about 5 minutes from the city.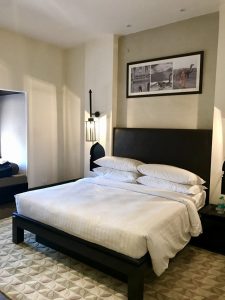 If you are looking to splurge even more, check out Serai, a beautiful luxury camp set in the middle of the desert. If you are looking for something cheaper, then there are a lot of options close to the town – Pleasant Haveli, Desert Boys Guest House, 1st Gate Hotel.
Things to do / see
The Fort
The fort is one of the main things to see in Jaisalmer. It is one of the few living forts in the world, as almost 3000-4000 people live inside the fort even today! It was listed as a Unesco World Heritage Site in 2013.
The fort has four fortified entrances or gates from the townside, which was once guarded by cannon. We paid Rs. 300 for two adults including the fee for camera! It is worth spending at least half a day exploring here. There is so much to see and do. You can hire a guide to know more about the history for as little as Rs. 100-200.
The Jaisalmer Fort is a bit of a maze but you wouldn't mind getting lost here – there is magic in every corner! Take a walk through the streets and get a glimpse into the lives of locals. There are markets selling everything from clothes, souvenirs, shoes, carpets, antiques and more. It is like any other neighborhood, except inside a historic fort.
One thing you can be guaranteed at the fort is you can get the most beautiful views of the city! Jaisalmer Fort is full of sunset points to take in the sights and most of the cafés and eateries are set up for this purpose. You will see 'sunset view' or 'city view' on almost every sign. The big cannon viewpoint provides the best photo opportunities.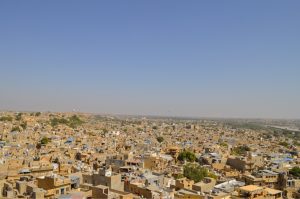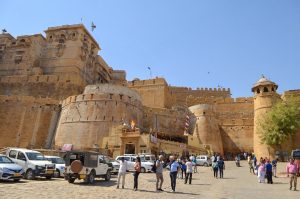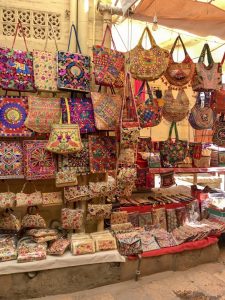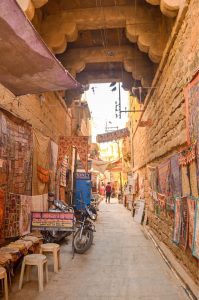 Out of everything that I did in Jaisalmer, simply wandering around this fort was my favorite thing to do. From the city palace, to the temples, the cafes and market stalls, this fort has it all. There is a Jain temple as well inside – there is no separate entry fee but if you have a camera, then you need to pay around Rs. 300.
The Fort is typically lit up at night but for some reason, it wasn't lit up during our stay. Catch a seat at one of the countless rooftop restaurants from which you can admire the fort.
Patwon ki Haveli
It is a complex of five different havelis owned by five brothers. A rich trader wanted to build five havelis for his five sons and commissioned this remarkable piece of architecture. It took over 50 years to complete!
All these havelis are renowned for their ornate wall paintings, intricate yellow sandstone-carved jharokhas (balconies), gateways and archways. Although the building itself is made from yellow sandstone, the main gateway is brown.
As you step inside the complex, the first haveli, also known as Kothari's Patwa Haveli is the biggest and the most popular. This is privately funded and hence, well maintained. The entry fee is around Rs. 100 per person. Spend some time marveling at the intricate carvings, mirror work and paintings. You can have a look at what luxurious life was like back in the days. Gaze at the sumptuous rooms, old-fashioned kitchen and take in the views from their rooftop!
Bada Bagh
The literal translation of Bada Bagh is 'Huge Garden'. Years ago, the founder of Jaisalmer commissioned a dam to create a water tank to be built at the site, making it the only green area in the region in those days. It is also the reason why there is a lake next to Bada Bagh, in the middle of a huge desert.
You will also find royal cenotaphs (or chhatris) of the Maharajas of Jaisalmer state – a cenotaph is a small temple or tribute statue for a deceased relative. All the cenotaphs in this cemetery have beautiful carved ceilings, statues and beautiful structures.
The entrance fee was around Rs. 100 per person (and an additional Rs. 100 for the camera). Not a single tourist was at the site when we arrived at 9 am. It is around 5km out of the city so you will need to hire a car to take you here!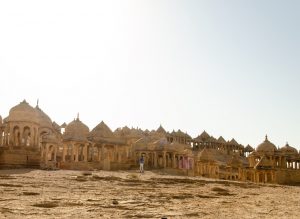 This place is a photographer's dream!
Gadisar Lake
Gadisar Lake is an artificial lake created by first ruler of Jaisalmer, Raja Rawal Jaisal in the 14th century. In the olden days, this lake was the only source of water for the city.
The lake is named after Maharaja Gadsi Singh, who revamped the lake to make it more beautiful. There are temples, chhatris, shines, and ghats, all along the banks of the lake, making it look beautiful.
The calm waters of the lake makes it perfect for boating and photographing wonderful scenic vistas and sunrise & sunset views. Birds can be seen wading on the waters, and flying in the azure skies above. In fact, you will also see migratory birds flying over Gadisar Lake in the winter season.
Now the lake is a popular destination for both tourists and locals, although close to monsoon time the lake is almost dry.
Kuldhara
Located around 20 km from Jaisalmer forted city, this ancient village has a reputation as a spooky and haunted one. There are several legends surrounding the village and the abandoned structures add more mystery look to the region. It is said that the entire village abandoned their homes to escape from a cruel ruler.
We paid Rs. 70 as entry fee for two adults + car.
Mandir Palace Hotel
Another prominent landmark is Mandir Palace, which had been the residence of the rulers of Jaisalmer for more than two centuries. The main part of this palace was erected during the rule of the late Maharawal Jawahir Singh. It has now been converted into a heritage hotel. There isn't much to see here, but the grounds are very beautiful with bougainvillea welcoming you at every step. Entry fee is Rs. 100 per person + Rs. 30 for the camera.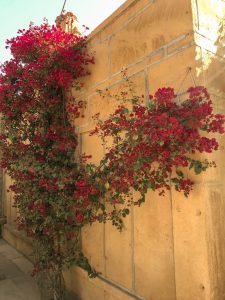 Where to Eat
Jaisalmer has countless rooftop restaurants overlooking the city. If you are looking to splurge on a nice meal with a dramatic backdrop of Jaisalmer fort than 1st Gate Home Fusion is just the place! Specializing in Indian and Italian food, it has the best setting and view! This place is quite popular and if you are traveling in winter, advisable to make reservations in advance.
Kuku Coffee Shop is an amazing place to grab some drinks admiring the city view. If you are looking for some coffee, juices and pastries, then head over to German Bakery and Coffee Shop inside the fort.
One other rooftop restaurant, which we loved, Wyra, is located inside Marriott Hotel. Their menu is a bit limited but mostly Indian tandoor based. We were a bit stuffed from our heavy meal so couldn't do justice but don't leave without ordering the zatar bread and some tandoori appetizers.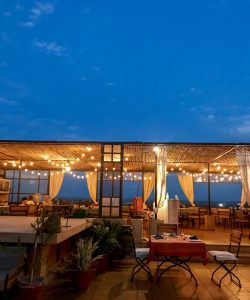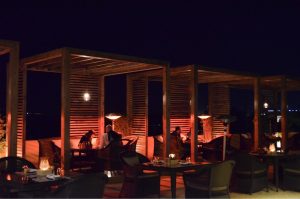 Additional Things to do
A desert safari is one of the most popular tourist attractions in Jaisalmer. The Sam Sand Dunes, located on the outskirts of Jaisalmer in the Desert National Park are the most famous one.
You can indulge in camel riding, jeep safari, dune bashing, witness a Rajasthani folk performance and also stay a night in any of the camps under the stars. Since we had just done a desert safari in Dubai last year, we chose to skip this activity.
There are a couple more havelis in Jaisaler that you can visit – Nathmalji ki Haveli and Salim Singh ki Haveli.
About an hour drive from Jaisalmer, you can also visit the India-Pakistan border. The visit to Border Pillar 609 is once in a lifetime experience but you will need prior approval from BSF. You will need appropriate documentation (for instance, valid ID proof) and need to submit them at least a day in advance for approval. We didn't know about this and were informed by our driver pretty late to be able to obtain the necessary approvals.
If you are not able to visit the BP609, then you can visit the Longewala border where the battle of 1971 was fought. However, you can't really see the border here.
* All prices are as of February 2019 and the entry fees are the ones applicable to Indian residents