Montenegro is a small country in south-east Europe, which borders Croatia, Bosnia and Herzegovina, Serbia, Kosovo and Albania. Over the last few years, Montenegro has slowly started gaining popularity and has now become the new hot destination just like its neighbor, Croatia. However, while Croatia is overcrowded with tourists and expensive, Montenegro is still relatively unknown.
While planning our itinerary for Balkan roadtrip, we were contemplating between a day trip from Dubrovnik vs. spending a few days in Montenegro. After a bit of research and LOT of convincing (my friends, in particular), we settled on a 3-day trip to Montenegro. Since we had limited time, we chose to visit the coastal towns and leave the lakes and mountains for next trip!
For a general overview of our entire itinerary, please click here.
It is interesting to note that although not a member of the European Union, Montenegro uses the Euro unlike most of its neighbors.
How to get there
If you are planning a day trip from Dubrovnik, you can find several tour operators in the old town to help you out. But as always, the downside of a group tour is that you rarely have any flexibility and are forced to cram it all up in a short timeframe.
If you are planning to go for longer, you can take a bus from Dubrovnik to Kotor and set up base in one of the towns. You can easily visit the neighboring coastal towns via hop on hop off buses.
Since we had rented a car, we chose to drive to Montenegro. Once we reached the border, we were in for a huge shock! When we rented the car from Zagreb airport, the car rental company forgot to give us the car registration papers (and our fault that we didn't check them either). We realized this at Slovenian border but since they the Slovenian border officials didn't press for the originals, we assumed it wouldn't be much of an issue for the rest of the trip.
At the border crossing in Montenegro, we were asked for original rental papers and all we had was a receipt from the rental company. We even showed them a copy of the registration documents the rental company had emailed us, but they insisted that they would need the original documents. We were asked to leave Montenegro and come back with the original papers.
After an endless queue at the border crossing, we reached Croatia and called the car rental company to fix this issue. They agreed to send the documents via plane from Zagreb to Dubrvonik – the only issue was that the papers wouldn't reach before 4 pm. We decided to grab a bite and kill some time in a small town called Cavtat, located about 10 minutes from the airport. In hindsight, we were so happy that we got to visit this beautiful little coastal town – it had a laidback vibe, no crowded streets, a pretty beach and endless restaurants guaranteeing you the best view of the Adriatic!
We reached the airport and managed to lay our hands on the original registration documents, praying that this time we would be allowed to cross the border. Oh well, guess what – the second time around, the officials didn't even ask for the papers! Arggghhh! We essentially lost the entire day but were happy to finally make it to Kotor!
Where to stay
Most of the coastal towns are within driving distance of each other. Hence, it is advisable to set up  base stay in one of the towns and make day trips to the neighboring towns.
Since we were traveling with friends, we needed a spacious airbnb. We found this 3 bedroom apt in Prcanj, a 15 minute drive from Kotor.
https://www.airbnb.co.in/rooms/18698538?guests=1&adults=1&check_in=2019-05-09&check_out=2019-05-12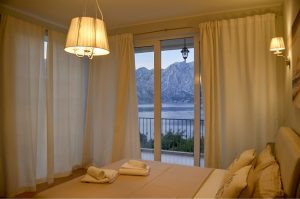 Waking up to that view of the bay was pure bliss! And guess what – we paid less than 150 Euros (per couple) for this property for our entire stay!
Towns to visit
Kotor
Kotor is a Venetian town listed on the UNESCO world heritage list. With Kotor becoming a major cruise docking port and easy accessibility from Dubrovnik, it has now become the new hot spot of the Adriatic! The main 'to-do' in Kotor is hiking St. John Fortress. There is a fee of Euros 8 per person to climb up to the fortress but if you enter before 8 am it is FREE. If you are traveling in the summer months then it may be wise to go early to save the entry fee and avoid hiking in the torturous heat!
We reached the town a little before 10 am and it was so peaceful with hardly any tourists. We stopped by a café to grab some breakfast and then wandered around the pretty streets of old town. Just wandering around was the main attraction in Kotor, discovering various lookout points and stopping by the multiple squares in the town.
All you cat lovers out there, you are in for a treat – every turn you take, you will be greeted by cats; in fact there is even a cat museum in the old town (entry fee is Euro 1).
By the time we got down from our climb, it was already 2 pm and the old town was completely packed with day-trippers and cruise ship passengers.
Budva
Budva is yet another coastal town located about a 30 minute drive from Kotor. Budva is pretty small but is packed with hotels and restaurants. In fact, of all the Montenegrin towns we visited, Budva seemed to have the most number of hotels and restaurants. I guess the main reason is that Budva has plenty of pristine beaches to choose from! In the peak summer months, the beaches are packed with sunbathers and the town's harbor is filled with private yatchs.
There are five entrances leading you to the town. The streets are extremely narrow and packed with restaurants, cafes, souvenir shops, and clothing stores. By night, both the old and new town come alive with everyone dressing up and creating an electric atmosphere.
Being vegetarians we didn't find many options to eat in Montenegro apart from pizzas and pastas; but surprisingly, there were a variety of options on Budva – we found amazing Chinese food as well as falafel wraps at Casper Bar.
Sveti Stefan
About a 15 minute drive from Budva lies Sveti Stefan. The whole town has now been converted into a five star hotel and is connected to the mainland by a walkway. One night at the hotel will set you back by Euros 800-900. Unless you are a millionaire, you are probably not spending the night here! But it's a popular day trip or a stop along the coast.
If you are not a hotel guest, you are not allowed on the island. But you can enjoy the public beach (car parking fee is Euros 2) located on the left hand side of the walkway. If you want to splurge and need some privacy, you can pay Euros 25 a day and enjoy the private beach. Since we were visiting in late September, the public beach wasn't as crowded.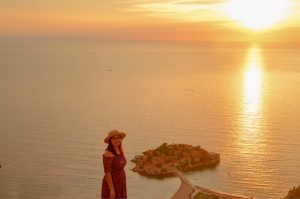 After we were done strolling around the beach, we wanted to get a good view point of the island from above and started looking for the Sveti Sava church. While it is a short drive to get up there, it was quite an adventure to get up there during sunset. The roads are pretty narrow, there are no markings/ directions but we thankfully made it there in one piece! If you have flexibility in your schedule, highly recommend visiting during sunset. It was one of the most stunning sunsets I have witnessed!
Perast
Our original plan was to stop by Perast before we reached our airbnb in Prcanj on Day 1. Thanks to the snafu at the border, we had to skip this one.
But the day we were leaving from Montenegro, we managed to sneak some time in and visit this lovely town for some cuppa coffee and some breakfast.
Perast is much smaller than Kotor and as a result, much quieter. The town is right on the water and there are lots of nice cafes looking out over the water. There are a couple of churches to visit in the town or you can walk through the winding streets and find beautiful abandoned buildings and some incredible views. The main attraction of Perast are the twin islands that lie just off the coast of the town – St. George and Our Lady of the rocks. We had originally planned to take a private boat (they cost around Euros 60) to the islands but since we had a long drive ahead (Mostar and then Split), we decided to skip it. Instead, we roamed around the little alleys and found a good spot along the bay sip on some coffee admiring the views.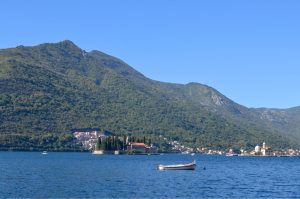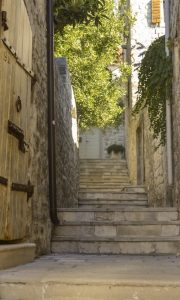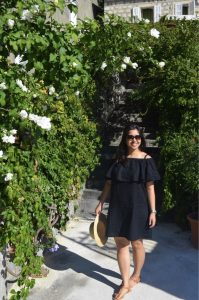 Additional Places to see
If you keep driving along the coast, you will reach the town of Bar. It is a cute little town with some charming little alleys. Tivat is yet another town where most people set as base for exploring Montenegro's coastal towns.
Northern Montenegro is entirely different from the coast. If you have additional days on hand, you can consider visiting Durmitor National Park, Lovcen National Park and Lake Skadar.
*All costs are as of September 2018