Split is the perfect combination of historical, modern, great shopping, fantastic food and beaches.  Even though it is the second largest city in Croatia after Zagreb, you can easily see most of the old town of Split in a day. With close proximity to beautiful islands, Split works as a great base for exploring these islands.
We spent almost 4 days in Split walking around this picturesque port city and its waterfront, the old town, narrow streets with countless hidden alleys. Split ended up being my favorite Croatian town!
We chose an airbnb close to the old town and would highly recommend anyone visiting Split. The apartment was barely a 10-minute walk from the old town and worked out to be very convenient.
https://www.airbnb.co.in/rooms/17432970
Things to do/ see
Old Town
The Old Town in Split is one of the best old towns you can visit in Croatia! Everything is so beautifully preserved and you will literally have centuries of history right in front of your eyes! It became a UNESCO World Heritage in 2014 and, because of that, many improvements have been made in this area.
The old town is lined up with numerous cafes, restaurants, gelato shops, souvenir shops, and some high-end stores too. I loved walking through numerous alleys trying to find all the hidden cafes and restaurants. By the end of my trip, I literally knew the old town at the back of my hand!
If you want to have the best view of the city, climb up to the Bell Tower – it is a unique experience that you definitely won't regret!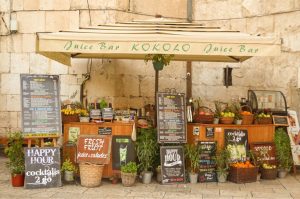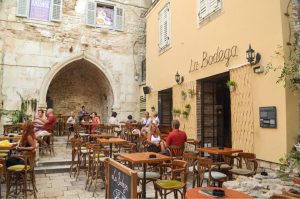 Diocletian's Palace
The most popular landmark in Split is the fortress at its centre, Diocletian's Palace. These Roman ruins are considered Split's most well known attraction. Built by the Roman Emperor Diocletian, this former palace dates back to the fourth century. As you are walking around, you will see the Diocletian's incredible Egyptian sphinxes and many stone statues. And yes, all you Game of Thrones fans, some portions of the show were shot here as well.
If you want to see the grandeur of Diocletian's Palace without hordes of people, then the best time of day to explore this place peacefully is in morning. Get up early and head straight to the Peristil. We were there at around 7.30 am and we had the place almost to ourselves – it was such a magical experience. Once you are done, make your way to the underground market, where various shops sell unique and local souvenirs. Wandering around old town without another soul in sight was so surreal!
At night, there is live music outside Luxor café situated at this square. Definitely come back here after dinner, grab a drink in hand and groove to music. On our last day in Split, our friends decided to go shopping and we decided to spend some time in the town. We had dinner at one of the cafes in old town, grabbed a gelato and headed back to Diocletian Palace to listen to music. It was one of our best evenings on this trip!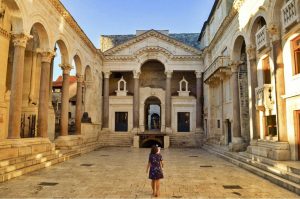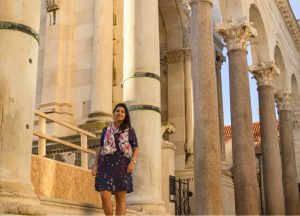 Riva Promenade
The Riva is the port of Split and it is the perfect place for your evening walk. The place is full of cute little cafés and bars, beautiful buildings, palm trees and it is set right near Diocletian's Palace! There are several bars by the waterfront – take a nice long walk along the Riva and then retire at one of the bars taking the beautiful views. We even caught some live music performances set in open air on two nights.
If you are looking for a fine dining restaurant, then make your way to Restaurant Zoi. Its terrace has a beautiful setting – on one side it overlooks the marina and on the other, the walls. Sadly, it didn't have much vegetarian options so we hade to give this one a miss.
Marjan Hill
Marjan Hill is a fantastic spot overlooking the whole city. It is the perfect place to go if you want to get away from the hustle and bustle of the city for a little while, as it is surrounded by beautiful pine and cypress trees! The entire hike is strenuous but the views are well worth it!
During our stay in Split, the weather started going downhill. There were torrential rains and a strong wind advisory – in fact, there was crazy wind blowing all over – we could literally see leaves flying all over and the streets were deserted! Hence, we decided to skip this hike.
Walking Tour
If you are short on time and you want to make the best out of your Split vacation, a walking tour is the best way to see the old town. They are not that expensive, but we were planning to take one in Dubrovnik (but ultimately skipped that too) so didn't sign up for one here.
Island Hopping
If you look at Croatia on the map, you will notice that there are several islands right off the coast along Split and Dubrovnik. Most of them are just a short boat ride away from Split, making this a perfect day trip from the city.
With no shortage of picturesque islands to discover, the only problem would be which islands to visit! Brac and Vis are popular islands that are much less crowded and have some of the best sandy beaches in Croatia. Hvar is the party capital of Croatia. The blue cave/ blue grotto located on Bisevo island is famous for the mesmerizing blue light.
We wanted to check out the blue cave since we had missed it on our trip to Capri last year. Now the main problem with the Blue Cave is that it is located on the farthest territorial point on the Croatian Adriatic Coast – which is a long way to go just to spend 5-10 minutes in a cave – and return. So, to give you a great deal for your money (since these trips don't come in cheap by any means), most tour operators offer to take you to other islands as well and make a full day trip of it!
Since we were traveling with friends, we chose to book a private tour vs. a group tour. The full day trip cost us Euros 120 per person. We wanted the flexibility of spending as much time as we wanted on the islands vs. being stuck to a schedule and we barely ended up paying Euros 20 per person extra! During the day trip we visited:
Blue Cave
Stiniva Cove, Vis
Blue Lagoon
Hvar
Such a day trip works out best for those who don't have time for the full vacation on the islands, but still want to see it. If you are keen on doing an island tour, recommend that you monitor the weather (specially in the shoulder season), and book/ reserve your spot on one before-hand since there are great chances that the blue cave could be closed due to bad weather.
We were continuously monitoring the weather and it was showing as torrential rains for the next few days – so we decided to go on the island tour immediately before the weather got worse. In hindsight, we were lucky that we got this done early on, since the weather just worsened (read very windy and little rainfall) and the boat tours (specially to blue cave) for next few days were cancelled.
If you decide to visit the blue cave, keep in mind that there may be a long wait to actually get inside the cave. As you know, we were visiting in late September but still had to wait for almost an hour for our turn. The way this tour works is, you get off your boat, buy tickets (70 kunas per person) to get inside the blue cave (since we were on a private tour, we had to buy our tickets but on a group tour, the tour operator will typically buy them for you). Thankfully, there are restrooms and a café so you can enjoy the beautiful views of the crystal clear sea, chilling out with a beer or cup of coffee at the cafe.
After an hour long wait, we finally made it inside the cave. As we entered the blue cave, we were left mesmerized by the color of that water. It is truly incredible and totally worth a trip if you find yourself in Split. The only downside is that you cannot swim inside the blue cave.
Note that there are tour operators, who offer trips to the blue cave from Dubrovnik as well. The blue cave they take you to from Dubrovnik are different from the ones you go from Split – they look similar but the only difference is that you can swim at the former one.
After the blue cave, we went swimming in the Blue Lagoon – now keep in mind, there are sea urchins in this part of Croatian beaches and many swimmers (like us) unknowingly, step on them. Once this happens, the spines break and penetrate deep in the tissue of the foot, and can stay there causing further complications (mainly, swelling and constant pain). Three out of five of us were bitten by these sea urchins. For two of us, it wasn't really painful, but my husband had excruciating pain. Luckily, we managed to find a doctor at Hvar and advised us to apply a black cream, easily available at the pharmacy. So before you step in the water, just be a bit cautious – there is no way to avoid them, but wearing water shoes would be advisable.
Next on our stop was Hvar – there is a lot to do in Hvar but since we were strapped for time, and of course, injured, thanks to the sea urchins, we couldn't explore much! Plus, we were tired and hungry so found a cafe and had an elaborate lunch at Spice Asian Restaurant in the main square. It was one of the best Thai meals we had on this trip!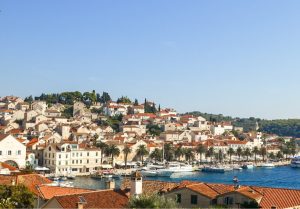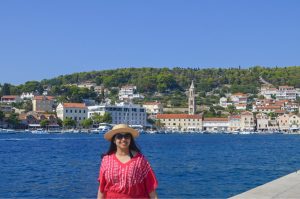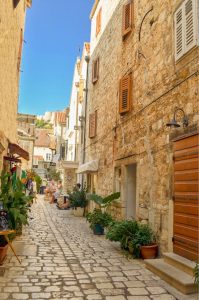 We were hoping to go back to Hvar the next day to explore more of it but since the weather the weather was crappy, we decided against it.
Day trips to other neighboring towns
Sibenik
The historic town of Šibenik (pronounced Shi-beh-nick) is located about an hour drive from Split. Šibenik is very small and so are its streets. I loved wandering aimlessly into beautiful alleys and finding cute little corners. All houses are made of white stone and decorated by green doors and shutters. Šibenik was the filming location for Braavos in Game of Thrones. If you have some spare time left during your stay at Šibenik, you can also visit Krka National Park. Its a beautiful nature park with gorgeous waterfalls, where you can can swim too (unlike Plitvice)! Since we were a bit underwhelmed by the flow of water at Plitvice, we decided to skip this one.
Trogir
Just like Split, Trogir is a UNESCO World Heritage Site with a great medieval vibe! Trogir is a small city-island located an hour away by ferry from Split and half an hour away by car. The city is full of Gothic and Romanesque architecture dating from the 15th century and small, charming streets. You can see the entire city in just a couple of hours or half a day if you have some more time available. If you are looking for a quieter place to stay, then Trogir should be your pick. There are many boat tours which begin / stop at Trogir so this can work out as a perfect base as well.
Klis Fortress
For all you Game of Thrones fans out there, much of Daenerys' storyline takes place in the kingdom of Mereen. The exterior shots of Mereen were taken at Klis Fortress, a medieval castle perched above the town of Klis.
Klis Fortress is just a 12 km ride from Split and is easily accessible by both car and public transport.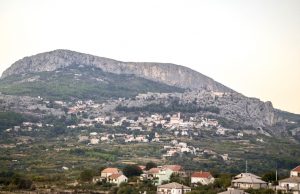 Where to Eat?
Being vegetarians, we typically struggle to find a variety of food in small European towns. But Split old town was an exception! Here are some of the recommendations:
For brunch

Maka Maka (acai bowls)
Kokolo Juice and Smoothie Bar for great juices and acai bowls

Bobbis – great bakery
Bokeria Kitchen and Wine Bar
Bepa
Zinfandel Food & Wine Bar
To Je Tako for Mexican food
Marta's Veggie Fusion for vegan food
Daddy Cool – Best falafels in Split
Zoi for a great view
For gelatos

Don Dino
Luka Ice Cream & Cakes
Pumparela
* All prices are as of September 2018.