Plitvice National Park is the single most visited park in Croatia. Plitvice Lakes became protected national park in 1949 and since 1979, this place is also listed as UNESCO World Heritage Site.
While most travelers make a day trip to Plitvice from Zagreb / Zadar / Split, I highly recommend staying a night near the park. You can visit the lakes over two days by doing different trails each day or see them all in a day.
There are quite a few hotels and apartments in this small area. We stayed at Apartment & Rooms Arija located about 15-20 minute drive from the park (entrance 2). Upon check-in, we were given a map of all the best viewpoints in Plitvice and tips on the best routes within the park.
For a general overview of the itinerary, please click here.
Best time to visit
Having seen pictures on Instagram and on the web from different seasons, I can attest that the lakes are worth visiting any time of a year. Each season brings in its unique beauty.
Spring is the best time to visit because the level of water is really high, and waterfalls and streams run wildly. In the summer months (particularly in July and August), lakes get really crowded, so it may be difficult to even move around. In winter, waterfalls covered with snow look like a scene from a fairytale!
We visited towards end of summer/ beginning of autumn. It was good to be able to explore the park peacefully without bumping into a lot of people. We noticed some trees had started changing colors and it just added the magical touch to the park. The only downside was that the level of water was a bit low so the falls didn't look as forceful.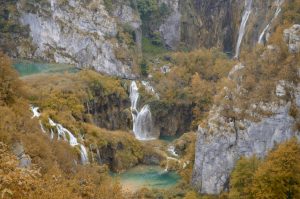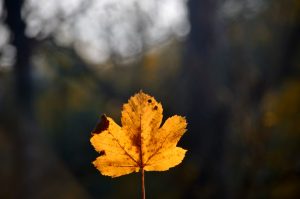 Entrance Fees
The entrance fee depends on the time of the year you are visiting – the prices are highest during the summer months. We paid 150 Kunas per person in September 2018. Note that you need to pay an additional fee of 7 kunas per hour for parking.
Refer to this website for the latest prices. https://np-plitvicka-jezera.hr/en/plan-your-visit/price-list/
A guide to visiting the lakes
The park opens at 8 am and you probably want to get there shortly after. With day-trippers coming in, the park gets crowded as the day progresses. If you are not an early riser, you may want to visit later in the afternoon (after 4 pm) since most day-trippers would have made their way out of the park by then.
The lakes are divided in two groups – Upper Lakes and Lower Lakes. There are two entrances to the park – Entrance 1 and Entrance 2. Entrance 1 is close to the Lower Lakes whereas Entrance 2 is close to the Upper Lakes. Depending on the trail you intend to take, you park your car at that relevant Entrance.
Plitvice Lakes National Park is accessible on foot via walkways. There are several trails one can choose from, varying from 2 hours to 8 hours and ranging from easy to difficult. All routes are marked and easy to follow. Shuttle buses run every 20 minutes along designated areas of the park. Some trails even include a boat ride (note that transport within the park is included in your entrance fee so do not throw away your ticket immediately upon entrance).
In my view, Trails C and H let you see most of what the park has to offer within a few hours. We chose to trek Trail H and it took us about 4-5 hours to see most of the park. We spotted several flora and fauna on our hike and were left speechless with the clear water – you can literally spot fish swimming!
If you take Trail H, you will start with a bus ride. They drop you at a station from which you start your hike to the Upper Lakes. After you cross the Upper Lakes, you need to take a boat to get to the Lower Lakes and the big waterfall. Once you are done viewing the Lower Lakes from various viewpoints, you take another shuttle to return to your starting point. This route is around 8-9 kms long and ideally takes about 4 to 6 hours.
As we started our hike to the Upper Lakes, there were hardly other tourists so we enjoyed the walk even more. As we started making our way to the Lower Lakes, that's when we encountered a ton of people! They were certainly more crowded than the Upper Lakes. Also, there was a little bit of downpour as we made our way to Lower Lakes so we were completely drenched by the end of it.
While the Lower Lakes get most tourists and attention of social media, we loved exploring the Upper Lakes as well – it was a completely different experience to wander around the natural beauty peacefully without all the crowd.
All through the park, you will find several station points which serve basic food and drinks. Alternatively, you can take sandwiches with you and organize a nice picnic with an amazing view to the lakes!
Note that swimming is forbidden in the park. If you are looking to swim in turquoise water you need to visit Krka National Park – located about 2 hours from Plitvice Lakes National Park.
While the park was beautiful, it was a bit underwhelming since the gush of the water flow wasn't as strong. I have been told that spring and early summer are the best times to see the falls in all its glory! But we still liked our visit to Plitvice and recommend visiting if you are ever in Croatia.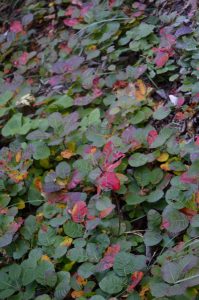 * All prices mentioned are as of September 2018