Are you looking for fairy tale castles surrounded by beautiful vineyards? Cute medieval villages? Are you a white wine lover? Are are you into an adventure seeker who loves hiking?
If you have answered yes to even one of the above questions, then the Moselle Valley is the perfect place for you!
Beginning in France, the Moselle River flows through France, Luxembourg and western Germany. It enters Germany near Trier and meanders to Koblenz where it flows into the famous Rhine River. Moselle River Valley is dotted with castles, beautiful vineyards and medieval villages. Think about half-timbered houses and castles that look like they were lifted straight from a fairytale. This region is known worldwide for its white wine, especially the Riesling. 
With vineyards and castles on each side of the road, this is undoubtedly one of the most romantic drives in Germany. We literally took a longer detour at times just so we could drive along the river.
You need to set aside at least 3-4 days in order to explore this part of Germany. The below article provides all that you need to know to plan an amazing trip to Moselle Valley, which includes postcard perfect towns, castles, and even a 360 meters long suspension bridge!
We visited Moselle Valley as part of our two week European road trip to Germany, Belgium and Netherlands – you can read more about our itinerary here.
When to Visit
If you love autumn, then that would be the perfect time to visit! Imagine seeing all these vineyards covered in golden hues!!!
For all those wanting to truly experience the wines made in this region, then you should visit during the Mosel Wine Week which is held in the middle of June. More than 300 wines are typically offered for tasting at different wine stands.
Other than that, spring – early fall are good times to visit. You rather not visit in winter when most of the leaves are gone!
Where to Stay
There are several towns lining up River Moselle. Depending on the towns/ sights you plan to see, pick an accommodation, which involves minimal commute. You could choose to stay in a big town like Cochem, Bernkastel-Kues or one of the smaller towns. Since we were visiting over the long weekend, most of the accommodation was already sold out. We chanced upon a cute airbnb at Hatzenport, about 20 mintues from Cochem and booked it right away. I spent most mornings and evenings on this bench (just across the road from the airbnb).
https://www.airbnb.co.in/rooms/17762003?source_impression_id=p3_1562062249_cHUHVZ89%2FZf45kx9
Hatzenport was literally a stone's throw away from Geierlay Suspension Bridge and Burg Eltz Castle, and just a few km from Cochem. We couldn't be happier with our choice!
How to get around
Almost every town along Mosel river is connected to the public railway, which makes it very easy to explore the region. Since we had a car, we never ended up using the public transport. But I hear that trains are pretty efficient and comfortable.
Bicycles are available for rent in most towns and you can bike along the hills, vineyards, and from one town to another. You may want to go easy on the wines, but I bet it would be the perfect excuse to load up on gelatos afterwards!
As we were passing by some of the towns, we saw several cruise ships docked along the river. That is when we realized that many companies offer cruises to this region. You could either take a cruise where you are onboard for several days in a row or you could take a boat trip excursion on the river. I bet cruising would be a lovely way to explore the beauty of this region. You could also do a boat trip from one town to another.
Things to do/ Places to see
Cochem
Cochem is a beautiful historic town located right in the middle of Koblenz and Trier. With half-timbered buildings, cobblestone streets, romantic castle, quaint cafes and a great view of the Moselle, it is one of the most popular towns along the river. It is also a great base when exploring the areas in the Mosel and Rhine since it lies near many points of interests in the region.
One of the main attractions in Cochem is the beautiful Reichsburg Castle. The castle is over 1000 years old and stands on a hill overlooking the town. The French destroyed much of the original castle on 1688, but in 1868 it was bought by a wealthy businessman and restored to its former glory. The castle is open to the public by guided tours, each tour lasting about an hour. Even if you don't intend to go inside the castle, recommend walking up to the castle for spectacular views of the town and its surroundings! It involves a 20 minute short uphill climb, so ensure you are wearing comfortable shoes.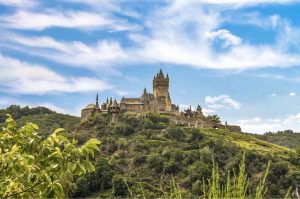 Once you are done exploring the castle, spend some time in market square. It is full of interesting shops selling different things including wines, mustard, jams. We picked up some yummy jams, which we inadvertently left behind in our airbnb.
After all the walking, grab a seat at one of the quaint restaurants, get an outdoor table or table at the terrace and enjoy the lovely views!
If you are traveling with kids, you can get aboard the Moselle Wine Express to learn the history of the Moselle and Cochem. See the Cochem Castle, the symbol of the entire region, numerous historical monuments and many other attractions. Each ride lasts about 30 minutes and costs Euros 4 per person.
Enjoy the beautiful scenery by taking a nice stroll at lovely promenade. Grab a seat on one of the benches and simply sit back and take in the view.
Beilstein
Located just 15 minutes from Cochem, Beilstein is another town worth visiting. The most important attraction in Beilstein is the Beilstein Castle. It involves a bit of a hike but you will be rewarded with a postcard view from top of the hill. Since we had just visited the castle in Cochem, we chose to skip this. Instead, we simply walked up to the church for lovely views.
This town is considerably smaller than Cochem and will take you barely 30 minutes to wander the alleys and get a feel of this city. If you do end up visiting Cochem, do not miss this town.
Bernkastel Kues
As we parked our car and made our way to the town, I'll be honest – it didn't look as appealing. We didn't realize there are two different towns – Bernkastel and Kues – that are separated by the Moselle river.  As we crossed the bridge and made our way to the winding cobblestone streets into the old town, we were literally transported into half-timbered heaven!
The Marktplatz is the town center of Bernkastel. The row of adorable, half-timbered houses, dating back to the 17th century, will literally make you feel as if you stepped into a fairytale. You will find several shops and cafes in this square. Grab a seat in one of the cafes and sip on Reisling or coffee.
If you go up to the right from the market square, you will see the most photographed house in the town, so called 'Pointed house' from the beginning of the 15th century.
We reached the town at around 5 pm and it was bustling with locals and tourists shopping, eating, drinking and just enjoying life! A stroll along the streets of Bernkastel Kues is the best itinerary for the day. The winding cobblestone streets and charming little storefronts will make you feel like you've stepped into a fairytale! Sit in one of the cafes and just enjoy this town, it is just so beautiful.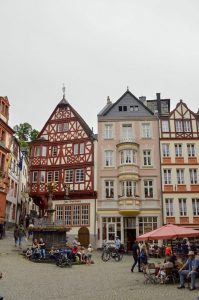 After we were done strolling around Bernkastel, we made our way to Kues – it was a tad bit lackluster. It didn't have a buzzing center but you can find a few wineries and taverns here.
Other towns to visit
Traben-Trarbach
After Bernkastel Kues, we stopped by this town for a brief visit. Similar to Bernkastel Kues, this one is made of two separate towns – Traben and Trarbach. Sadly, we reached the town around 7 pm and it felt kinda like a dead town so we didn't spend much time here.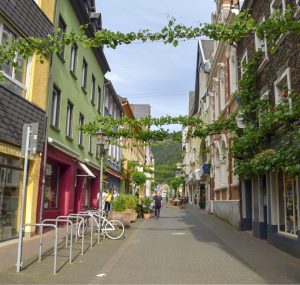 Koblenz
Koblenz is where Rhine River and Moselle River meet. One of the top things to do here is taking a cable car ride. The cable car connects both river banks and takes you from the old city center to the Ehrenbreitstein fortress. You will also get panaromic views of the town as well as Rhine and Mosel rivers.
We ended up visiting on Monday of the long weekend and hence, most of the shops and some cafes were shut. We took a small walk around the city center before heading back to our airbnb.
Other cities to visit
Burg Eltz
One can't go to Germany and not visit a castle! This country seriously boasts of numerous castles and since I always dreamt of seeing one, I couldn't board that return flight until I had crossed this item off my list!
Luckily, Burg Eltz castle is located just a few minutes away from Moselle Valley. One of the most striking parts about this castle is that it has never been destroyed despite the World War II. Today, it is still owned by the same branch of family that inhabited it some 850 years ago. The present owner belongs to the 33rd generation of the Eltz clan.
Once you reach the parking lot, there are a few ways to get to the castle, either by foot or a shuttle (Euros 2 per person). There are several hiking trails ranging from 20 minutes to 5 hours. You can go down the same path used by the shuttle bus or take one of the hikes. For more information on the hiking trails, please click here
https://burg-eltz.de/en/planning-your-trip-to-eltz-castle/hikes-to-eltz-castle.html
We chose a short hike (20 minutes) through the forest before we made our way to the castle. But having done this, I suggest you go down by the shuttle bus route and then walk back this route (since the views from up above are really stunning).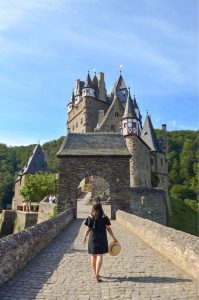 Guided tours cost Euros 10 per person and last for about 45 minutes to an hour. There is a small café at the foot of the castle in case you are hungry after the hike.
Couple points to note:
Photos are not allowed inside the castle.
Drones are not allowed.
The parking fee for cars is Euros 2.
There is no fee to see the castle from the outside, except the parking fee. You are free to admire the beautiful castle and its intricate details from outside.
Geierlay Suspension Bridge
Yet another place that I discovered thanks to Instagram and it quickly became one of the highlights of our trip. Hängeseilbrücke Geierlay, also known as the Geierlay swingbridge, measures 360 meters and is about 100 meters above ground. It is the longest swingbridge in Germany, which was opened October 2015 and has become a tourist attraction ever since.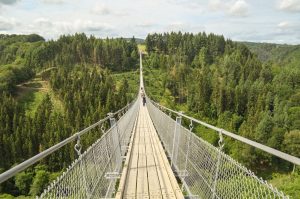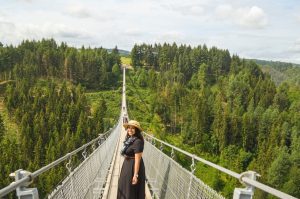 Cars are not allowed all the way to the foot of the bridge. Instead, you need to park your car at the nearest town of Morsdorf (parking fee is Euros 2 per hour) and then walk for about 2 kms along the countryside until you reach the bridge. The walk is completely flat hill and barely takes 20-25 minutes depending on your speed. We saw families, elderly as well as kids enjoying the walk.
Thanks to its popularity, the bridge was fairly crowded by the time we reached (around 11 am) so advise reaching here around 9 am or even earlier if you don't want any photobombers.
The start of the bridge is fairly easy – if you are afraid of heights, you can hold on to the rails on both sides. As we reached the middle, it started swinging a lot – partly due to the wind and partly due to others who were intentionally shaking the bridge to scare off their travel partners. I was kinda petrified and made my way back to the base. I was glad that I walked at least till mid-way and didn't turn around right at the beginning. Even if you decide to walk the entire bridge, it will take you less than 10 minutes!
This was definitely the most adventurous part of the trip and was happy to cross this item off my bucket list. Would you dare to cross this bridge???
Hiking Trails
If you're more of a hiker or would love to get some exercise, a hike is an excellent way to see the surrounding areas of the Mosel. In fact, a lot of hiking enthusiasts visit Cochem just for Mosel's world famous gorgeous hiking trails that wound past scenic vineyards, pretty and quaint villages, and stunning vistas. It's truly a hiker's dream.
You can reach the tourist center in any of the big towns and ask them to guide you with the hiking trails. Here are a few to get you started but note that they are not for the faint hearted!
Moselschleife – for great views
Bremmer Calmont winery – the steepest winery in the world
Moselsteig trail
I had sprained my ankle on our first day while wandering around Bernkastel Kues. Hence, I refrained from any hike.
*All prices mentioned are as of June 2019.