Rüdesheim am Rhine is located in the Upper Middle Rhine Valley of Germany. Similar to Moselle, this stretch of Rhine River is dotted on both banks with small towns and castles and is also Germany's best wine-growing region.
Rüdesheim am Rhein is one of Germany's most beautiful and scenic wine regions. It offers beautiful hikes through its mountains and exceptional views over the Rhine river valley. If you are looking for a scenic town with picturesque vineyard views then you need to add Rüdesheim to your list.
We visited Rüdesheim am Rhine as part of our two week European road trip to Germany, Belgium and Netherlands – you can read more about our itinerary here. 
On our last day in Germany, we were scheduled to catch our flight back home in evening so had the morning free. We decided to spend a couple hours here before catching our flight. Since we had limited time, we could only spend 2-3 hours here.
How to get there
Rüdesheim is located about 65 km from Frankfurt. The easiest way to reach Rüdesheim via car. If you don't have a car at your disposal, then take the train from Frankfurt Central station to Bingen, followed by a ferry to reach Rüdesheim. If you are coming from Cochem, then you will need to change trains at Koblenz to get to Bingen and then take the ferry. The ferry ride barely lasts 5-7 minutes and costs Euros 9 per person for a return ticket. Please refer to the below link for exact schedules and prices of ferries.
https://www.bingen-ruedesheimer.de/en/passenger-ferry
There are separate ferries available where you can even take your car from Bingen to Rüdesheim am Rhine. Refer to the below link for more details.
https://www.bingen-ruedesheimer.de/en/car-ferry
We were staying at Hatzenport, a small town along Moselle River. Rüdesheim is located on the other side of Rhine River and we would have spent considerable time had we driven all the way to the town. Instead, we drove to Bingen, parked our car and took the ferry to cross the river.
Things to do
Take a cable car ride
An absolute must do in this town is taking a cable car ride soaring above lush vineyards. Each cable car is quaint and cozy enough for only two people. With jaw-dropping panoramic views over vineyards, Rüdesheim's old town and the beautiful river, this will be the highlight of your trip!
You can buy tickets for the cable car at the station. If there is a long line at the window, use the automated machine to buy your tickets. Each journey takes between 10-12 minutes and a return ticket costs Euros 8 per person. You can also take the cable car for one part of the journey and hike through the beautiful vineyards on your way back down. Since we were short on time, we opted to take the cable car ride both ways.
Once you get down the cable car, walk to the viewing deck, where you will get to enjoy the lovely views. There is also a beautifully landscaped park with a cafe. From here, you'll find yourself a stone's throw away from the Niederwalddenkmal, a monument from the 1800s.  The views from the Niederwalddenkmal are absolutely stunning – you can even see Bingen and Lorely from the top.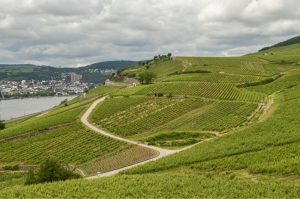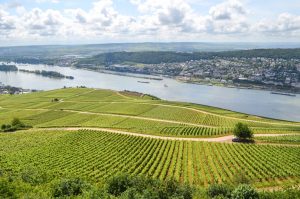 If you are visiting in early spring / fall, advisable to keep a jacket handy since it can get windy up there. There is a short hiking trail here as well for those who are interested.
Take a stroll on Drosselgasse 
Just a few steps from the cable car ticket shop, you will come across the famous Drosselgasse street. This lovely picturesque street is lined with bars, restaurants, gelaterias, souvenir shops and wine taverns selling freshly pressed wine! This is the most popular street in the town and for good reason: it is incredibly picturesque.
Oberstrasse, at the top of the Drosselgasse, is also very popular and another lovely street filled with souvenir shops and restaurants.
Indulge in wine tasting
Rüdesheim am Rhein is an established wine growing region known for their Rieslings. Wine tasting in this region works differently than in other places – there aren't really any wineries to tour and taste. Instead, you will find several wine tasting shops. You can try wines by the glass in restaurants or wine bars or taste and buy at a Vinothek. Pick up a Riesling to enjoy on your trip or as souvenirs for friends and family – some bottles cost less than 5 euros.
Try Rüdesheim Kaffee
A must-have drink in this town is a Rüdesheimer Kaffee – a traditional drink of coffee and Asbach, which is like a brandy.
Rüdesheim coffee was invented in 1957 and is best served in a traditional 'Rüdesheim coffee' mug. Rüdesheim Coffee begins by heating sugar and Asbach brandy until the sugar catches fire.  The brandy is then transferred into a coffee cup where strong coffee is poured on top to put out the flames. This drink is finally garnished with fresh whipped cream and chocolate flakes.
Most of the cafes here sell this traditional drink for Euros 8-9 . You may think that it is ridiculous to pay such a high price for a cup of coffee, but trust me, it is totally worth it.
I loved watching the whole process of making this coffee too! By the end, I had had two cups of this coffee and felt a little lightheaded 🙂
Board aboard the Winzerexpress
If you are traveling with kids, hop aboard Rüdesheim Winzerexpress –  a tourist train that loops through town and the vineyards. It has been operational since 1978!
* All prices mentioned are as of June 2019