Bruges was one city that had been on my wishlist for the longest time. We spent two days in this magical city and fell absolutely in love with it! Walking around the lovely alleys, stumbling upon cute corners, sampling Belgian chocolate, eating yummy waffles, passing by boats and swans along canals, it literally felt like a fairytale!
When you think of a romantic European city, Bruges will definitely feature in the top five! While Paris is the first city that comes to most people's minds, Bruges probably takes it a notch up given it is a small compact town and not as crowded as Paris.
Even though we visited Bruges in early June, it was crowded but not as crowded as what I had expected. We found many picturesque corners that made us totally forget about the crowd and as if time had stool still.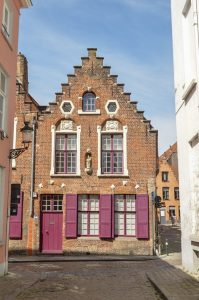 The best thing about Bruges is it is a very walkable city and most of the sights are within a stone's throw to the main square. The best way to explore this city is on foot. When in Belgium, chocolates, waffles, beer and fries are a must do in the itinerary! Apart from that, listed below are some of the main sights that you should add to your itinerary.
We visited Bruges as part of our two week European road trip to Germany, Belgium and Netherlands – you can read more about our itinerary here.
How Many Days to Spend in Bruges?
Bruges has become very popular in the last few years. With close proximity to Brussels, Paris and Amsterdam, many people visit this city on a day trip. Bruges is a great destination for a day trip – you can see most of the city in a day. However, personally would recommend spending at least two nights here. That way, you will get to explore the city early in the morning and late in the evening once the day-trippers have left. At night, the city truly feels even more magical – it is so much calmer and romantic.
Accomodation
When in Bruges, you should stay right in the middle of the city. The advantage is that everything is within walking distance and you're in the middle of the action. However, accommodation is not very cheap in Bruges, especially if you wish to stay in the city center.
This city has many charming little BnBs which we were hoping to stay at. However, since we were visiting over the long weekend, most of the accommodation was sold out. We were lucky to find accommodation at Hotel Monsieur Ernest. It was a lovely boutique hotel located right in the middle of the city!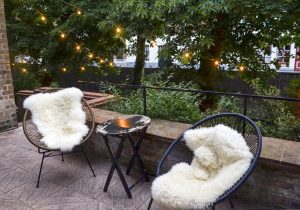 How to get there
Since we were roadtripping, getting to Bruges wasn't challenging for us. There is a public garage close to the city center, where you can park your car for Euros 8.70 a day (most hotels charge Euros 20-25 a day).
For those who don't have a car – do not worry – most Belgian cities are well connected via trains. You can take a train from Brussels airport / city center and even the neighboring towns of Antwerp and Ghent. You can even take a train from Amsterdam and Paris to reach Bruges.
Once you arrive at the Bruges Central train station, you can either walk / take a taxi to the city center. A few minutes after leaving the train station, you will find yourself in the middle of the city.
Things to do/ Places to see
Markt Square
Bruges is full of very photogenic squares, but the one that undoubtedly stands out is the beautiful Grote Markt. During our trip, we crossed this square several times, and every time I stopped to admire the beautiful buildings. On one side of the square you will find the colorful brick houses, which are shown in all Bruges postcards, and the looming Belfry Tower on the other side. I probably have 50 pictures just of this square – you can't blame me, right?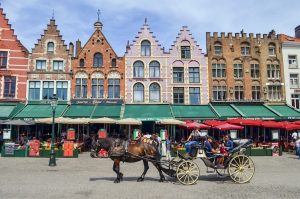 This square is truly the heart of Bruges. You will find several cafés, chocolate shops, waffle stands, and souvenir shops here. You can grab a seat at one of the many cafes here but needless to say, they are on the expensive side.
Old Town Bruges is listed as a UNESCO World Heritage Site. It can get pretty crowded here throughout the day, so I recommend making it your first stop so that you can enjoy it before the crowd starts settling in.
Belfry Tower
Right across the colorful facades, you will notice the iconic Belfry tower. Built between 1482 and 1486, the Belfry towers above the city at 83 meters high. It dominates the Bruges skyline!
If you like great views, one thing you must do in Bruges is to climb the stairs of the Belfry Bell Tower (costs Euros 10-12 per person). From the top of this tower, you can enjoy spectacular 360-degree views of the whole medieval town. You have to climb 366 stairs, but the view compensates for the effort.
Note that climbing this tower features on most people's to do list. It tends to get crowded and they only let a certain number of people up at a time, so I highly recommend you go early in the morning.
We chose to skip climbing this one and instead splurged on waffles and hot chocolates 🙂
Rozenhoedkaai
After the famous colorful facades of Grote Markt, yet another image that you will see on most postcards is Rozenhoedkaai. Rozenhoedkaai is where the Groenerei and Dijver canals meet, making it a picture-perfect spot to see with the gothic buildings that surround it. Plus, on a clear day, you get to see excellent reflections on the water, making it one of the most photographed spots in the world.
It can get crowded during the day (since many boat tours start from here), but be sure to stop by early in the morning or late at evening to enjoy this place peacefully.
Stroll along the canals
Bruges is famous for its dreamy canals! Due to the canals that weave through this city, this town is often referred to as the "Venice of the North."
You can spend a whole day just strolling along the canals and walking over the bridges. Another way to explore this city is by boat. Boat tours typically last for half an hour and let you view the city from a different angle! A boat tour costs Euros 10 per person. It was insanely hot the days we visited so decided to skip this activity.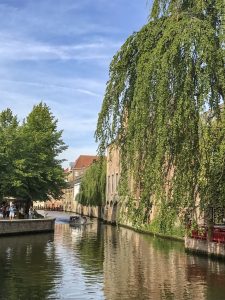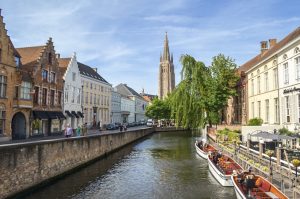 Minnewater Lake
Minnewater Lake is another lovely part of the town. This green space is home to a pretty castle and cute swans. Take a walk over Lovers Bridge to admire the river views and watch the swans playing with themselves or just plain resting. It is said that if you walk over this bridge with your partner, then you will be in love forever.
This is one of the most picturesque parts of the city.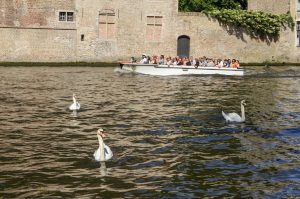 Wander around the little streets
Once you are done strolling around the main sights, ditch the map and just wander around the streets. With lots of alleys and backstreets full of pretty buildings, you can spend hours here. If you stumble upon a cute little café, go in and indulge in some chocolates and waffles.
Bruges is certainly one of the cities where you want to keep aside ample time to wander around aimlessly and just soak in the beauty. Wander the city's cobblestone streets, sit along the canals, chat with locals, take a few photos, and simply see where you end up.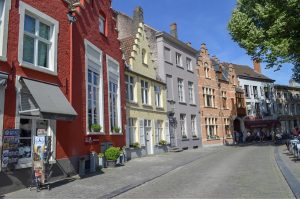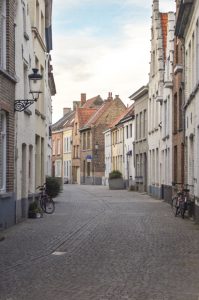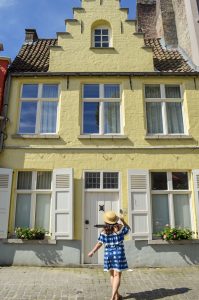 Visit a Windmill
If you are looking for something different, visit a windmill located in the outskirt of Bruges. It's the perfect spot to get away from the crowds and to enjoy a lovely sunset above the town of Bruges.
There used to be more than 20 windmills in the outskirts of Bruges, but nowadays only 4 are left between the Kruispoort and Dampoort. During spring and summer months, the grass surrounding the windmills is the perfect place to have a picnic or a drink with friends.
We missed this one but having seen some pictures, if you have time on hand then definitely add this to your list.
What and where to eat or drink
Old Chocolate House
This is the one place you MUST visit in Bruges. When you reach the Old Chocolate House, go upstairs to the tea room – it will instantly remind you of an old granny's house. There is such an old world charm about this place – from floral plates to table cloth to the bills in the form of post-it notes.
Once you have settled in, browse through the menu – you will find more than twenty types of hot chocolates to choose from. I decided to try their hazelnut praline hot chocolate. It costs about Euros 7-8 but oh, worth every damn penny!
We saw huge pieces of chocolates on other tables and assumed they were cupcakes or something. A few minutes later, our server brought a huge mug of hot milk, a whisk and a hazelnut praline chocolate cup. That's when we realized that the chocolate cup was for the hot chocolate! You get to decide how much of the chocolate you want to add in the milk – you can make it as chocolaty as you want by adding in as much or as little as you want. Duh, I added the whole thing 🙂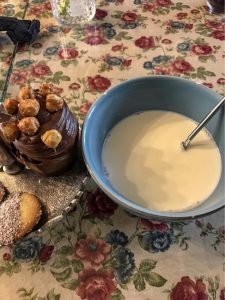 Don't like hot chocolate? Don't worry – they have an amazing selection of waffles and pancakes too!
I was more than full after chugging down that mug of hot chocolate but it was worth every calorie! We even picked up chocolate sticks to be dipped in milk as souvenirs for friends and family.
Sample the delicious chocolates
You can't go to Belgium and not try the chocolates! In Bruges, you will find a chocolate shop for everyone – right from cute animals to naughty sayings to packaged souvenirs. You will be tempted by chocolate-filled display windows almost every 10 steps. Go in, sample in a few and buy what you like. They make for perfect souvenirs for friends and family.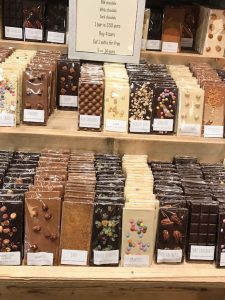 There is even a museum where you can eat chocolate discs while you tour – check out the Choco Story.
Chocolatier Dumon is a cute little shop located a few steps away from the central market square.  You will be greeted by rows and rows of chocolate and variety of options. We even stopped by Mathilde de Comptoir and picked up a few chocolates.
Get Waffle on stick
There are some things that you are worth the hype! While wandering the streets, we stumbled upon Go Fre and had to try their waffle on stick. You can get the pre-made waffles or make them from scratch. You get to pick the chocolate dip – white, milk, dark or strawberry and then get to choose toppings – from chocolate chips, to hazelnuts to malt balls, and so on! We had just finished lunch and were too full but picked it up to relish later. They cost about Euros 4.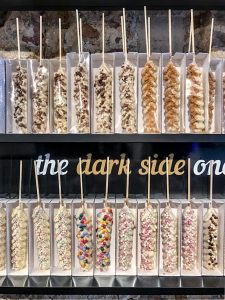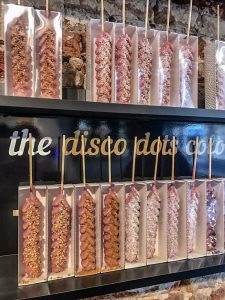 After the hot chocolate and waffle on stick, I was way too full to try out waffles any where else, but I hear Chez Albert and Lizzie's have the best waffles.
Bars
Our hotel manager recommended De Republik for drinks and it absolutely did not disappoint. It has an indoor and outdoor space, which is lit with fairylights at evenings. You will find craft beer, variety of cocktails and wines while you enjoy your meal.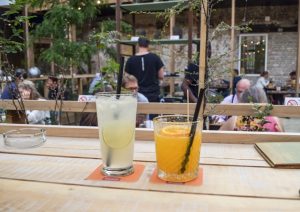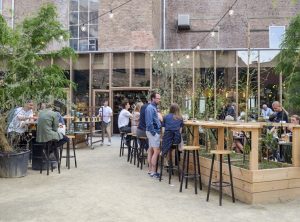 Just like chocolates, you can't leave Belgium without trying beer. You can visit the Brewery De Halve Maan – tour the facilities and learn how to brew beer. The best part is that the tour comes with a free beer. You also get to enjoy panoramic view of the city from this brewery.
* All prices are as of June 2019