I'll be honest – Brussels was never really on my bucket list. However, I always wanted to visit Bruges, and given the proximity to Brussels, we decided to spend a few days in Brussels on our recent trip.
As we went with low expectations, we liked what we saw and had a lovely time in Brussels. I would definitely recommend stopping by here if you plan to visit its neighboring cities. Further, given how close some of the popular Belgian cities are to Brussels, it makes for a perfect base to explore them.
I had two basic things on my agenda for Brussels – waffles and chocolates – and I was not disappointed! I happily ate my weight in waffles – I could literally go back to Belgium for the sweet treats alone!
Apart from indulging in sweet treats, read below to plan the perfect itinerary for Brussels.
We visited Brussels as part of our two week European road trip to Germany, Belgium and Netherlands – you can read more about our itinerary here.
How Many Days To Spend In Brussels?
The most popular tourist sights in Brussels are all close to the center of the city, so if you stay close by, you should be able to see all of the main sights on foot. One day is more than enough to see most of the things that Brussels has to offer.
You could even set Brussels as a base and explore the neighboring towns of Ghent and Bruges on day trips.
Accommodation
Since we weren't that keen on Brussels, we didn't want to splurge on accommodation. We found a sweet deal at the lovely Pullman Brussels Center Midi – Euros 140 for two nights. The hotel is not in the city center, but it is an easy 20-minute walk. It isn't located in the best area but we never felt unsafe even for a minute. Also, Ubers are dirt-cheap in this city. From the hotel to the city center, we barely spent Euros 5-6 each way.
Note that this hotel is located above Brussels Midi Station so if you plan to make this town as a base for exploring the neighboring Belgian towns via train, then this would be the perfect hotel.
Things to do/ Places to see
Grand Palace
The "Grand Place" or the Grote Markt (in Dutch) is one of the most iconic landmarks of Belgium. It is located in the heart of Brussels and is considered as one of the most important squares in the country. The Grand Place is on the UNESCO World Heritage List and it is easy to see why tourists flock to this place!
The square is surrounded with numerous opulent, gold dusted buildings. There are three main structures that make up the grandeur of the Grand Place. They include the town hall, King's house and the houses of the Grand Place. Once you are done admiring the stunning gold ornate and designs on all the buildings, sit down for a cup of coffee in one of the coffee shops around the square. It is a nice place to sit down and watch the world go by.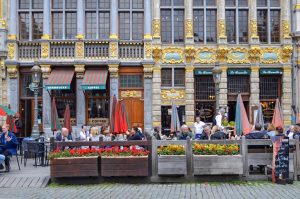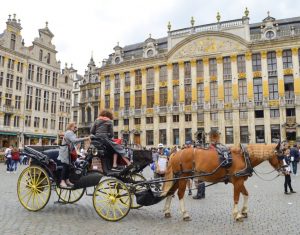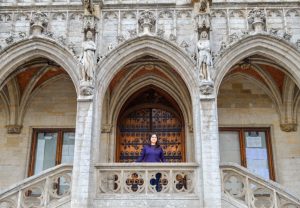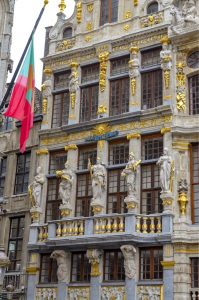 This is probably the most crowded spot in the city but definitely a must see. You can even take a horse carriage tour and explore all the buildings and markets in and around central Brussels. The horse-drawn carriage tours cost approximately €44 and take you around most of the tourist sights in Brussels. Each ride lasts approximately thirty minutes.
A little fun fact – every two years, in August, they set a giant flower carpet in the middle of the square for a few days. It is quite a visual treat.
I had seen photos of this square before my visit, but I was still completely blown away by the grandeur of it. Don't forget to come back to this place late at night. The lights make it look even more magical and the best thing is that the place is a bit less crowded compared to the day time.
Mannekin Pis
Mannekin Pis is located barely a 5-minute walk from the Grand Palace. Brussels has three "pis" (i.e. urinating) statues throughout the old town, but Mannekin Pis is the most famous of them all. It is a tiny bronze statue of a small boy, who has been a peeing fountain since the early 17th century. All over Brussels, shops sell replicas in the form of statues, chocolates, fridge magnets… you name it, and they have it.
My thoughts after seeing the Mannekin Pis in person – "huh, is that it??" We literally spent less than 5 minutes here.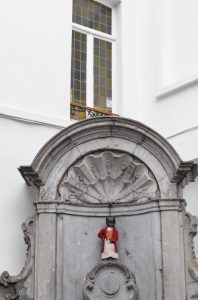 This statue is often dressed up in costume right from Elvis Presley to Michael Jackson to Santa Claus. Note that the statue that you see here is not the original. If you wish to see the actual boy, then make your way to the Museum of the City of Brussels.
In addition to Mannekin Pis, you will also find Jeanneke Pis – the girl version. She is squatting, actually squatting. You can find this one at Impasse de la Fidélité near Rue des Bouchers.
And lastly, the Het Zinneke/ Zinneke Pis – a peeing dog fountain. This one is located at the corner of rue des Chartreux and rue du Vieux-Marché. Fun fact – Het Zinneke was struck by a car in August 2015 and was later restored by the sculptor.
Since I wasn't mighty impressed by Mannekin Pis, I chose to ignore the other two.
Saint-Hubert Royal Galleries
Saint-Hubert Royal Galleries is a stunning shopping arcade in the centre of Brussels. It dates back to the 1850s and is located a short walk from the Grand Palace.
The two long galleries that make up the arcade are filled with brightly lit shops, boutiques, and delicious-smelling chocolatiers. The internal passage is very beautiful and makes for a great photography spot.
Spend some time browsing through the boutiques and cafes – most of the shops here are on the expensive side, but a little window-shopping doesn't hurt! With the lovely glass ceiling, it is also a great place for sipping a Belgian hot chocolate or beer.
Atominium
Originally built for the 1958 Brussels World Fair Expo, Atomium is 102m tall and made up of nine 18m diameter stainless steel clad spheres and forms the shape of a cell of an iron crystal magnified 165 billion times. Today, five of the nine globes are open to the public. The tubes connecting the spheres enclose stairs, escalators and a lift so people can move from one sphere to another. Once inside, you are free to walk around and see the different museum exhibits and panoramic views over Brussels.
There is even a restaurant in one of the spheres – it is on the expensive side but if you are looking for a unique dining experience, then add it to your list.
The Atominium is a bit outside the city center, so you will need a car or the public transport. I would suggest visiting this place first thing in the morning, because after a long day of exploring Brussels, you may have no energy left to go here. But if you do plan to visit in evening, then time your visit during sunset – the sunset pictures from here look simply stunning!
You can combine your trip to Atominium along with Mini Europe, a miniature park located just a few minutes from the Atominium. If you are keen to visit both, then you can get buy the ticket which includes both Atominium and Mini Europe. Click the below link for ticket prices:
https://www.atomium.be/atomium-price
We visited early morning when it had not even opened yet. We had a long day ahead (Leuven, Mechelen and Ghent), so we just admired it from outside.
Comic Strip
As you are wandering in the city, don't be surprised if you come across several Tintin murals. Brussels is where Tintin, Spirou and the Smurfs grew up. When in Brussels you will find them everywhere – walls, building façades and museums.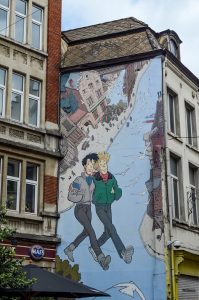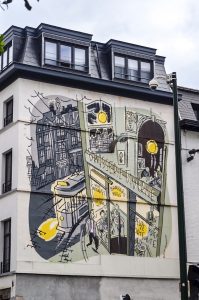 You could join a comic strip walk but they are pretty easy to find yourself. Click on the below link if you need more details on where to find these murals in Brussels.
https://visit.brussels/en/article/the-walls-of-the-comic-strip-walk-in-detail
The path will take you to more than 50 oversized comic strip murals. Even if you don't follow the trail purposefully, keep your eyes out since there are murals spread throughout the city (there are a couple located right next to the Grand Place) – you are bound to stumble upon at least one.
Royal Palace
The Royal Palace is the official palace of the King and Queen of Belgium. They do not actually live here but this is where the King conducts all of his kingly business. From the end of July to early September, the doors of the Royal Palace are opened to the public and visitors can go inside for free and tour some of its rooms.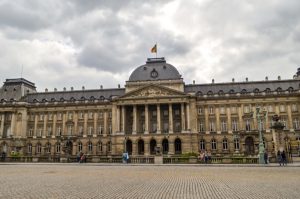 Brussels Garden
After a lot of walking, we chose to escape the crowds and rest our tired feet. Located right across the street from the Royal Palace, you will find the Brussels Park. It is the largest public park in the city. The large pond and fountain at the end of the main avenue is probably the prettiest part of the park, and that's where we sat for a good while resting our tired feet.
It's a lovely place to stroll around specially if you are traveling with kids.
St Michael and St Gudula Cathedral
St Michael and St Gudula Cathedral is a Roman Catholic Church located in central Brussels. The cathedral is made up of stone quarry and looks stunning from the outside. If you have some time on your hands, it is worth visiting the interiors of the cathedral as well. Dating back to as early as the 9th century it's spires are 64 meters high and make you feel teeny tiny in comparison.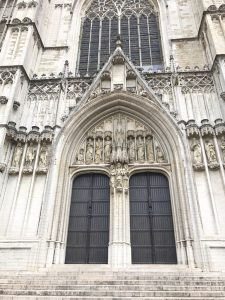 Wander Around Jardin du Petit Sablon
Place du Grand Sablon is a lovely square in the historic upper town. This neighborhood is full of chic boutique shops, trendy restaurants and beautiful architecture.
There is also a lovely landscaped garden surrounded by 48 bronze sculptures depicting politicians, leaders and intellectuals that helped shape Belgium. You can find a few benches surrounding the fountain which offer a comfortable seat for you to relax after a city walk.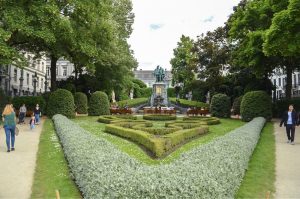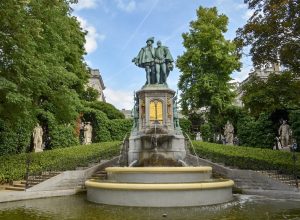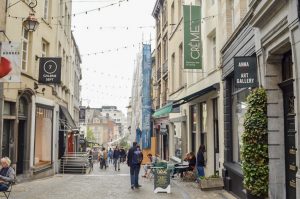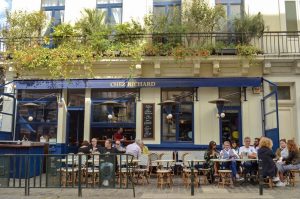 Mont des Arts
The Mont des Arts is one of Brussels' most iconic places, with a long floral garden and views of the city hall tower.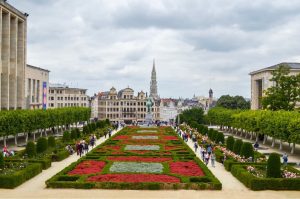 Sample the delicious chocolates
You can't go to Belgium and not try the chocolates! Its hard not eating your weight in chocolate here. In the main city center, you will find a chocolate shop at every few steps. There are so many chocolate shops; it will be pretty difficult to pick your favorite. Go in, sample in a few and buy what you like. They make for perfect souvenirs for friends and family.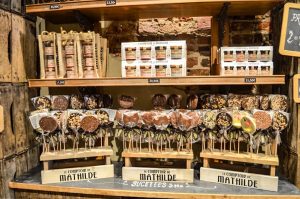 With pretty little streets lined with chocolate shop after chocolate shop it's impossible to choose just one to buy from! I really loved the chocolates from Leonidas; but again, its kind of hard to go wrong with any chocolatier in this city.
Don't forget to visit the home of Godiva too. After all, Brussels is where it all started.
I highly recommend the hot chocolate spoons from Le Comptoir de Mathilde. Apart from the basic white, milk and dark chocolate flavors, they also have a wide variety of flavors like tiramisu, hazelnut, salted caramel, chocolate with strawberry, etc.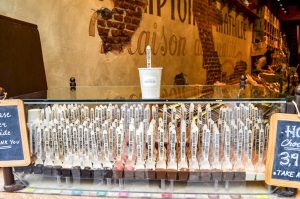 Try yet another Belgian specialty – speculoos. Made from flour, butter and brown sugar (which gives it a deep brown color), speculoos are ideally enjoyed with a cup of coffee or hot chocolate. These are small flat biscuits flavoured with cinnamon, ginger, cloves, cardamom and nutmeg. You may also notice that some shops add speculoos to ice cream and milkshakes. In some chocolate shops, you will even find speculoos flavored liquor.
While we waited in line at Maison Dandoy, I tried them and loved them – I even bought a box of specualoos and enjoyed it on my trip.
Waffles
Waffles are one of the first things that come to my mind when I think of Belgium.
Did you know there are two types of waffles? Brussels Waffles and Liege Waffles. Brussels waffles are rectangular in shape, light, crispy and are usually served topped with powdered sugar. Liege waffles are more dense and sweeter. Sugar is added to the batter, which caramelizes when they are cooked. They also have irregular edges. You can add your favorite toppings – chocolate syrup, whipped cream, ice cream, fruit, nuts and so on.
Now, you will see waffles all over the city – right from street stalls, to independent cafes and gorgeous little coffee houses. While you will be tempted by waffles shops at every corner, please do yourself a favor and DO NOT buy Euros 2 waffles!
One of the best places to eat waffles in Brussels is Maison Dandoy. There are several locations in the city but the easiest to get to is the one near the Grand Place. This location also has a tea room on the second floor is great if you wish to relax and enjoy your waffle.
I waited for about 30-40 minutes in line to get the Brussels waffles topped with nutella sauce and hazelnuts. A Brussels waffles costs Euros 5.5. whereas a liege one will cost you Euros 4.5. If you wish you add any toppings, it will be extra Euros 1-2 per topping. It was so darn good – worth every penny and calorie!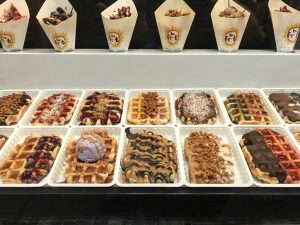 There is another waffle shop right opposite Mannekin Pis (wish I had written down the name) where I stopped by to have the Liege waffle – even though I have a sweet tooth, it was a little too sweet for my taste.
Try Belgian Frites
In addition to waffles, you can't leave Brussels without trying the Belgian frites. They are fluffier than the usual French fries and are served in a cone. Add some sauce to it as well! Yum!
Try them, you will see why they are so good!
* All prices are as of June 2019