Which is the first city that comes to your mind when someone mentions Netherlands? About 90% of you would say Amsterdam, right? Amsterdam is not just one of the most visited cities in Europe, but in the entire world! It is famous for its canals, narrow houses, coffeeshops, red light district and a crazy nightlife.
But there is so much more to the Netherlands than just Amsterdam. Netherlands is the land of windmills, stroopwafles, cheese, tulips, bicycles and canals. The Dutch countryside and the smaller towns are so beautiful that it would be a shame if you go all the way to the Netherlands and don't end up stepping out of Amsterdam. The best part is that most of the towns are just 15-60 minute train/ car ride away from Amsterdam! While the Dutch towns are bicycle friendly, exploring the entire country on a bicycle may be a little too adventurous! Recommend renting a car or using the public transport.
Since we were roadtripping, it was easier for us to visit places, which weren't well connected via bus/ train. But of course, keep in mind that parking can be expensive (Euros 3 – Euros 4 per hour) in some of the big cities. Also, public parking garages may be a bit of a walk from the city center.
While most tourists flock to this country during the tulip season, we visited in early June. The weather was better, some of the cities were less crowded and overall, led to a great experience.
We spent six days in this country and visited a bunch of Dutch towns. To be honest, we loved the charming little towns much more than Amsterdam. Read below to plan the perfect itinerary for the Netherlands.
We visited Netherlands as part of our two week European road trip to Germany, Belgium and Netherlands – you can read more about our itinerary here.
Accommodation
We spent 5 N in Netherlands and split our stay between Amsterdam and a small Dutch town, Tull En Het Waal (near Utrecht). For the first leg of our trip, we chose to stay at this lovely b&b right in the middle of the countryside. It was a charming little cottage with a lovely garden. The hosts were so welcoming and baked us a fresh loaf of bread every morning. I spent most mornings and evenings at this table sipping on wine with a book in hand. It was the perfect place to come back to after a day long of exploration! We are so glad we chose this instead of a typical hotel in a city!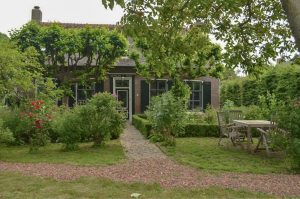 This airbnb worked out perfect to explore the smaller towns of Delft, Gouda, Rotterdam, Amersfoort, Scheveningen, Giethoorn, Utrecht and Urk.
We then moved to Hotel Mercure in Amsterdam – since we were late in booking accommodation, most hotels near the city center were sold out. This hotel was a tad bit far but well connected via trains and buses. It took about 25 minutes to get to the city center. Keep in mind that accommodation in Amsterdam is pretty expensive – even the Airbnbs tend to be on the expensive side specially in the summer months.
Alternatively, you could set up base in any of the other Dutch cities such as Utrecht or Rotterdam and make day trips to the neighboring towns. Even Haarlem is just a 15 minute train ride to Amsterdam where you can find relatively cheaper accommodation.
Zaanse Schans, Zandaam, Volendam and Edam
No trip to the Netherlands is complete until you see the windmills. For first time visitors, visiting a windmill is high up on the wishlist. Given the proximity of Zaanse Schans to Amsterdam (20 minutes by car/ train), it is an easily doable day trip. You can combine your visit to this town alongwith other neighboring towns such as Zandaam, Volendam and Edam, all located at a stone's throw distance from Zaanse Schans.
Click here to read a detailed post on planning the perfect day trip to these towns.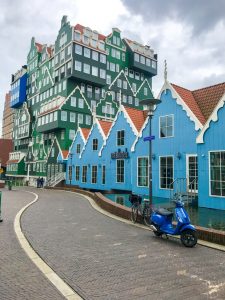 Alkmaar, the cheese capital of Holland, is another town in this region that you could visit. A cheese market is held every Friday morning from March until September. If you are visiting in these months, you can plan your visit to Alkmaar accordingly.
Delft
Delft was the first Dutch city we visited and it was literally love at first sight!
One of the things that I love about Delft is how compact it is. In fact, you can walk across the historic city center of Delft in 25 minutes flat, but trust me, you will be tempted to stop every few steps to take in the lovely views. Such a charming little town.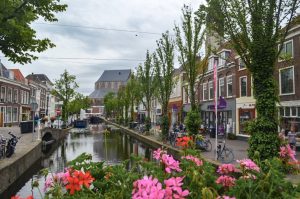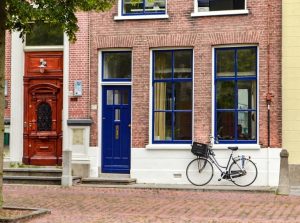 The food scene in Delft is pretty good and here are a few recommendations for you:
Tadsbakkerij de Diamanten Ring – for sandwiches and pastries
Kek – super cute instagrammable place and great food – We tried the acai bowl and their yummy Salted Caramel Latte with real caramel pieces. It is quite popular on the weekends (especially for lunch), so it would be best to walk by to put your name on the list if there is a line.
Stads-Koffyhuis delft – for sandwiches and coffee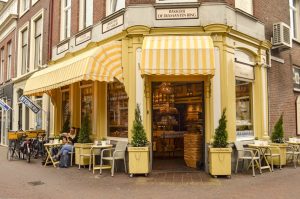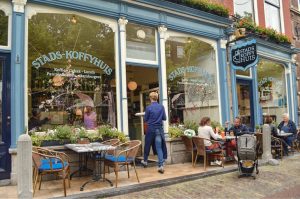 This charming city is famous for its white and blue pottery. At the city center, there are tons of Delftware shops that you can browse. Of course, if you are picking anything to take back home, don't forget to pack it carefully. If you have additional time on hand, head over to Delftse Pauw, one of the last family-run businesses that produces Delftware. It is a little far from the city center so better to take the tram. Here, you will find a wide range of authentic Delftware, everything entirely hand-painted. There are free guided tours every few hours and you can even purchase authentic Delft at factory prices.
I would say that if you have to visit just one more city in addition to Amsterdam, then it should be Delft. Trust me, you will not be disappointed.
Giethoorn
Quaint little houses, picture perfect canals and scenic boat rides – Doesn't this paint a pretty picture?
Giethoorn is an idyllic Dutch village that is postcard perfect in every way. There are no cars here, but you will find a ton of canals, boats, bridges and adorable houses! People who live here travel around their town by boats. Doesn't it sound like a fairytale? Because of the innumerable canals, Giethoorn is also called 'Venice of the North'.
Giethoorn is a little farther away from big cities like Amsterdam and Utrecht, but I promise it is absolutely worth the trip! The easiest way to reach this town is by car. The center of Giethoorn is pedestrian only so even if you come by car, you will have to park your car outside the town. If you are planning to use public transport, then you need to take the train from Amsterdam Centraal to Zwolle and then change to bus number 70. Your final destination will be Dominee Hylkemaweg. Alternatively, you can travel by train to Steenwijk station and then take bus number 70 to Dominee Hylkemaweg.
Once you reach Giethoorn, you will notice that this town is best explored on foot. One of the main things to do here is walking along the footpath and admiring the houses with thatched roofs and colourful facades. Every house is unique with endearing details like heart shaped carvings in the windows, colorful flowers to the perfectly placed bike! You never know, you may find your dream home.
One of the other famous ways to explore the town is via boat. You can either do a private or a group tour. You will spot several boat vendors just at the start of the town. If you are keen on doing a boat tour, recommend doing it first thing in the morning since it gets crowded later in the day. The last thing you want is mid-water collisions with several other boats.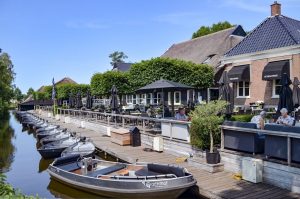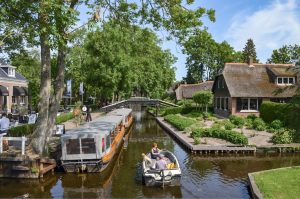 Giethoorn is hardly a secret and you will spot many tourists (just like you) wandering around. Suggest reaching here around 9 am so you can peacefully enjoy the beauty of this place.
The canals in Giethoorn are lined with restaurants, which means if you want to sit down and rest your feet, you will find many scenic spots. We had an amazing lunch overlooking the canal at Ristorante Fratelli and followed it up with a gelato.
On our way back from Giethoorn, we stopped by the fishing town of Urk. Now, you would have seen countless pictures of windmills in Netherlands but have you ever seen a lighthouse? Urk is home to a beautiful lighthouse. Even though the weather was cloudy and windy, it made for a lovely detour.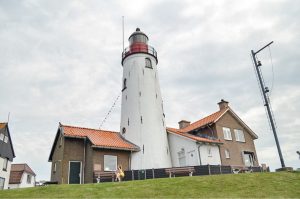 Utrecht
Our airbnb was about a 20 minute drive to Utrecht so we ended up going there twice. For those visiting from Amsterdam, it is just a 25 minute train ride and makes it the perfect destination for a daytrip.
Once you reach Utrecht, you will notice that it is quite similar to Amsterdam, but yet different. Utrecht has a similar canal system to Amsterdam, but on a smaller scale. Wander around the medieval old town, walk by the canals and stop along the way for a few drinks.
Utrecht is a university town and there are a number of beautiful buildings connected to the university you can visit, such as the University museum. Everywhere you look is another pretty view, a street café, or a boutique shop to visit.
Oudegracht is the most iconic canal in Utrecht. There are a number of restaurants lining up this canal so it is the perfect place to grab a meal or a drink.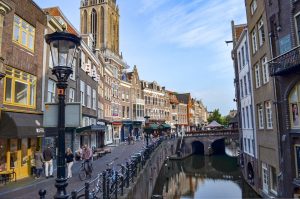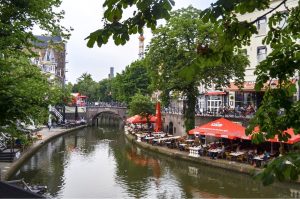 Rotterdam
If you are looking for a modern Dutch city with quirky architecture, then make your way to Rotterdam. This Dutch city was reconstructed after massive damage in World War II in a modern style and is unlike any other Dutch city.
One of the unique spots in the city is Markthal. It's not just a food market, it's also an architectural masterpiece! The crazy ceiling of the Markthal was designed by artist Arno Coenen and features giant fruit and vegetables. From fresh fruit to stroopwaffles, to macaroons to pasta to falafels, there is something for everyone. We ate zatar bread, falafels and pasta here.
Just a short walk from Markthal is another architectural icon – Rotterdam's famous cube houses! Piet Blom designed them at an angle of 45 degrees as an example of how to cram plenty of houses in when you don't have a lot of room on the ground level. For those who are curious to see how they look from inside, you are in luck – a self guided tour is available for a measly Euros 3 fee. You can openly walk through each room of the home and take as many pictures as you like. Also, guess what? You can even stay in one of the houses for a night – it is available on airbnb. While it looked interesting from outside, I didn't really fancy a tour from inside so gave it a skip.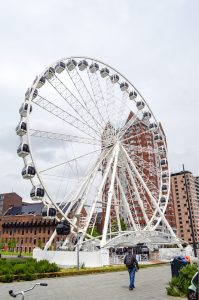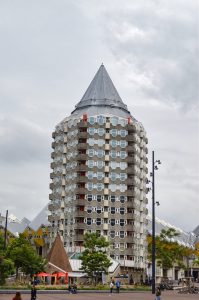 Couple other spots to visit in this city – Witte de Withstraat for cool restaurants and the iconic Erasmus Bridge.
Personally, I didn't LOVE Rotterdam. I found it to be a little too modern compared to the other Dutch cities. In fact, it was my least favorite Dutch city. If you are strapped for time, you can easily miss this one.
If you are staying in Rotterdam and are keen on visiting windmills, then make your way to Kinderdijk, a Unesco World Heritage site. The windmills in Kinderdijk are situated along a canal and you have the option to explore on foot or via boat.
Gouda
Gouda is a typical historic Dutch city located in the province of South Holland. Like any other typical Dutch city, it has pretty canals and charming streets, but it is mostly known for its cheese and stroopwafles. And guess what – there is even a cheese museum! Every Thursday morning from April through August, a cheese market is held in the city center.
Gouda, or "How-da" as the locals say, is a Dutch cheese named after the city of Gouda in the Netherlands. It is one of the most popular cheeses in the world, accounting for 50 to 60% of the world's cheese consumption. It is a semi-hard cheese known for its rich, unique flavour and smooth texture.
Sadly, most of the shops in this town close by 5 pm. We reached here around this time and hence, couldn't really explore much of the city. Thankfully, a few cheese shops were open and we happily tried the different types of Gouda cheese. Also, be sure to stop by the Stadhuis (town hall) and admire the architecture.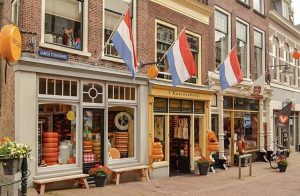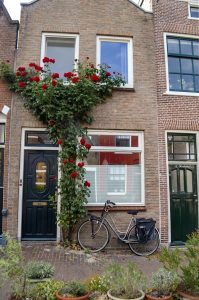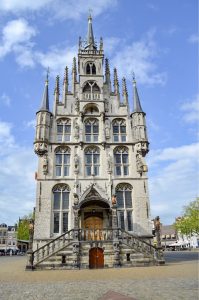 Den Haag and the Scheveningen
We just drove by Den Hague so I won't be able to offer much tips here, but we stopped by the beach town of Scheveningen. The perfect place to unwind and watch a sunset!
It has a lovely boardwalk and is full of great bars and cafes. You can even get on the ferris wheel and enjoy the views from top! Sadly, the day we visited, it was chilly and so darn windy.  We stopped by for a few minutes and literally ran back to the car before we froze in that chilly weather.
Amersfoort
While driving back from Giethoorn, we stopped by this medieval town for a cup of coffee. It is a lovely town and is perfect for those interested in enjoying a walk through a historic center away from the crowds.  Most of the appeal of Amersfoort is taking it easy in its cozy cafes and strolling along its cozy canals.
Other Cities you can visit
Haarlem – We had planned on visiting Haarlem(just a 15 minute ride from Amsterdam) on our last day but skipped it since it was raining. We figured we would be better off starting our drive to the next destination.
Also, if you fancy visiting a beach, then make your way to Zaandvoort, a short 10 minute train ride from Haarlem. Most people don't associate the beach with the Netherlands as it's typically too cold to take a dip in the water, but if you are there in summer, you may get lucky on a warm day.
Leiden – It is yet another cozy university town that is easy to visit from Amsterdam. It's a relatively small town and can easily be combined with one of the neighboring city such as Delft/ Rotterdam or the Hague.
* All prices are as of June 2019