If you are scrolling through Instagram, chances are that Jaipur has popped up on your feed quite often! Being geographically close to India's capital city, Delhi and Agra, which houses the famous Taj Mahal, it makes for an easy add-on city for most tourists visiting India.
Jaipur, located in the Indian state of Rajasthan, is often called the Pink City. Do you know why? When the Prince of Wales and Queen Victoria announced their visit in 1876, the King of Jaipur, mandated that the city be painted in pink, the color of hospitality. The Queen fell in love with the terra-cotta architecture and the Maharaja passed a law that all the walls must be pink! Even today, the original walled city of Jaipur is pink – in fact, all the houses and shops are compelled by law to preserve the pink façade.
Jaipur is probably the most photographed city of India and rightly so! This Pink City has it all – forts, palaces, architectural beauty, rich history, local shopping markets, great food to highly instagrammable cafes and restaurants! I am here to show you the best places to visit and eat at, to make the most of your time in this beautiful city.
Best time to visit
Weather during November to early March is cooler thus, making it an ideal time to visit. This is the peak tourist season so the hotels tend to be more expensive. You can expect a few deals and discounted rates during summer and monsoon season (July – early September).
How Many Days to Spend
We spent four days exploring this beautiful city. You can see most of the sights in 2 days, but if you are looking for a relaxing trip, recommend spending at least 3-4 days here.
Our days typically started early (around 8/9 am), we came back to the hotel to rest in afternoons and then stepped out again in the evening. Although we visited in winter, the afternoon sun was a bit harsh and we were glad to stay indoors.
How to get there
Jaipur is well connected via flight from most of the Indian metro cities. If you are visiting from Agra / Delhi or other cities in Rajashtan such as Jodhpur, Udaipur, then you can reach Jaipur via bus, train or private taxi.
Getting around the city
To maximize your time in Jaipur and have the most stress free vacation, you can hire a driver for the entire duration of your trip. Most drivers charge between INR 1,700 – INR 2,500 per day.
If you are staying in the middle of the city, most of the sights (except the forts) are just a short ride away. You will find plenty of autorickshaws / tuk tuks as you step out of your hotel, but they are notorious for quoting ridiculously high prices! They don't use a meter and often try to fool tourists. We noticed that sometimes they asked for almost twice the amount quoted on Uber! What you can do is, first check the cost on Uber and then haggle with the autorickshaw drivers to bring down the cost. If the driver still doesn't budge, walk away, you may find someone else who will.
Personally, since we were staying in the middle of the city, we didn't feel the need to hire a car for the entire day. Only the day we visited the forts, we ended up hiring a car and driver for the full day. Rest of the days, we used Uber/ Ola (India's version of Uber) and tuk tuks to get around the city, which was convenient and economical. We spent a total of INR 4,000 on Uber and tuk tuks for our entire stay.
Where to Stay
Jaipur offers a wide range of accomodation options – havelis, stylish boutique hotels, heritage hotels, typical 5-star hotels or budget hostels.
Once I started planning the trip, I knew I wanted to stay in a beautiful heritage property. Now where else am I going to get the opportunity to stay in a haveli, right? We zeroed in on Alsisar Haveli, an old haveli converted into a hotel. Right from the outdoor seating area, to the pool, to the dining room, it is literally postcard perfect. Plus, it is located just a few minutes from the city center and hence, ideal for exploring the city.
We spent our afternoons and late evenings at the lovely courtyard. The only downside was that the pool wasn't heated so we didn't brave stepping in. But look how gorgeous that pool is !
However, this hotel wasn't available for the entire duration of our stay in Jaipur. Hence, we stayed two nights here and two nights at Hilton Jaipur. It was a modern hotel with an incredible breakfast spread, right in the middle of the city.
Highly recommend them both!
Things to do / see 
City Palace
City Palace was my favorite place to visit in Jaipur. The architecture and intricate details of the palace were like none I had ever seen before. There are two types of tickets here:
The museum tour, which gets you access to the museum and the outdoor courtyard
The Royal Splendour, which includes a tour of the private rooms including the insta famous blue room (Sukh Niwas).
The biggest difference between these two tickets is the cost. The museum tour costs INR 200 for Indians and INR 700 for foreign residents.
On the other hand, Royal Splendour tickets cost INR 3,000 for Indians and INR 3,500 for foreigners. With this tour, you get paired up with a guide, who takes you to each of the rooms and explains history of the royal family and the palace. The best part is that these guides are more than happy to act as your personal photographers! They know which spots are going to be crowded and can maneuver accordingly. The ticket price also includes a free drink (tea, coffee, water) and some cookies.
While this price is pretty steep by Indian standards, I highly recommend splurging and buying the Royal Splendour ticket. It is interesting to note that the royal family still lives in the palace; they have opened just a part of it to the general public. Also, they tend to use this part of the palace on special occasions (like Diwali, Janmashthami). By keeping the entry cost higher, they can limit the number of visitors and ensure there isn't any damage to the property. Also, as a visitor, you get a better experience – you are not constantly bumping into people and get to soak in the beauty peacefully.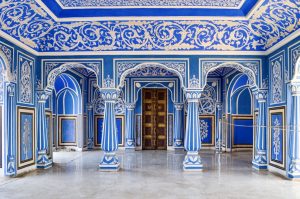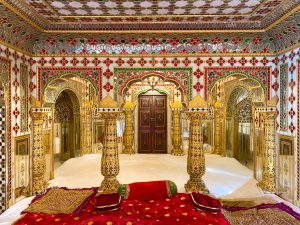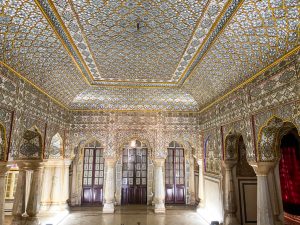 It was the most expensive thing I did in Jaipur, but so worth it. For latest ticket prices and more info, check out the official page here.
Apart from the blue room, the seasonal doors are the most photographed in this palace. These four doors are a part of the courtyard and represent the four seasons:
Lotus Gate (summer) – my personal favorite
Peacock Gate (autumn)
Rose Gate (winter)
Leheriya/ Waves Gate (spring)
My other personal favorite part of the palace was the Sarvato Bhadra – it is a vast open pavilion with stout stone columns, and was the real power centre of the court where the Maharajas conferred in council with their courtiers, ministers and nobles on the critical issues confronting their kingdom. We reached the palace right when it opened (9.30 am) and had the place all to ourselves! I had total princess feels waltzing around here 🙂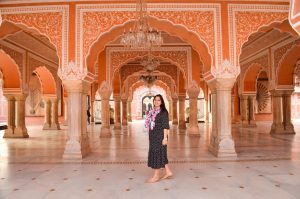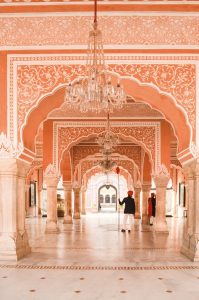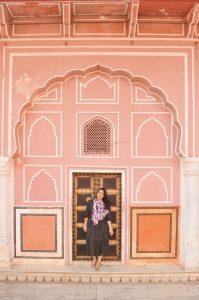 Note that access to this part of the palace and the doors is included in the cheaper ticket.
Amer Fort
Amer Fort, also known as Amber Fort, is one of the most picturesque and majestic forts of Rajasthan. Built of red sandstone and marble, this fort is a perfect fusion of Rajput (Hindu) and Mughal (Islamic) architecture. Amer Fort is located 11 kilometers outside of Jaipur, so you will need a tuk tuk or taxi to get here. Also, there are couple other sights within an easy driving distance, so advisable you hire a taxi for the entire day.
Most taxis drop you at the foot of the fort, from where you can either take an elephant ride or the jeep. I wouldn't recommend you to ride the elephants since they aren't always treated fairly and are often abused by the owners. The walk up to the fort is fairly easy and takes just 15-20 minutes depending on your fitness level.
The ticket price for Amer Fort is INR 100 for Indians and INR 500 for foreigners. Also, advise you to hire a guide (costs INR 200-INR 300) – it is always good to know the history of the place rather than wandering around aimlessly.
The most remarkable spot in this fort is the Ganesh Pol – a beautiful and exquisitely decorated entrance gate to the private premises of the ruler. Built under the orders of Mirza Raja Jai Singh, it is covered with elaborate frescoes and a Ganesh painted above the gate, symbolising good luck.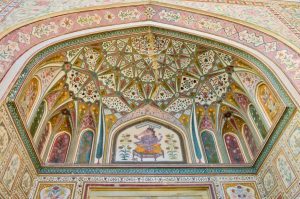 Sheesh Mahal is yet another beautiful spot in this fort. The walls and the ceilings of the Sheesh Mahal are decorated with intricate mirror work and floral patterns. During the olden days, this place was typically lit up with diyas / candles at night, and the reflection was caught in the mirrors, thereby creating the illusion of a thousand stars!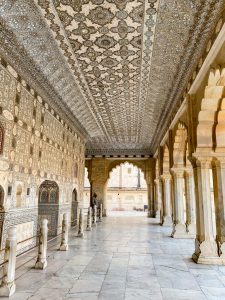 If you want to enjoy the fort without the crowds your best bet is to get there as soon as it opens (8 am). We reached by around 8.30 am and it was fairly empty. We could spend as much time as we wanted at each spot and peacefully enjoy all the beautiful places within the fort.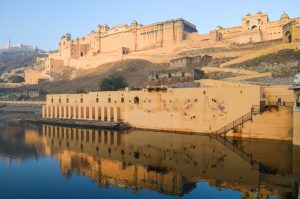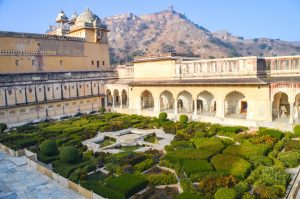 Every evening, there is a light and sound show held for an additional charge. We had heard mixed reviews about this show so chose to skip this.
Panna Meena Ka Kund
After you are done with Amer Fort, don't rush back to the city! Located just a 10 minute drive from the fort is a beautiful 16th century water well. The primary purpose of this water well was to catch rainwater during the monsoon season, for people to take a bath and for washing clothes.
This water well is an architectural masterpiece and with its gorgeous symmetrical stairways, it makes for the perfect picture! I am sure you have seen countless pictures of instagrammers posing on this stepwell. However, note that walking down this stepwell has now been prohibited after a few accidents came to light. There are guards monitoring this place and will stop you from going down. However, many people still end up bribing the guards / reach early when there is no guard to stop them.
I wouldn't recommend it, as there is reason why people aren't allowed to step on it! You can equally enjoy the beauty of the stepwell from a distance.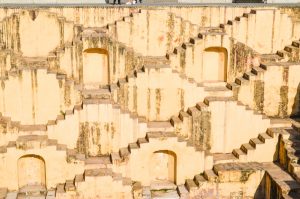 Shiromani Temple
Another 5 minute drive from the stepwell will lead you to this lovely temple. Even though its so close to Amer Fort, not many people know about this temple.
The most striking features of this temple are the marble Torans (pylon). The Torans are the ornamental arch of the gateway. It is said that these Torans are made from a single piece of marble. That's so impressive, right?
Nahargarh Fort
There are two other forts in Jaipur – the Nahargarh fort and Jaigarh fort. Perched on the Aravalli hills, the Nahargarh fort provides a panoramic view of the city. Maharaja Sawai Madho Singh built this fort in 1734 to guard the city from any attack.
There is an entry fee of INR 50 per person for Indians (additional INR 50 for the car) and INR 200 for foreign tourists. While the fort was built for defense, it was never attacked by enemies.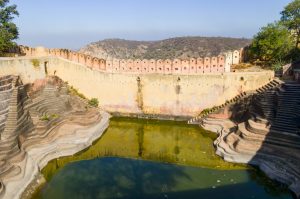 Personally, after touring Amer Fort, this one paled in comparison. But if you are looking to get a birds eye view of the city, then head to this place. It is also the perfect place to witness sunset. There are a couple of lovely restaurants here from where you can enjoy the beautiful views.
Jal Mahal
"Jal" means water and "Mahal" means palace, so this literally translates to water palace. This used to be the summer palace of the royal family. There isn't much to do here but since this place is on your to/ from the forts, you can stop by on the roadside for a quick photo opportunity! You will also spot a few hawkers selling traditional wares – do not buy anything here – it is ridiculously priced and not very authentic.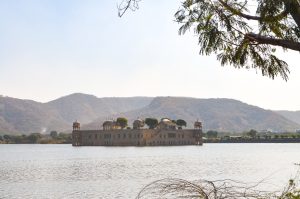 Jal Mahal is nice any time of day – sunrise, sunset, daytime or at night.
Gatore Ki Chhatriyan
Gatore Ki Chhatriyan is a complex of temples and tombs in the foothills of Nahargarh Fort. It was the royal crematorium for the rulers of Rajasthan. Engraved with beautiful Rajasthani carvings, the cenotaphs are one of the major attractions of the place.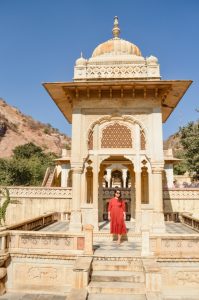 Gatore ki chhatriyan is one of the lesser-known places in this beautiful city. Even though we visited this place around noon, there were just a handful of tourists here. Also, the entry fee is nominal – INR 10 for Indians and INR 15 for foreigners.
Hawa Mahal
A visit to Jaipur is incomplete without seeing the iconic Hawa Mahal! During the 1700s, women could not be seen in public without their husbands. Hawa Mahal literally translates to Palace of the Winds and was built in the 18th century for the royal ladies, so that they could observe the activities and events going on outside the palace, without being seen. Its unique five floor exterior is akin to the honeycomb of  beehive and has 953 jharokhas (windows) decorated with intricate latticework. These windows also allow cool air to pass through, thus making this place pleasant during summer.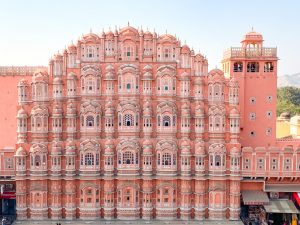 The Hawa Mahal is located on a busy road and is at a walking distance from the City Palace. There is a little area to observe and take photos at the foot of Hawa Mahal. However, for best views of this iconic structure, cross the street and head over to the Wind Café or Tattoo Café.  Grab a cup of coffee and fill your belly while admiring this beautiful piece of architecture.
Although you can visit Hawa Mahal from inside for a measly entry fee, I believe the real charm is seeing it from outside! Since my mom was tired after all the walking around we did in the city, we chose to simply admire this beauty from Tattoo Cafe.
Patrika Gate
Located about 30-minutes outside of the city, Patrika Gate is the newest hotspot for photographers. In fact, I saw at least two couples taking their engagement photos here and several other girls twirling in their pretty dresses. 
This place is located near the airport and hence, you may want to time your visit here with your arrival into / departure from the city. I stopped by here on my way to the airport (at around 10 am) and it was filled with people. If you want to take clear shots, aim to reach here by 7 am.
Even though this place was crowded, it didn't take away from the beauty of the place. Walking here literally left me speechless. I spent quite some time marvelling the exquisite artwork adorning the walls – all of which depict stories from India's rich and fascinating history.  Its easy to see why this gate has quickly become the most instagrammed spot in Jaipur. The vibrant colours and creative angles make the monument every photographers dream!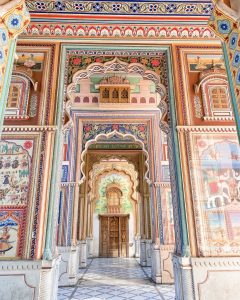 Now here is the best part – this place is open to visitors 24/7 and there is no entry fee charged! This gate isn't an entrance to a fort/ palace, but just an entrance to a garden. I guess, Jaipur has clearly received it instagram memo 🙂
Shop in the local markets
Jaipur is a shopper's paradise! You can find everything ranging from mojaris (shoes), handcrafted bags, block printed clothing, scarves, light weighted quilts, embroidered ethnic jackets and variety of jewelries in these markets. Remember to bargain hard – the shopkeepers typically quote 2-3 times the actual cost.
Bapu Bazaar and Johri Bazaar are two of the most famous markets in the city. Bapu Bazaar is where you can find textiles for saris, scarves, and other clothing and accessories. Johri Bazaar is great for purchasing jewelry pieces – gold, silver, precious/semi-precious stones.
Where to Eat
Café Palladio
When I first saw this place on instagram, I couldn't really believe it was in India. The pastel colors and the murals at the indoor seating area transport you to a totally different world! I was literally drooling over the wallpaper! The outdoor seating area, the verandah, is a  symbol of Rajput style architecture while the interior makes it multicultural.
This place literally looks like something out of a fairy tale! With the lovely winter breeze, we chose to sit in the verandah and were literally felt like we were somewhere in Europe !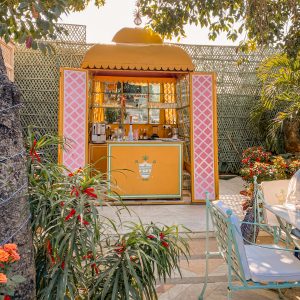 Marie-Anne Oudejans is the brain behind this restaurant. She is also credited with designing the stunning Bar Palladio (more on that later). She is a Dutch fashion star turned interior designer who spends time between Jaipur and Paris. She was inspired by the opulent lifestyles of the maharajas of the early 20th century and managed to channel all of that glory into the luxe interiors of the two spaces.
If you want to get away from the hustle and bustle of the city, head to this lovely cafe. You can find healthy salads, authentic Italian pastas, tagines and mezze platters here. Not to forget, some amazing smoothies!
Bar Palladio
Located in the historic Narain Niwas Palace Hotel and steps away from Cafe Palladio, you will find one of the prettiest places in Jaipur – Bar Palladio. Inspired by Renaissance design mixed with Mughal architecture, this gorgeous bar is entirely painted in white and blue and has some of the most breathtaking interiors. Not only that, their garden also has a photogenic alfresco lounge area where you can chill out and enjoy the cool breeze in the evening.
The moment I stepped in, I couldn't keep my camera down! I must have clicked a 100 pictures here – now do you really blame me?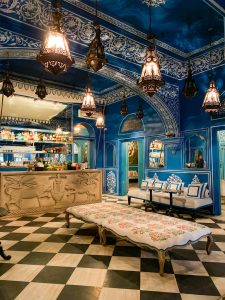 Bar Palladio serves authentic Italian dishes – we tried the minestrone soup, pasta and tiramisu, everything was delicious! They also have a varied cocktail menu including alcoholic and non-alcoholic beverages.
After a long day of exploring the city, Bar Palladio was just the perfect place to unwind! Not the cheapest place to eat or drink but you are paying for the spectacular setting.
Sujan Rajmahal Palace
If you are looking for uber luxury, head to Sujan Rajmahal Palace. This palace, now converted into a hotel offers just 13 rooms and suites, but each one of them is truly fit for a king! The wallpapers, specially created for each room, tell the many stories of Jaipur making sure there is something to suit everyone. A wonderful melange of Indian, Art Deco and contemporary design, it is a unique oasis right in the heart of the city.
While the rooms here don't cost less than INR 50,000 a night (USD 700), you don't need to be a hotel guest to explore and enjoy this palatial beauty. You can grab a meal or indulge in drinks at the Colonnade, the Pink Room or Rajmahal Cafe. Each of these have some of the prettiest wallpaper prints!
After a long day of exploring the city, we stopped here for a yummy pasta. This place is indeed a bit on the expensive side, but we felt it was totally worth it!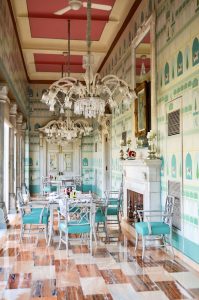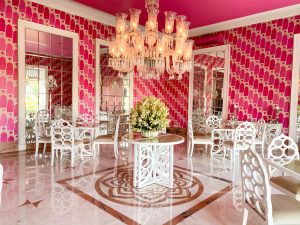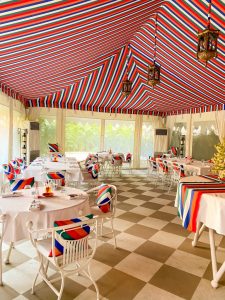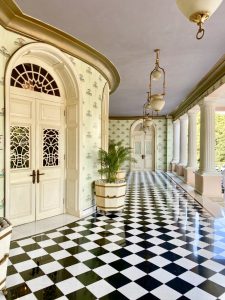 Laxmi Misthan Bhandar
No trip to Rajasthan is complete until you try the quintessential Dal Baati. It is prepared using different types of lentils and is supposed to be eaten with churma – a sweet dish. It may not be the most healthy thing to eat, but who really counts calories on vacation, right?
We opted for a traditional Rajasthani thali at Laxmi Misthan Bhandar – apart from Dal Baati, they served other Rajasthani food – gatte ki sabji, ker saagri, etc. The USP here is that everything is made in pure ghee. The thali cost INR 585 per person and was worth every calorie 🙂
Others
We tried a couple other places which didn't disappoint:
Cafe Bae
The Night Jar
Piante
I had a few more on my list but couldn't try them due to lack of time – but here you go, in case its helpful:
Tapri Cafe
Samsara Cafe
La Palma
General Tips
Most of the major attractions charge separate fee for Indian residents and foreign residents. Make sure you buy the right ticket.
Rather than buying individual tickets, you may want to purchase a composite ticket which includes a bunch of main attractions. You not only save money but also time since you don't need to queue up everytime. However, make sure that the composite ticket includes the sights you really are interested in touring.
If you are visiting the historical sites, it is advisable to hire a guide. Their charges are very reasonable (INR 200-300 per site).
Many a times, your taxi / tuk tuk driver may suggest places to shop or eat. These drivers often work for commission so make sure the places they suggest are authentic.
Use Uber or Ola instead of tuk tuks. They are much cheaper and the fixed price saves you the headache of having to bargain for a ride. We spent a total of INR 4,000 on Uber and tuk tuks for our entire stay.
Bargain for all of your purchases in the bazaars. Start walking away when they don't lower the price and that usually does the trick.
If you are visiting some of the popular cafes, like Café Palladio or Bar Palladio, photography from digital cameras is prohibited. But you can click as many photos you want from your phone.
* All prices are as of January 2020