Udaipur is a small city in Rajasthan built around lakes. Apart from the iconic Lake Pichola, there are several other lakes such as Fateh Sagar Lake, Doodh Talai Lake, Swaroop Sagar Lake, Badi Lake. Hence, this city is rightly called the City of Lakes and Venice of the East.
I had visited Udaipur almost 15 years ago with family and had fond memories of this beautiful lake city. When I decided to visit Jaipur (another state in Rajasthan), I figured why not extend the trip and revisit Udaipur?
Udaipur exudes old-world charm and is the perfect laid-back destination, which lets you escape the buzzing city life! After having an action packed itinerary in Jaipur, Udaipur was the perfect place to unwind.
Udaipur has a little bit of everything – from old palaces to vibrant local markets to cultural activities. Read on to plan your trip to the City of Lakes.
Best time to visit
Weather during November to early March is cooler thus, making it an ideal time to visit. This is the peak tourist season so the hotels tend to be more expensive. You can expect a few deals and discounted rates during summer and monsoon season (July – early September).
However, note that even though we visited in winter, the afternoon sun was a bit harsh.
How Many Days to Spend
We were scheduled to reach Udaipur early morning and had set aside 2.5 days to explore this city. However, our flight was delayed and we only reached the city in the afternoon. We skipped a few things and ended up relaxing a bit more rather than running around from one place to another.
We spent 2 days exploring this city and felt it was sufficient time to see most of the sights. There are couple other place at a short drive (such as Shrinathji Temple, Ekling Temple, Ranakpur Jain Temple, Kumbalgarh Fort) which you can combine with your Udaipur visit. Accordingly, you can add a few additional days here.
How to get there
Udaipur is well connected via flight from most Indian metro cities. If you are visiting from Agra / Delhi or other cities in Rajashtan such as Jodhpur, Jaipur, then you can reach Udaipur via bus, train or private taxi. We decided to take a flight from Jaipur – it was a tad bit expensive (INR 7,000 per person) but since we used our credit card points, it didn't really hurt 🙂
Getting around the city
Udaipur is a relatively small city and most of the sights are right in the middle of the city. The best way to explore this city is by strolling through the streets of the old town and getting a feel of the city.
Since our hotel was on the outskirts of the old town, we ended up using Ubers and auto rickshaws / tuk tuks to get in and out of the city. Once we were in the old town, we basically walked around everywhere. Trust me, you can spend countless hours wandering through these narrow streets and not get bored.
You will find plenty of autorickshaws / tuk tuks as you step out of your hotel, but they are notorious for quoting ridiculously high prices! They don't use a meter and try to fool tourists by charging high prices. We noticed that sometimes they quoted almost twice the amount quoted on Uber. If you still want to use tuk tuks, first check the cost on Uber/ Ola and then haggle with the drivers to bring down the cost. If the driver still doesn't budge, then walk away, you may find someone else who will.
While you can hire a car and driver for the entire duration of your trip, we didn't feel the need for it. In case you opt for it, note that most drivers charge between INR 1,700 – INR 2,500 per day. However, keep in mind that some streets in the old city are very narrow, hence, Ubers/ cars are not allowed beyond a particular point. They typically drop you at the last car entry point, from where you can either take a tuk tuk or walk to your destination.
Where to Stay
Udaipur has some of the prettiest hotels situated by the lake. Waking up to the serenity of the lake and watching a spectacular sunset overlooking the lake, can be quite a memorable experience. You can find a bunch of hostels, boutique to mid-range hotels to five star hotels overlooking the lake!
Since we had booked our trip less than two weeks before flying out, most of the good hotels were either sold out or were ridiculously priced. We wanted to stay at Jagat Niwas Palace Hotel but it was sold out. We ended up staying at Radisson Hotel, located just a few minutes outside of the city center. The rooms were HUGE compared to what we were finding in the city center. Plus, it was very easy to get an Uber whenever we wanted to get into town and the location was a lot quieter. Also, it barely cost us INR 70 to get into town via an Uber / tuk tuk ride.
Things to do / see  
City Palace
The City Palace, located on the banks of Lake Pichola, is the most visited tourist attraction in Udaipur!
The construction of this palace started in 1559 and it took almost 400 years to complete. Over the years, each ruler added its touch. The City Palace is a wonderful blend of Mughal, Medieval, European and Chinese architectural styles. In fact, we even spotted Delft blue tiles and the famous Portuguese tiles in this palace.
The palace is built atop a hill, thereby providing a panoramic view of the city and its surroundings. The main entry to the palace is through 'Badi Pol' (Great Gate), which leads to the first courtyard. The entry fee is nominal – INR 330 for Indians. At the foot of the palace, you can find plenty of authorized guides – be sure to hire a guide (charges are INR 300) so you get to know the history of the palace.
Built over a period of nearly 400 years, this palace is HUGE – it is said to be the 2nd largest palace in India! In fact, a part of the palace has now been converted into not one, but two hotels – Taj Fateh Prakash Palace and Shiv Niwas Hotel.
Given how big the whole palace is, be prepared to walk around a lot (including climbing stairs) – hence, it is advisable to wear comfortable shoes. Once you enter the palace, follow the designated path around the property to ensure you don't miss anything. There are multiple rooms painted in bright colors with intricate details, colorful tint glasses, marble and mirror work and mosaic patterns.
One of my favorite part of the palace was the paintings that adorned the walls – as you are walking by, try to zoom in to observe the intricate details. The attention to details truly left me speechless. Even though we reached the palace as soon as it opened (9.30 am), it was still very crowded compared to the City Palace of Jaipur.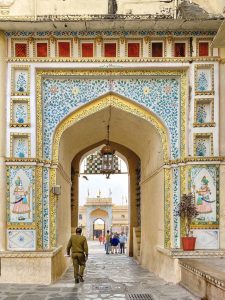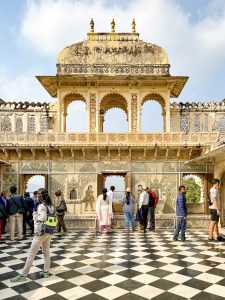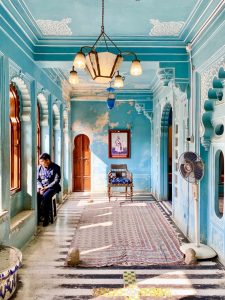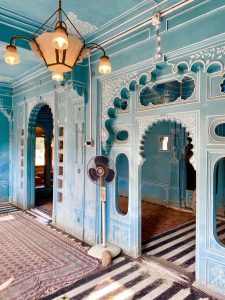 The palace also has a museum and a Crystal Gallery. It is said that in 1877, Maharana Sajjan Singh had ordered an entire collection of crystals from a Birmingham-based firm. There was a delay in the delivery of the consignment and unfortunately, Sajjan Singh had passed away before the crystals arrived. The crystals were boxed in for 110 years until 1994 when the Crystal Gallery was opened and made public.
Note that an additional fee of INR 700 is required for the Crystal Gallery and you are not allowed to take pictures inside this gallery. I had already visited this gallery during my last visit so decided to skip it this time.
A light and sound show is organized at Manek Chowk every evening – if you are interested in watching this, you may want to enquire at the ticket counter since there is an additional fee charged.
Watch a lovely sunset
Given that Udaipur is a city built around lakes, you can be rest assured that this city provides some of the best sunset views!
The main lake, Lake Pichola, is an artificial lake. It was primarily created in 1362 AD by building dams to meet the drinking water and irrigation needs of the city and its neighborhood. Over the years, this lake has become such an iconic part of the city.
Located in the heart of the city, Gangaur Ghat is a prime location for watching sunsets. In fact, you will find many locals flocking here right at sunset. Even though it was a bit crowded, it was the perfect spot to enjoy the golden hour. There were some street hawkers selling traditional artifacts and local musicians playing lovely music. Observing the flocks of pigeon on the ghat overlooking the sunset, is definitely a moment I will cherish. Seeing the whole city painted in gold was such a stunning sight!!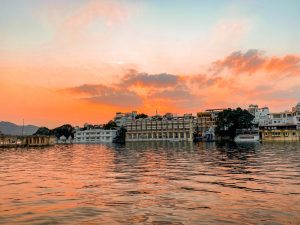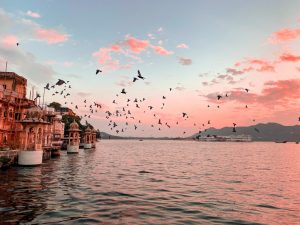 As you cross over to the opposite side, you will find yourself at Ambrai Ghat. From here, you can see the enchanting City Palace shimmering in the moonlight.  One of the less explored places in the Udaipur City, Ambrai Ghat is the perfect destination for evening strolls and night photography enthusiasts. From here, you can see the entire Lake Pichhola in its complete glory along with the beautifully lit up City Palace, Taj Lake Hotel and Jag Mandir.
There are couple other spots from where you can witness a lovely sunset. While we didn't end up visiting any due to lack of time, you may want to add it to your itinerary.
Sunset Point – This area is said to have the best, unobstructed view of Lake Pichola and the surrounding mountains. Just type in "sunset point" in google maps and it will take you there.
Sajjangarh Fort – This fort is situated atop a hill and provides a perfect panoramic view of the city. It was built basically to watch the monsoon clouds, hence, popularly known as Monsoon Palace. It is said that the king built this palace at top of the hill to get a view of his ancestral home, Chittaurgarh.
Karni Mata temple – It is located on a small hill on the banks of Lake Pichola. Though the temple is not very popular, the view from the top of the hill is. You need to hop on a cable ride to get to the top of the hill. Once on the hill top, you get to see the whole of the Udaipur City including all its major attractions. The view of the illuminated city and its reflection in the lakes after sunset is worth watching.
Ahar Cenotaphs
Jaisalmer has Bada Bagh, Jaipur has Gatore ki Chhatriyan and Udaipur has Ahar cenotaphs!
Here, you will find royal cenotaphs (or chhatris) of the Maharajas of Udaipur – a cenotaph is a small temple or tribute statue for a deceased relative. All the cenotaphs in this cemetery have beautiful carved ceilings, statues and beautiful structures.
There are a total of 250 cenotaphs and 19 chhatris (umbrellas) to commemorate the 19 maharajas who were cremated at the cenotaphs. Situated in Ahar, the cenotaphs are technically not in Udaipur, but a short 2-3km tuk tuk or taxi ride outside of the city.
We reached here right after it opened (around 9.45 am) and it was basically deserted. There were two caretakers who saw us clicking pictures and threatened to take my camera away! Now, nowhere in this place has it been mentioned that photography is prohibited. I tried reasoning with them but they started getting aggressive. I have seen a few pictures of this place on IG and blogs but no one has ever mentioned that photography is prohibited.
Oh well, it's a shame since this place is really beautiful – sharing a handful few pictures taken before the guards came and stopped us.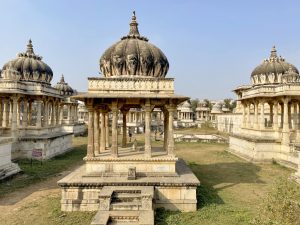 Shop in the local markets
A visit to Udaipur is incomplete without stopping by the local markets for some shopping! This town is famous for silver jewelry, traditional clothes and wooden handicrafts. You will find plenty of local markets at Hathipole, Bapu Bazaar and the area near Jagdish temple.
If you are buying anything from the street shops, then remember to bargain hard – the shopkeepers typically quote 2-3 times the actual cost.
If you enjoy luxurious bohemian clothes and accessories, then Ganesh Handicraft Emporium is the place for you! This shop has a lot of international clientele and the products aren't on the cheap side. But yes, you have to see the shop to see how beautiful this shop is!
Take a boat ride
Did you even visit Udaipur if you didn't take a boat ride around the lake? Oops I did!!
Since we had limited time in Udaipur, we had to skip this activity. But yes, you can hop on to a boat and enjoy the scenic views. It costs about INR 300 for 20-30 minute boat ride. You can also sign up for a sunset boat ride – it costs a tad bit more than the regular boat ride, but I am sure the views are well worth it!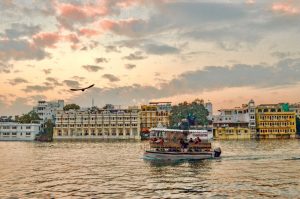 Jagdish Temple
This beautiful temple dedicated to lord Vishnu is located very close to the City Palace and is in the old city of Udaipur. Though not very huge, the temple has beautiful carvings on its spires and walls built in the Indo-Aryan style of architecture. The temple is located right in the marketplace. There are a lot of shops in the vicinity and are good places for bargain shopping.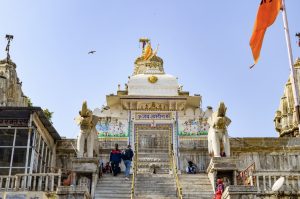 Saheliyon ki Baari
Saheliyon-ki-Bari literally translates to the Courtyard of maidens. It is essentially a garden located on the banks of Lake Fateh Sagar. It houses many lotus pools, marble pavilions, elephant statues and numerous fountains. It was built by Maharana Sangram Singh and presented to his queen and the 48 maids who accompanied her in her marriage. The queen with her maids and female companions used to come here for a stroll and spend their time in leisure.
The entry fee is nominal INR 20 for Indian residents and INR 100 for foreigners. To be honest, I wasn't particularly impressed by this place – if you are strapped for time, you can skip this. The only thing that I loved were the endless bougainvillea!
Other Things to Do
Visit the Lesser known Lakes
While Lake Pichola is the most iconic lake in the city, this city boasts of several other lakes.
Situated around 5 kms from Udaipur, is Fateh Sagar Lake. Similar to Lake Pichola, this is an artificial freshwater lake. It is comparatively less touristy from the other lakes and one can enjoy some peaceful time over here.
Badi Lake, situated around 12 kms away from the city is another picturesque spot! Unlike Lake Pichola, you will hardly find anyone here. There is a nice hike in the area, if you are craving some activity on holiday. Badi Lake provides a scenic backdrop for photographs and is definitely one of the most picturesque sights in the area.
Visit Vintage and Classic Car Collection Museum
If you are a car lover, head over to the Vintage and Classic Car Collection Musuem. For an entry fee of INR 250, you get to be up close with around 18-20 vintage cars and peek into India's erstwhile grandeur! In fact, one of these cars was used in the Bond movie, Octopussy. You will also find a Cadillac Convertible used by Queen Elizabeth on her visit to India in 1961.
You also get to see luxurious horse carriages from the olden days.
Where to Eat
Upre
Udaipur boasts of way too many rooftop cafes and restaurants, so you have to stop by at least one!
You have to visit Upre – hands down, the prettiest restaurant in this city! It offers one of the best views of Lake Pichola, Gangaur Ghat, Bagore Ki Haveli and the illuminated City Palace. You can indulge in delicious Punjabi food, Italian or even Chinese! Enjoy lip-smacking delicacies in candle light under the star-studded sky.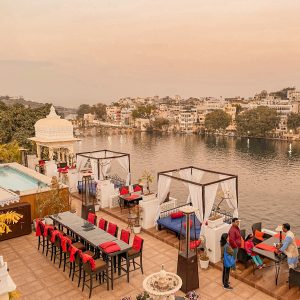 Ambrai
A few steps away from Upre, you will find this lovely restaurant. Catch a table facing the lovely City Palace and the lake sparkling with moonlight. The food is as good as the view.
Both Upre and Ambrai are the go to spots in the city, so its always good to make reservations in advance. You obviously want a table overlooking the lake so better to make reservations in advance.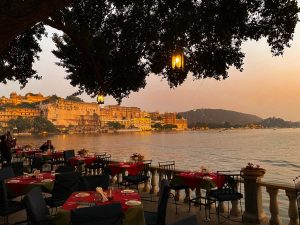 How romantic is this setting!!
Jagat Niwas Hotel
We saved the best for last! On our last day, we spent a lovely afternoon at this hotel. We spent quite some time ogling over the beautiful interiors – painted in all white (resembling the white city), with lovely mosaic murals! Trust me, it will be hard to put down your camera here.
This hotel has two dining areas – one is the rooftop and the other is a restaurant located on the second floor. Needless to say, both restaurants offer scenic panaromic views of Lake Pichola, Taj Hotel, including Oberoi Udaivillas. In hindsight, I should have come here for sunset one of the evenings!
Since we didn't want to get baked in the heat, we chose the indoor restaurant. We had been eating Indian food for last few days, we chose to indulge in some Chinese delicacies. It was absolutely yummy!
Jheel Ginger Café
Located just a few steps away from Gangour Ghat, you will find Jheel Cafe – the perfect spot for breakfast or evening snack.
It has two seating areas – one on the ground floor and another is a rooftop restaurant (about 3-4 floor climb). The ground floor cafe offers limited food, so if you want a full meal, then you better climb up to the rooftop cafe. The service wasn't the best but we didn't mind it – the view makes up for it. We ordered a pizza, vegetable sandwich and a delicious hazelnut coffee!
Highly recommend it !
Natraj Restaurant
We had our fill of the quintessential Dal Baati in Jaipur. Given that it is laden with oil and quite heavy, we didn't want to have another Dal Baati in Udaipur. Instead, we headed to Natraj Restaurant for a traditional thaali.
It basically had 3-4 vegetables, salad, a dessert, snacks, papad and a glass of buttermilk – all for measly INR 240. Given that it was the last day of our vacation and with everything being so delicious, we literally ate as if there was no tomorrow 🙂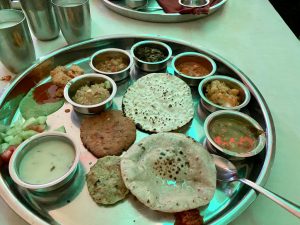 Excuse the quality of the picture – I couldn't wait to gorge on it 🙂
Grasswoods Cafe
This delicious and healthy cafe is located right in the heart of old town Udaipur, steps away from Jheel Cafe. They have many options, including vegan and vegetarian dishes and yummy smoothies. We didn't have time to eat here, but have heard great things about this cafe!
General Tips
Most of the major attractions charge separate fee for Indian residents and foreign residents. So make sure you buy the right ticket.
Many a times, your taxi / tuk tuk driver may suggest places to shop or eat. These drivers often work for commission so make sure the places they suggest are authentic.
Use Uber or Ola instead of tuk tuks. It's so much cheaper and the fixed price saves you the headache of having to bargain for a ride.
Bargain for all of your purchases in the bazaars: clothing, textiles, souvenirs, jewelry. Start walking away when they don't lower the price and that usually does the trick.
* All prices are as of January 2020